An Inside Look Into Meghan Markle's Life Before She Met Prince Harry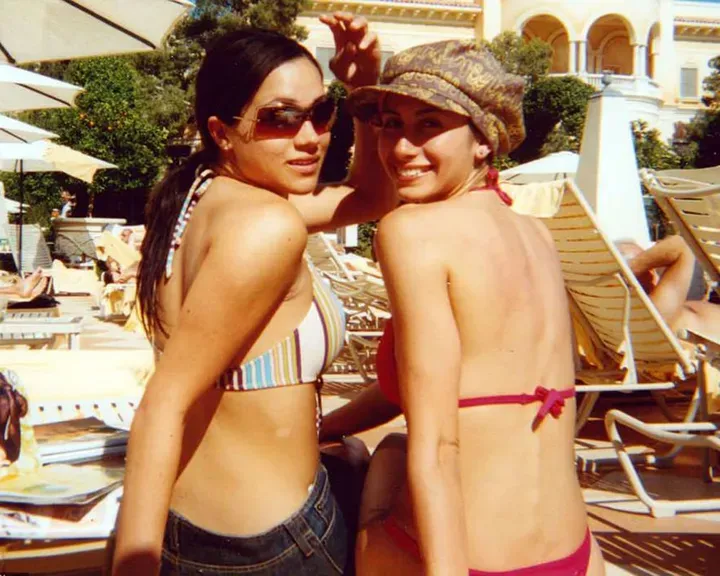 Meghan Markle's marriage to Prince Harry in 2018 was one of the most-watched TV events of all time. It seems you can't go a day without reading about the couple in the press, but what of the former actress' life before she met the royal? This article explores Meghan's early days, through her school days, career, and relationships before she became a member of the British Royal Family and the Duchess of Sussex.
A Star Is Born
On August 4th, 1981, Meghan was born in Los Angeles. This photo shows TV lighting director Thomas Markle proudly holding his newborn girl. Thomas and Doria Ragland, a make-up artist and Meghan's mother, were married two years prior in 1979.
Meghan was named Rachel Meghan Markle, although she dropped her first name out of choice. 'Meghan Markle' definitely has a star quality to it. Could Thomas have guessed then that his little girl would become one of the most famous women in the world?
Million Dollar Smile
At six months old in 1982, Meghan is already loving the lens, showing off her now world-famous smile. Parents Thomas and Doria doted on her, with her father describing the close bond they developed right from those early months.ADVERTISEMENT
Meghan's mother Doria stayed at home to look after her young baby. Thomas returned to work, but told the UK's Channel 5 that Meghan was his pride and joy, saying he couldn't put her down when he was home from work.
A Natural Beauty
Aged just two years old in 1983, Meghan was already showing the poise and balance that befits a princess, as seen in this early childhood photo. Her father Thomas Markle described her as a 'natural beauty' from an early age.
Back in the 1980s, Doria and Thomas reportedly struggled with societal judgment and pressure. Regarding being in a mixed-race relationship, Thomas said of the treatment of his ex-wife, "It wasn't fair. Of course it wasn't fair."
Hollywood Schoolhouse
Meghan hugs her favorite toy, at just three years old in this family photo. Meghan was enrolled in a private preschool class at the Hollywood Little Red Schoolhouse in Los Angeles, a facility that welcomes children for who they are as individuals.
Meghan's preschool states that it focuses on academic excellence through a multifaceted curriculum. The environment allows creative children like Meghan to thrive by encouraging them to find joy in learning, and to become academically strong, artistically proud, physically active, and socially grounded.
A Happy Child
Meghan's parents described her as a happy child with a curious appetite for knowledge, enjoying time outdoors and frequent trips to many of the local beaches in sunny California.
Meghan's parents, Thomas Markle and Doria Ragland, both worked tirelessly to provide an excellent education for their daughter. Doria was a make-up artist but went on to work as a social worker, yoga instructor, and business owner to support her family.
Party Best
This photo shows Meghan in her party best, dressed up for her aunt Saundra's wedding. Meghan had no shortage of aunts and uncles, as her mother had two brothers and one sister, and her father had two half brothers.
In fact, Meghan has two half-siblings from her father Thomas' first marriage. Samantha and Thomas, who are 17 and 15 years older than Meghan, lived with the future princess when she was very young, although they are said to be estranged now.
Meghan's Parents Divorce
Sadly, in 1987 Meghan's parents Thomas and Doria file for divorce. Meghan is six years old at the time. Sources credit the divorce to Thomas' busy working schedule, and he himself admits he was not around enough when she was young.
Nevertheless, Meghan's parents stayed in close contact and made a commitment to raising her with both parents present. Meghan lived primarily with her mother, however, Thomas remained in the Los Angeles area to ensure he could contribute to her upbringing.
Draw Your Own Box
Although Meghan and her father are no longer in contact – her father helped her feel comfortable with her identity when she was a child, teaching her that she didn't need to choose a box.
When her seventh-grade teacher told her to check the ethnicity box for Caucasian, which confused her, her father told her, "If that happens again, you draw your own box." It made her father angry that people were trying to put his daughter in a box.
Horror Hostess Halloween
Meghan showed a loved for TV and film from an early age, as evidenced in this Halloween photo from 1988. At seven years old, Meghan chose to dress as the horror hostess character Elvira, played by actress Cassandra Peterson.
Elvira was a huge hit in the 80s and a well-loved character in Los Angeles. She was an oddball character who championed the weird and wonderful—a choice that showed Meghan was willing to stand out from the crowd.
Like Sisters
This snap of Meghan was taken in 1990 at friend Ninaki Priddy's ninth birthday party. Meghan and Ninaki became fast friends while attending Hollywood Little Red Schoolhouse together at age two, and were 'like sisters' for many years to come.
Meghan and Ninaki were inseparable as children, supporting each other through both their parents' divorces. The pair shared secrets together and dreamt of their futures. Although, not even Ninaki could have guessed that Meghan would become a member of the British Royal family!ADVERTISEMENT
Meghan On Set
The T-shirt says it all! The photo of future royal Meghan was taken on the set of Married With Children, where her father Thomas worked as a cameraman. Meghan regularly visited the set and made friends with the cast members.
Meghan said of this regular occurrence, "There were a lot of times my dad would say, 'Meg, why don't you go and help with the craft services room over there? This is just a little off-color for your 11-year-old eyes.'"
10th Birthday Party
This family photo of Meghan shows her beaming happily on her 10th birthday. Her mother Doria would soon start working as an air hostess, and shortly after this birthday, Meghan would go to live with her father Thomas.
Thomas was a proud father and loved taking his daughter on adventurous outdoor trips during the years that she lived with him. He shared with the media that she particularly loved when they would go fishing at Big Bear Lake in California.
Meghan Starts High School
Although bought up as a protestant, Meghan started attending Immaculate Heart High School from age 11. The private Catholic school in Los Angeles' Los Feliz neighborhood has a boarding house, although Meghan attended as a day-student, not staying overnight.
Immaculate Heart High School boasts many now-famous alumni, of which Meghan is just one. Other former students include model Tyra Banks, Diane Disney—daughter of Walt and Lillian Disney, and actresses Mary Tyler Moore, Pat Caroll, and Elizabeth Baur.
Meghan The Feminist
At age 11, Meghan was working on a homework assignment about commercials when she heard a dishwashing soap ad that was aimed at women, which she thought was wrong.
Her father encouraged her to write to the most powerful people she could think of, including company representatives, Hillary Clinton, and high powered lawyer Gloria Allred. Her campaign gained coverage, and Procter & Gamble changed the slogan from "Women all over America" to "People all over America" a few days later.ADVERTISEMENT
Kind And Compassionate
This high school photo from 1994 shows future Duchess Meghan as a happy teenager. At this time, she had started doing voluntary work at a soup kitchen on LA's Skid Row, serving food and drinks to homeless people.
Teachers would remark in the future that Meghan had been particularly 'kind and compassionate' as a student. The school had voluntary service as a requirement for graduation, and Meghan often credits this as the start of her passion for philanthropy.
Meghan On Stage
Meghan's talent for theater and acting became apparent when she was a teenager. At age 14, she won over the crowd in the school play, with one teacher remarking, "She could play any character… she was really good."
Meghan's father, Thomas Markle, has often said that the teen showed a flair for performance, taking to the stage naturally. It was clear to anyone that saw her perform that she was destined for a career in showbiz.
Buckingham Palace
Was this the first clue of a royal future for Meghan Markle? This now-famous image from 1996 shows Meghan and her best friend Ninaki Priddy posing in front of Buckingham Palace, the residence of the Queen of England.
15-year-old Meghan went to London as a tourist, visiting landmarks such as Big Ben and the Houses of Parliament before snapping this photo while awaiting a tour. It seems that dreams really do come true!
Homecoming Queen
This joyful and festive high school snap shows Meghan at 17 with her good friend Cecilia Donnellan. During this, her last year at high school, Meghan would be voted Homecoming Queen, proving her popularity amongst both her teachers and peers.
The fact that Meghan won Homecoming Queen is seen by many as a premonition of her royal future to come. It's suggested that she thought she could rather get used to wearing immaculate clothes and a tiara!
Meghan Graduates High School
In 1999, Meghan graduated from high school, and she wore white for the occasion. Shortly after this photo was taken, Meghan would finally leave Los Angeles and head to Northwestern University, a private research university based in Evanston, Illinois.
At NU, Meghan joined the Kappa Kappa Gamma sorority and participated in community service and charity projects. Meghan earned her bachelor's degree from Northwestern's School of Communication in 2003, with a double major in theater and international studies.
Student Life
Meghan is a homegirl at heart and always took the time to go back to Los Angeles to spend time with her family. Here, the 19-year-old drama student is pictured at a party with her dad Thomas and cousin Trish Gallup.
Meghan reportedly loved the student life in Illinois, often going into Chicago to enjoy the vibrant city. She would come to LA with exciting tales of her social life with her sorority sisters, although never neglected her studies.
Sense Of Humor
As fun as the student years were, all good things must come to an end, and in 2003 Meghan was ready to leave Northwestern University. There was just the small task of repainting her student accommodation with her sorority sisters.
Meghan manages to crack a smile even during home improvement. Her good-natured sense of humor has served her well, with many of her college friends saying that she was always a pleasure to be around, and actually pretty goofy.
Meghan Considers Politics
During her junior year at NU in Illinois, Meghan landed an internship at the U.S. Embassy in Argentina. She later told Marie Claire that the experience convinced her that a career in politics was on the cards.
Meghan described the exciting situation to the women's magazine in 2013, saying, "Our Secretary of the Treasury at the time, Paul O'Neill, was there, so I'm 20 years old, in Buenos Aires, in a motorcade, doing that whole thing."
Road Trip
Before returning to Los Angeles to pursue her acting career, Meghan managed to fit in a holiday with her long-standing friend Ninaki Priddy. The pair visited Las Vegas in 2002 for some serious sunbathing and people watching.
Las Vegas was just the beginning, as Meghan and Ninaki went on a long road trip that summer, trying to visit as many new places as they could. When the vacation was over, Meghan would return to LA to begin her career in earnest.
Meghan Markle told Esquire that she had developed a talent for calligraphy since studying it as a child. When she struggled to book auditions, Markle worked as a freelance calligraphy writer for celebrities in Los Angeles. We were just as surprised as we're guessing you are!
She said of her hidden talent, "I've always had a propensity for getting the cursive down pretty well. What it evolved into was my pseudo-waitressing job when I was auditioning. I didn't wait tables. I did calligraphy for the invitations, for, like Robin Thicke and Paula Patton's wedding."
Meghan's First Break
Meghan got her first break at age 23 in 2004, when she landed a small role in the TV series Century City. Meghan wasn't credited for her role but it was her first official taste of the limelight.
Unfortunately, only four of the nine episodes filmed were aired and footage is scarce. The CBS series followed the story of a legal team, in what now seems like foreshadowing of Meghan's most well-known role in the TV show Suits.
A Lot Like Love
The year 2005 saw Meghan achieve her first ever movie part in A Lot Like Love. The romantic comedy-drama film directed by Nigel Cole starred Ashton Kutcher and Amanda Peet and one was one of the most popular romcoms of the year.
Meghan featured in this airplane scene with Ashton Kutcher, and was listed in the title credits as 'hot girl'. Although she didn't have a named part, the movie put Meghan on the map, and greater things were soon to come.
CSI New York
Meghan Markle landed a higher profile role, this time as a maid in crime drama CSI: New York. The 25-year old played the part of Veronica Perez, a maid who worked for the rich and powerful in New York City.ADVERTISEMENT
In the episode titled "Murder Sings the Blues," one of Veronica's clients turned up dead, making her a suspect. Meghan would work on CSI again four years later, this time fully clothed and playing a cop.
Meghan And Trevor Engelson
In around 2004, Meghan Markle started dating Trevor Engelson, the man who would go on to become her first husband. Trevor is a couple of years Meghan's senior and is a film producer known for titles such as the 9/11 film Remember Me.
Meghan and Trevor met in West Hollywood and dated for 7 years, eventually moving in together in Los Angeles. In 2010, Trevor proposed to Meghan who accepted immediately and set about planning a low key wedding.
Her First Marriage
Although Meghan and Prince Harry's engagement caused a media stir – her divorce from Trevor may have caused even bigger noise for the actress. Shortly after the couple said "I Do," they were forced to skip the honeymoon when Meghan had to move to Canada to film Suits.
Her husband, a producer, had to stay in Los Angeles. Going long-distance didn't seem to work for the two, and they separated and eventually divorced in 2011.
Deal Or No Deal
Meghan's pursuit of acting and theater saw her appear on reality television for four episodes of Deal or No Deal. The show featured contestants hoping to win as much as one million dollars by choosing one of 26 cases with a hidden sum inside.
Meghan recalled her time on the show, saying, "I would end up standing up there forever in these terribly uncomfortable and inexpensive five-inch heels just waiting for someone to pick my number so I could go and sit down."
The Emmy Awards
At age 27, Meghan's career was finally starting to take off, and she seems very happy about it if this 2008 photo from an Emmy Award celebration in Los Angeles is anything to go by.ADVERTISEMENT
Still three years before she hit the big time in Suits, Meghan has a few notable acting roles, including an appearance in Fox's series Fringe as Junior Agent Amy Jessup in the first two episodes of its second season.
Meghan Makes It
By 2011, Meghan was regularly securing well-paid movie roles. In 2010, she shot Get Him to the Greek and Remember Me, and was paid $187,000 for the latter. She was paid $171,429 for her role in the short film The Candidate.
During this time, she also appeared in the hilarious Horrible Bosses, alongside Jennifer Aniston, and in episodes of Cuts, Love, Inc., 90210, Knight Rider, Without a Trace, The League, and Castle.
Soho House Members' Club
Meghan shows her quirky side again, pulling a funny face in a photo booth at the members-only Soho House in West Hollywood, Los Angeles. The actress is 29 here and is enjoying the bachelorette life a year before her first marriage.
Pictured with Meghan is her high school friend Ninaki. The pair remained close all the way through the 20s and spent many evenings enjoying the nightlife of the city, although they would grow apart as the years progressed.
Meghan's First Wedding
Megan Markle and her long-term boyfriend Trevor Engelson tied the knot in a casual ceremony on September 10th, 2011 at the Jamaica Inn in Ocho Rios. Meghan wore a simple white dress and was accompanied by maid of honor Ninaki Priddy.
However, shortly after the marriage, Meghan landed her big breakout TV role in Suits, meaning she would spend 9 months of the year in Canada. The couple couldn't make the distance work, and Markle and Engelson quietly separated in August of 2013.
International Women's Day
Before she had even met Prince Harry, Meghan was a keen campaigner for noble causes. In 2015, Meghan became a UN Ambassador for Women and spoke at a UN conference on March 8th, 2015 in celebration of International Women's Day.ADVERTISEMENT
Comparisons are often drawn between Meghan and Harry's mother, Princess Diana, for their views on women's empowerment. Meghan's speech was about issues surrounding gender equality. She drew on her personal experience in the professional world, and as a mixed-race woman, in a gripping ten-minute address.
That Bandage Dress
Meghan looks healthy and vivacious in this body-con look. She wore this midriff-bearing bandage dress at a fashion show for the designer Herve Leger for Max Azria in 2013.
Her make-up is definitely more bronze than she would be seen wearing now, and it's unlikely that the Royal Family would approve of a skirt this short or a bare stomach. Meghan pulls the look off and manages to keep it demure with her long, relaxed curls.
NYC Fashion Week
Meghan looks feminine and fun in this floral print shift dress she wore at New York City's Fashion Week in 2013. She certainly stands out from the rest of the front row with these bright neon pops of color.
Meghan's styling has changed a lot since this photo was taken, but she makes the poker-straight hair work. She wouldn't get away with it as a royal, but the smokey eyeliner and bright blush are totally fierce!
Work That Pose
Meghan is the picture of Hollywood royalty in this incredible teal dress at an event benefitting Elton John's AIDS Foundation. We can see the familiar swept-back hairstyle that she still opts for as a member of the royal family.
This is a classic actress pose, that Meghan works like a complete pro, although you wouldn't catch her doing this at the Invictus Games. Still, it's great to see Meghan's fun side and million-dollar smile didn't go anywhere!
Commercial Meghan
Meghan couldn't spend all of her days on the red carpet, she had to take a part once in a while. One acting job she's perhaps now trying to forget is this TV commercial for Tostitos tortilla chips.
In this advert Meghan is 27 years old, meaning that at the time of filming she was still three years away from earning her big break on Suits. Luckily she went onto bigger and better things like, you know, becoming a duchess!
Short And Sleek
Meghan Markle wowed the crowds in this cool linen combo featuring some pretty short shorts and pointy-toed stilettos. Meghan showed off this fearless look as she posed for a photo at the PS ARTS 25th Anniversary Party in Los Angeles.
She keeps this look professional and sleek by pairing it with a plain white blouse. The look is also complemented by simple, light make-up and soft curls, showing Meghan understands how to balance and accessorize a look.
Horrible Bosses
Before she landed on the set of Suits and became a household name, Meghan Markle had a small part in the 2011 comedy Horrible Bosses, directed by Seth Gorden. She played a FedEx employee in this scene with Jason Sudeikis.
While she delivered something, Jason Sudeikis' character told her she was far too cute to be a FedEx girl, saying "You've got to be an actress or a model or something." She conquered both of those, so royalty was a natural progression!
Neutral And Natural
Neutral colors were on-trend in 2012, and Meghan Markle showed once again that she's got the style, substance, and sensibility to go up against the best of them. Meghan wore this beige miniskirt and ivory sleeveless shell top at the USA Network's Upfront Presentation.
Meghan looks amazing with less make-up on, as her natural freckles suit her. Overall, a strong look, although we can't imagine her wearing a miniskirt this short in the company of the Queen of England!
Pretty Groovy
Far out, man! Meghan looks pretty groovy in this blue to pink fade-out dress on the red carpet for a Screen Actors Guild Awards pre-party in 2013. This eye-catching pattern is easy on the eyes, although it gets a little confusing if you look at it for too long.
This look was during her Suits era and is accessorized to perfection with a tiny clutch and bracelets that give a little sparkle but are subtle enough to not detract from the print.
The Dater's Handbook
Before Meghan met Harry, she acted in a string of straight-to-TV movies for Hallmark, including The Dater's Handbook in 2016. Meghan played Cassandra Barber, a woman who always picks the wrong kind of guy and turns to a self-help book to change her luck.
In The Dater's Handbook, Meghan's character has to pick between two men: reliable George (Jonathan Scarfe) and fun-loving Robert (Kristoffer Polaha). You'll have to watch the movie to discover who she chooses, but in real life, Meghan's choice was rather simple!
Street Fashion
This 2013 photo of the future Duchess of Sussex was taken by a photographer who stopped her on the way to a New York Fashion Week designer show. She looks like she's used to the photographer's attention's, posing perfectly.
This look is certainly much shorter than anything the Royal Family's style guide would allow her to wear now, which is a shame because she manages to pull off the mid-thigh length and still stay classy. Chic as always!
Meghan The Yogini
Meghan hasn't mentioned yoga since being with Harry, but during her acting days, it was her go-to exercise. Her mom Doria once worked as a yoga instructor and she used to join in classes, although reluctantly. Apparently her mom would say, "Flower, you will find your practice – just give it time."
Meghan did start practicing more regularly in college, and she says her favorite yoga poses include Warrior Two, Downward-Facing Dog, Bridge Pose, Thread The Needle, Supine Twist, and Savasana.
Her Celebrity Status
Even before she was a duchess, Megan was adamant about using her fame for advocacy. She became a global ambassador for World Vision Canada, traveling to Rwanda for the Clean Water Campaign.ADVERTISEMENT
She also visited India to raise awareness for women's issues and worked with the United Nations Entity for Gender Equality and the Empowerment of Women as an Advocate. She continues to support women's rights and social justice and will do so for as long as she can.
Power Look
All white is definitely alright for Meghan in this three-piece leather power look for a MasterCard fashion week event in New York in 2013. So many fashion shows, so little time! Here we see the start of the side part hairstyle that she wears a lot in her new position as Duchess.
It seems that bare midriff was a favorite style for Meghan, and she balances it well by keeping the skirt a little longer. When you can pull it off, go for it!
The Hot List
Meghan Markle wore another stunning strapless body-con dress at The Hot List TV Guide party in West Hollywood in 2012. We're not sure how Her Majesty would feel about the nude illusion upper, but she looks classy as always.
It seems that by 2012, the invitations were flooding in for Meghan to attend celebrity events, and she clearly has her pose and poise spot on. She accessorized with another tiny clutch. She probably has someone to carry that for her nowadays!
The Today Show
Although she's best known for playing Rachel Zane in Suits, Meghan Markle was a regular feature on The Today Show in the fashion segment. Meghan appeared next to host Savannah Guthrie to give viewers tips on everything from how to create a runway look on a budget to seasonal fashion tips and trends.
Nowadays, Meghan has moved on from her position as a fashion advisor on The Today Show, but she's still inspiring women all over the world with her style and fashion choices.
The Suits Years
In July 2011, Markle joined the cast of the USA Network show Suits. Her character, Rachel Zane, began as a paralegal and eventually became an attorney. Reportedly, Meghan "actively re-positioned" her character from ingénue to "the show's moral conscience."
Fortune magazine estimated that Meghan Markle was paid $50,000 per episode, amounting to an annual salary of about $450,000. She worked on the popular show from 2011 until 2018, well into her courtship with Prince Harry.
Honorary Canadian
Meghan often referred to herself as an "adopted Canuck," as her Suitsfilming schedule saw her spending around nine months of the year living in Toronto, Canada. The actress rented a comfy three-bedroom, two-bathroom home in the Seaton Village.
During her years in Canada, Meghan became fast friends with Toronto royalty. She was often in the company of Jessica Mulroney, a fashion adviser to Justin Trudeau's wife, and Ben Mulroney, the son of a former Canadian Prime Minister.
Meghan Quits Suits
Suits fans were surprised and saddened to hear that Meghan had decided to retire from acting in 2017. After seven successful seasons on the drama, the actress turned duchess decided to retire from acting to pursue a domestic life with Harry. Markle admitted that she didn't see it as giving up, rather a change, a new chapter.
She asked fans to keep in mind that she worked on the show for seven years and that she felt lucky to have that kind of longevity.
Chef To The Stars
Not long after her divorce from Trevor Engelson, Meghan, then based in Toronto to film Suits, started dating Canadian chef Cory Vitiello. The couple dated from 2014 to 2016, reportedly breaking up the same month that Meghan met Prince Harry.
Cory Vitiello hit screens in the TV series Chef In Your Ear and is now widely known as a celebrity in his own right. He is currently head of culinary development at Cactus Club Cafe and has a son with partner Martina Sorbara.
The Tig
One of Meghan's many side projects before she became a full-time royal was her lifestyle blog, The Tig. The curious name comes from what she describes as her inaugural 'Tig moment,' when she tried a glass of legendary Italian wine Tignanello.
The Tig is now very much closed for business, but old posts reveal her love of actress Elizabeth Hurley and a well-put-together coffee table, and a total disdain for any form of baking, which she described as stifling!
A Self-Proclaimed Foodie
Meghan has called herself a foodie on multiple occasions and interviews. At one point, she even wrote a blog post dedicated to her favorite dishes: green juice, fish tacos, chicken adobo, kale chips and, cioppino.
Markle loves cooking an Ina Garten-level roasted chicken recipe. This may seem simple to you, but it holds a special place in Meghan's heart. It is rumored to be the dish she cooked for Harry when he proposed!
A Girl and Her Blender
Along with her mad cooking skills, Meghan loves her blender. She loved it so much she even brought her Vitamix with her to Canada. "When I had my car brought out to Canada, I shipped my Vitamix in the backseat.
It was one of the things where I was like I cannot travel without my Vitamix," she told Esquiremagazine. The actress said that she used the blender every day for making shakes and pesto sauce.
A Near Miss
According to a journalist from the UK newspaper The Daily Mail, Meghan was once pursued via Twitter by none other than British soccer 'bad boy' Ashley Cole, the ex-husband of X Factor judge and singer Cheryl.
Apparently, Cole repeatedly asked Meghan to meet up for a drink while she was in London. The journalist informed the then actress about Cole's bad reputation with women, and Meghan decided to give it a miss. Thank you, next!
When Meghan Met Harry
In true fairytale fashion, Meghan Markle first encountered Prince Harry on a blind date in early July 2016. During their first interview after their engagement, Harry told the BBC, "We were introduced actually by a mutual friend."
The couple hit it off right away, although they tried to keep a very low profile. The British press was quick to discover the relationship, however, as her appearance at Wimbledon tennis tournament set the rumor mill turning.
Famous Friends
Even before Meghan met Prince Harry for the first time in July 2016, she already had some very famous friends. The future royal met Serena Williams at DirecTV's Celebrity Beach Bowl in 2014 and it looks like they had a great time.
Meghan reported on her lifestyle blog The Tig that the two "hit it off immediately, taking pictures, laughing through the flag football game we were both playing in, and chatting not about tennis or acting, but about all the good, old-fashioned girly stuff."
A True Princess
Meghan's castmates loved her so much, they even called her a true princess. In 2019, her former co-star Gregg Sulkin opened up about working alongside Markle in the 2015 crime drama Anti-Social.
The London-born actor described what it was like working with Meghan, "She is one of the classiest, the nicest, one of the most sincere and genuine people I've ever met." He proceeded to say that he was proud that Markle was a part of his country's history.
A Royal Fascination
Although Meghan claims that because she's from the United States, she didn't grow up with the same understanding of the Royal Family. Her childhood friend, Ninaki Priddy, told The Daily Mail a very different story about her pal. ADVERTISEMENT
She stated that the Royal Family was something she found fascinating when they were growing up. Priddy said that Markle had one of Princess Diana's books on her bookshelf. Was marrying into the Royal Family her dream all along?
Meghan And Harry Go Public
In 2017, the secret was well and truly out. Meghan Markle and Prince Harry were happy to let the world share in their happiness and looked overjoyed being together in public for the first time at Toronto's Invictus Games.
Prince Harry is the creator of The Invictus Games, an international adaptive multi-sport event in which wounded, injured, or sick armed services personnel and their associated veterans take part in nine sports including wheelchair basketball, sitting volleyball, and indoor rowing.
Family Ties
Although it may seem that Prince Harry and Meghan Markle grew up worlds apart – they have more in common than they could have ever thought. A couple of years back, The Mail discovered that they are distant cousins through a 15th-century ancestor of Queen Elizabeth.
Interestingly enough, Prince Harry's ancestor, Henry VIII executed one of Markle's relatives way back when. Through thick and thin, it seems like these two were destined to find each other.
Happy Ever After
After months of speculation in the global press, the world's favorite couple, Prince Harry and Meghan Markle, finally announced their engagement on November 27, 2017. The pair said they were "thrilled and happy," and the UK got ready for a huge celebration.
Tens of millions of people from around the world watched the Windsor Castle on May 19th, 2019. Celebrity guests included David and Victoria Beckham, Oprah Winfrey, and of course the royal family. Here's to the Duke and Duchess, may they live happily ever after!
Comparing Prince William & Kate Middleton's Relationship With Harry & Meghan Markle By JJ Foster – 3/23/20
With Harry and Meghan stepping down as senior royal figures and Will and Kate destined to one day wear the crowns, their paths couldn't be any more different. Check out the differences in the relationships between the two couples!
First Date – William & Kate
While they might have ended up having a fairytale wedding when everything was said and done, William and Kate didn't exactly have the perfect first date, by any means. Having already been good friends from their time studying at St. Andrew's University, William asked Kate if she wanted to go out on a date. During that fateful evening, Kate tried performing a curtsey. However, she ended up falling over, which made William spill his drink all over himself! Now that's awkward.
ADVERTISEMENT
First Date – Harry & Meghan
It seems like Meghan and Harry's first date went nowhere near as badly as William and Kate's. According to the former actress, the two met during a blind date in London. In his book Meghan: A Royal Princess, biographer Andrew Morton described the first date as "intoxicating" for Meghan. Despite having such great chemistry, the two ended up going their separate ways, with Meghan staying at a Soho hotel and Harry returning to Kensington Palace. Nevertheless, they were both described to be "buzzing" afterward and couldn't wait for the second date.
ADVERTISEMENT
Dealing With Exes – William & Kate
While it's no secret that William and Kate were romantically linked to others before they started dating, it seems like their biggest demon came during their own brief breakup. William was linked with Isabella Calthorpe, Kate was spotted by paparazzi hanging out with William's former schoolmate Henry Ropner.
Dealing With Exes – Harry & Meghan
Of course, Harry had to deal with the opinions others might have about him marrying a divorcee. He seems to have remained coy about how he feels about Meghan's ex-husband – Trevor Engelson. However, things seem to have been a bit more complicated, as far as Harry's exes are concerned – most notably, Chelsy Davy. Meghan has struggled to prevent Harry from continuing to interact with the young lady, who remained friends with him after they broke up.
Handling Long Distances – William & Kate
Long-distance relationships can be tough and William and Kate have experienced it in the past. There was a time early on when the couple had to spend a considerable amount of time apart. This was when William was stationed with The Blues and Royals at Dorset. This meant that he didn't get many opportunities to return to London to see his beloved Kate. In fact, this put so much of a strain on their relationship that they ended up briefly splitting up in 2007.
Handling Long Distances – Meghan & Harry
On the other hand, it seems like doing the whole long-distance thing has not been too much of a problem for Prince Harry and Meghan Markle so far in their relationship. To be fair, they were generally separated by the Atlantic ocean when they were first dating, meaning that they had to take long haul flights just to meet each other. Nevertheless, the couple has managed to make it work and these days, they are more concerned about having a long-distance relationship with the royal family…
Breaking Rules – William & Kate
Prince William has inherited some rebellious traits from late mother Princess Diana. Make no mistake about it, the way that William and Kate met didn't exactly please the royal family. They met at school, as opposed to Will meeting someone as a means of benefiting the royal family. Also, they are the first couple in British royal history ever to both have college degrees. Not to mention the fact that William and Kate often travel with their kids, which is frowned upon by the royal family for security reasons.
Breaking Rules – Meghan & Harry
It seems like Harry has taken after Diana even more than William did. The fact that Harry decided to date an American, Catholic divorcee raised all sorts of questions in Buckingham Palace and beyond. Amazingly though, despite experts expecting the Queen not to approve of their holy matrimony, she still ended up giving them the thumbs up. Not to mention the fact that stepping down as senior members of the royal family has taken their rule-breaking to a whole new level…
Social Lives – William & Kate
Truth be told, both William and Kate are not the biggest social butterflies in the royal family. While they do have people in their lives who they consider to be friends, the couple much prefers to keep themselves to themselves when they are not attending formal social gatherings. Of course, there was an incident in 2017 when Kate wasn't so happy with William in light of a video that surfaced of him hanging out with a mystery girl during a ski trip with his friends.ADVERTISEMENT
Social Lives – Meghan & Harry
It is no secret that Prince Harry has been a bit of a party animal over the years. The same can be said for Meghan Markle, who has kept in close contact with her friends back in the U.S. However, it is reported that the Duchess of Sussex has put some pressure on Harry in the past distance himself from some of his closest partners in crime. The couple also has no problem having candid encounters with celebrities such as Beyonce and Jay Z.
How Long They Dated – William & Kate
William and Kate certainly took their sweet time dating before tying the knot. In 2003, two years after meeting at university, the pair started seeing each other. For most of the next seven years, the couple seemed to have a stable relationship, despite briefly breaking up for three months. Then, in November 2010, Clarence House announced William was to marry Kate "in the Spring or Summer of 2011, in London." However, things have moved at a very different pace for Harry and Meghan…
How Long They Dated – Harry & Meghan
In contrast, Harry and Meghan had no trouble moving at a swift pace, as far as their dating period was concerned. Everything seemed to go so quickly between the two, which was in no small part due to the intense scrutiny they received from the media. Having first met in July 2016, the couple ended up dating for just over a year before announcing their engagement in November 2017. In just a couple of years, the couple dated, were engaged, wed and had their first child.
ADVERTISEMENT
Their First Family Christmas – William & Kate
Royal family members are expected to celebrate Christmas with the Queen and Prince William and Kate have rarely disappointed in that respect. Elizabeth II was delighted when her grandson and granddaughter-in-law announced that they were planning on spending their first family Christmas with her, in light of Prince George's birth in 2013. The couple took their baby boy to Sandringham and this photo sees them on their way to a Christmas service. However, the same can't be said for William's brother…
Their First Family Christmas – Meghan & Harry
Both the royal family and the British public were dumbfounded when it was announced that Meghan and Harry were planning on spending their first Christmas as a family away from the Queen. The couple ended up taking baby Archie to Vancouver Island, Canada for a couple of weeks to spend Christmas with the former actress's mother, Doria Ragland. While the Queen didn't appear to show any signs of disapproval towards the move, some reports suggested that she was actually quite "disappointed" by the news.
Loyalty to the Royal Family – William & Kate
By all accounts, it appears that William and Kate take their royal duties seriously. Also, they know what part they will probably have to play in the royal family over the next few decades. After all the changes in his life over the last decade, William is ready to become King when the time eventually comes. Together, both William and Kate seem to be doing everything in their power to make Queen Elizabeth, Prince Charles, and all the other royal family members proud.
Loyalty to the Royal Family – Meghan & Harry
As for Harry and Meghan, it seems like their loyalty to the royal family has many more holes in it compared to William and Kate's. The most recent news that they have decided to step back as senior royal figures is the biggest proof of this so far. The couple released the game-changing statement on their official website. Despite this, the couple reiterated their loyalty to "Her Majesty The Queen." Only time will tell if they actually mean it or not.
Spending Money – William & Kate
There is no denying that a lot of taxpayers' money from the British public goes into funding a number of aspects of the royal family's day-to-day lives. Back in 2013, it was believed that $1.5 million of taxpayers' money went towards the renovation of William and Kate's home in Kensington Palace. Generally speaking though, the amount of money that the couple has spent since tying the knot hasn't been a cause for concern, at least, as far as the media is concerned.
Spending Money – Meghan & Harry
One thing that both the British public and the royal family have seemed to take offense to is how much money Meghan and Harry have spent so far during their marriage. In 2019 alone, the couple was believed to have spent a whopping $3.8 million in renovating their Frogmore Cottage alone. The Sun's Lebby Eyres claims that this sort of spending is bound "to offend our frugal Queen." Now that the couple are stepping down as senior royals, many believe that they should no longer receive financial aid from royal foundations.ADVERTISEMENT
Dealing With the Media – William & Kate
It is clear that the media has had plenty to say about both William and Kate's relationship, as well as Harry and Meghan's. Every detail, no matter how small, can get turned into a story. The amount of stories that circulated during the former's three-month separation is staggering. Nevertheless, the media has definitely been favorable to William and Kate over the years, especially since they tied the knot and also since Harry and Meghan took some of the pressure away from them…
Dealing With the Media – Meghan & Harry
It is no secret that Meghan and Harry have suffered a lot because of the media over the last few years. "I've seen what happens when someone I love is commoditized to the point that they are no longer treated or seen as a real person," Harry said. "I lost my mother, and now I watch my wife falling victim to the same powerful forces." Meghan even ended up taking legal issues against the Mail on Sunday after publishing a private letter she sent to father Thomas Markle.
Dealing With the In-Laws – William & Kate
While it's no secret that Kate has a good relationship with the Queen, it is less clear how William's relationship is with her parents. According to The Sun though, Kate's mom Carole Middleton has provided her and William with plenty of emotional support. "Carole is a very strong woman who comes from quite a humble background," Phil Dampier said. "Kate turns to her for advice and comfort all the time and she spends a lot of time with William and Kate's three children."ADVERTISEMENT
Dealing With the In-Laws – Meghan & Harry
Not only has Meghan Markle had a complicated relationship with the royal family so far, but it seems like she has also had trouble with her own family as well. Although her relationship with her father and half-siblings has not been easy over the years, she is grateful that Harry has managed to establish a good relationship with her mother, Doria Ragland. She was the only family member of Meghan's who attended their wedding.ADVERTISEMENT
Using Social Media – William & Kate
While there is a chance that Kate might have had social media profiles during the early stages of her relationship with William, there is no evidence of such accounts today. These days, the couple's online presence is limited to their Kensington Royal social media accounts. However, these are operated by their PR/social media team anyway and aren't actually William and Kate's personal accounts. Any other social media activity they might engage with is from the safety of their mobile phones, hidden from the public eye.
Using Social Media – Meghan & Harry
Upon marrying Harry, Meghan was expected to delete her social media profiles. Prior to this, Meghan had been extremely active on social media platforms such as Facebook and Instagram, posting many photos of herself and her day-to-day life. She even had her own lifestyle blog at one point called The Tig. Despite the fact that their online presence has since been limited to their Sussex Royal account, there is a chance that Meghan might return to social media in light of their recent decisions.
Relationship With The Queen – William & Kate
It's not just widely accepted that William and Kate have a good relationship with The Queen. According to Ingrid Seward of Majesty Magazine, Elizabeth II might be seeking more strength from the couple than ever in light of the recent news that Peter and Autumn Phillips had recently announced their split. "If she didn't have them, I think she might say to herself: 'Goodness, after over 70 years on the throne, it's come to nothing,'" Seward said.
Relationship With The Queen – Meghan & Harry
There is no denying that Harry and Meghan's relationship with The Queen has been complicated to say the very least. Royal experts have wondered why Elizabeth II has bent so many rules for Meghan since she joined the royal family. However, The Queen did prevent Meghan from having access to the jewelry from her Royal Collection. It is also believed that in light of the couple's decision to step down as senior figures, The Queen is deeply upset and "disappointed."
Having Fun – William & Kate
Even members of the royal family are entitled to get out and enjoy themselves from time to time. It appears that William and Kate know how to do that. The couple has been spotted taking part in a number of fun activities over the years when they haven't had too many commitments to attend to. Not only have they attended numerous tennis matches, but they have often gone on skiing weekends together. They also thoroughly enjoy staying in and having "date nights in."
Having Fun – Meghan & Harry
While it is clear that Meghan and Harry are a bit more adventurous than William and Kate when it comes to having fun, they do like to keep their extracurricular activities away from the public eye as much as possible. When Harry visited Meghan in Toronto before proposing, they made a concerted effort not to share with the public what they were getting up to. One date night reportedly saw the couple have a home-cooked meal that they enjoyed in the former actress's garden.
Building a Family – William & Kate
There is no question that the two couples in question are at different stages of their relationships when it comes to building a family. As of 2020, William and Kate have three beautiful children in Prince George, Princess Charlotte and Prince Louis. With Prince William being the second in line for the throne, this means that his three kids are also far up the pecking order, being third, fourth and fifth, respectively. The couple has since stated that they have no plans of having a fourth child.
Building a Family – Harry & Meghan
Of course, Meghan and Harry have welcomed one child into their family so far – baby Archie. The pressure of who is next in line for the throne isn't as important for Harry. And when you take into consideration the fact that they have since stepped down as senior royal figures, Meghan and Harry don't seem to be under too much pressure to add any more children to their family. Reports suggest though that the couple is considering having a second child sooner rather than later.ADVERTISEMENT
ADVERTISEMENT
Wedding – William and Kate
It was a wedding that was seen by 36.7 million people and one that many of those people will never forget. Prince William and Kate Middleton tied the knot on 29 April 2011 at a beautiful ceremony in Westminster Abbey, London. It was a truly special occasion, especially since many were watching who they believe will be the eventual King and Queen consort of England. Many had compared the build-up to the wedding to that of William's parents, Charles and Diana. Thousands of people around the country celebrated with street parties.
Wedding – Meghan and Harry
Meghan and Harry's wedding, on the other hand, was overshadowed by the intense scrutiny the couple had received from the media over the months building up to it. The couple also turned a lot of heads during their big day, seeing that there were a number of things they did in an unorthodox manner. For a start, the traditional ceremony that the couple was supposed to have ended up including a full African-American choir. Guests include George Clooney, Idris Elba and Priyanka Chopra.
Fashion Style – William & Kate
While it might not be as important as other subjects on this list, the way that both couples dress has been something that many have kept a close eye on over the years. While William and Harry seem to dress fairly similar for the most part, Kate and Meghan definitely have clear differences in style. Generally speaking, the Duchess of Cambridge likes to keep things more simple and understated. Not only does she prefer longer dresses with a more elegant look, but she's also less likely to follow fashion trends.
Fashion Style – Meghan & Harry
Meghan Markle has become something of a fashion icon ever since joining the royal family. The Duchess of Sussex keeps a close eye on fashion trends and will often try to stand out at public events, much to the royal family's dismay. Meghan's determination to be herself has gotten her into trouble in the past, having been called out for wearing sleeveless dresses at public events. Also, if royal female figures always wearing formal tights in public is true, then Meghan has broken that rule many times.
Holding Hands – William & Kate
Many members of the British public are dumbfounded by the fact that the Duke and Duchess of Cambridge do not hold hands that often. However, there's a good reason for this. It turns out that the Queen established an unwritten rule about this, which she also follows with Prince Phillip. It is also believed that William and Kate like to keep their displays of affection private, away from the public eyes. However, when Harry and Meghan first faced this rule…
Holding Hands – Meghan & Harry
As for Prince Harry and Meghan Markle, they do not seem to be too enthusiastic about the Queen's unwritten rule regarding holding hands. Very shortly after it was revealed that Harry was dating the former Suits star, the two were seen on numerous occasions walking in public settings hand in hand. One of the most notable examples came during Prince Harry's Invictus Games. The two looked incredibly happy as they held each other's hands during the popular multisport event.
Daily Obligations – William & Kate
It should come as no surprise that William and Kate have extremely busy schedules. While they are busy with numerous trips to foreign countries, as well as their numerous outreach programs, they also have a daily routine to maintain. As the Duke of Cambridge, Prince William has a number of official duties to maintain in support of Queen Elizabeth II. Then there is Kate, who has numerous "duchess duties." These include scheduling numerous meetings with advisers in order to cover a wide range of political and public affairs.
Daily Obligations – Meghan & Harry
Things have gone a little differently for Harry and Meghan in terms of how they have been handling day to day operations. In 2015, Harry's time with the Armed Forces came to an end, while Meghan was still working as an actress all the way up until the moment that Harry proposed to her. Since then, the couple has made numerous public appearances. Of course, stepping down from senior royal duties means that their daily routine is going to look very different in the future.
Charity Work – William & Kate
One thing is for sure, William and Kate love to give to others and the number of charitable causes they are a part of is quite staggering, with their efforts benefiting those in need around the world. Originally, William and Harry established The Royal Foundation – an organization that all of their other charitable endeavors could be organized through. After tying the knot with William, Kate joined the foundation and Meghan Markle also attended her first Royal Foundation event shortly after her wedding. However, things have changed…
Charity Work – Meghan & Harry
While it is fair to say that Meghan and Harry are also passionate when it comes to charity, it seems like some of their administrative decisions in recent times have overshadowed this hard work. The couple was heavily scrutinized by the media when they announced that they would separate from The Royal Foundation in order to establish their own. Nevertheless, their travels to India and Rwanda, as well as their general philanthropic ventures shouldn't be ignored.