Are Democrats once again underestimating Donald Trump's support base?
Stock futures CA election CNN Whos winning the election Kanye West Lindsey Graham Election coverage Texas Election Results  Susan Collins
Please take a moment to read this as I too have been mystified by Trump's supporters, have spent years painstakingly speaking to them and finally figured out who they are, what is happening and how the world views them. I don't mock them, I respect their chance to let them speak for themselves revealing exactly what they are doing and why.
Let's start from the beginning:
"Trump's" base is not just his 'base', he is them, he is their avatar, for many they practically worship him. That may or may not sound ridiculous depending on your point of view, but for millions of Trump supporters;
They see in Trump everything they always wanted. They do not care about his past. I cannot tell you how many times I have been told that it is what he is doing now that counts, his past means nothing. 95% of his base will never leave him, NEVER.
I, and countless others have been threatened on almost a daily basis for even questioning why one would not support Trump 100% all the time every day. And I mean I have been threatened with violence in all forms.
They are angry and frustrated and cannot understand why no one gets it. They completely believe everything that Fox news and other right wing sources tell them. They have no respect whatsoever for the other side.
Now we can take a look at how does the world view Trump's base.
Before you read the following I am an Australian-American, my bio is well known, 45 of my 70 years outside the USA in; China, Australia, India, Nepal, Hong Kong, Singapore, the Philippines and Vietnam (lived in each of those at least 3 years some up to 15). So I speak to people outside the USA in all of the countries above plus Europe, the Middle East and South America on a regular basis. This is what they tell me:
They see them as in no particular order; Bigoted, racist, gun fanatics, beyond unreasonable, having no interest in community or others besides themselves. They see a group that terrifies them, makes them wonder if they should ever visit America. They cannot understand their 'brand' of Christianity as it appears to be caught in racist ideologies that cuts out anyone that is not exactly like them. In fact, many see Trump's Christianity as a kind of 'cult' that is not really Christianity at all.
They see all the bad TV series coming to life about para military scrawny or fat white guys with AR15s threatening to bring down the government. They see gross women shouting and writing on their own bodies that Trump can do anything they want to them its ok.
They watch in fascinated horror as parody after parody asks basic questions to Trump supporters at his rallies that show their ignorance and total disregard for logic or facts.
They wonder if Trump gets reelected can they ever trust the USA again. They think what happened to the so called 'greatest country' in the world.
They hear about QANON and hope that this despicable cult does not infect their country.
They wonder how did they ever follow this type of America, is there something wrong with them, why didn't they get it. What is going on?
They are going through all the various stages of denial, then anger, then sadness, then pity and finally what they believe is a grudging acceptance that whatever America was, it is no longer the same.
In short, 9 out of 10 people outside of America view Trump supporters as deluded out of control white nationalists with no regard for anyone but themselves. People who are so off that they would rather lose their rights than let anyone else have any rights to the point where their following of Trump has meant thousands of them have unnecessarily died by not wearing masks for instance thus passing CV19 to other thousands and hundreds of thousands and now millions.
In conclusion, Trump's base has almost no admirers outside the USA other than some small fringe 'rights' groups that you can find in any society.
Trump has done something that no one thought was possible. He has taken a carefully developed 250 year philosophy, perhaps real perhaps exaggerated and completely shattered it with the gleeful support and adoration of a millions of people that the rest of the world find frightening.
They feel it is up to America with it's election to either show them there is another more powerful presence, a completely different approach to life and group and a return to the philosophy of American leadership and exceptionalism or that Trump's base will be the America that they will have to learn to live with for a long time to come.
127859 views

Stock futures
CA election
CNN
Whos winning the election
Kanye West
Lindsey Graham
Election coverage
Texas Election Results
Susan Collins
Chris Cook@chrisckmedia·8m9 1/2 TV programme done. I'm off to sleep. Thanks for watching. #Election2020

will continue for the rest of the day.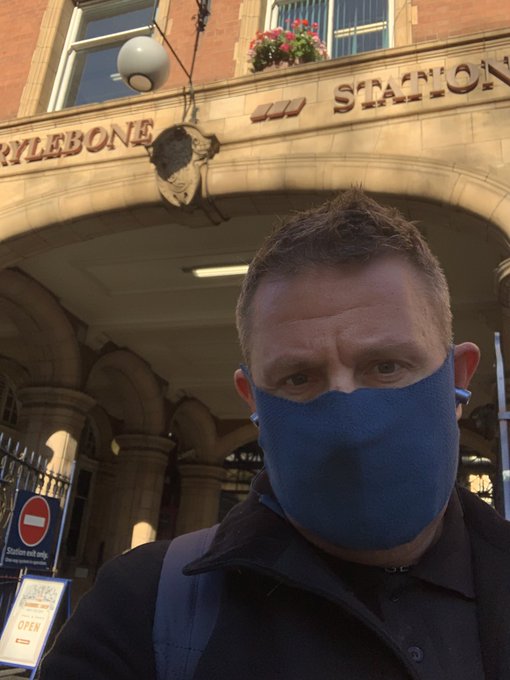 324

Al Jazeera English@AJEnglish·1hReplying to @AJEnglishBiden's campaign manager says Trump's statement on calling for vote counting to stop is "outrageous, unprecedented, and incorrect". LATEST updates
https://aje.io/tkb6u #Election2020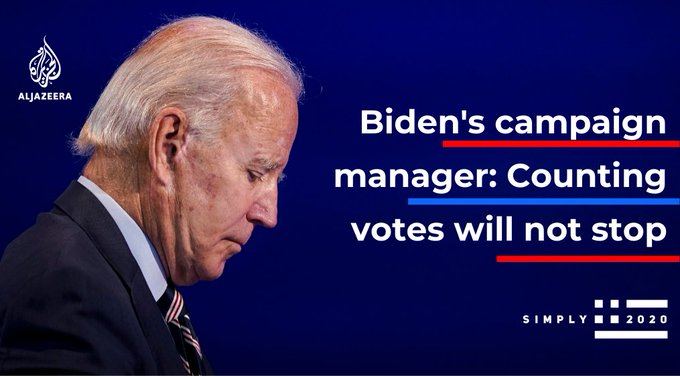 2080491

Al Jazeera English@AJEnglish·42mThe Associated Press said it's not calling the presidential race yet as neither candidate has secured 270 electoral college votes need to win https://aje.io/4xcq4 #Election2020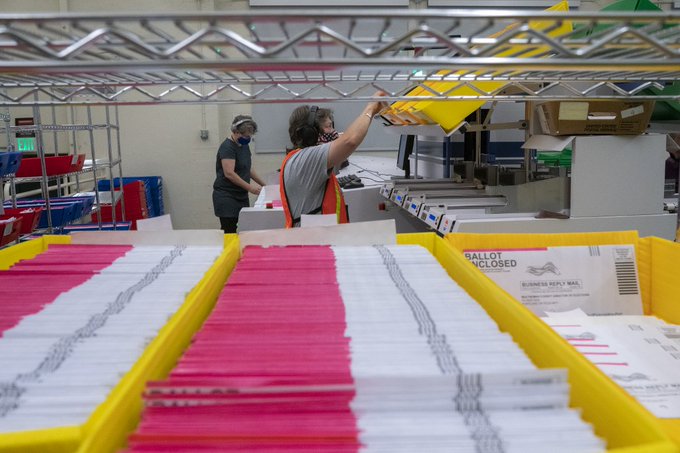 743201
@JasminIrisha·26mWhy are Malaysians guilt tripping Malaysians for following the US election? The outcome of #Election2020

affects the whole world. The whole world is watching.22458
Paige Occeñola@ohnopaige·4mChecking #Election2020

results in the middle of yoga is my toxic trait.
14
CBS News@CBSNews·1h.@chueyburns reports from Philadelphia that there are still hundreds of thousands of ballots to be counted in Pennsylvania's most populous counties #Election2020

http://cbsnews.com/results2:1029.2K views3285281
Its Mona!@MonaMelanated·6mWe are taking all our tourist money to Wisconsin if and when they pull this off. Girls trip to Wisconsin Ladies lets go!! Fuck Florida! #Election2020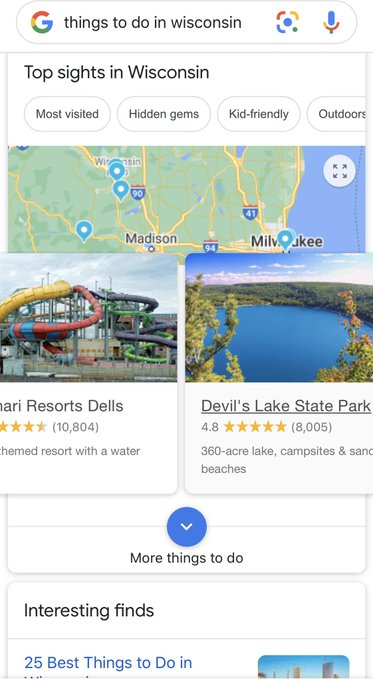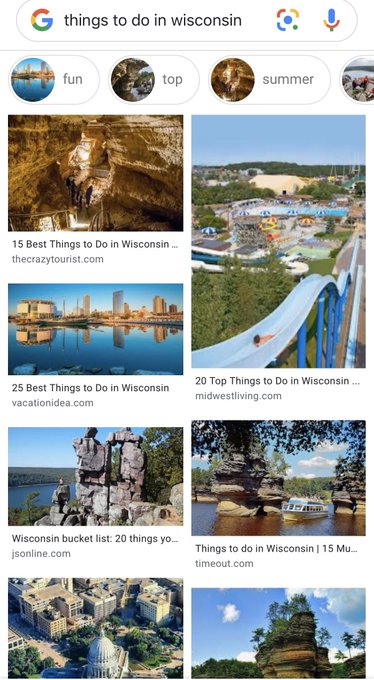 6755
WurlD@thisisWurlD·1hwhatever the outcome, we keep pushing forward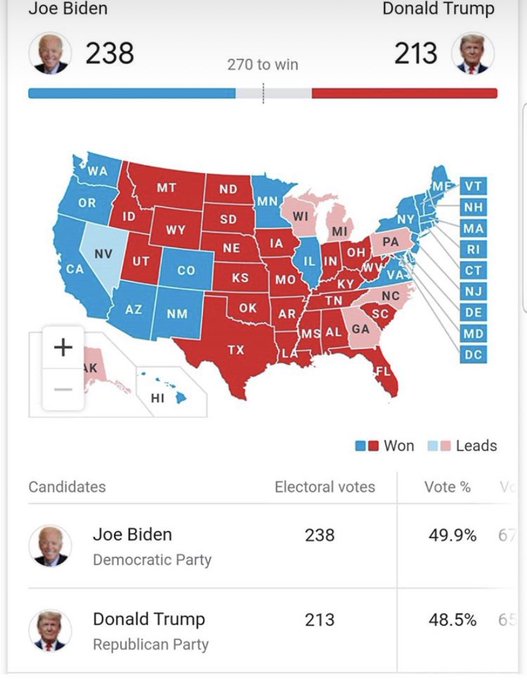 923229
Ethan@Tarakfreakk·6mWe, non Americans , checking the results on google every 30 seconds #USAElections2020 #USElection2020 #Elections2020



#DonaldTrump #JoeBiden #AmericaDecides2020
2949

Daily Mail US@DailyMail·15sTrump campaign fundraising email doubles down on his claim that Democrats plan to STEAL the election https://trib.al/inegAgo #Election2020

Trump campaign email doubles down on his election theft claimTrump made similar claims in a tweet that was flagged as 'disputed' and 'misleading' by Twitter, and in an explosive press conference claimed the election was a 'fraud on the American people'.dailymail.co.uk
#MICHIGAN (16 EV) SCRUTINIO (78%) #TRUMP 51,6% #BIDEN 46,7% (Nel 2016: Trump +0,2%) #USA2020#Election2020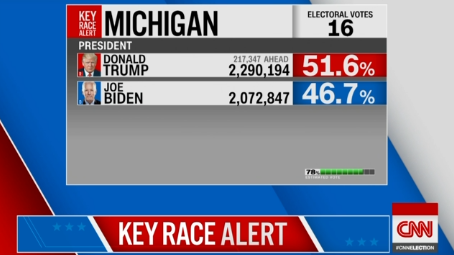 81489
Search filtersPeopleFrom anyonePeople you followLocationAnywhereNear youAdvanced search
Trending now
Trends for youPolitics · TrendingTrumpTrending with #Elections2020


#MARVELxLeclercMARVEL est chez E.Leclerc !Promoted by Bons Plans E.LeclercTrending in France#Election2020

1.46M TweetsPolitics · TrendingWisconsinTrending with PennsylvaniePolitics · Trending#ElectionNight

Trending with #MorningDeDifool, #ElectionsAmericainesShow more
Who to follow

Banque des Territoires@BanqueDesTerrFollowPromoted

Mitchell J Goldberg@MitchellJGoldbeFollows youFollow

Mokeni Ataningamu@jcmokeniFollows youFollowShow moreTerms of ServicePrivacy PolicyCookie PolicyAds infoMore