Knee High Socks : How To Wear Them
FASHION - TRENDS - SOCKS  KNEE HIGH SOCK  TRENDS - HOW TO WEAR
By YEET MAGAZINE Updated 0118 GMT (0918 HKT) October 4, 2021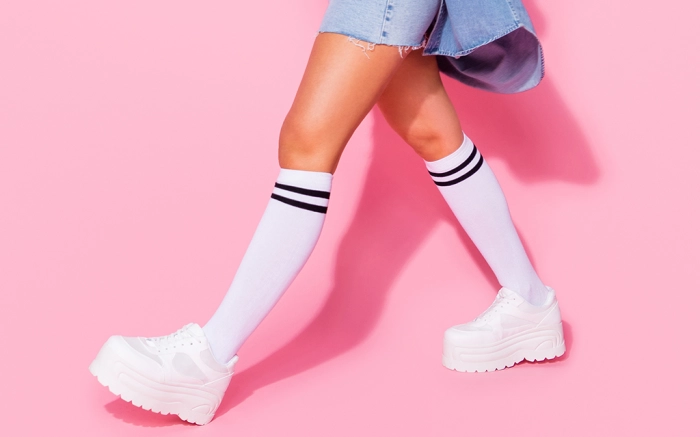 It is the essential accessory of any wardrobe: socks.
To avoid cold feet, socks can be worn with all shoes, whether sporty, everyday or even very feminine. And yes, we have seen on the catwalks of models associating socks with pumps and other slippers.

What's more, the socks are interesting in that they come in an infinite number of ways, and in particular when it comes to their size.
There are invisible ones, which stop at the base of the ankle, and very high ones, which go up to mid-thigh. Knee high socks are a clever in-between. This sock size is designed to go up to the base of the knee. At the top of the calf, they have the advantage of not rolling all the way to the bottom of the leg and therefore does not need to be raised every five minutes. They are also called knee-highs.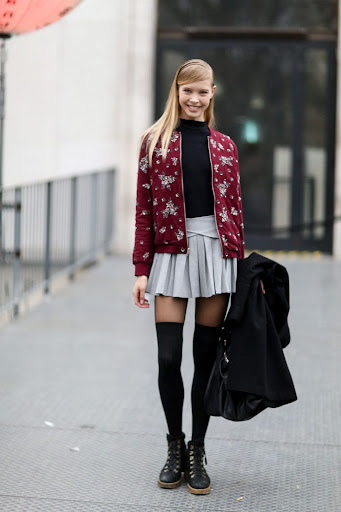 Long socks for women
Knee high socks come in an endless variety of models. In wool or cotton, ribbed or cable-knit, transparent or opaque, all in a very wide range of colors and patterns: long socks for women bdress all feet. They are found at all prices and many brands offer quality socks made in France.
They are ideal in several cases. First in winter, when it's very cold, high socks are worn under pants and keep the legs warm. Still not cold weather, when you wear a skirt and boots, you can put on socks to protect your tights and keep your calves warm. The long sock can even protrude from the boot and roll up below the knee. Knee-high socks and tights can be tone-on-tone or in bold colors.

Finally, many women and girls opt for looks articulated on this piece of lingerie that is the sock. In heels or sandals, with low shoes or ankle boots, we associate long socks that go up along the leg with a skater skirt, a pleated skirt, shorts, 7/8 pants… for an original look.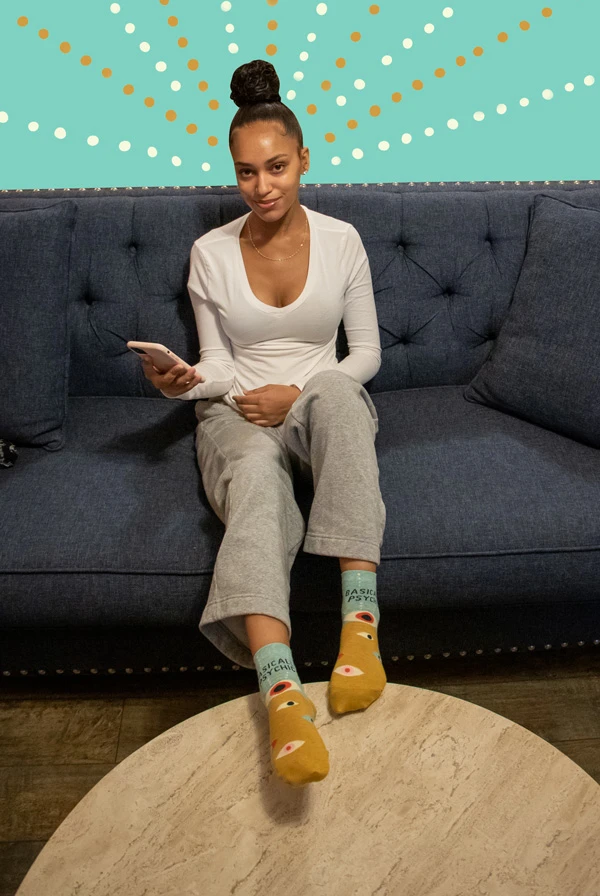 Large "fancy" socks
Novelty socks love to show off in plain sight. Turn your high socks into real fashion accessories. Over tights, striped knee high socks in all colors can be a hit. It must be said that sock brands are having a great time imagining patterns and other fantasies.
With lace, rhinestones, small bows, a couture line, pompoms, fringes, hearts, embroidery, pearls, plumetis…: we cannot mention all the possibilities of high fancy socks available. And if you fall for these original socks but don't dare to wear them in broad daylight, opt for a cozy cocooning day in your pretty high socks.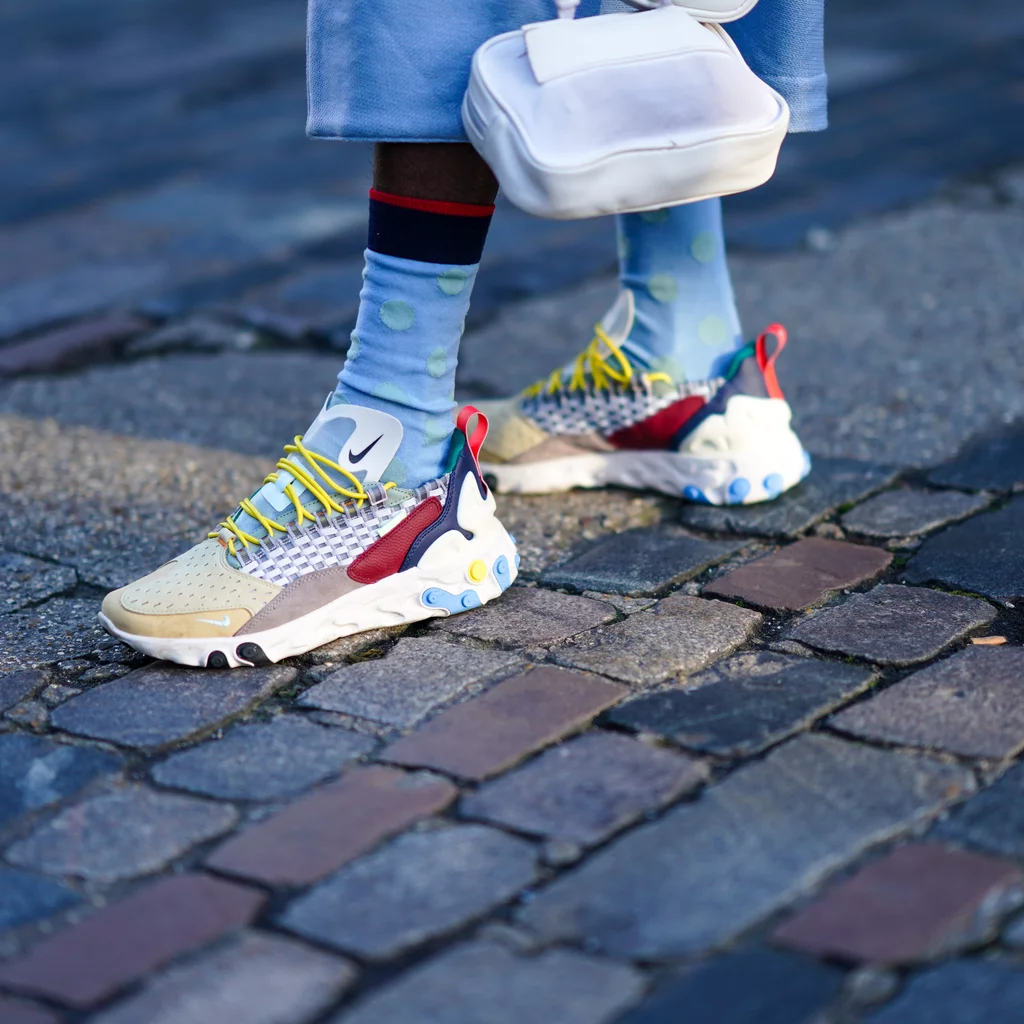 High socks look
How about the high sock look? And that, without appearing to be out of college or leaving for a football match? Sexy and original, this look has made a name for itself in the fall and winter locker rooms. But how do you achieve a perfect combination of high socks, tights and a skirt?
There are many possibilities available to you. High socks stick out of your boots or ankle boots. They can also be worn in derbies or other low shoes, sometimes even in heeled sandals. The socks cover the entire leg, leaving only a thin, attractive strip of skin visible; or they stop below the knee.
They ideally accompany short skirts, dresses and even shorts. And you can also choose to wear them over skinny pants. Finally, the models, the colors and materials are endless. What to compose trendy, original and always successful styles.On the same subject
Ballet flats
Sneakers
Birkenstock
Boots
Ankle boots
Oxford shoe
Flat shoes
Thigh high boots
Derby shoes
Doc martens
Pumps
Espadrilles
Moccasins
Sandals
Cowboy boots
Spartans
Timberland
UggFashion tips on the topic Knee high socks :
High socks : how to wear them in winter?
LEARN MORE
How to wear high socks in high school?
LEARN MORE
Gray high socks : what to wear them with?
LEARN MORE
Glitter socks : how to wear them?
LEARN MORE
How to wear black high socks?
 Glitter socks: how to wear them?
Hello Lise, I am coming to you because I have completely fallen for these sequined socks, but I have absolutely no idea how to wear them! Could you help me put together some outfits please? Knowing that I wear both sneakers and heeled ankle boots (or without). Thanks for your great advice! :)
 How to wear high socks in high school?
Good evening, I just bought myself this pair of black knee high socks and I was wondering what I could wear them with.I would like a style that I could wear to go to class, but I'm not afraid to wear short: ) Thank you so much !
How to wear black high socks?
Good evening ! I'm asking for your advice tonight because I like the style of these black knee high socks, but frankly I'm not sure what to wear them with so hopefully you can help me find some complete outfits. Thanks in advance :)
High socks: how to wear them in winter?
Hello Lise, First of all, a big thank you for your advice, as usual! I recently bought some high socks that go above the knee in black, brown and gray. Knowing that I love to wear skirts and dresses, could you make me outfits to wear with them? And what shoes, knowing that I like to wear both during the day? Many thanks in advance. Yours
Gray high socks: what to wear them with?Hello Lise! I bought myself these gray knee high socks. What could I wear them with? Thank you for your advice!
SEE LISE'S RESPONSE   More tips
Accessories
Shoes
Woman Look
Bags
Outfits
Clothes