14 Outdated Fashion Trends That Men And Women Better Give Up
Fashion is constantly changing. It is a massive industry, valued globally at around 250 billion euros. It's no wonder then that everyone wants their piece of the pie and that many employees in the retail industry go to great lengths to make a sale.
By YEET MAGAZINE Updated 0118 GMT (0918 HKT) October 2, 2021
Bad Fashion Trends @Ann Haritonenko / Shutterstock.com
Fashion is constantly changing. It is a massive industry, valued globally at around 250 billion euros. It's no wonder then that everyone wants their piece of the pie and that many employees in the retail industry go to great lengths to make a sale. Both fast fashion stores and high end stores are willing to say anything to win a customer, when the truth is, not everything is good for everyone.
We see something in a store window, or more likely online, and we want it! But very often, the things that look good on one person don't necessarily go well on another. Or, the clothes we wore in our youth do not necessarily fit us today. Read on to find out which fashion trends were once in fashion but haven't stood the test of time.
1. Do not wear shapewear clothes
Average price: 20 € *
Fashionable in: 2010s
Sculpting clothes might not be the most aesthetically pleasing out there, but they work wonders for the body and are designed for all shapes and sizes. The goal is not to give the illusion of being slimmer, but rather to smooth the natural curves, which allows the clothes to be perfectly adjusted, without bumps.
© Alex_Vinci / Shutterstock.com
Spanx founder Sara Blakely founded an empire on it, which is now worth nearly a billion euros. The Spanx brand has become more popular than ever, which gives an indication of its effectiveness. The successful entrepreneur says she doesn't have coffee in the morning, but it seems that abstinence from caffeine had little impact on her productivity!
2. Crocs
Average price: 60 € *
Fashionable in: 2000s
Over the years, Crocs have been both the most beloved and the most despised shoes of the time. We've seen so many celebrities promoting it, from Justin Bieber, who wore his own model, to Priyanka Chopra, who is the brand's ambassador, and even little Prince George, who wore a pair in 2015.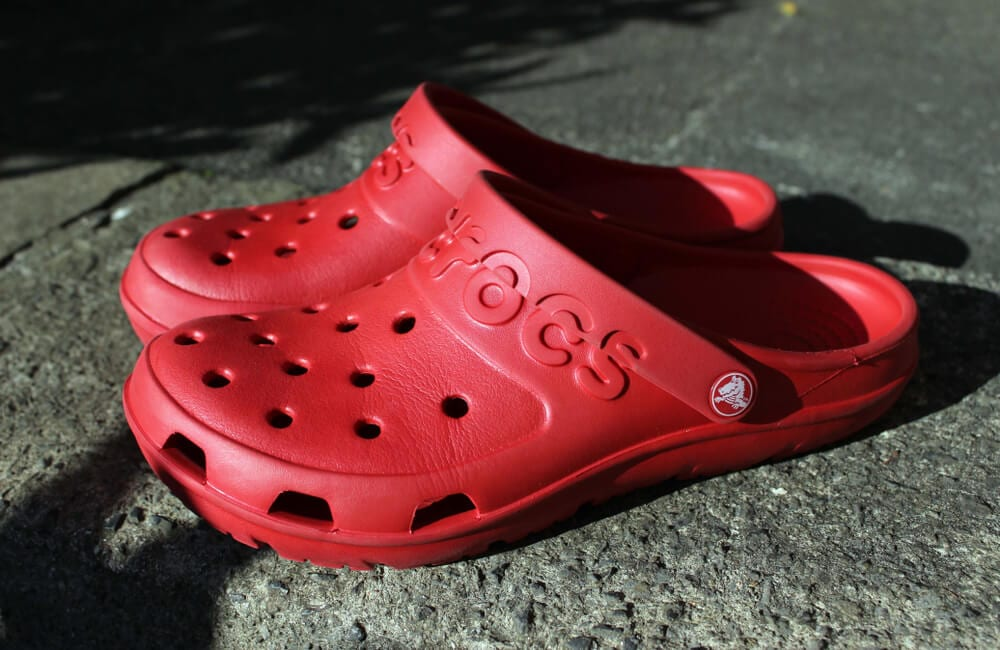 Crocs © Haelen Haagen / Shutterstock.com
Balenciaga created a pair of platform Crocs and launched it, causing both frenzy and dissent among fashion aficionados. Dedicated fans have rushed to pick up a pair for the staggering price of $ 900, proving that fashion and beauty are truly in the eye of the beholder… or maybe the lesson here is: find a popular brand or influencer and you'll be able to sell just about anything.
3. Thin eyebrows
Average price: 19 € *
Fashionable in: 1990s
Who can forget Drew Barrymore, Pamela Anderson and Mariah Carey in the 1990s with their eyebrows as thin as a pencil. Moreover, this may have left irreversible marks on the eyebrows of those who experienced this trend in the 90s.
Thin Eyebrows © Olga Ekaterincheva / Shutterstock.com
Today we are at the opposite extreme of that trend, with rather thick and full eyebrows. There is a rational reason thin eyebrows are less popular, and that is aging. As we age, we naturally lose hair, which is why thicker eyebrows look younger. But let's not get carried away too quickly, do we?Advertising
4. Flower patterns
Average price: 49 € *
Fashionable in: 1960s
Floral designs or any other vivid print are quite difficult to wear, especially from head to toe. If used sparingly, like a scarf or skirt, and the rest of the outfit is plain, it can work. Vivid prints should be used with caution as they can be intrusive and may not show off.
Floral Patterns © Oleg Gekman / Shutterstock.com
Typically, large print or horizontal stripes make it appear larger. Conversely, the vertical lines and small prints give the impression of being thinner, just like the color black. Certainly, there is total freedom in terms of personal expression, but certain types of clothing are more difficult to wear than others, and these are part of it. Advertising
5. Crew necklaces
Average price: € 6.99 *
Fashionable in: 1990s
Crew necklaces have a long history dating back to the Renaissance era. They have been popular throughout history and returned to the forefront in the 1920s. Flappers were fashionable for short, squared cuts, and the crew neckline matched perfectly with this. style.
Chokers @Cosmopolitan / Pinterest.com
More recently, it has been interpreted as a symbol of rebellion, with teenagers in the 90s wearing velvet chokers rather than the ornate models of previous years. Natalie Portman in Leon or young Drew Barrymore supported this grunge-inspired trend. So unless you want to look like a messed up teenage girl from the '90s, it would be best to avoid the choker.Advertising
6. Turtlenecks
Average price: 19 € *
Fashionable in: 1940s
Unless you are in the middle of winter and have no other choice or risk freezing, the turtleneck is to be avoided at all costs. Totally distorting the proportions of the body, it creates a figurine appearance while accentuating the jawline, which is not necessarily what you want to look like.
Turtlenecks © Victoria Chudinova / Shutterstock.com
You have to try to lengthen the neck and the body, which is impossible to achieve with a large piece of woolen fabric that takes up your entire neck. A more elegant option for the winter is a silk or cashmere scarf. These two fabrics are pretty and soft, keep warm and give a touch of elegance.Advertising
7. Jersey dresses
Average price: 149 € *
Fashionable in: 1960s
Although Chanel came up with a heavier version of the jersey dress in the 1920s and 1930s, the look did not succeed until the late 1960s. The "Mods" adopted it, and icons like Twiggy have made it history in fashion. The jersey dress still has its place in modern fashion, but beware of it.
Jersey Dresses @barnonecountry / Pinterest.com
The fabric can be tight and unflattering, and the length of a classic jersey dress cuts your figure at the knee. A fabric that highlights more is high quality cotton or silk, which conforms perfectly to the body, accentuating natural curves without molding or puffing.Advertising
8. Cargo shorts
Average price: 29 € *
Fashionable in: 2010s
Cargo shorts, or daddy shorts, are men's favorite clothes during the warmer months. The message he sends is: "I put it on without thinking too much and I have a lot of pockets because I have a lot of important things to do". Usually these cargo shorts are worn with flip flops and a scruffy T-shirt which also deserves to be reconsidered.
Cargo Shorts @vinischaumkel / Pinterest.co
A better message would be: "I am proud of my appearance and I take care of myself". To do this, wear more fitted clothes, such as jeans or shorts that are not too wide, and that do not contain dozens of pockets. Add a well-fitting shirt and leather sandals and voila!Advertising
9. Too wide blazers
Average price: € 399 *
Fashionable in: 2010s
Cara Delevingne broke dress codes in a resounding fashion at Princess Eugenie's royal wedding in 2018. The dress code was formal and strict, as you would expect for this kind of ceremony. The men had to wear a suit and the women a day dress with a hat, however, the supermodel arrived in a fitted suit with a top hat.
Oversized Blazers © Creative Lab / Shutterstock.com
Nothing expresses power better than a woman wearing a costume. A suit makes a statement and we love that, but it's better to wear your blazer fitted rather than too loose. If it's too big, you run the risk of fading, which is not the goal when wearing authority clothing like this. Advertising
10. Square toe shoes
Average price: 59 € *
Fashionable in: 2000s
Warner Bros recently made a remake of The Witches movie , based on Roald Dahl's book. If you read this book as a child, you will be surprised how dark the story is when you see it as an adult. The image of witches' square toes stuck in the minds of many of us when we were kids and it is still scary today.
Square Toed Shoes @GQ / Youtube.com
Perhaps this is the origin of the visceral aversion to square-toed shoes. Or maybe it's just because they don't show off at all, being rather bulky and unnatural. Either way, this look can definitely be left out, far, far from our feet.Advertising
11. Mom's or dad's jeans
Average price: 59 € *
Popular in: Timeless
Jeans are clothes that can be very cleaving. Either they make you look good, or it's the opposite. Here are examples of the latter case, where jeans do nothing for natural curves, creating a boxy, square shape.
Mom / Dad Jeans © staras / Shutterstock.com
The slightly higher waistline emphasizes more shapely bodies as it does not cut the body at the waist like the old low- rise jeans from Britney Spears in the 90s did. Although the waist should be higher , the legs should be snug, not too tight, because if they are too loose, they give the impression that the body disappears into the jeans. Advertising
12. Long skirts
Average price: 29 € *
Fashionable in: 1960s
It would not be fair to ban long skirts unconditionally. They can be very beautiful and even flattering if worn correctly and on certain body types. For example, people of short stature should avoid the long skirt as it will only accentuate their petite figure. On the other hand, they can wear three-quarter skirts or knee length skirts without any problem.
Long Skirts © Ollyy / Shutterstock.com
The other consideration is what to pair it with. When you wear a long skirt, you have to try to lengthen the rest of the body, so you should avoid turtlenecks for example. Rather, the reason they're on this list is because they're awkward to wear and won't suit every figure.Advertising
13. Cardigans
Average price: 29 € *
Fashionable in: 1930s
When it comes to cardigans, it's all about the silhouette. If you choose to wear one, it will be more flattering if it sits at your waist rather than the thighs. A thigh-high cardigan will have a rectangular shape at the back, which is not flattering.
Cardigans © Maria Svetlychnaja / Shutterstock.com
Maybe with the addition of a belt it could work, cinching the waist and creating an hourglass shape. It is necessary to take into account its morphology and what suits best. With tight clothes under the cardigan, it can make you look good. On the other hand, if everything is loose, the general appearance will appear neglected.Advertising
14. Capri pants
Average price: 20 € *
Fashionable in: 1950s and 1960s
Capri or cropped trousers highlight the middle part of the body, while shortening it. It makes for a short and wide look, even if the person wearing it is neither short nor wide. It is best to opt for pants that reach at least to the ankle and / or are more fitted, as the pants are generally rather wide.
Capri Pants @ fashionforwomen658 / Pinterest.com
Popular in the 1950s and 1960s and named after the Italian island of Capri, it was worn by icons such as Marilyn Monroe and Audrey Hepburn. While we may happen to admire their stunning beauty with a touch of nostalgia, some fashions must live and die with their times.