A Girl, A Style: An Interview With Giovanna Battaglia Engelbert
800,000 people follow on Instagram her incessant changes of looks, this permanent parade according to which she remixes luxury in unbridled and second degree version.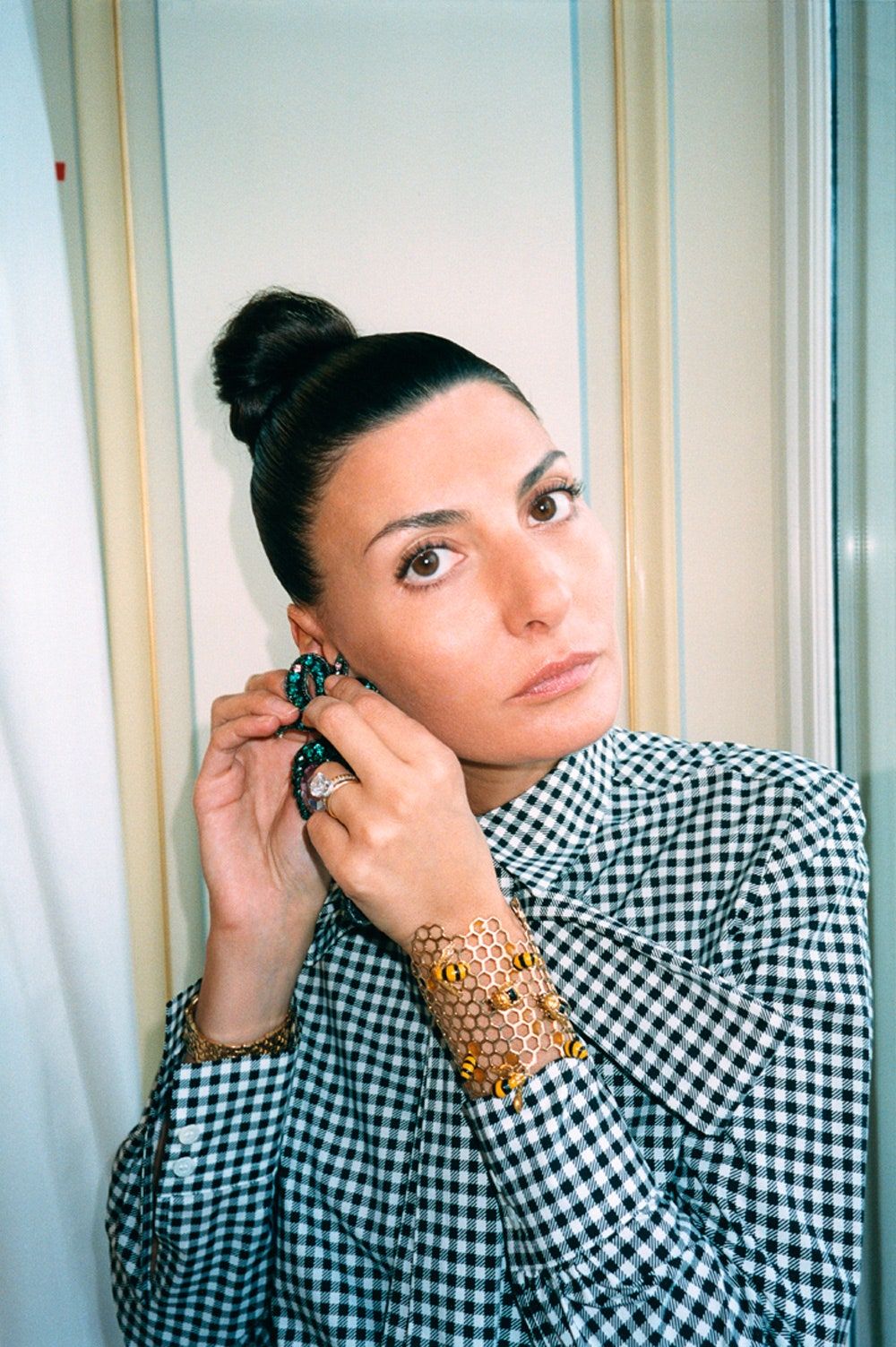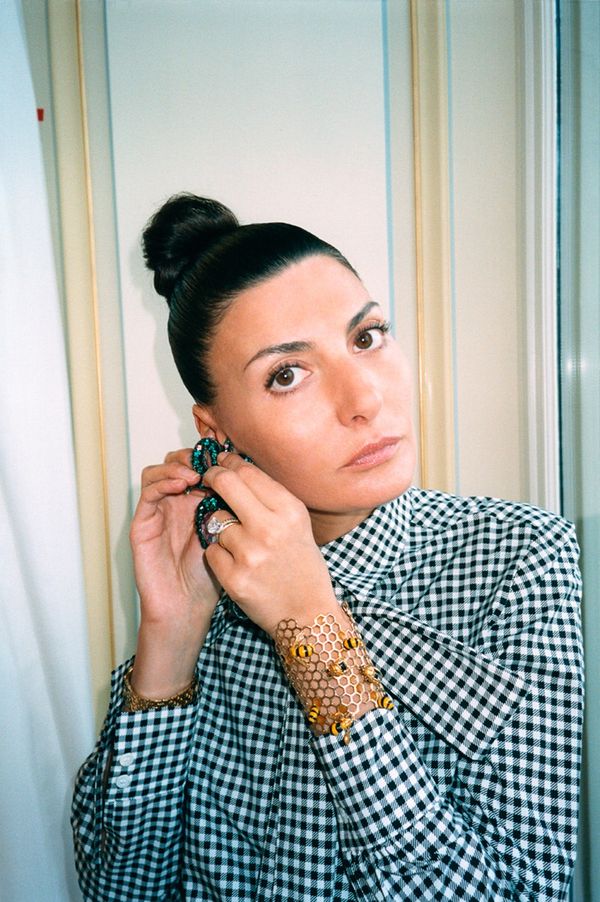 FASHION
By YEET MAGAZINE | Updated 0439 GMT (1239 HKT) January 29, 2022
800,000 people follow on Instagram her incessant changes of looks, this permanent parade according to which she remixes luxury in unbridled and second degree version. Stylist, editor for Vogue Japan and W Magazine, artistic director, multi-card consultant courted by a host of brands, fashion icon self-documented by a recently released book ("Gio-Graphy: Fun in the Wild World of Fashion", ed. Rizzoli New York), Giovanna Battaglia Engelbert understood a moment ago what her best showcase was: herself. Conversation in Paris, thanks to the parades.
JONAS UNGER
What got you into fashion?
Giovanna Battaglia Engelbert: "I think I wanted to have a career in fashion from my childhood, without knowing exactly what job to exercise. My means of accessing this universe was modeling. I didn't really want to being a model is a fact. I did not imagine myself working in the design studio of a house either; on that, things were quite clear to me. The profession of stylist was still unknown, almost secret . It was while being a model that I discovered the women who were hiding behind the photos and that I understood that it was my path. "
The names of those who inspired you at the time?
"I saw Charlotte Stockdale, Anna Dello Russo, Franca Sozzani at work…"
Do you have an eloquent memory of your taste for clothes?
"Are the hours spent dressing my Barbies okay?"
Caroline de Maigret reveals why Keith Richards is her style icon! | ICONIC
Did you grow up in a family where fashion mattered?

"No, my family was art-oriented and fashion was seen as a terribly frivolous thing in comparison. We were a bit of the black sheep when we were interested. Not like today, where the bridges between the two are so many… But the fact is that I was born in Milan, at number 1 of Via Montenapoleone. You know what that means: I grew up looking at the windows of luxury boutiques. I remember in particular those of the megastore Versace, which is a Louis Vuitton store today. I have a hard time remembering all the people, all the events, but I haven't forgotten anything about those storefronts… "
How do you approach fashion, in a few words?
"I'm a woman, so I go for what I like, what turns me on, what I would like to wear. When I design the styling for a series, I usually want to look like the girl in the photos. . I'm not very ugliness ... "
So do you reason the same when it comes to dressing a model or yourself?
"Absolutely, it's pretty much the same".
Do you remember your first shoot as a stylist?
"Obviously, impossible to forget. I think the right word is 'incredible'. The theme of the series revolved around futurism. My best friend was acting as an assistant ... I was delighted with the photos. And especially , glad to see them posted with my name on them. "
The secret to good styling?
"Tell yourself that you can't know if what you imagined is working until you've tried it on the dummy. And follow your gut: if you have any doubts looking at the result, it will probably be a thousand times worse. on the printed photo. "
Where do you still find inspiration?
"Both in the world around me and in the archival images, which I try to transpose to our time. I am a seasoned archivist. Too many, sometimes."
Your last favorite to date?
"Richard Quinn. He's my new Michael Halpern."
Your favorite piece from your collection above all else?
"A vintage Alaïa dress in leopard. I was jumping for joy when I could afford it."
You are hyper-present on social networks, you post your looks non-stop, nearly 800,000 people follow you on Instagram… Why such a frenzy?
"First of all, I am personally a real Internet bulimic. An information vampire. I am always looking for new creators, new apps… I'm addicted to that, that's obvious. concerns my personal exhibition, it's true that I am very generous when it comes to sharing. It's a bit like making a mini-magazine about myself. Being so followed sometimes surprises me… Basically , it's a bit abstract, you don't always really realize how many people are going to see what you're posting. And then these people stop you on the street and it all suddenly becomes real. "
What still amuses you about fashion?
" Undoubtedly the fact of making my profession evolve in line with the times. In addition to being a writer, stylist, artistic consultant, I am now a communications strategy advisor, which is linked to my use of social networks, precisely. I have twenty years of experience in fashion behind me and a good knowledge of the mechanisms of social media. A combination that is not so common ... "
In short, what you are saying is that you know how to handle Instagram like a blogger, without being one ...
"In short, yes."
What's the best compliment anyone can give you?
"Any kind comment about my work. Or better: tell me I'm inspiring, which is a mix of personal and professional that I really like."
Also find here others a girl, a style
Giovanna Battaglia Engelbert, the right style
1430With her silhouette à la Audrey Hepburn, the Italian designer Giovanna Battaglia is one of the few insiders who prioritize elegance over trend. Appreciating the Pradian cerebral fantasy as well as the Dolce Gabbanian glamor and the couture jokes of Rei Kawakubo, this ex-assistant to Anna Dello Russo regularly manages to find the right balance between zeitgeist, timeless lines and playful coquetry. And if her wardrobe is full of designer pieces, some of her stylistic gimmicks can easily be adapted to a less expensive wardrobe. Review of these ...
Who is she ? Giovanna Battaglia, stylist Her look: A sleeveless Prada dress and golden flat sandals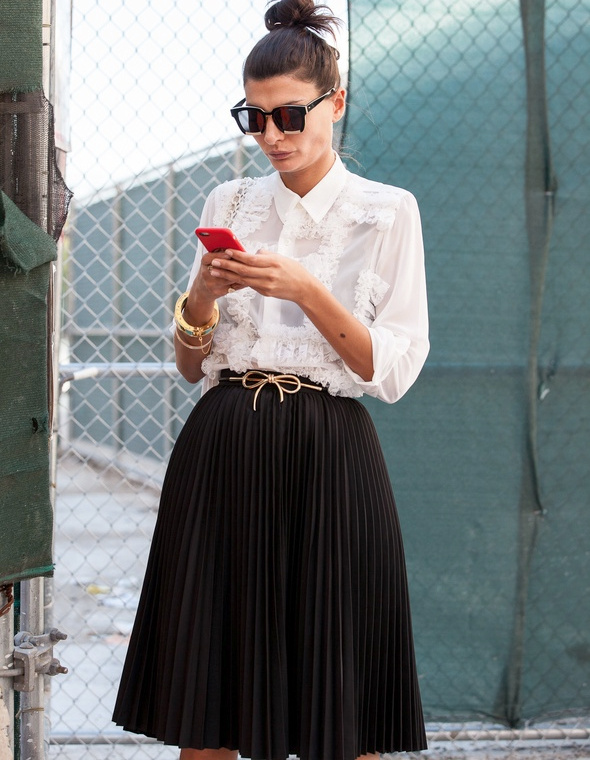 Chic a midi shirt dress in contact with a large black patent belt and a pair of liquorice pumps (see here ).

Enhance the beige with a touch of bright yellow or pink (see here , here and there ).

Erase the "gentleman farmer" nature of velvet by opting for slightly wide corduroy pants, 7/8, belted high waist and worn with ultra thin heeled sandals (see here ).

Dramatize her midi corolla skirts by associating them with a funky t-shirt (see here ).

Enhance a black and white look with very fine gold accessories (see here ).

Dare the total pink look by combining it in a casual / sophisticated tone (see here ).
Boost your mountain sweater by sporting a pair of oversized and refined earrings (see here ).

Combine top with XXL volume and ultra tight-fitting bottom (see here ).

Wear a scarf around your face on rainy or windy days to elegantly protect your hairstyle (see here and there ).

Calm down your cropped tops by combining them with flat shoes and wide, high-waisted pants (see here ).

Impose the dissociated regime on its look by telescoping chic bottom and cozy top (see here and there ).

Combine orange, brown and golden touches (see here ).
Invest in a pointed and timeless dress that sublimates your silhouette (see here ).

Belt your jacket high on the waist (see here ).

Wake up a monochrome dress with a colorful maxi scarf tied around the neck (see here ).

Bring out your high-waisted cigarette pants from anonymity by adding a wide belt (see here ).

Combine shiny old pink, off-white and indigo jeans (see here ).

Combine the cosiness of an oversized sweater (with the roll neck worn unrolled) with the sophistication of "cat eye" sunglasses (see here ).

Allow yourself the most daring volume / print mixes by working them on the upper rectangle of the silhouette (see here and there ).
Combine black, white and khaki (see here ).

Lighten up your dresses and printed sets by adding ultra-thin heeled sandals (see here and there ).

Dress up his 7/8 monochrome costumes by mixing them with fancy flat shoes (see here ).

Top a black corolla mini-skirt with a long fitted shirt (see here ).

Use and abuse the famous "New Look" line with the chic to sublimate most silhouettes (see here ).

Never forget that to boost the look, a smile is more effective than any designer accessory (see here ).

Telescopic high-waisted tweed pants, short jacket in vintage fur and maxi neo-modern golden buckles (see here ).
A GIRL A STYLE   -  GIOVANNA BATTAGLIA  -  ENGELBERT FASHION