French café charges extra for rudeness.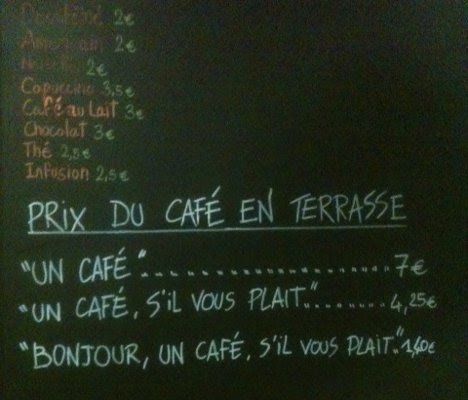 The owners of a café in the south of France have struck a blow for good old-fashioned French politeness, with a sign charging extra for customers who forget their manners while ordering their coffee.
The French are well-known for their love of everyday formalities.
While much of the Western world can sometimes seem to get through the day with grunts and nods, the French insist on sprinkling their exchanges with a "Madame" here and a "C'est gentil" there.
Baguette purchases must be preceded by a mandatory "Bonjour", and it's de rigeur to wish complete strangers a good afternoon, even when leaving an elevator.
So what happens if these standards drop, as can happen from time to time?
Well, for the owners of one café in the south of France, the solution is clear – hit your rudest clients in their pockets, or at least threaten to do so.
The Petite Syrah café in the Riviera city of Nice, has implemented a new pricing scheme, as seen in the picture below.
"A coffee" will set you back €7, according to the sign, while "a coffee please" is a little more affordable, at €4.25.
If you want keep your expenses down, and stay friends with your local barista, however, the best option is "Hello, a coffee please," which will only cost you €1.40.
Manager of the Petite Syrah, Fabrice Pepino, told The Local: "It started as a joke because at lunchtime people would come in very stressed and were sometimes rude to us when they ordered a coffee.
"It's our way of saying 'keep calm and carry on,'" he added.
"I know people say that French service can be rude but it's also true that customers can be rude when they're busy."
Although Pepino admits he's never actually had to enforce the price scheme, he says he has noticed a difference in his customers' behaviour.
"Most of my customers are regulars and they just see the funny side and exaggerate their politeness," he said, adding "They started calling me 'your greatness' when they saw the sign."
"But people are more relaxed now, and they're smiling more. That's the most important thing."