From Gigi Hadid To Kanye West , Celebrities Pay Tribute To Virgil Abloh, Who Died At 41.
Virgil Abloh, fashion designer, dies at 41 after a private battle with cancer
By Joan Carmichael YEET MAGAZINE | Updated 0439 GMT (1239 HKT) November 18, 2021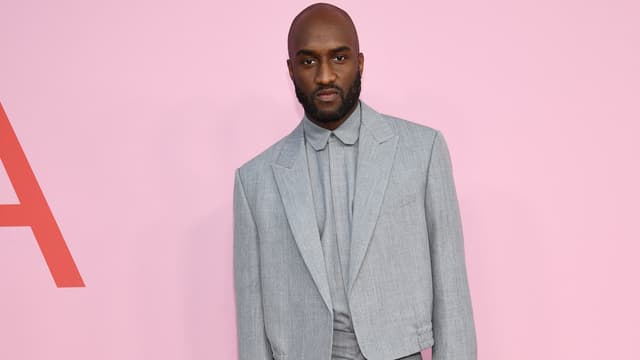 On social networks, many personalities reacted to the death of the fashion designer, who died Sunday from cancer. They all praised his personality and his talent.
Virgil Abloh , artistic director of Louis Vuitton's men's collections, died Sunday at the age of 41 from cancer. Since the announcement of his disappearance by the LVMH group, the messages of tribute have multiplied, the personalities saluting a genius creator and "a beautiful soul".
Top model Gigi Hadid said she was "heartbroken" by the loss of her friend. "His kindness and generosity left a mark on every life he touched - he made everyone feel considered and special," the young woman posted on Instagram, where she shared several photos of she appears with Abloh.
His sister Bella, also a model and close to the designer, recalled that "even when the world was sad, it brought laughter, color and beauty".
"You shared your love without limit," she recalled. "The way your brain worked was beyond everything. We will miss you very much V. You really saw me and you supported me on every level. You have always been an inspiration to go further. away, work hard and be kind. No matter what. I'm devastated. "
Kanye West paid tribute to his creative advisor and great friend on his Sunday Service site by posting a black screen that read: "In loving remembrance of Virgil Abloh". Drake for his part shared several images on Instagram, and testified his affection for the creator: "I will love you for eternity, my brother. Thank you for everything".
"A creative genius"
"My heart is broken. Virgil you were a creative genius, kind, generous and considerate", assured Pharrell Williams on Twitter. "Your work as a human being and your work as a spiritual being will live on forever. I send love and light to your wife, children, family and loved ones."
Singer The Weeknd split open with a short 'Virgil' punctuated by a broken heart, while K-pop group BTS posted on Twitter: "It was an honor to work with you. A true genius. creative".ADVERTISING
"In shock", Cara Delevingne praised "a man who has done so much for so many people". "He was the nicest, most positive, humble, joyful and enlightening person I have ever known. He had the most wonderful way to make you feel so special," added Kendall Jenner.
"Virgil completely changed the way I looked at street style and fashion, and his worldview inspired me deeply," said Hailey Bieber , whose dress he designed for her wedding to Justin Bieber. "I will never be able to fully express how grateful I am to have known him and to have worked with him".
Kim Jones , designer at Dior Homme and Fendi (and Virgil Abloh's predecessor at Louis Vuitton), said goodbye on Instagram to "one of the nicest people you could meet."Play VideoON THE SAME SUBJECT
Bernard Arnault, president of LVMH, said he was "in shock" in a press release, and hailed "a genius designer, a visionary" and "a beautiful soul".
Off-White™, New Guards Group and Farfetch are devastated to share the news of the passing of Virgil Abloh on Sunday, November 28th.  Davide De Giglio and Andrea Grilli "Virgil was a genius, a visionary but most of all he was family. There are no words to describe the loss that his passing leaves in our lives. His legend, his love and his spirit will remain with us forever. Thank you for changing our lives, Virgil. Rest in power, brother". Our thoughts go out to Shannon, Grey, Lowe and all the Abloh family.
Why is Virgil Abloh famous?
Virgil Abloh was one of the most popular designers in the modern age. Known for his line, Off-White, he was also the artistic director of Louis Vuitton's menswear. Virgil Abloh gained prominence in the last decade with the rise of luxury streetwear, with some noting him as being the trend's pioneer.