#FW21 : The Take Away From The #Prada Fall/Winter 2021 Show, Co-Designed By Raf Simons And Miuccia Prada.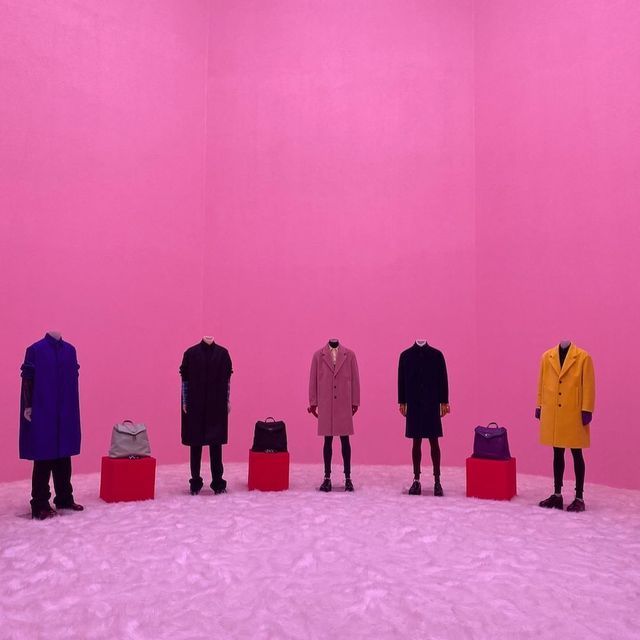 See Why Everyone Has Been Talking About It.
Discover more: https://yeetmagazine.com

The fall-winter 2021 men's collection co-created by Miuccia Prada and Raf Simons takes root in our desire for contact, exchange and relationship with others, at a time when social-distancing remains vital.
Fashion News Trending now:  
Prada FW womenswear 2021 , Prada FW Menswear 2021 Collection by Miuccia Prada and Raf Simons

Prada FW21 fashion show:  The highlights
Prada FW21: All the Pat McGrath Labs Products Used During the Show
Prada's Fall/Winter 2021 Collection is An Anthology of Change
Prada Fall 2021 Menswear Collection
Watch the Prada Fall/Winter 2021 Show Live
Watch the Prada Men's Show Livestream
"We decided to create an abstract space, blurring the notions of interior and exterior and expressing the human need to touch, to feel," explained Miuccia Prada and Raf Simons in an unprecedented post-show conversation.
Through questions from students around the world, the two creators explored the notions of their collection based on tactility.
Our need to interact with our environment, a need of which we are currently deprived, is here interpreted by the use of highly sensory materials: from jacquard to re-nylon (this famous recycled nylon designed by Prada) through looped tweed, velvet and ultra-soft leather treated like a cozy pillow.
Playing on proportions, the silhouettes sometimes recall the '60s in geometric patterns, sometimes the' 90s in cuts.
The palette plays with strong contrasts and sees dark shades accentuate red and purple, especially on oversized bombers. The layering and textural effects translate into the jacquard knit jumpsuits, turtlenecks worn under suit jackets. One of the flagship colors of the parade?
Punk pink accentuates accessories, like these leather gloves with integrated pocket.
Cut from time to time by sequences of dancing models to a very rave-party soundtrack, the show took place within "non-spaces" made up of marble walls and faux fur, a material that we found on the collars of the maxi coats of the collection.

Your Guide to the Fall 2021 Menswear Shows and Collections
Prada Does Raf for Its FW21 Menswear Collection
Milan Fashion Week Fall 2021: 9 Divine Looks From Moschino
Milan FW21 is giving us color, coats, nostalgia and most of all ...
Raf Simons' First Prada Men's
The House
Prada,  an  Italian luxury fashion house that was founded in 1913 by Mario Prada. It specializes in leather handbags, travel accessories, shoes, ready-to-wear, perfumes and other accessories.

Runway shows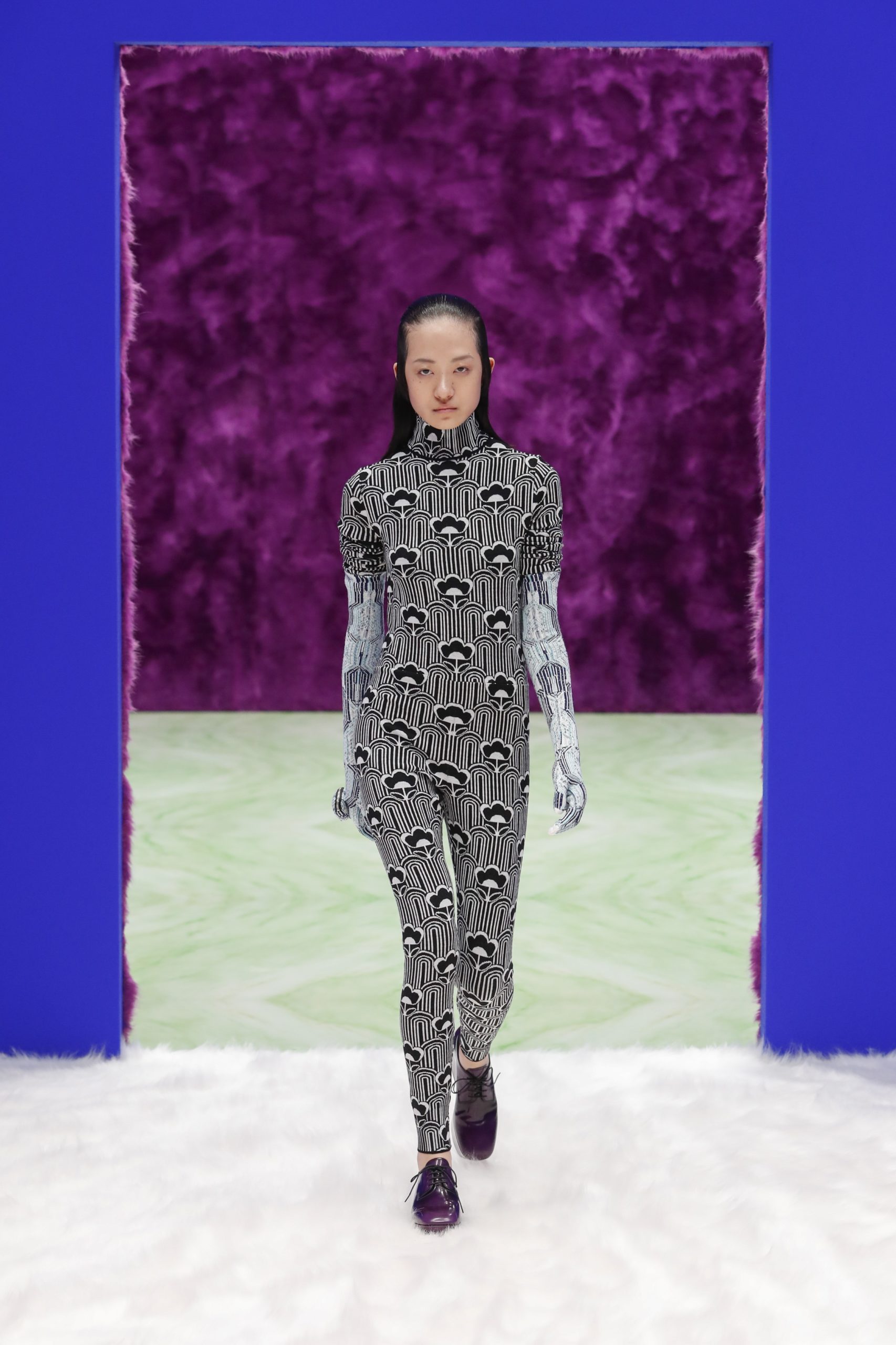 Prada hosts seasonal runway shows on the international fashion calendar, taking place in Milan often at one of the brand's spaces.
1988 – First womenswear show in Milan
1993 – First menswear show in Milan
Resort 2019 was shown in New York City at Prada's New York headquarters.
The show was broadcast over screens in Times Square.
Previous Prada models include Daria Werbowy, Gemma Ward, Vanessa Axente, Suvi Koponen, Ali Stephens, Vlada Roslyakova and Sasha Pivovarova, who went on to appear in Prada's ad campaigns for six consecutive seasons after opening the Prada fall 2005 runway show.

Prada has also featured many actors as models in their menswear shows and campaigns, including Gary Oldman, Adrian Brody, Emile Hirsch and Norman Reedus.
Few Facts
Prada has commissioned architects, most notably Rem Koolhaas and Herzog & de Meuron, to design flagship stores in various locations.

1913 – The original Prada store opened in Milan in inside the Galleria Vittorio Emanuele.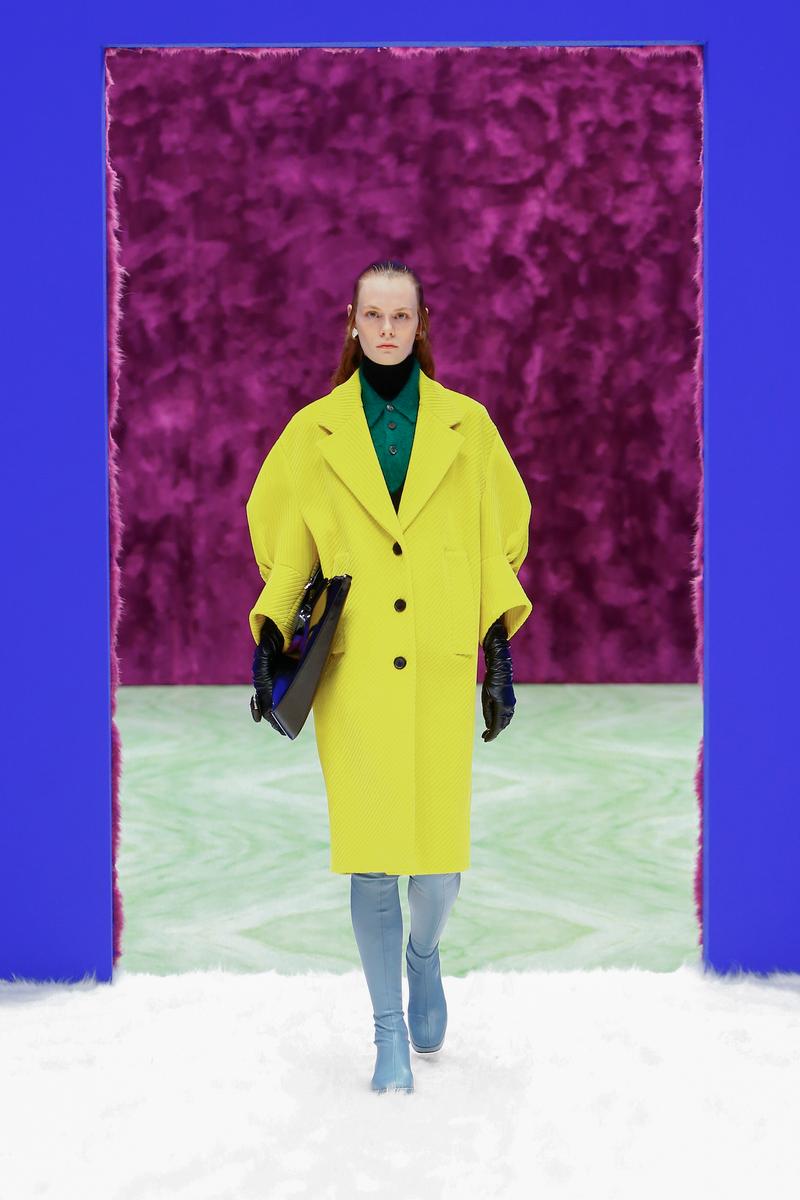 1919 - Prada was appointed Official Supplier to the Italian Royal Household; as such, it incorporated the House of Savoy's coat of arms and knotted rope design into its logo.
1983 – Retail expansion sees a new boutique opened in Milan, as well as New York, Madrid, London, Paris, and Tokyo.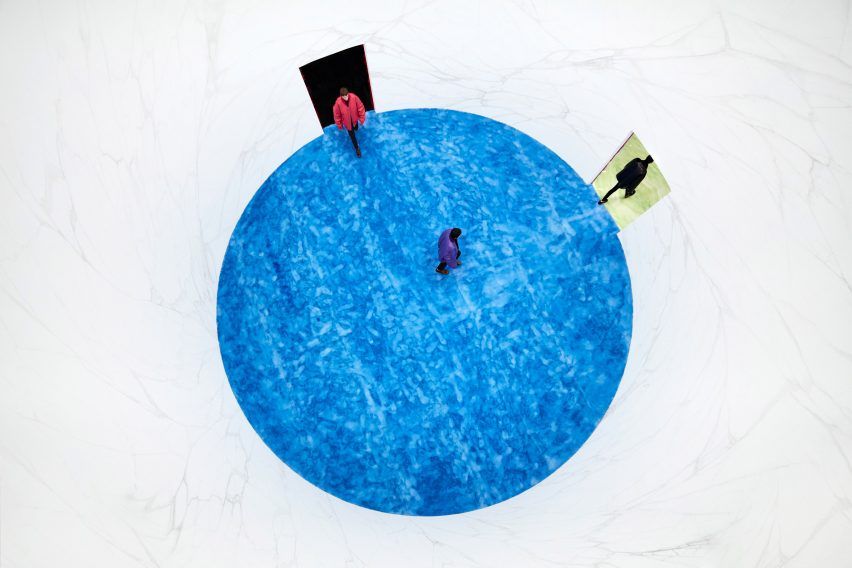 1991 – Further retail expansion and more boutiques open in New York City, China, and Japan.
2001 – Broadway Epicenter in New York City by OMA opens.
2003 – Tokyo Epicenter by Herzog & de Meuron opens.
2004 – Los Angeles Epicenter by OMA group opens. Restored in 2012.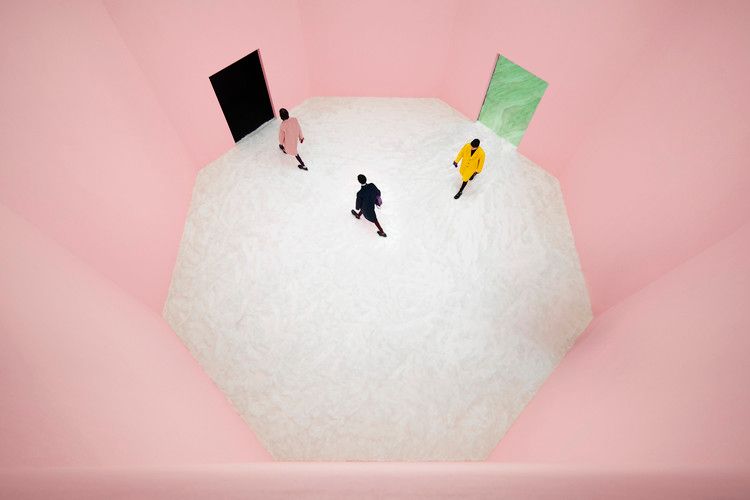 2008 – A duplex megastore was opened in Kuala Lumpur at the Pavilion Kuala Lumpur.
2009 – A new store focussing on the Prada Made to Order collection opened on Corso Venezia, Milan, designed by architect Robert Baciocchi.
2012 – In June, Prada opened its largest ever boutique in Dubai's Mall of the Emirates.
Arts and Architecture Edit
Inaugurated in 2000, Prada's Milan Headquarters are located in a former industrial space between via Bergamo and Via Fogazzaro.
An art installation by Carsten Höller that takes the form of a three-story metal slide leads from Miuccia Prada's office to the interior courtyard.
Completed in 2002, Prada's New York City Headquarters open, located in a former Times Square piano factory renovated by the Herzog & de Meuron architecture firm.
2003 – "Garden-Factories" Project – Prada collaborates with architect Guido Canali to rejuvenate the landscape surrounding their manufacturers.
In 2004, "Waist Down – Skirts by Miuccia Prada" bowed at the Tokyo Epicenter.
A traveling exhibition featuring 100 skirts designed by Miuccia Prada and conceived by curator Kayoko Ota of AMO in collaboration with Mrs. Prada, the exhibition went on to Shanghai, New York, Los Angeles and Seoul.
Completed in 2009, Prada commissioned an unusual multi-purpose building from Rem Koolhaus's OMA group called the Prada Transformer in Seoul.
The building was first used to display the "Waist Down – Skirts by Miuccia Prada" exhibition, and later changed into a movie theater.
In 2012, Mrs. Prada, along with designer Elsa Schiaparelli, was the subject of the Metropolitan Museum of Art's exhibition, "Impossible Conversations".

The Los Angeles Epicenter was also restored in 2012.
In 2014, an exhibition called "Pradasphere" bowed in London's Harrods and Hong Kong's Central Ferry Pier 4, highlighting the Prada universe.
In 2015 Prada opened a permanent home for Fondazione Prada in Milan.
Located in a former distillery redesigned by Rem Koolhaus's OMA group, it hosts a permanent collection of site-specific art as well as galleries of rotating exhibits.

Intended to act as a gathering space for the local community, it also features a performance space, movie theater, bookstore, and a cafe – Bar Luce,[59] with an interior designed by director Wes Anderson.
In 2016, after 6 years of restoration Prada opened an events space in a historic residence in the Rong Zhai district of Shanghai, China.
Costume Design Edit
In 2007, Miuccia Prada contributed costume designs for two digital characters in the CGI film Appleseed Ex Machina.
In 2010, Giuseppe Verdi's Attila premiered at New York's Metropolitan Opera with costumes by Miuccia Prada.
In 2013, Miuccia Prada designed costumes for Baz Luhrmann's film The Great Gatsby in collaboration with costume designer Catherine Martin.
Eyewear

2000 – Eyewear launched under Prada and Miu Miu labels, manufactured by Luxottica.[36]
Perfumes

2004 – Fragrance launched with the Puig company. Women's fragrances were followed by men's fragrances in 2006.
PRADA for women, 2004
Tendre for women, 2006
PRADA Amber pour Homme (Prada Man) for men, 2006

Benjoin (Essence exclusive N°9) for women, 2007
Infusion d'Iris for women, 2007
Infusion d'Homme for men, 2008
L'eau ambrée for women, 2009
Prada Amber pour Homme Intense for men, 2011[67]
Prada Candy for women, 2011
Prada Olfactories collection, 2015[68]
La Femme Prada for women and L'Homme Prada for men, 2016
La Femme Prada Intense for women and L'Homme Prada Intense for men, 2017
La Femme Prada L'eau for women, 2017
LG Prada mobile phone

In May 2007, Prada began producing mobile phones with LG Electronics. Three mobile phones resulted from this collaboration: LG Prada (KE850), LG Prada II (KF900) and LG Prada 3.0.
Watches Edit
Production of watches started in 2007 and was suspended in 2012.

One of the watch models produced by Prada, the Prada Link, is compatible with bluetooth technology and can connect with the LG Prada II mobile phone.[72]
The Prada FW21 collection

The freedom to transgress conventional limits is expressed in the freedom of the body, its energy, defined through fitted bodysuits in stretch jacquard knit, representations and substitutions of exposed skin.

The importance given to the body serves to emphasize action, activity, underlined by soft and naturally comfortable pieces: the attitude of movement, transposed.

The dresses are enlivened by pleats and gathers. The costumes convey a universal classicism and are embellished with slits offering a paradoxical glimpse of the body, free from any constraint.

Physical freedom reflects an ideology.
Clothing evolves from one intention to another: an ornament can become functional, while a practical piece can become decorative.

We observe a transition between fundamental languages.

The notion of obviousness is rethought: evening dresses transform into utilitarian combinations and elegant coats come in bright colors or with sequins, evolving between antonymic objectives.

Straight shawls are transformed, making their pure architecture the foundation for new forms of outerwear.

Made in Re-Nylon and jacquard, with synthetic fur and sequins, they retain a closing gesture - another action - closely associated with the notions of protection and grace.