Miami marvels: fashion's finest findings at Design Miami/Art Basel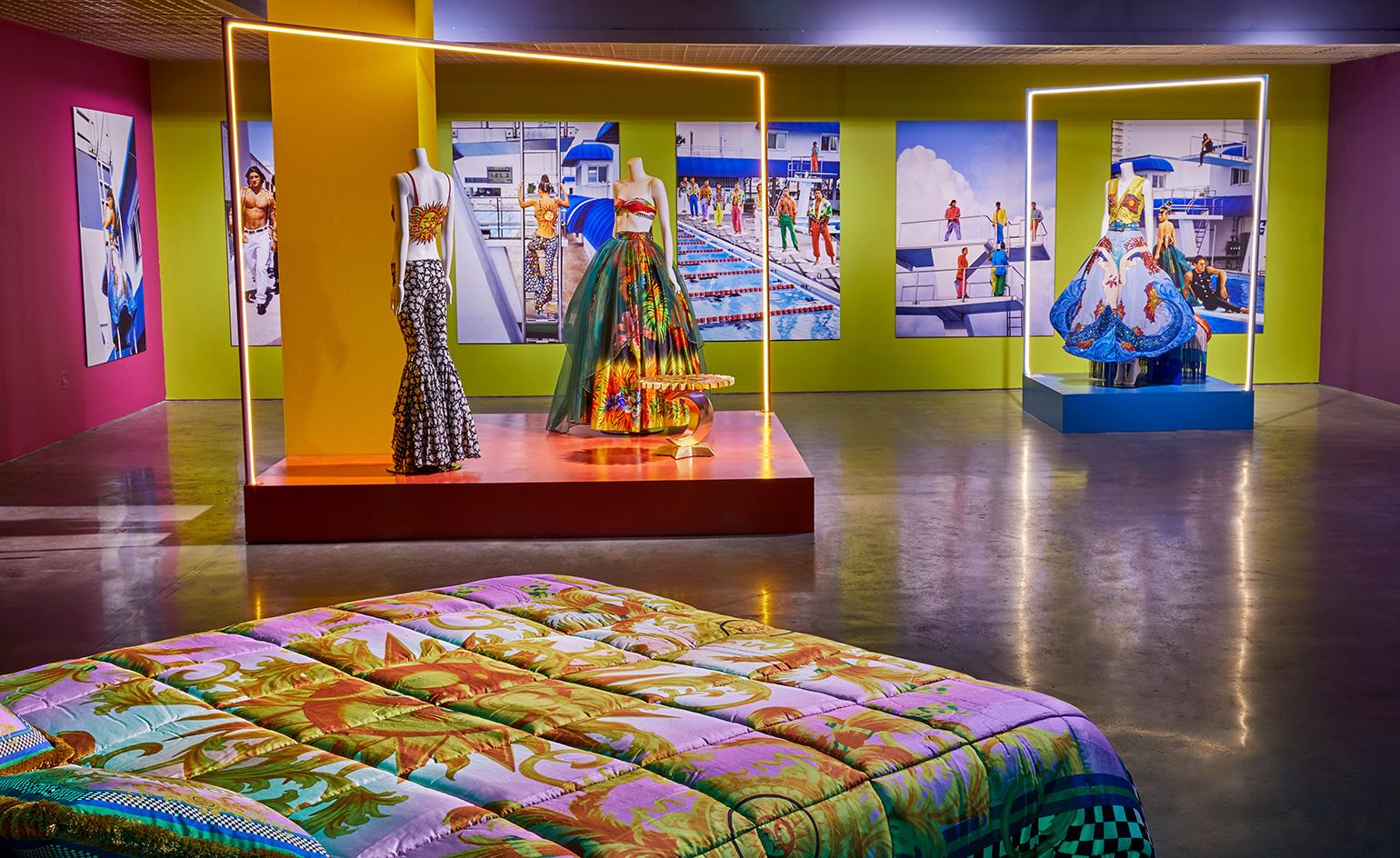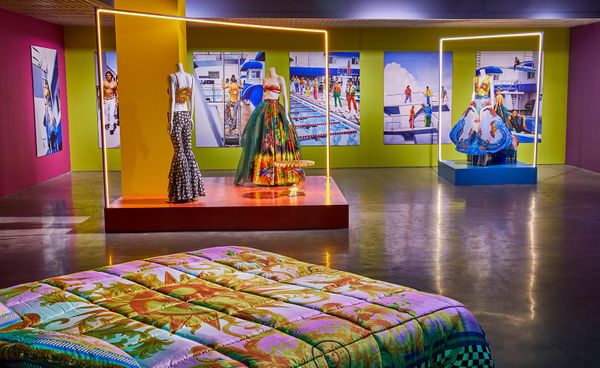 Updated 0431 GMT (1231 HKT) April 29, 2021
Balenciaga
The French fashion brand is putting the circular economy and need for greater transparency at the very heart of the home, with an oblong sofa designed by Crosby Studio's Harry Nuriev. The design is familiar, referencing the overstuffed recliner we would all recognise, subverting it through material choice. The transparent vinyl exterior replaces what would traditionally be leather or fabric, allowing the stuffing to be clearly seen. Within, damaged, unsellable and obsolete Balenciaga stock fills the sofa with colour, texture, patterns and even visible tags. Closer inspection reveals all the details you would traditionally expect: stitched seams and button details on the backrest, as well as a row of seat cushions, armrest and extendable footrest. The aim? To promote environmentally conscious design, encourage sustainable practices and recognise the responsibility designers have to counterbalance their environmental impact. Photography: James Harris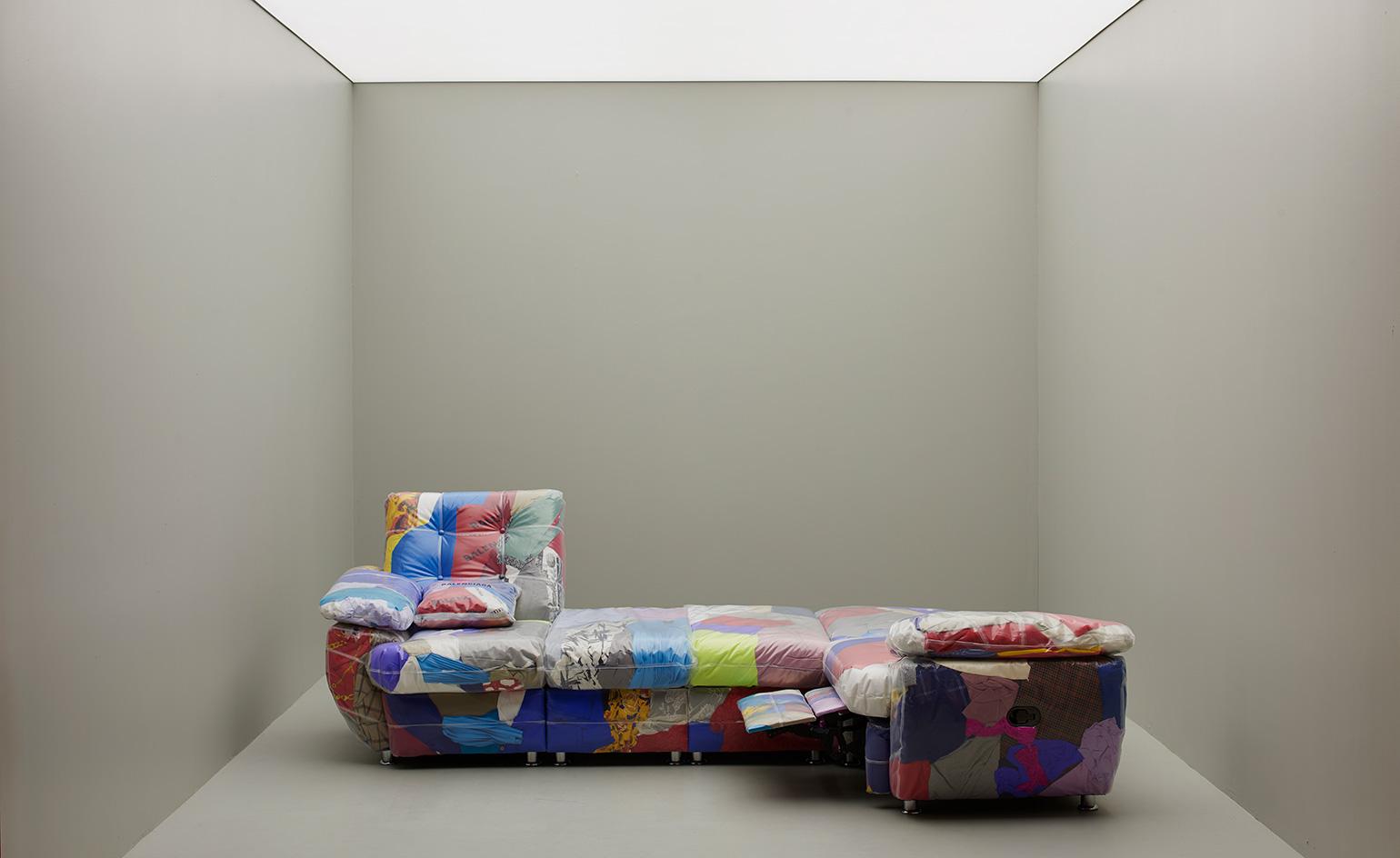 Versace
In 'South Beach Stories', interior designer Sasha Bikoff reunites with Versace, building on their spectacular Salone del Mobile showcase earlier this year. Bikoff's one-of-a-kind furniture pieces are every bit as bold, bright and brash as you'd expect, drawing from archival Versace prints and sitting glamorously alongside Doug Ordway's archive campaign shots. The original publication by the same title gathers a selection of heartfelt stories told by Miami residents in the nineties. If the acerbic neon lights don't get you, the nostalgic vibe will.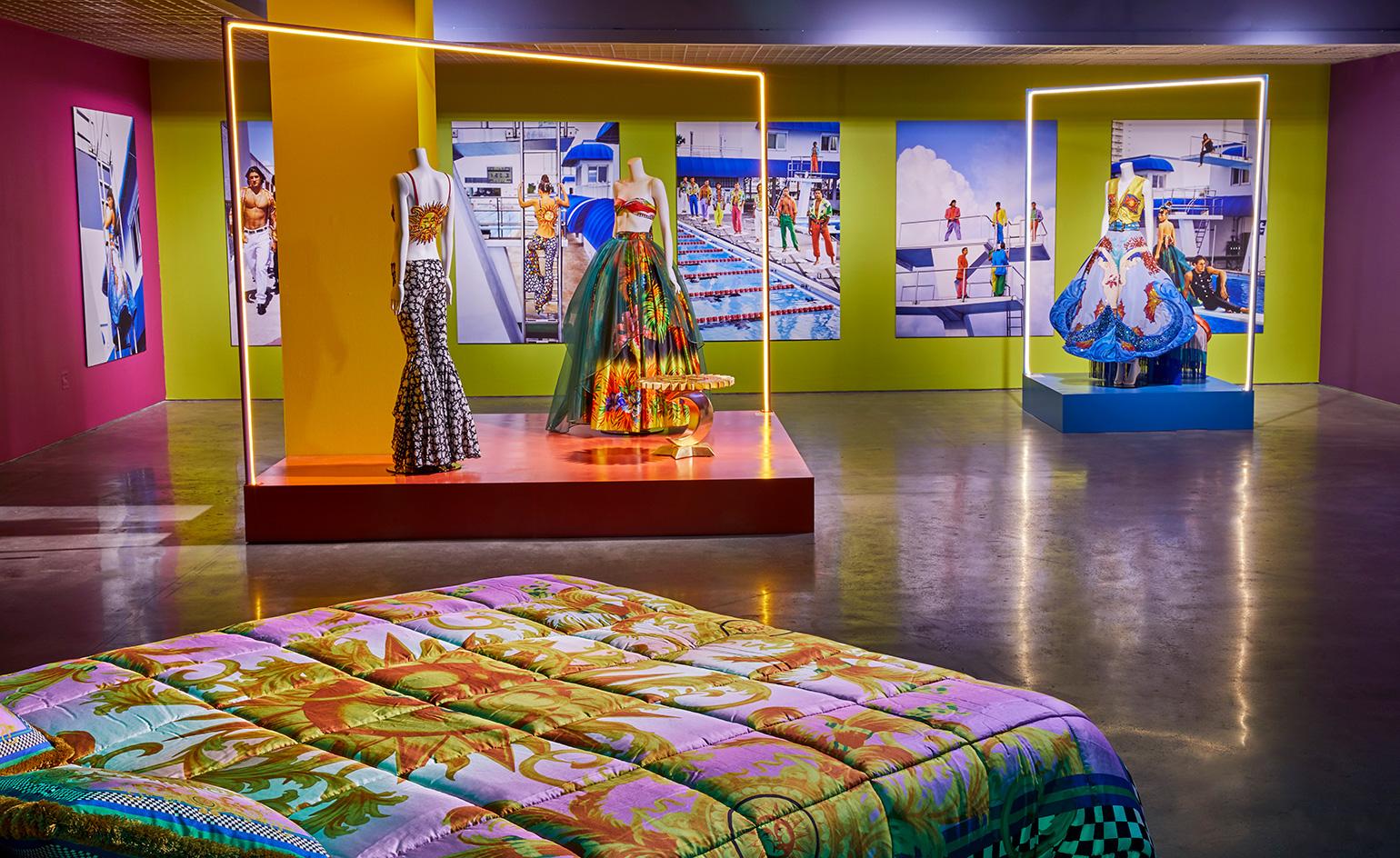 Fendi Kueng Caputo installation image Miami
Fendi
Bringing a spot of Eternal City to the Sunshine State, the Roman fashion house enlisted Swiss studio Kueng Caputo to create ten pieces of furniture, ranging from stools and benches to a stylised palm tree. Inspired by the iconic Palazzo della Civiltà HQ, the immersive installation is as playful as it is bright, inviting spectators to take a seat and get up-close-and-personal with the Zurich-based studio's intriguing material combination: glazed terracotta bricks and supple Selleria leather. 'Fendi has a DNA of contrast and dialogue, which we wanted to celebrate by choosing a strong and heavy counterpart to its soft and flexible leather,' Sarah Kueng told Wallpaper*. The artisanal bricks create architectural forms, referencing the HQ's own construction – swooping arches and undulating surfaces – while the soft leather sits cleanly on top. Beyond creating a refined salon space, these pieces pay homage to Fendi's tradition of craftsmanship and experimentation with style.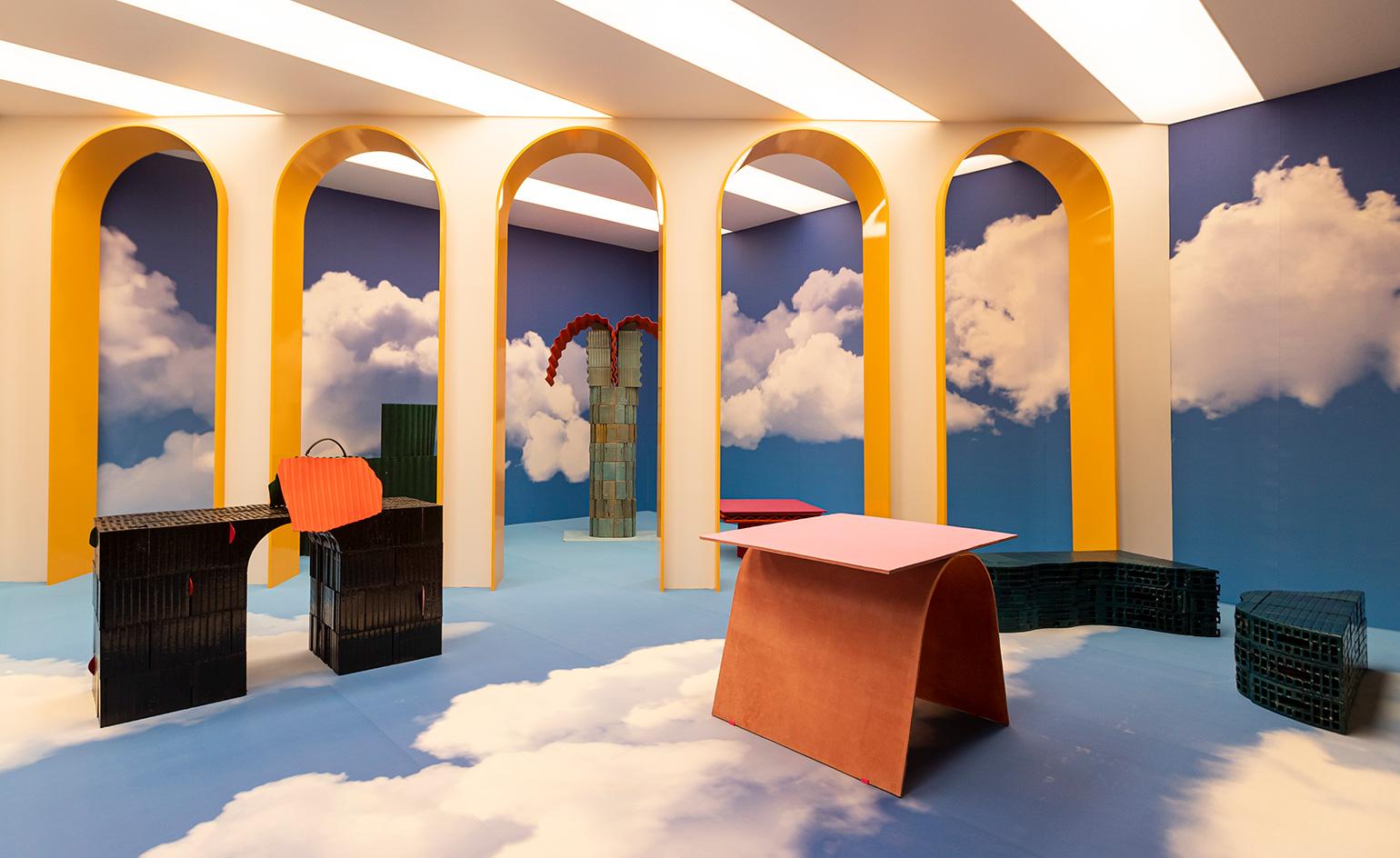 Andrew Kudless Louis Vuitton Swell Wave Shelf installation image Miami
Louis Vuitton
American designer Andrew Kudless joins the prestigious stable of Louis Vuitton's Objets Nomades this Design Miami with his Swell Wave Shelf. The unit, crafted from oak and leather, is an elegant meditation on the powerful forces and delicate balance of the natural world, sensitively evoked through the undulating, smoothly polished wood planks, perfectly held in place by leather straps. As is tradition, the San Francisco-based designer's addition sits surrounded by other limited-edition pieces from previous years, including the work of India Mahdavi, Patricia Urquiola, RawEdges, Nendo and the Campana Brothers. Each piece is both elegant and practical, faithful to the 'art of travel' ethos that the maison's founder started.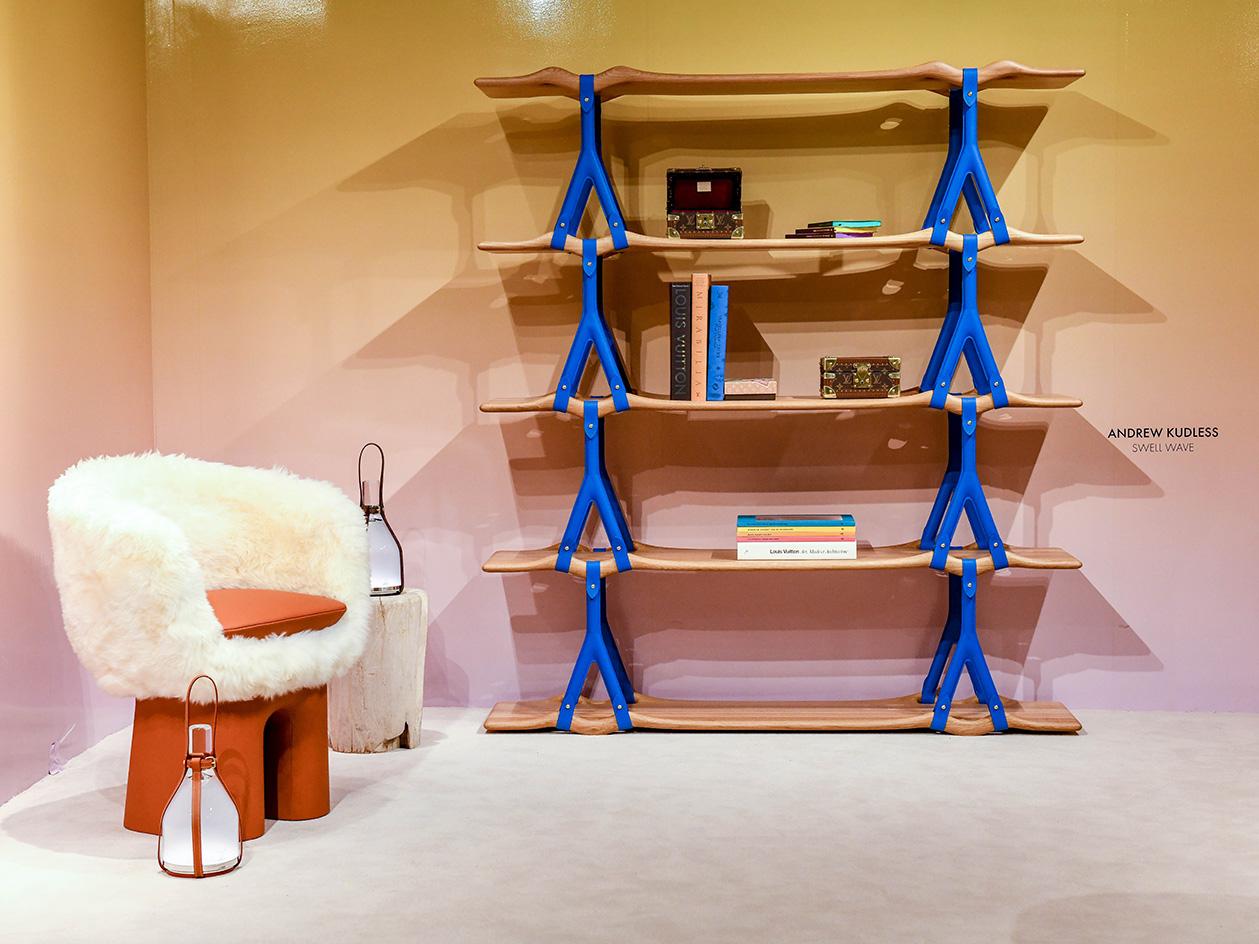 Loewe Chance Encounters installation image Miami
Loewe
Now in its fifth year, 'Chance Encounters' returns to the Spanish luxury brand's Miami outpost, transforming the imposing 18th-century Spanish granary that runs the length of the boutique into a sensational setting for dialogue once again. 'It is an opportunity to create conversations across time, between artists whose work resonates strongly with my own creative approach,' says Jonathan Anderson, the brand's creative director. This year he's brought together two British artists: Turner Prize-nominated Hilary Lloyd and Ewen Henderson. Lloyd's films – displayed on monitors dotted throughout – are praised by Anderson for their ability to capture the way we relentlessly consume images. Her textiles echo her rough-cut, spontaneous videos, which in turn relate to the late Henderson's textured large-scale ceramics.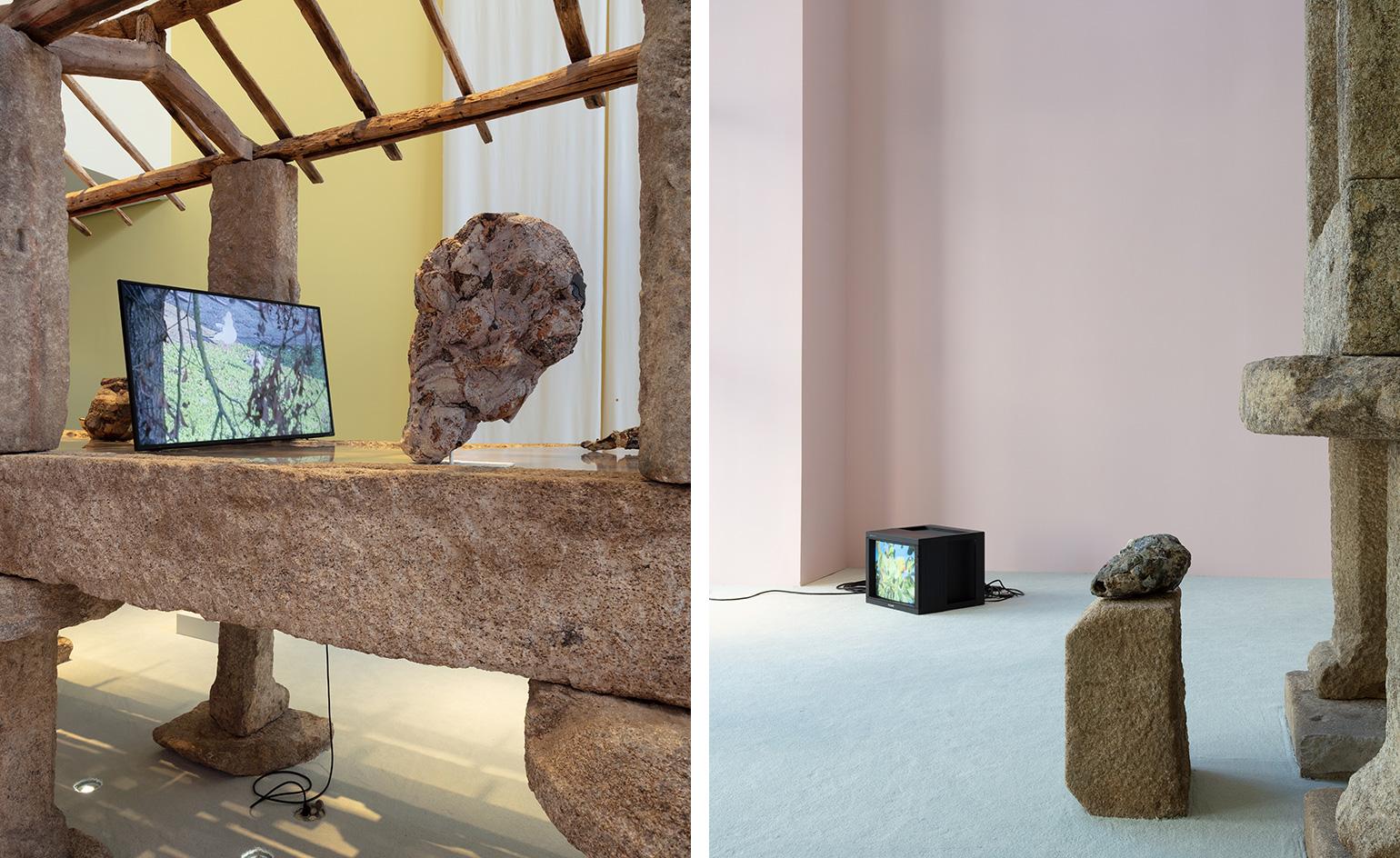 Bottega Veneta staircase Miami Design District store
Bottega Veneta
If the promise of The Pouch or the Italian leather brand's sought-after slides doesn't lure you into Bottega Veneta's new store in the Design District, that sweeping staircase of pink Portuguese marble certainly will. Marking creative director Daniel Lee's first foray into interior design, the two-story space proves that there is little Lee can't do. Fresh from winning big at the Fashion Awards in London, this Design District outpost is the perfect fold to Lee's design aesthetic. Rough materials play with polished surfaces – plaster, marble, concrete, brass and, of course, leather – creating a balance that is at once familiar and surprisingly refreshing. Womenswear and accessories occupy the ground floor, with Lee's trademark chunky chains on display in glass cabinets. Snake your way up the spiral stairs to reach menswear and come face to face with what might be the most satisfying changing room yet: a sliding round door of polished plaster which encases you in a perfect circle.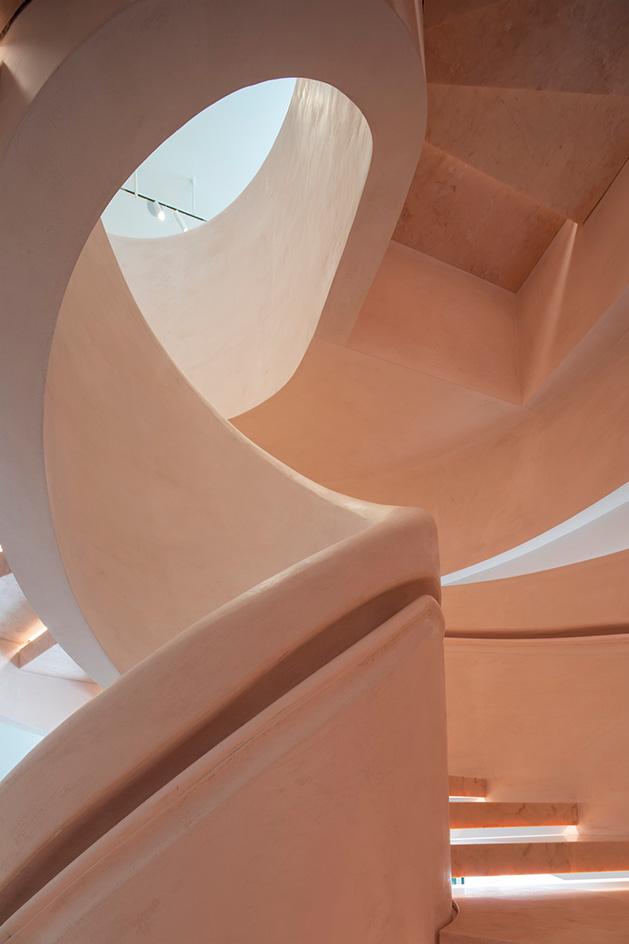 share
messingBreakout
fortnite wm preisgeldBreakout
fortnite wmBreakout
fortnite wm gewinnerBreakout
woraus besteht messingBreakout