Pharrell Williams, style icon, founder of the Humanrace and streetwear brands Billionaire Boys Club. Since February, he has been artistic director of Louis Vuitton's men's collections.
Pharrell Williams biography

By  YEET MAGAZINE | Updated 0339 GMT (1239 HKT) July 06,  is 2023
Pharrell Williams is undeniably the most anticipated star of this Paris fashion week, the new artistic director of the Louis Vuitton house will present his first collection Tuesday  night in Paris. The artist, overflowing with creativity, has a few surprises in store.
 Music Producer: Pharrell Williams is a renowned music producer known for his work with various artists and groups. He has produced hit songs for artists such as Jay-Z, Justin Timberlake, and Gwen Stefani.
"My clothing culture was made thanks to rap video clips"
INTERVIEW- While presenting his first men's collection for Louis Vuitton on the Pont-Neuf in Paris on Tuesday evening, the American artist delivers his vision to the world.
Rarely will fashion have flirted so much with entertainment.

Shows more spectacular than ever, pop stars dressed on stage by luxury labels or playing fashion designers for limited edition collections, houses involved in contemporary art and cinema...
A man embodies this association better than anyone else:
Pharrell Williams. He has been said to be a style icon, we know him as the founder of the humanrace and streetwear brands Billionaire Boys Club (with the Japanese Nigo), leader of the NER*D group and collaborator of Daft Punk, Chanel or the artist Kaws. Since February, he has held one of the most coveted positions in men's fashion: artistic director of Louis Vuitton's men's collections.
The jack-of-all-trades thus succeeds the late Virgil Abloh, who died in 2021. His appointment in February had the effect of a bomb, dividing industry observers into two camps: enthusiasts who are at a great moment of pop culture as well as  hip hop.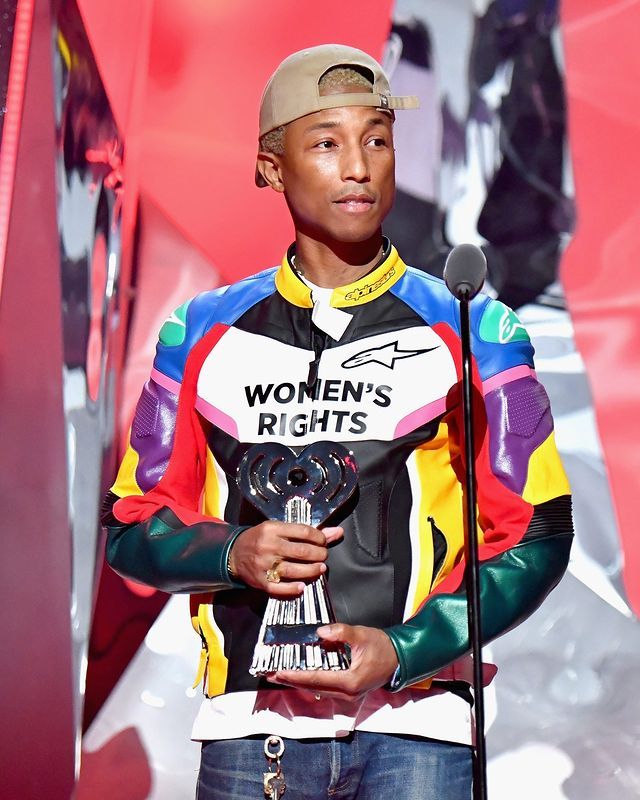 Singer: Pharrell is also a talented singer and has released solo albums. Some of his popular songs include "Happy," "Get Lucky" (with Daft Punk), and "Blurred Lines" (with Robin Thicke).
Songwriter: Pharrell has written and co-written numerous songs for himself and other artists. He has a knack for crafting catchy melodies and lyrics.
Fashion Icon: Pharrell is known for his unique sense of style and fashion. He has collaborated with brands like Adidas and Chanel and has even launched his own clothing lines.
Entrepreneur: Pharrell has ventured into various business endeavors. He co-founded the clothing brands Billionaire Boys Club and Ice Cream Footwear. He is also involved in philanthropy and sustainability efforts.
Grammy Awards: Pharrell has won multiple Grammy Awards throughout his career for his work as a producer, singer, and songwriter.
N.E.R.D: Pharrell is a member of the alternative hip-hop group N.E.R.D, which he formed with Chad Hugo and Shay Haley. The group has released several albums and gained a dedicated fan base.
Film and TV: Pharrell has contributed to the soundtracks of various films, including "Despicable Me" and "The Amazing Spider-Man 2." He has also appeared as a judge on the reality TV show "The Voice."
Cultural Influence: Pharrell's influence extends beyond music. He has been recognized for his impact on pop culture and his ability to bridge gaps between different genres and styles.
Philanthropy: Pharrell is involved in various philanthropic initiatives. He has supported causes related to education, environmental conservation, and social justice.
These few lines provide a glimpse into Pharrell Williams' multifaceted career and contributions to the music industry, fashion, entrepreneurship, and philanthropy.
Pharrell Williams's fashion:
Pharrell Williams is known for his unique and influential fashion sense. Here are some key aspects of Pharrell Williams' fashion:
Streetwear:
Pharrell often incorporates streetwear elements into his fashion choices. He is frequently seen wearing hoodies, sneakers, oversized t-shirts, and baseball caps.
Bold and Colorful:
Pharrell is known for his fearless approach to color. He embraces vibrant hues and bold patterns, creating eye-catching and memorable outfits.
Iconic Hats:
Pharrell's fashion statement often includes his signature headwear. He gained significant attention for his oversized and distinctive hats, such as the Vivienne Westwood Buffalo Hat he wore at the 2014 Grammy Awards.
Mix of High-end and Streetwear Brands:
Pharrell combines high-end designer pieces with streetwear brands to create his unique style. He collaborates with luxury fashion houses like Chanel and Adidas, as well as sporting his own clothing lines, Billionaire Boys Club and Ice Cream Footwear.
Eclectic Accessories:
Pharrell accessorizes his outfits with eclectic and statement accessories. He often wears chunky jewelry, layered necklaces, and statement eyewear to enhance his overall look.
Gender-Fluid Fashion:
Pharrell has been a proponent of gender-fluid fashion, challenging traditional notions of men's and women's clothing. He embraces androgynous styles, blurring the lines between gender-specific fashion.
Sustainable Fashion:
Pharrell is an advocate for sustainability in fashion. He has collaborated with brands like G-Star Raw to create eco-friendly and recycled materials, promoting ethical and environmentally conscious fashion choices.
Red Carpet Style:
Pharrell's red carpet fashion choices are often unconventional and daring. He is known for pushing boundaries and wearing unique and attention-grabbing outfits, showcasing his personal style and creativity.
Pharrell Williams' fashion choices reflect his individuality, love for bold colors and patterns, and his ability to merge high-end and streetwear fashion. He has left a significant impact on the fashion industry, inspiring many with his innovative and boundary-pushing style.
Pharrell's collaboration with Louis Vuitton
Pharrell Williams has had a notable collaboration with the luxury fashion brand Louis Vuitton. Here are some key points regarding Pharrell Williams' association with Louis Vuitton:
Collaboration with Louis Vuitton:
In 2004, Pharrell teamed up with Louis Vuitton to create a limited edition line of sunglasses. The collection, named "Pharrell Millionaire Sunglasses," featured sleek and futuristic designs and became highly sought after by fashion enthusiasts.
Louis Vuitton Artistic Collaboration:
In 2017, Pharrell collaborated with Louis Vuitton's Men's Artistic Director, Virgil Abloh, on a special capsule collection. The collaboration resulted in a range of ready-to-wear clothing, accessories, and footwear, showcasing a fusion of Pharrell's creative vision and Louis Vuitton's luxury craftsmanship.
LV x Pharrell Williams Sneakers:
As part of the collaboration, Pharrell and Louis Vuitton released a line of sneakers. The LV x Pharrell Williams sneakers featured vibrant color palettes, unique patterns, and Pharrell's signature branding, combining streetwear aesthetics with Louis Vuitton's iconic monogram.
Pop-Up Shops and Events:
To promote the collaboration, Pharrell and Louis Vuitton organized pop-up shops and events in different cities worldwide. These exclusive events allowed fans and fashion enthusiasts to experience the collection firsthand and purchase limited edition items.
Cultural Impact:
The collaboration between Pharrell Williams and Louis Vuitton had a significant cultural impact, bridging the gap between luxury fashion and streetwear.
It showcased the increasing influence of musicians and artists in the fashion industry and contributed to the growing popularity of collaborations between high-end fashion brands and creative individuals.
Pharrell Williams' collaboration with Louis Vuitton demonstrated his ability to blend his artistic vision and unique style with the luxury fashion house's heritage and craftsmanship.

It resulted in highly coveted fashion pieces that merged high-end luxury with contemporary streetwear aesthetics, making a lasting impact in the fashion world.