Rio de Janeiro 10 Reasons To Make Brazil Your Summer Destination.
By Alexandra Di Greco | The beach, something of an agora brasiliera, is an integral part of life in Rio, more so than in any other city in the world, producing the delightful sensation of being on an endless vacation.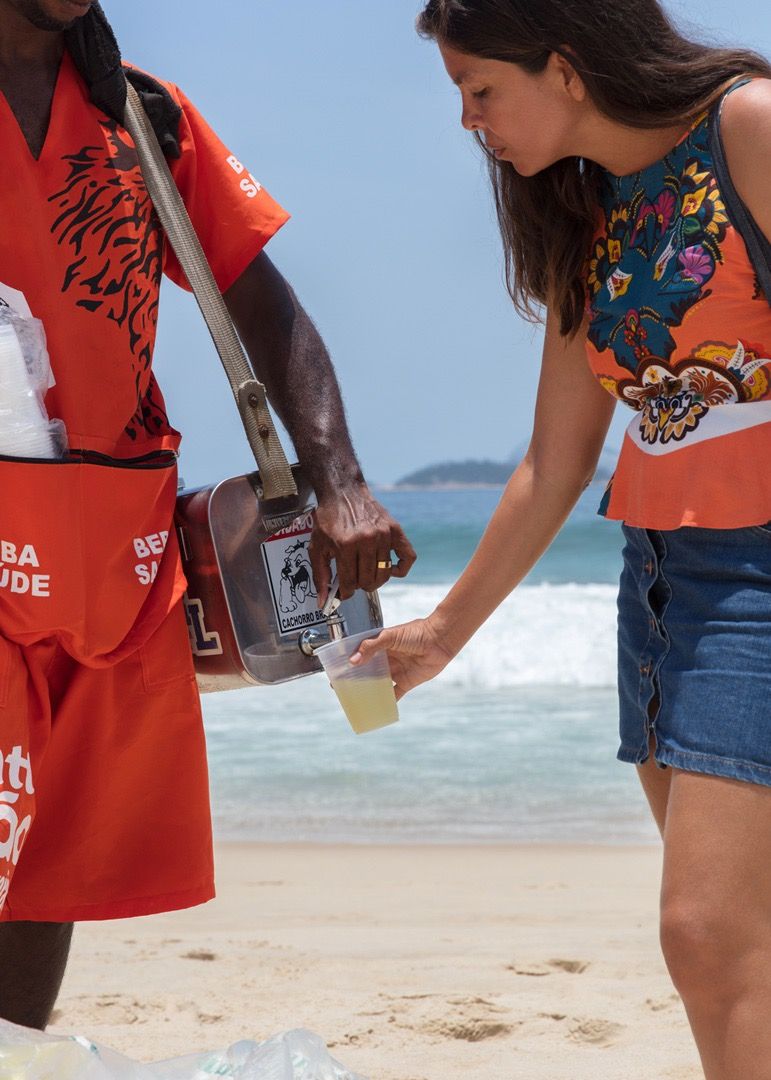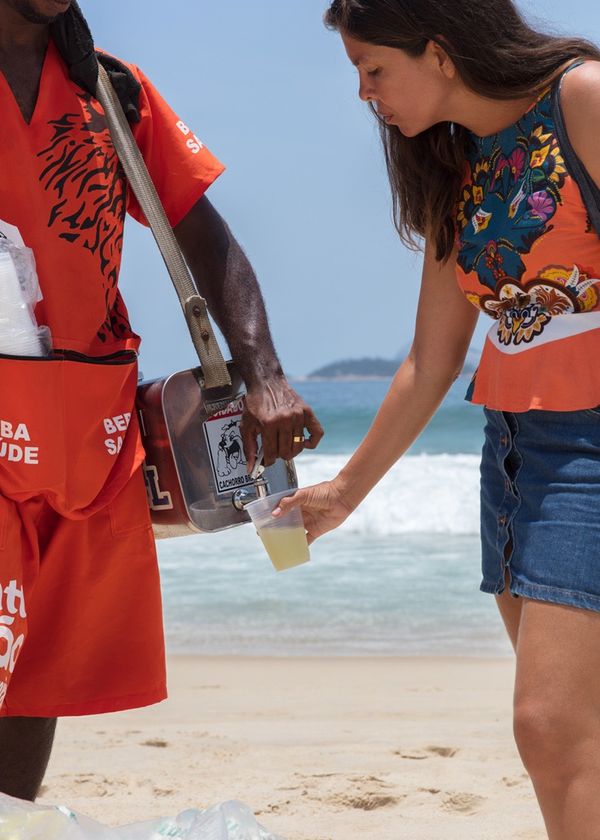 The beach, something of an agora brasiliera, is an integral part of life in Rio, more so than in any other city in the world, producing the delightful sensation of being on an endless vacation.
Having a ball
Forget the conventions of European beach life. Here at the water's edge, children are not the only ones who are at play. Perhaps this is why the Cariocas are so upbeat? For they see their beaches not so much as places for lazing about as huge open-air playgrounds, sandwiched between the ocean and the mountains.
Some are enjoying a game of frescobol (a paddle game without winners that originated in Ipanema and spread to beaches worldwide); others futevôlei (a combination of volleyball and soccer) or altinho—in which the ball is kicked around in a circle without it ever touching the ground—played with gracefulness and intense concentration in equal measure.
2.Beach boy
The Rio beach vendors are such iconic figures that they were listed as part of Rio's "intangible cultural heritage" in 2012. Flexing their muscles and verbal charisma, they walk along the miles of sand in their orange outfits with studied nonchalance, a cask slung over each shoulder: mate on one side, lemonade on the other. "Olha o mate!" they bellow, to alert people to their presence and sell them their mate limão.
It'll cost you 2 reais to sample the famous drink, which you can order to taste (a bit more mate, a little less lemon, depending on how you like it). And if you're feeling peckish after a dip, they always have a bag of puffy Globo biscuits, another classic snack in this part of the world.
Copacabana carnival
Copacabana carnival Down a Copacabana street that's off the cab drivers' radar there's a pocket of Rio past, where sounds of Brazilian soul have resonated for half a century, far from electro and kitsch pop. On Mondays and Tuesdays, people come to listen to choro, traditional instrumental music dating from the late 19th century.
Wednesdays are bossa nova; Thursdays, Fridays and Sundays, samba, turning this tiny bar (barely 15 square meters) into a mini carnival. Visitors show up at around 9pm and grab a beer from the huge fridge (there's no waiter, but Alfredo, the owner, sits at a table with his notepad, watching and keeping tally).
Out of consideration for the neighbors, people don't clap after each piece but just snap their fingers.
BIP BIP
Rua Almirante Gonçalves, 50, Copacabana. Tél. +55 (21) 2267 9656.
The tribe vibe
The Copacabana and Ipanema beaches stretch for miles on end. The only landmarks along them are the lifeguard stations (postos) positioned every 800 meters, which divide them up into sections where people meet up.
As well as being manned by lifeguards, they house amenities like showers. Each posto has its own beach group, or tribe: surfers and arty types (Posto 7), the gay community (Posto 8), young people aged 15 to 25 (Postos 9 and 10), the smart set and soap opera actors (Posto 11), moms and babies (Posto 12).
Compartmentalized yet open to all, the beach is a fascinating paradox. For Cariocas, life is the art of meeting up with other people, and that usually happens near a posto.
Hitting the heights
To get a proper view of the ocean and the beach-lined city that is Rio de Janeiro, there's no better way than to head for the hills. Hire a motorcycle taxi (5 reais for non-residents) and ride up to the highest point of the Vidigal favela (Alto Vidigal), on the slopes of Morro Dois Irmãos: the Bar Da Laje. Opened by Marcos Brandão, impresario for stars who's at least as good-looking as his clients, this is where Rio bobos, gringo tourists and locals come to hang out around a feijoada stew or caipirinhas on ice.
From the whitehot sun-drenched terrace, the bird's-eye view of Leblon and Ipanema beaches is literally breathtaking.
BAR DA LAJE
Rua Armando Almeida Lima, 8, Arvrão,Vidigal. Tél. +55 (21) 3323 5807.
www.bardalaje.rio
Dandy dreams
Make no mistake: it may say "designer" on his business card, but this über-cool dandy, who sees the beach as a creative space open to all, might be better defined as an ambience artist— a "party designer." Marcus Wagner, a member of the artists' collective Alalaô (a reference to the refrain of a famous carnival song), has for the last 20 years transformed the Arpoador beach into the hottest New Year's Eve party in town.
Wagner himself plays DJ, assisted by his friend Zé Octávio. Thirty people attended the first one, all friends; this year there were 2,000 guests, all in white and wearing a pendant designed by Wagner, engraved with the mysterious inscription SARA XX ("here's to our twenties").
Beach nuts
There's an expression in Rio: "Essa não é minha praia." Literally, "It's not my beach," meaning "It's not my cup of tea." The beach is where people go to have a good time, which is just as well, because wherever you go in Rio you always wind up at an expanse of sand. There are said to be no fewer than 77 beaches in the city. The most popular ones are in the Zona Sul and Zona Oeste.
Tourists know about Leblon (the chicest), Praia Vermelha (the liveliest) and the legendary 4.5-km-long Copacabana, but they don't always make the effort to head farther along the coast to discover some of the less crowded, picture-postcard beaches, like Joatinga and São Conrado, let alone the most unspoiled ones of all, which are to be found a 30-minute drive away: Grumari and Perigoso, small gems of nature in the raw.
Carioca cool
The Arpoador peninsula, which separates the Ipanema and Copacabana beaches, takes its name from the Pedra do Arpoador, a glistening rocky outcrop that used to be a spearfishing spot.
It's a magnet for Rio's intelligentsia, poets and directors—the city's cultural trailblazers—as well as families from the favelas who come for a dip and to sell drinks. Arpoador is the epitome of Carioca cool, and it's also a place where you can enjoy a show that is entirely free: the sun setting over the buxom curves of the Morro Dois Irmãos (Two Brothers mountain), the most beautiful in Rio it is said.
Spectators traditionally break into applause at that magical moment, and sometimes there's drumming, too, as if to thank the heavens for the privilege of living in this radiant city.
Under the Carioca sky
Amber skin, oiled torso, swaying hips—on the beaches, the body is out on parade. It's surprising to see that people are nearly always on their feet, rarely lounging on a towel. Bikinis and sungas (stretchy mini-shorts) cover precious little.
Not all Cariocas look like Gisele Bündchen or Marlon Teixeira—far from it—but everyone is pretty comfortable with their body, and it shows.
A place in the sun
Standing like a huge cream cake next to Copacabana beach, this hotel popular with the elite was built in 1923 to a design by French architect Joseph Gire. Its inspiration: the Negresco and the Carlton on the French Riviera. Its pool is as big as the Tanganyika and its guest book packed with famous names:
Fred Astaire and Orson Welles in times gone by, Johnny Depp and Robert de Niro in recent years. From the penthouse suites at nightfall all you can hear are moths fluttering too close to the flames of candles placed here and there, and the murmur of the Atlantic close by.
BELMOND COPACABANA PALACE
Avenida Atlântica, 1702, Copacabana. Tél. +55 (21) 2545 8787.
www.belmond.com
Casa Mosquito
More low-key and laid-back than any boutique hotel, this colonial house dating from the 1940s in the hills above Ipanema, with a dramatic view of the pacified favela of Cantagalo, is the best way to take the pulse of Carioca life. The nine restful rooms in this friendly, family-run house are done in a tropical-cum-Provençal style. To top it all, there's a rooftop pool with an amazing view of the bay of Rio, Sugarloaf Mountain and Morro Dois Irmãos. The perfect spot to enjoy the sunset.
CASA MOSQUITO
Rua Saint Roman, 222. Tél. +55 (21) 3586 5042.
www.casamosquito.com
Gran Meliá Nacional Rio
It's not often you get to sleep in an architectural gem and feel like you're staying in a museum. This wonderful concrete and glass edifice by Oscar Niemeyer reopened last spring following a ten-year renovation that respected the original 1970s decor.
Inside, there are murals by Héctor Julio Páride Bernabó (aka Carybé) and landscape installations by Roberto Burle Marx. The 33 stories of this five-star hotel (the only one with a heliport in Rio) boast a panoramic view of São Conrado Beach and the whole bay of Rio.
GRAN MELIÁ NACIONAL RIO
Avenida Niemeyer, 769. Tél. +55 (21) 3094 4900.
www.melia.com
See also:
Brazil News
Why is it Brasil?
Do you have to have a visa to go to Brazil?
Why would you go to Brazil?
What is the weather like Brazil?
Can I go to Brazil without a visa?
How do I get a visa for Brazil?
What is Brazil most famous for?