Santorini Thira, Greece.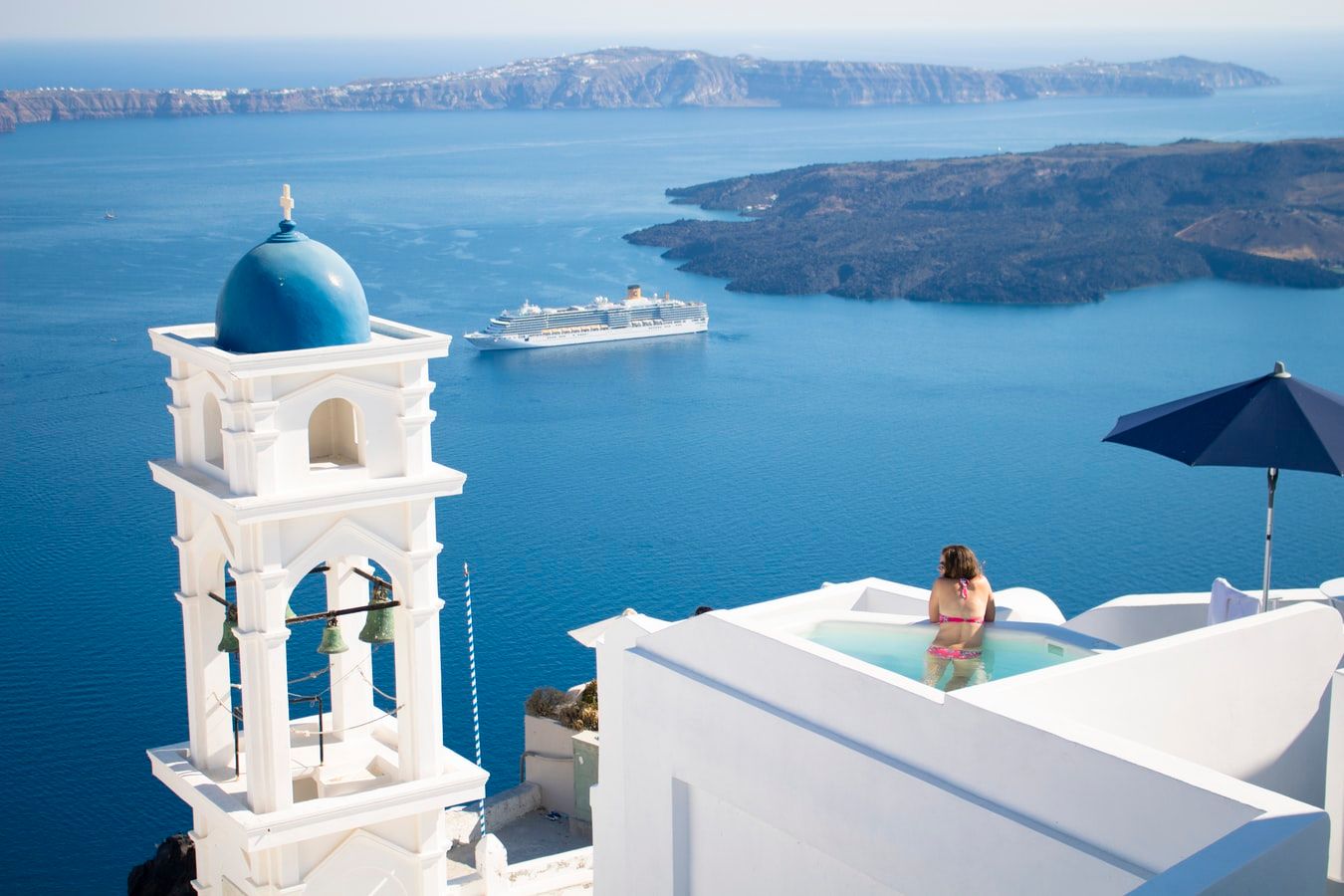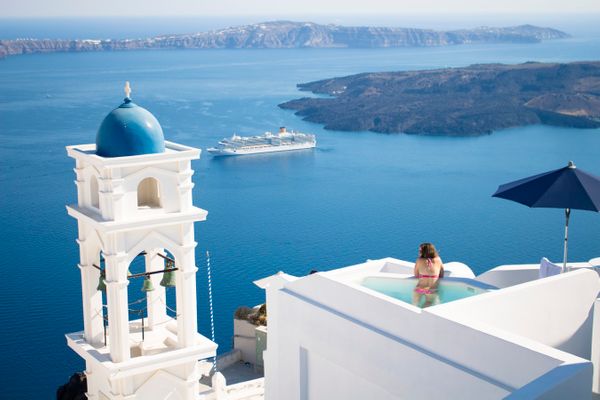 Santorini is romantic sunsets, amazing landscapes, unique architecture and delicious food. Walk around the island to discover its secrets, from the typical white houses, great monuments, fantastic art and archeological sites, to the local ports and heavenly beaches. Everything you are looking for in a relaxing, beautiful vacation is in Santorini!
How to get to Santorini
By Air
—
Santorini National Airport (JTR) serves the entire island. A bus stop is located just to your left after exiting arrivals, and tickets can be purchased directly on the bus. A taxi will run you around 20EUR.
Local etiquette in Santorini
Tipping
—
10-20% is standard at bars and restaurants.
Other
—
If visiting a church or other place of worship, taking photos of the altar is considered taboo. Really, just avoid taking photos inside religious establishments if in doubt.
Other
—
Meals are commonly shared "family style," so all plates are left in the center of the table.
Greeting
—
It's considered polite (bordering on expected) to say Hello and Goodbye when entering and leaving a shop or restaurant.
Words & Phrases
—
Yassoo [Hello]
Words & Phrases
—
Parakalo [Please]
Words & Phrases
—
Efcharisto [Thank You]
Words & Phrases
—
Ne [Yes]
Words & Phrases
—
Okee [No]
Words & Phrases
—
Yassoo [Goodbye]
Words & Phrases
—
Milás anglika? [Do you speak English?]
What's the weather like in Santorini?
The best month for swimming is July; the average sea temperature is 79F. The wettest month of the year is December. The weather is best between June and July with the sunshine lasting between 12-14 hours. Fantastic months for warm weather and not so many crowds would include March and June. In winter, it will be chillier overall but still quite sunny throughout the 6-hour day.
Spring
59° F (15° C)
51° F (11° C)
Summer
80° F (27° C)
68° F (20° C)
Fall
78° F (26° C)
68° F (20° C)
Winter
59° F (15° C)
51° F (11° C)
How to get around in Santorini
Public Transport
The local public bus line is KTEL. Trips cost between EUR1.80 and EUR2.30. The buses go all through the island, but sometimes you'll need to transfer to get to a particular destination.
Water Transport
Travel to other islands is easy with Ferry service from Santorini's port in Fira.
Other
ATV and motorbike rentals are available starting from around EUR15.
Walking
Walking is our preference for getting around and exploring the island, but be warned - it can get quite hilly (especially in Oia).
Where should I eat in Santorini?
BREAKFAST RESTAURANTS IN SANTORINI
Liver Bird Cafe ($)
British (Vegetarian-friendly)
INTERLINERS LOVE THE:
Full English breakfast
Liver Bird Cafe Website
Galini Cafe Santorini ($$)
Greek / Mediterranean Cafe
INTERLINERS LOVE THE:
Eggs benedict
Galini Cafe Santorini Website
Margarita ($)
Greek / Mediterranean
INTERLINERS LOVE THE:
Dakos
Margarita Website
BRUNCH RESTAURANTS IN SANTORINI
FlyAway Creative Restaurant ($$$)
Greek Seafood
INTERLINERS LOVE THE:
Tartare (and amazing views!)
FlyAway Creative Restaurant Website
Corner Food and Drinks ($$)
Greek (Vegetarian-friendly)
INTERLINERS LOVE THE:
Waffles
Corner Food and Drinks Website
Meroula Restaurant ($)
Greek (Vegetarian-friendly)
INTERLINERS LOVE THE:
Tomato frittas
Meroula Restaurant Website
LUNCH RESTAURANTS IN SANTORINI
Terra Nera ($$)
Mediterranean Pizza
INTERLINERS LOVE THE:
Pizza, frozen yogurt
Terra Nera Website
Lucky's Souvlakis ($)
Greek "fast food"
INTERLINERS LOVE THE:
Gyros, souvlakis
Lucky's Souvlakis Website
To Kyma - The Wave ($$)
Mediterranean Seafood
INTERLINERS LOVE THE:
Zucchini balls, seafood pasta
To Kyma - The Wave Website
DINNER RESTAURANTS IN SANTORINI
Rare Restaurant ($$)
Italian / Mediterranean
INTERLINERS LOVE THE:
Steaks, burgers
Rare Restaurant Website
Grandma's Recipes ($)
Greek "fast food"
INTERLINERS LOVE THE:
XXL pita gyro
Grandma's Recipes Website
Fistikies ($$$)
Greek / European
INTERLINERS LOVE THE:
Veal steak, salad
Fistikies Website
Other eats and bites in Santorini
Lolita's Gelato
—
Try the milkshake
The Wine Bar
—
Try the local wine, bruschetta with apple jam and blue cheese
Coffee Island Coffee Roasters
—
Try the freddo cappuccino
Things to do in Santorini
Port Ammoudi ($0+)
Brightly colored fishing boats dot this picturesque port, nestled a few hundred meters below the blood-red cliffs of Oia. We recommend walking down to the port for a bite of fresh-caught fish.
Port Ammoudi Website
Ancient Akrotiri ($12+)
See ancient history first-hand with a visit to Akrotiri, an ancient Minoan city buried long ago under ash from the volcanic eruption of 1613BC, and only uncovered circa 1967.
Ancient Akrotiri Website
Art Space ($5+)
Visit one of the oldest active wineries on the island and sip authentic local Greek wine as you explore wine caverns filled with priceless artwork. Art Space
Volcano and hot springs ($24+)
Visit the volcanic island of Nea Kameni by taking one of the daily cruises advertised in any village. You can walk upon the solid black lava and explore the active, steaming sulfur vents. Afterward, visit the oldest volcano, Palea Kameni, for a dip in the therapeutic hot springs. Volcano and hot springs Website
Santorini festivals and parades
AUG
Megaron Gyzin Festival
At first Megaron Gyzi Festival hosted various kinds of events, from theatrical performances and lectures to concerts. Over the last years, the program has focused on art exhibitions and musical concerts, mostly jazz, classical and vocal music.
SEP
International Music Festival
This festival started in 1979 and brings well-known artists from all over the world to perform on this international stage. There are solo recitals (piano, guitar, violin, cello), orchestras, piano duets and operatic music.
What's the nightlife like in Santorini?
Photo © PK Cocktail Bar
PK Cocktail Bar
There is a heated mid level bar with panoramic floor to ceiling glass to shelter you from the elements whilst sipping crafted cocktails with some absolutely stunning winter skies.
DON'T MISS:
Known as one of the most romantic bars in Santorini.
TIP:
Photo © JOJO Beach Bar
JOJO Beach Bar
A youthful, modern and at the same time comfortable place, with the unique black sandy beach of Perivolos.
DON'T MISS:
One of the best beach bars in Santorini. There's a swimming pool inside the bar... AND bar inside the pool, too!
TIP:
Photo © Two Brothers
Two Brothers
(website)
Two Brothers Bar first opened its doors in March 1983. From its humble beginnings back then, the bar has grown to become an island favorite for visiting tourists and locals alike. Two Brothers Bar is best known for its crazy party vibe and amazing music throughout the summer season.
DON'T MISS:
One of the best party bars in Santorini. Playing everything from top 40 to Commercial House, Deep House, EDM and R&B.
TIP:
Santorini hidden gems
Cliff jumping at Amoudi Bay
Amoudi Bay is a gorgeous little inlet in Oia. When you reach the sunset point in the town, simply follow the 250 stairs down to the ocean.
Pyrgos Streets
Pyrgos is a lovely village about eight km south-east of Fira. This little village is a great place to visit if you want to escape the tourist crowds and see where the locals live. Pyrgos is full of wonderful architecture and has some of the best views in Santorini thanks ts impressive vantage point.