The crazy story of the alleged hidden son of Prince Charles and Camilla Parker Bowles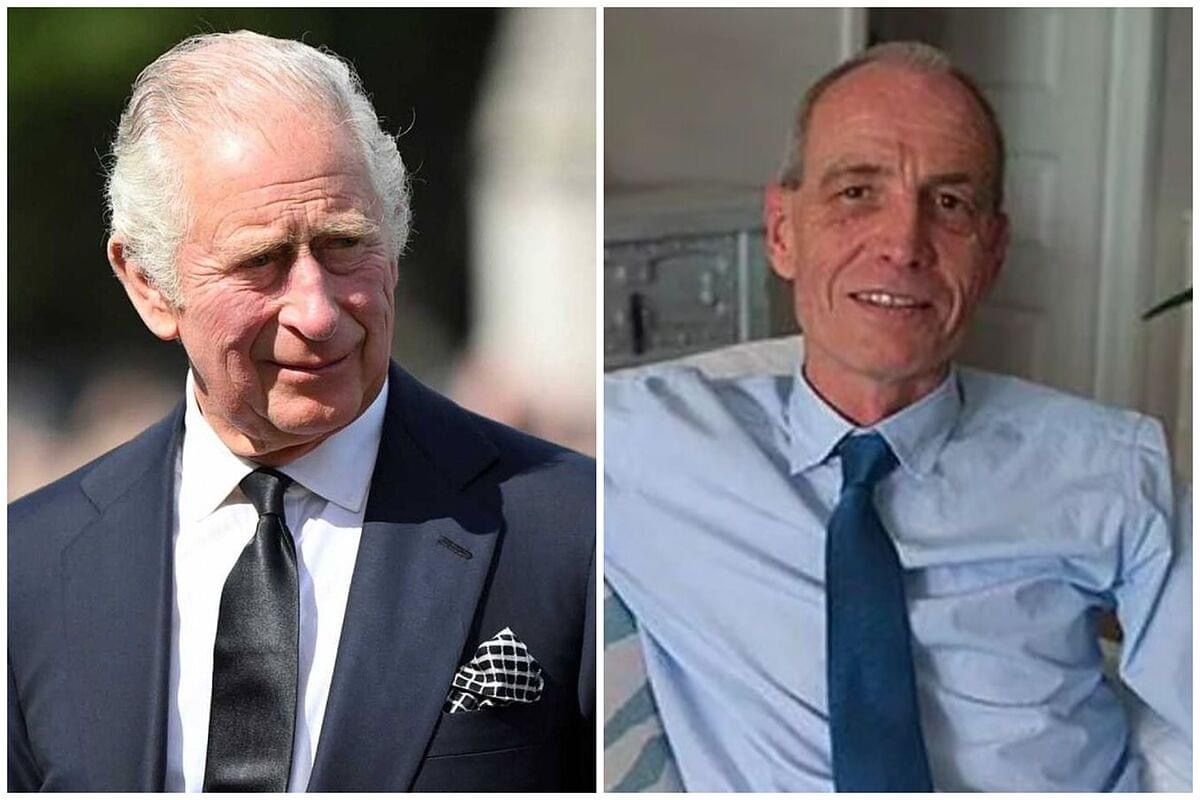 The alleged hidden son of Charles and Camilla

Simon Charles Dorante Day, 55, claims to be the son of Prince Charles and Camilla Parker Bowles.
Facebook Simon Charles Dorante Day
Simon Charles Dorante Day has claimed for several years that he is the child of the Prince of Wales and the Duchess of Cornwall.

With interviews and "evidence" in images published on his Facebook account, this Australian is desperately trying to have his so-called royal origins recognized.
His name is Simon Charles Dorante-Day. At 55, this resident of Queensland, Australia, claims to be the hidden son of Prince Charles and his wife Camilla of Cornwall.

On Facebook, 12,000 people follow, publication after publication, the "investigation" he conducts on his "biological parents". A fight that even brought him to the Australian court and that he never loses an opportunity to tell the media.
Simon Charles Dorante-Day was born in Gosport, a city on the south coast of England, on April 5, 1966. This 55-year-old engineer, married to a woman named Elvianna, with whom he had nine children, lives in Queensland, Australia.

Adopted at the age of 8 months by Karen and David Day, he says that his birth certificate is a "nonshit" and that the names of his biological parents are other than those of Prince Charles and Camilla of Cornwall.

He also maintains that his adoptive grandparents, Winifred and Ernest, worked for the Queen and that his grandfather even received a reward for his services. However, there is no official trace to attest to these statements. A fact in the image of all the other statements he has been able to make so far.
Convinced of being a member of the royal family, he said on Facebook, on the occasion of Mother's Day in Australia on May 9, that this day was "always difficult" for him.

The day before, he sent a message "to all those who miss their mother, who have never been able to talk to their mother or touch her, who have never known their mother, and to mothers who have lost or had to abandon their children".
A month earlier, after Prince Philip's death, he thanked his subscribers for their condolences. He declared: "For us, it is also the mourning of a lost opportunity. I would have liked to be able to talk with grandfather, but as Dr.

Elvianna (his wife, editor's note) pointed out, his DNA will continue to live through our children and myself. His fingerprints are everywhere in my life and even if some things may seem hard, they have made me the man I am."
Also read" In photos, the intense emotion of the royal family at the funeral of Prince Philip
In video, Charles 72 years old and almost king
Charles, the seventy-year-old prince called to become king
1 minute, 4 seconds of 3 minutes, 11 seconds
ACTIVATE THE SOUND
Hidden pregnancy
According to him, Charles and Camilla did not meet at a polo match in 1970, as the official version wants, but five years earlier. Elizabeth II's eldest son was then 17 years old, and Camilla Shand, 18 years old.

The latter would then have become pregnant and would have taken care to hide her pregnancy. Simon Day wants as proof the fact that she was not seen in public for 9 months, during which time Charles was in Australia.
In fact, the Duchess was photographed many times that year, including at a beginner's ball in London on March 25, 1965.
And she didn't appear pregnant.

The man also claims that Camilla kept him close to her for the first 8 months after her birth.
Recall that Prince Charles and Camilla Parker Bowles married on April 9, 2005, each having two children from their previous unions: Princes William and Harry for the first, and, for the second, Laura and Tom Parker Bowles, son of Andrew Parker Bowles, Camilla's first husband and former British army officer.
As a child, Simon Day claims to have visited Camilla many times, in various homes of the royal family, including Broadlands, a mansion located on the south coast of Great Britain.
"I have very clear memories of my adoptive parents taking me to this Hampshire residence," he told the presenters of the television show "This Morning" on April 30.
These clandestine encounters would have ended when he was 5 or 6 years old.

He says he heard his grandmother say to his adoptive mother: "Visits must stop, he will remember them," he told our British colleagues. It was also this same grandmother who would have revealed to him the origins of her birth.
To prove his parenting links, Simon Day publishes on his Facebook account photographs of members of the royal family that he compares with images of himself or his children.

A photograph of the fifty-year-old, immortalized in 1990, thus aroused the interest of some Internet users, who found him common features with Prince Andrew (only six years older than him).
On May 5, Simon Day also highlighted his resemblance to Prince William by putting side by side a photo of each of their profiles. "Here is another photo that caught my eye. Oh, and it reminds me that it's him who looks like me, I was there first...", he wrote in comment. He also claims to have undergone various surgical operations in his childhood to try to erase any resemblance.
About his ears, for example: "I don't remember making them glued when I was a child. But when you look at the photos, you see that they are really different, that I had to undergo an operation at some point, "he told the press on April 28.

A physical characteristic that he would have bequeathed to his children. It was also the ears of his daughter Chloé that would have convinced him of his kinship. "When she was 3 months old, her ears took off. The curve of his ears and their inclination is exactly like Charles's. And medically, they say that the ear is genetically as reliable as a fingerprint to know where you come from, "he argues without fail.
Simon Day also claims to have had eye surgery, explaining their brown and not blue color, like that of his parents. The operation was reportedly carried out when he was 8 years old, to "silence the rumors that were running in Portsmouth (the city where he grew up, editor's note)". But she would have left him after-effects. "My oncologist will therefore tell you that one of my lenses is perfectly round and that the other has an oval shape like a rugby ball.
That's why I have a vision problem, "he explains in the media, without being embarrassed by scientific considerations. He still wants as proof the blue eyes of his children at birth, who, however, "all changed color after several years".
In video, Camilla and Charles have a crazy laugh during an Inuit show
Camilla and Charles have a crazy laugh during an Inuit show
0 seconds of 16 seconds
"Diana was about to reveal everything"
Determined to have his royal origins recognized, Simon Day has appealed to Australian justice several times. He hopes to get a DNA test to be carried out, but all his remedies have so far been rejected.

According to him, one person could have revealed the truth: Lady Diana, Prince Charles' first wife. "I think Diana was finding answers about her life, how she had been deceived, and that she was about to reveal it," he said.

He also says that Odette Sansom's hairdresser, a famous English spy and resistance fighter during the Second World War, would one day contact him to give him information. "She told me that Charles had been told to find someone and get married, because one of Camilla's children was hers and it was about to be revealed," she would then have told him.
No member of the royal family has so far reacted to the allegations made by Simon Day. He seems determined to continue his fight and says he only wants the truth. "At the end of the day, I'm just a man looking for his biological parents, and all roads lead me to Charles and Camilla." To whom we can only be advised to reread Elizabeth II's motto: "Stay calm and continue".
More on the royals :

"Gladys": where does the secret nickname given to Camilla by Prince Charles come from?
Tom and Laura, the very discreet children of Camilla Parker-Bowles
Camilla Parker Bowles tested by the death of her son's partner, at 42 years old

TOPICS

PRINCE CHARLES
CAMILLA PARKER-BOWLES
ROYALTY
ARISTO & CO
UNITED KINGDOM


52 comments

lucilia serra
Maria Júlia Loureiro...doesn't look that much older than Charles!!! But he has great emotional distress, which causes aging!and diseases!! Being like Simon says, I can't even imagine how much he suffered and suffers!!! I know a child, now 9 years old...he doesn't know his biological father...buts knows that he lives somewhere... he knows some of his father's family... This child is rebellious... withouthe asks when he can see his FATHER...UNHAPPYNTE ALREADY TAKES MEDICINES, PATO ATTENUE THE GREAT SUFFERING...
6 handsLikeReplyreport
Nezia Correia
I Á CHI HE IS VERY LIKE HIS FATHER IT MAY BE TRUE HE ALSO LOOKS LIKE AMAE IF IT IS TRUE HE HAS EVERY RIGHT TO BE RECOGNIZED
8
6 handsLikeReplyreport
Dirce Maria To... replied · 1 reply
Julia Nogueira
If you want to take the exam, why not? Out of debt, out of danger. He must take the exam.
It is very sad to see someone wanting to prove a truth, and yet there are so many obstacles😭😭
6 handsLikeReplyreport
Magda Ortega
Just do DNA
6 handsLikeReplyreport
Grace Marques
There are many things behind the scenes.
Of course they would hide the boy, so as not to have scandals.
In front of everyone is just expensive clothes and glitter,
Underneath the rugs are hidden a lot of dirt.
15
6 handsLikeReplyreport
Magda Ortega replied · 1 reply
Raimunda Lima
Mercy Lord Jesus Christ. Jeez popcorn really warmed up are you serious let's do a DNA it's super normal.
6 handsLikeReplyreport
Vera Oliveira Rodrigues
LOL! There is a very simple detail that makes this theory unfeasible: he has brown eyes! Having a higher education, you should have known that when the father and mother have blue eyes (which is the case with King Charles and Camilla), the children would all be born with blue eyes too!
Therefore, it is impossible to be the son of Charles and Camila!
3
6 handsLikeReplyreport
Vera Oliveira... replied · 10 replies
Odete Seleber
I think it looks like both, but when it involves a lot of money I think that many humans act worse than animals because the animal does not abandon its offspring, so the girl who appeared is Camilla and Charles' daughter? And the girl who is said to be the daughter of Charles and Dayane and that he denied her, she is the spitting image of her mother.
1
6 handsLikeReplyreport
Luna Maria replied · 2 replies
top fan
Glauciene Ferreira
He younger looks a lot like Princess Diana's eldest son
1
6 handsLikeReplyreport
Hydall Nira replied · 1 reply
Luna Maria
He is the son of Charles I of Camilla all Saturday but Princess Diana didn't have time
6 handsLikeReplyreport
Sarinha Barros
Jeez
From the story told, everything indicates that it's really a son
He's already old, it's not worth it.
6 handsLikeReplyreport
Ana Luzia Timo Manfio
Look guys, this is their culture, for them this is even normal, "a symbol of strength, virility", it must probably be true, good luck to everyone there!
1
6 handsLikeReplyreport
Suely Costa
Yes! He has features like Prince Charles.
6 handsLikeReplyreport
Tamara Claudeth
It looks like a prince,
1
6 handsLikeReplyreport
Maria Dias
DNA proves the truth so we must hope both King Charles lll knows as well as Camila just keep quiet but the truth will come out to the public
6 handsLikeReplyreport
Regina Lucia
You have to take the exam They are very similar
7
6 handsLikeReplyreport
Carvalho De Souza Eliana
Yes, I imagine the anxiety of Simon Prince and the joy of the parents, I believe Charles and Camilla are loving
6 handsLikeReplyreport
Fatima Pereira
There's a mother who denies the child, that's not a mother, these people only think about plenty, it's big, no It's there for cents
6 handsLikeReplyreport
Fatima Pereira
It's not impossible, you cancer
6 handsLikeReplyreport
top fan
Cionei Faustino
They are similar, you need to take the exam to prove it!
6 handsLikeReplyreport
Tania Cesar
I don't know if it's so worth it, making sacrifices to prove, that real parents don't care about having him as a son...... I'd rather be loved.
6 handsLikeReplyreport
Viviane Marinho
This woman cannot be called a mother!!
6
6 handsLikeReplyreport
Nelma Maria Ri... replied · 2 replies
Maria Alcinda Correia
The son sees himself as older than the father
6 handsLikeReplyreport
Paula Pinho
He must be the son of these two.
6 handsLikeReplyreport
Matinta Pereira
He is the face of the Father
6 handsLikeReplyreport
Lourdes Serra
Yes I believe
6 handsLikeReplyreport
Armonia Armô
Very similar to Prince William
6 handsLikeReplyreport
Simone Lama
And just what?
6 handsLikeReplyreport
Neusa Rodrigues
It does have a resemblance!
6 handsLikeReplyreport
Neuraci Oliveira
True or not he is right
6 handsLikeReplyreport
top fan
Jeane Batista
he is very similar
6 handsLikeReplyreport
Maria Julia Loureiro
If it's a son, he looks older than the father.
1
6 handsLikeReplyreport
Sandra Góis replied · 1 reply
Rosicley Zapff
Good for this queen consort or bad luck! I don't know about her, I could only expect that!! Muuuuuu!!
6 handsLikeReplyreport
Dirce Maria Torres
I THINK IT'S THE TRUTH. HE HAS A HUGE LIKE LIKE BISNONA. JUST SEE ALL PHOTOGRAPHS . YESMMMMMMMMMM IT'S TRUEEEEEEEEEEEEEEEEEEEEEEEEEEEE.
6 handsLikeReplyreport
Tininha Waciquete Waciquete
Yes, the Royal family hides so many secrets.
two
6 handsLikeReplyreport
Norma Regina
You may have to take a DNA test.
6 handsLikeReplyreport
Maria Zilma
Cursed family.
6 handsLikeReplyreport
Yvone Mouramorais
For sure
6 handsLikeReplyreport
Juliana Souza
Yes
6 handsLikeReplyreport
Bruna De Oliveira
Camila's face yes he looks like yes
1
6 handsLikeReplyreport
Alexandra Correia replied · 2 replies
Odete Carvalho
Yes
6 handsLikeReplyreport
Baptist Rose
What mom
6 handsLikeReplyreport
Solange Martin... replied · 1 reply
Tania Cruz
He looks like her!!!
6 handsLikeReplyreport
Rosemere Meireles
Didn't you have that dream before your mother became queen?🤔
6 handsLikeReplyreport
Tania Gertie replied · 5 replies
Maria Neuma Oliveira Sousa
He took after his father's beauty
6 handsLikeReplyreport
Rosane Moraes
He's been performing for so long and nothing has happened, now that the other is king, I doubt doing DNA.
6 handsLikeReplyreport
Jane Calabresi
Poor thing, I hope it is, but every family has a little dirt under the rug lol
4
6 handsLikeReplyreport
Manuela Garcez
Older than parents!!!😀
6 handsLikeReplyreport
Clarisse Gonçalves
They are really similar
6 handsLikeReplyreport
warrior grace
Pace a little with her
6 handsLikeReplyreport
Antonia N Pereira
Yes
6 handsLikeReplyreport
detained Silva
Yes
6 handsLikeReplyreport
Cicera Silva
Yes
6 handsLikeReplyreport
Juscelia Santos
Yes I believe this royal family is rotten
1
6 handsLikeReplyreport
William Douglas Martins
Andrea Miramontes
6 handsLikeReplyreport
Maria Da Graca Preto
Camila is older than Carlos, so he was 17 and she was 19.
6 handsLikeReplyreport
View more comments…
Baron de Charlus
on 06/06/2021 at 19:31
It seems to me that the Prince of Edinburgh had his DNA taken to authenticate the remains of the imperial family of Russia exhumed around Villa Ipatev in the 1990s; and in particular to unravel the mystery around Anastasia. There are surely some left and it should be possible to do this test without bothering the Windsors.
the new observatory.
on 05/25/2021 at 21:03
Old pov'. I'm the back... Louis XIV's daughter... sorry now we have to say 14.
Let's live!
on 05/25/2021 at 08:58
He doesn't have the ears of Prince Charles...
law, publishes a first shot of her daughter
The first photos of Kate Middleton and Prince William on the set of The Crown
The first photos of Kate Middleton and Prince William on the set of The Crown