Come In! The Most Expensive And Extravagant Celebrity Mansions
If there's one thing the biggest stars spend lavishly on, it's tailoring mansions. Celebrity real estate is a huge industry on its own, with a significant number of celebrities buying land for an even greater profit. .
By YEET MAGAZINE Updated 0118 GMT (0918 HKT) October 2, 2021
@ homespace / Twitter | @ rihanna / Tiwtter.com
If there's one thing the biggest stars spend lavishly on, it's tailoring mansions. Celebrity real estate is a huge industry on its own, with a significant number of celebrities buying land for an even greater profit. Other celebrities spend their millions to build a house with their personal touch to transform it into a rare pearl and make it unique.
Indeed, most of the most incredible mansions in the world (both in terms of view and price) are in a way an extension of their owners. Note that stars are often very involved in the architecture and interior decoration of their homes. Either way, the luxury mansions on this list are breathtaking and they are some of the most magnificent mansions we have ever seen. We have to admit it: celebrities have a taste for beautiful things!
1. George Clooney's Villa L'Oleandra
Price : $ 100 million
Location : Laglio, Italy
Photo : The Pizza Room (which could be translated as "the pizza room")
More than once Oscar winner actor George Clooney owns a sublime vacation home. Known as "Villa Oleandra", this stunning mansion is located on the shores of Lake Como, in Laglio, Italy. He allegedly spotted it on a motorcycle trip in the Alps - and immediately contacted the owner to purchase it. At $ 100 million, it's one of the most expensive real estate on the planet.
George Clooney © andersphoto / Shutterstock.com | house @earthescope / Twitter.com
But Clooney took it a step further by investing millions in interior renovations. However, much of the original 18th century architecture has remained intact. Shortly after this purchase in the 2000s, George Clooney also purchased the neighboring villa. The two mansions are connected by the Riva Soldino bridge, with the lake below. Simply fabulous.
2. Jay-Z and Beyoncé's mansion
Price : $ 88 million
Location : Bel Air, California
Image : Bulletproof windows
The King and Queen of Music or in other words Jay-Z and Beyoncé made a huge real estate investment in 2017. They bought this huge brand new, fully furnished mansion located in the sunny hills of Bel Air, California. They paid $ 88 million instead of the original offer which was $ 135 million - but that said when your name is Beyoncé, nothing seems impossible.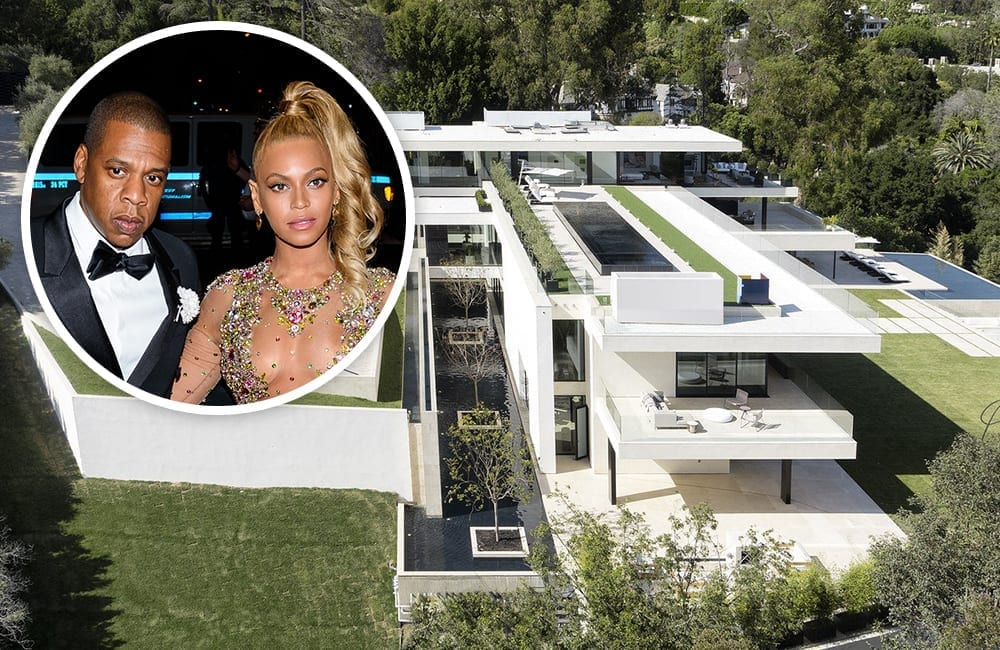 JayZ and Beyonce © Sky Cinema / Shutterstock.com | house @rowdytukgoon / Twitter.com
This ultra modern dream home was designed by legendary architect Dean McKillen. The tray shaped design is probably what makes this house so remarkable. Raised decks accompany a full basketball court, four pools, and tons of treatment rooms. Oh, and by the way, every window in the house is bulletproof. Of course, the Carter family is far from paranoid.
3. Rachel McAdams' Victorian Annex
Price: € 425,000
Location: Annex, Toronto
Image: Bay windows
When celebrities have a taste of fame and fortune, they often settle into a glamorous Los Angeles mansion that costs millions of dollars. Rachel McAdams has starred in tons of blockbuster movies, but she didn't let that change her. It is true that she owns a few houses, but they are quite modest.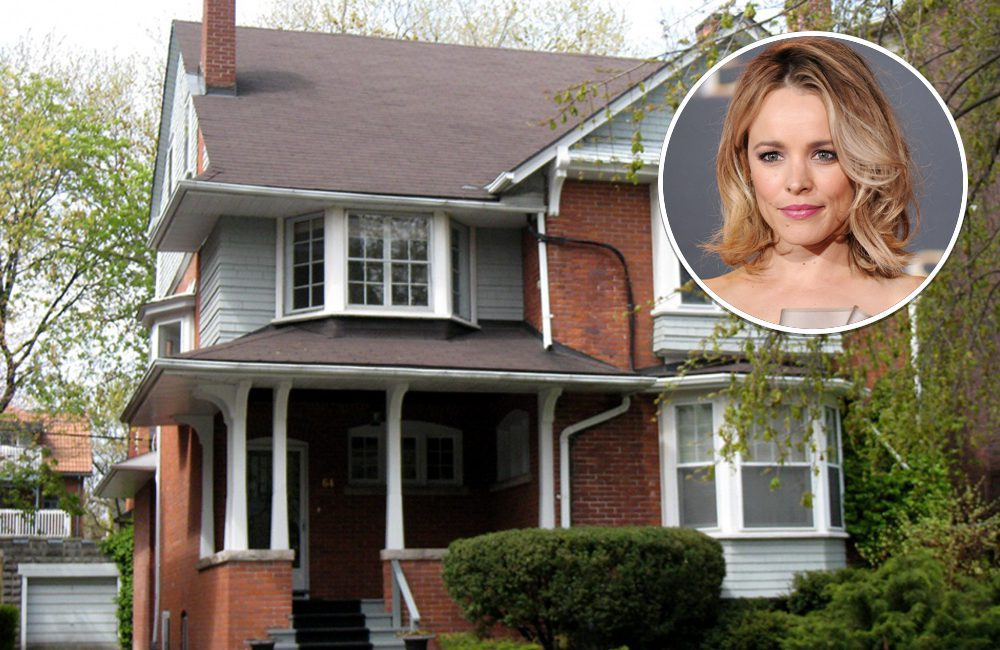 Rachel McAdams @ c21leadingedge / Pinterest.com | © DFree / Shutterstock.com
This one, in Toronto, is in a quiet residential area, far from the twinkling lights of Hollywood. The Victorian property is small, with pleasant floor-to-ceiling windows, a small driveway and a small, unassuming porch. Rachel was born in Canada, but most of her family live in Ontario.Advertising
4. Ryan Reynolds' New York apartment
Price: 5.1 million euros
Location: Pound Ridge, New York
Image: Private dressing room, exposed brick
Ryan Reynolds and Blake Lively could easily have chosen to spend most of their time in Los Angeles, but the superstar couple settled in New York instead. They own a house worth $ 5 million in the Pound Ridge neighborhood.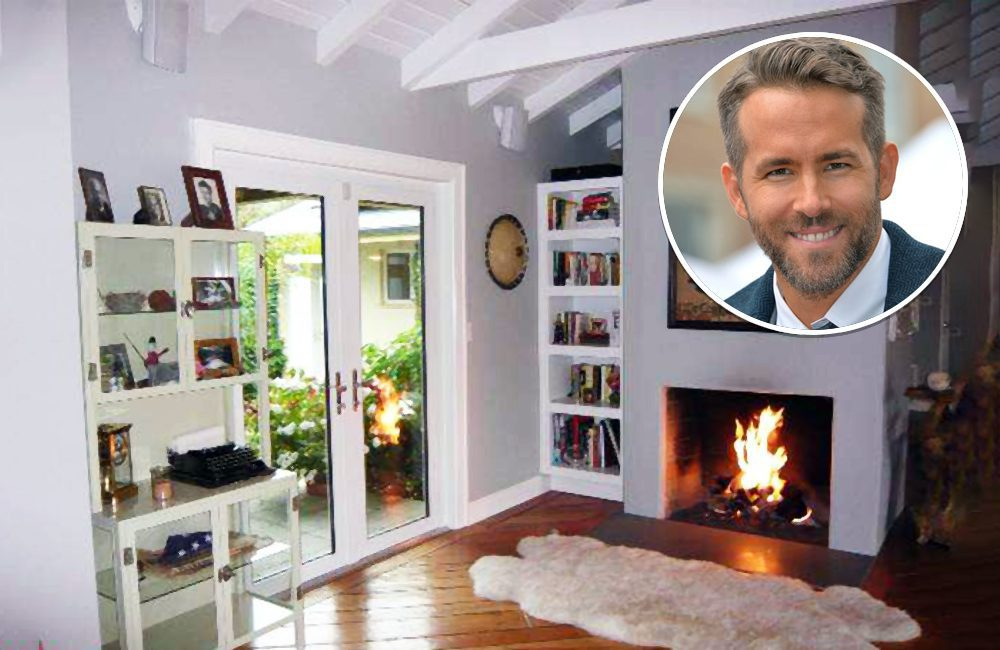 Ryan Reynolds @wiccanasgardian / Pinterest.com | © Featureflash Photo Agency / Shutterstock.com
With its 6 bedrooms and 6 bathrooms, the house (dating from 1860) is the perfect base for raising their children. Ryan and Blake aren't used to sharing photos of their private abode, but it does have some great features, including exposed brickwork and a walk-in closet to die for.Advertising
5. Pamela Anderson's personalized beach house in Malibu
Price: 10 million euros
Location: Malibu, CA
Image: Floor-to-ceiling windows
Pamela Anderson was at her peak in the '80s and' 90s, but make no mistake about it, she is still doing well. The model and actress built her own contemporary three-bedroom home in Malibu after purchasing the property over twenty years ago.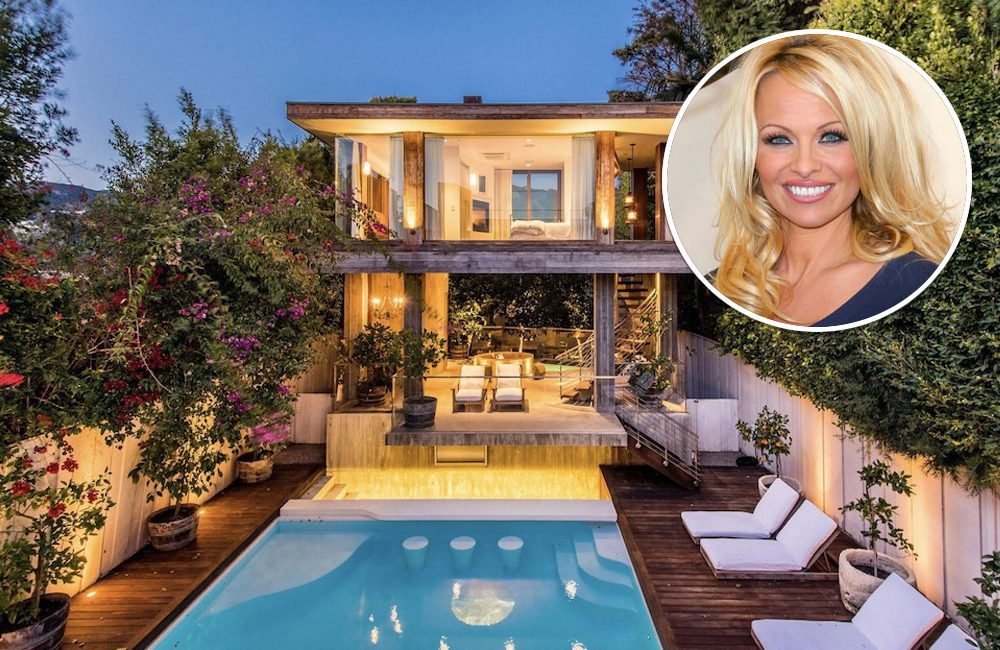 Pamela Anderson @TMZ_News / Pinterest.com | © s_bukley / Shutterstock.com
With its stunning open spaces and chic decor, it didn't take long for the house to sell when Pamela brought it to market in 2020. The house backs onto the Malibu Lagoon, giving it a perfect location , but that's not all. It also has its own swimming pool and floor to ceiling windows.Advertising
6. The "Windmill" house of Robert Downey Jr.
Price : $ 13.5 million
Location : The Hamptons, New York
Image : Living in a 19th century windmill
Yes, it is very real. Robert Downey Jr. actually lives in a life-size windmill. The actor and his wife bought this little piece of history from the moment it hit the market. Before it became their private residence, it was known under the historical name of "DeRose Windmill House". Downey Jr. bought the mansion a few years ago, and completely modernized the interior in just 6 weeks.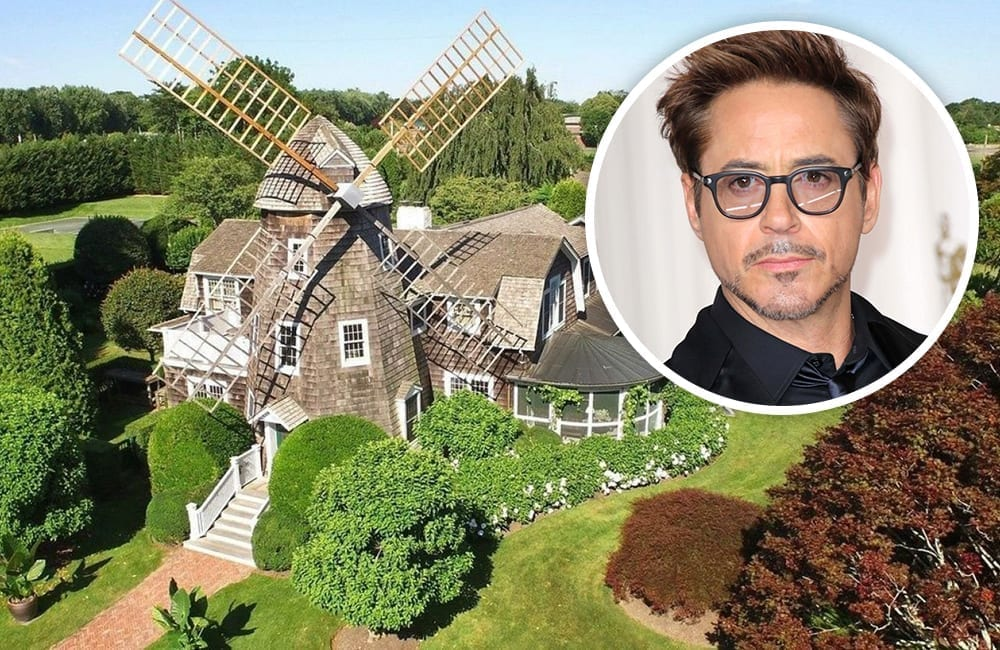 Robert Downey Jr © s_bukley / Shutterstock.com | house @ JVP73 / Twitter.com
However, the charming exterior never ceases to remind us of its history. Apart from the huge sculpture of a praying mantis in the main courtyard (who knows why?). Originally, the house was to serve as a playroom for the children. But disliking the banality, the Downeys have turned it into fun for the whole family. There is even a huge bathroom adorned with purple polka dots!Advertising
7. "The Promised Land", Oprah Winfrey's mansion
Price : $ 90 million
Location : Montecito, California
Image : Artificial fishing lakes
With ten fireplaces, a huge library, and hundreds of rose bushes, Oprah's private mansion is renowned as her private escape from the spotlight. Oprah named this mansion "The Promised Land" (which translates to "The Promised Land") in honor of Dr. Martin Luther King and his famous words.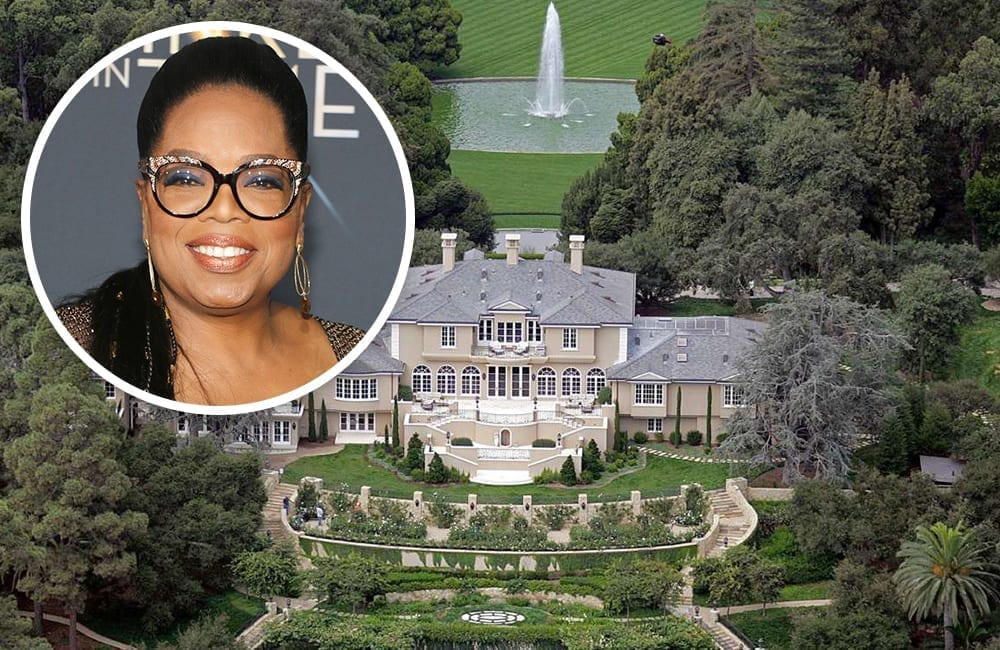 Oprah © Tinseltown / Shutterstock.com | house @douleurinquiet / Twitter.com
The connection with nature is just as important as the decadence of the mansion. Oprah is said to have designed an impressive tea room to make it a private getaway that connects her to the world of nature. The many orchards and its natural paths give it an air of a secret garden . The entire perimeter includes 16 hectares of real estate and private access to the ocean. By the way, did we mention that she has built several lakes full of fish, in case any guests want to go fishing?Advertising
8. Tom Cruise's mansion
Price : $ 59 million
Location : Telluride, Colorado
Image : Private motocross track
Action movie star Tom Cruise has a home just as sturdy as him: a magnificent mansion nestled in the mountains near Telluride. It offers one of the most beautiful natural beauties you can buy for $ 59 million. It includes a private motocross track, stables and panoramic mountain views.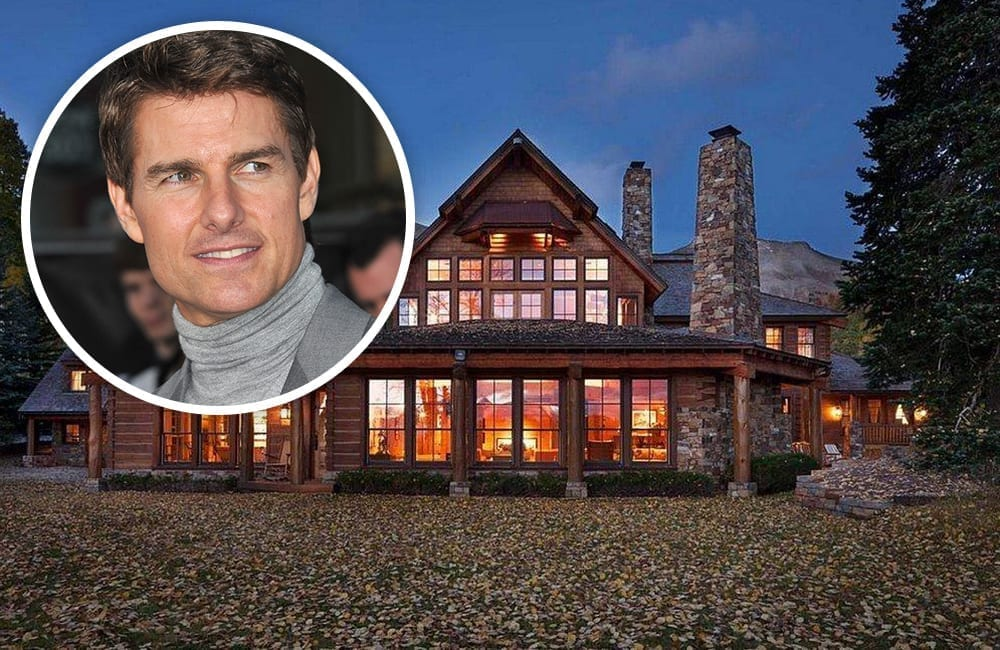 Tom Cruise © Jaguar PS / Shutterstock.com | house @POPSUGARHome / Twitter.com
This luxury property also has a private helipad. Just in case Tom Cruise needs to head to a Hollywood reunion immediately - or maybe practice some helicopter action streak. Who knows ? The interior has seven bedrooms (with nine bathrooms), as well as several playrooms and libraries. Think of it as a little more expensive than average cabin. Well it's true, much more expensive than the average.Advertising
9. Bill Gates' "Xanadu 2.0" house
Price : $ 125 million
Location : Medina, Washington
Image : The trampoline room
Bill Gates is one of the few billionaires who almost seems like a perfectly normal person. He queues up in the fast-good stores like everyone else would you tell me. Unfortunately, the same cannot be said for its mega-house, the aptly named Xanadu 2.0. It is perhaps the most expensive and extravagant celebrity house on the planet, which can boast of owning some of the most advanced technology in the world.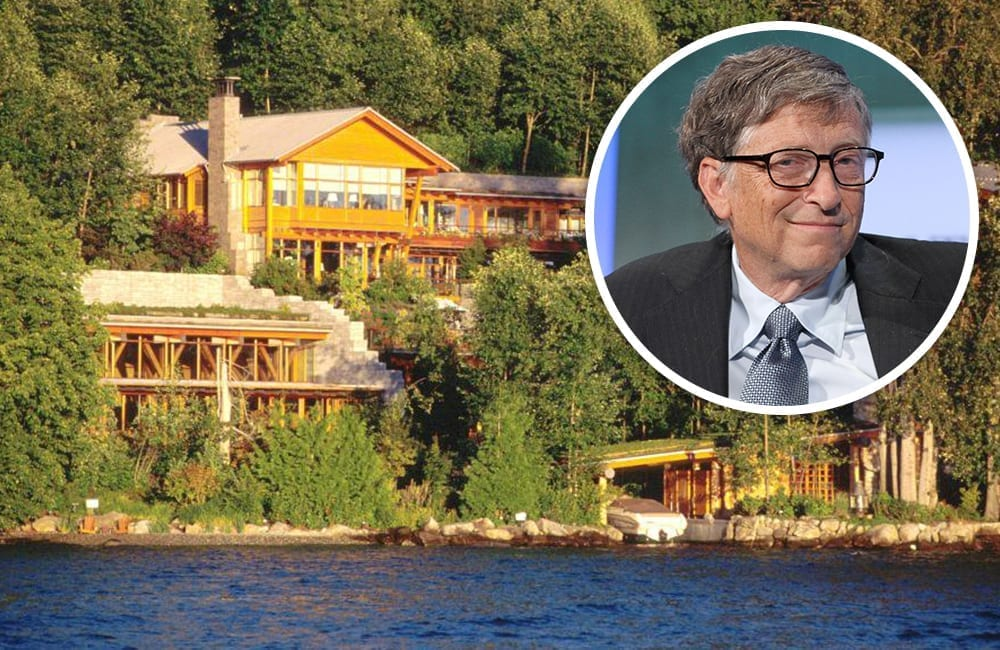 Bill Gates © JStone / Shutterstock.com | house @Love__Abode / Twitter.com
The floors are pressure sensitive, and a high-tech monitoring system keeps track of the location of visitors. And there's a good reason behind it: the estate itself spans a massive 61,000 square meters, not including beachfront access. Unhappy with the sands of Washington Beach, Gates paid. millions of dollars to import sand from the Caribbean and cover his beach with it.Advertising
11. Rihanna's mansion
Price : $ 21.8 million
Location : Barbados, Caribbean
Image : Private Caribbean Beach Access
Pop superstar Rihanna owns a ton of real estate across the globe. But the most expensive - and our favorite - is hands down his $ 21.8 million Barbados home. Rihanna fell in love with this mansion after renting it out to visit her family. She bought it that same year. Located on one of the best beaches in the Caribbean, this exclusive getaway was designed by Rihanna to spend time with her family.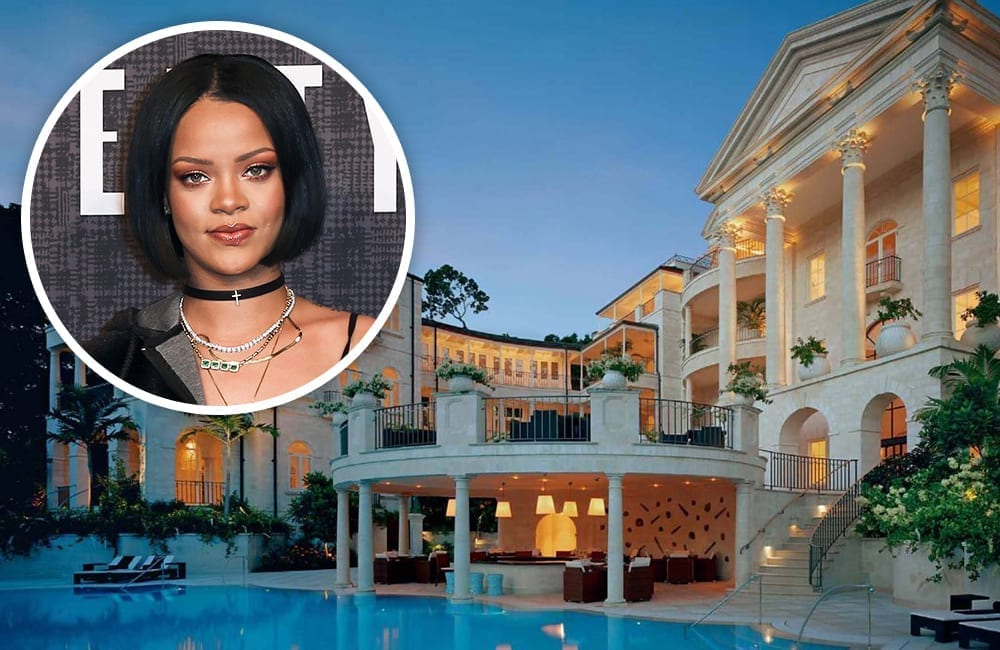 Rihanna © Debby Wong / Shutterstock.com | house @ant_toe_kneeee / Twitter.com
She can accommodate almost her entire family. As you can imagine, it's also equipped with all the essentials for a pop idol: a massive gym, 24-hour service, and more balconies than you need to be able to sunbathe at the top. Sun. Given that Rihanna grew up in Barbados, one can imagine that this house has a very special meaning for her.Advertising
12. Kim Kardashian's mansion
Price : $ 60 million
Location : Hidden hills, California
Image : Lots of empty spaces
Tucked away in one of the biggest celebrity neighborhoods is Kim Kardashian's home. And with a price tag of $ 60 million, most people agree that she's ridiculing most of the other mansions in the neighborhood. But besides the price, this luxury house has another very special feature: it is filled with a lot, a lot of… empty! Kim took for a minimalist approach to interior design.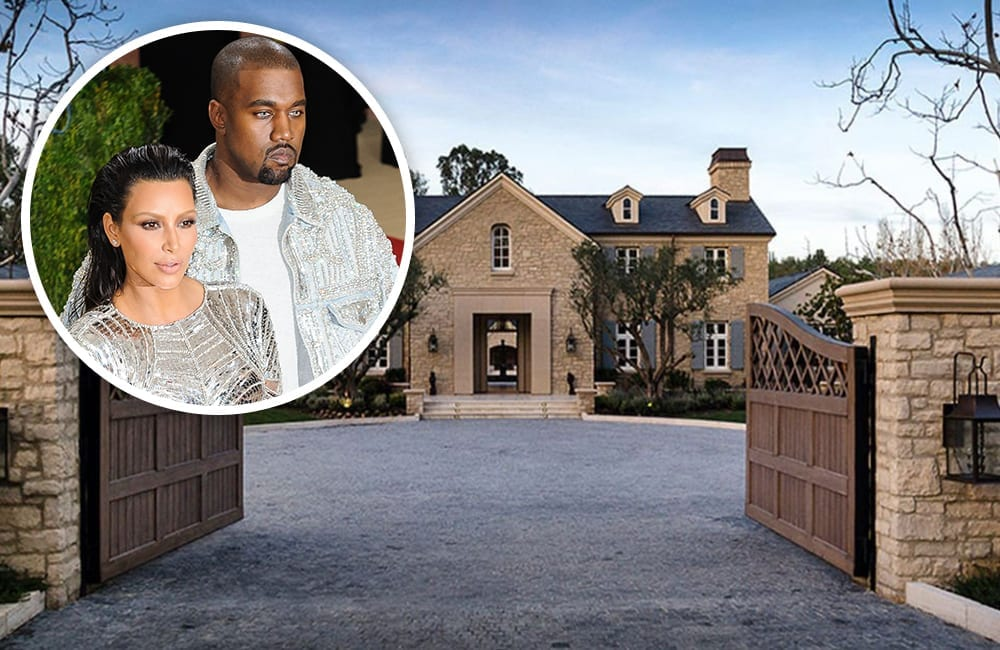 Kim and Kanye © Sky Cinema / Shutterstock.com | house @Cosmopolitan / Twitter.com
Light walls, hardwood floors, and the absence of any artwork or personal effects only add to the emptiness of the house. But they put that space to good use around holiday season, completely transforming the interior to host Christmas parties and celebrity birthdays.Advertising
13. George Lucas' Skywalker Ranch
Price : $ 100 million
Location : Marin County, California
Image : No photos allowed inside!
The famous private home of Star Wars creator George Lucas has the same last name as the greatest Jedi in the galaxy. But the Skywalker Ranch is not only George Lucas' luxury home, it is also his office and was once home to his many film and sound production companies.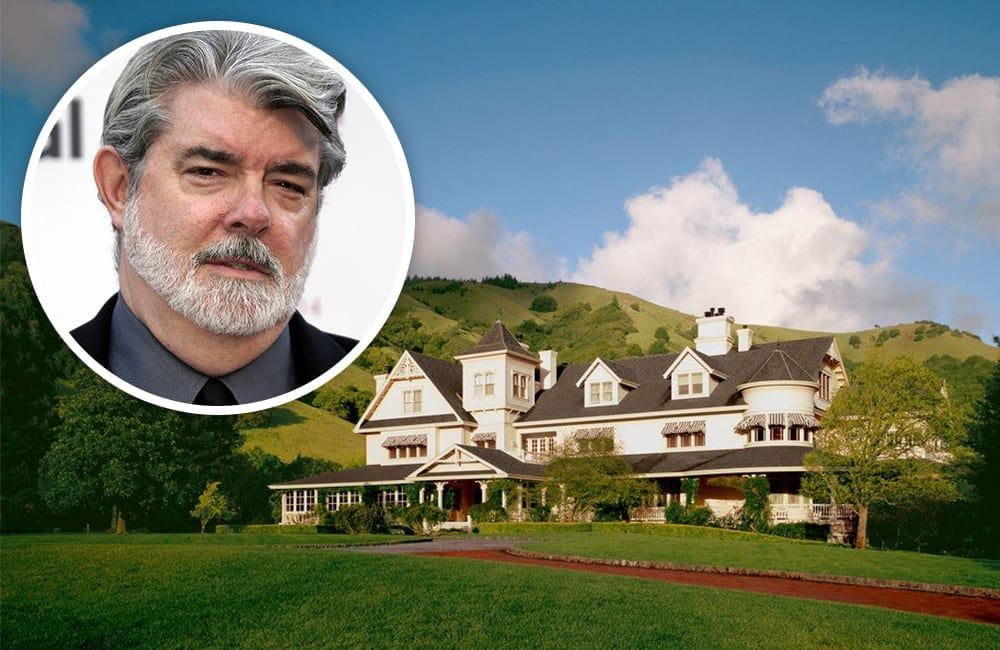 George Lucas © Tinseltown / Shutterstock.com | house @ArchDigest / Twitter.com
The estate itself is hidden out of public view somewhere in Marin County, California. People lucky enough to be invited inside are not allowed to take photos (although Lucas has in the past allowed magazines to browse the Ranch). But if you are lucky enough to see it, you will apparently be in for a treat. Half of the estate is home to the technology that gave birth to some of Georges Lucas' most incredible technical achievements.
Advertising
14. John Travolta's "Jumbolair"
Price: $ 170 million
Location: Ocala, Florida
Image: An operational airport
Of course, some celebrity homes are a bit more bling-bling than others. But how many of them also have a real airport  ? This is the case with John Travolta's atypical (and incredibly expensive) home, known as Jumbolair Airport. Located near Ocala, Florida, the property has two trails. Travolta purchased the property in order to accommodate and operate his private planes, including his own 707, which he is licensed to fly.
John Travolta - Jumbolair
The interior of the house is a strange mix between a mid-twentieth century style and… an airport. Travolta, however, made some improvements by creating a playroom and adding several decorative elements to the interior. He donated his 707 a few years ago, but we know full well that John Travolta is landing as you read this.