How Much Does The Most Expensive Jewelry Cost?
most expensive jewelry brands most expensive jewelry 2021 what is the most expensive jewelry in the world expensive jewelry stores top 10 expensive jewelry expensive jewelry for sale the most expensive jewelry in the world 2020 top 20 most expensive jewelry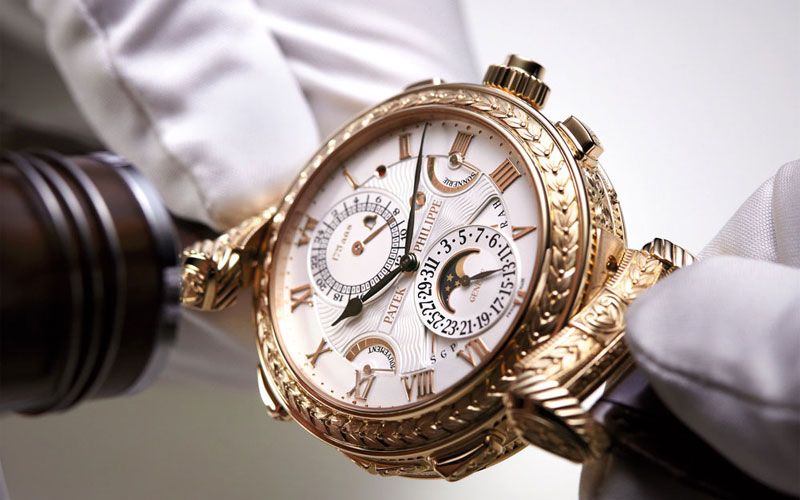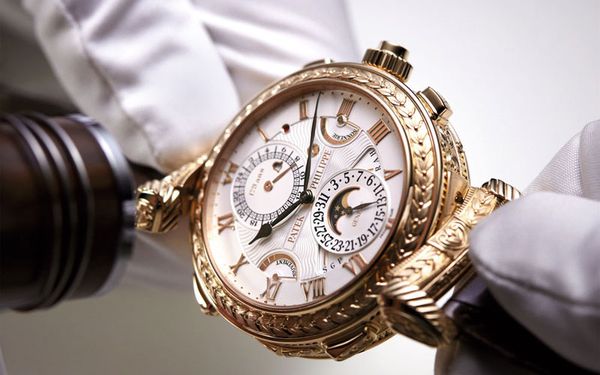 most expensive jewelry brands  most expensive jewelry 2021  what is the most expensive jewelry in the world  expensive jewelry stores  top 10 expensive jewelry expensive jewelry for sale  the most expensive jewelry in the world 2020  top 20 most expensive jewelry
By YEET MAGAZINE | Updated 0439 GMT (1239 HKT) March 15, 2022

The Most Expensive Jewelry in the World
The First Faceted Stones Were Discovered in Europe - They Are Dated To The End Of The 13th Century.
Since then, humanity's love for sparkling and rare items has only increased. Accessible initially only to royalty, this outrageously expensive jewelry is now available to any millionaire or billionaire. For anyone who adores jewelry, here is the list of the 29 most expensive jewelry in the world.
Survey
| | | | | | |
| --- | --- | --- | --- | --- | --- |
| 1. | expensive jewelry | | | 0.00% | 32 |
| 2. | most expensive jewelry | | | 0.00% | 30 |
| 3. | most expensive jewelry store | | | 0.00% | 30 |
| 4. | most expensive jewelry in the world | | | 0.00% | 27 |
| 5. | expensive jewellery | | | 0.00% | 93 |
| 6. | hope diamond cost | | | 0.00% | 76 |
| 7. | heart of the ocean engagement ring | | | 0.00% | 83 |
| 8. | 500 carat diamond necklace | | | 0.00% | 69 |
| 9. | the heart of the ocean diamond price | | | 0.00% | 71 |
| 10. | most expensive jewelry store in the world | | | 0.00% | 28 |
29- Dragon and Spider Phone Cases by Anita Mai Tan
Anita Mai Tan's Dragon and Spider phone cases retailed for € 762,995 ($ 880,000.00). The Dragon and Spider Phone cases are a set of iPhone cases that can also be worn as necklaces. The Dragon is made of 18 carat gold and 2,200 diamonds including many colored diamonds. The Spider case is made of 18k gold and 2800 colorless and black diamonds. IPhone cases can now be considered jewelry (when covered in diamonds).
28- The Rosebery pearl and the diamond tiara
In 2011, a tiara that belonged to Hannah de Rothschild (once Britain's richest woman) was sold at Christie's
Auction in London for 1.33 million euros (£ 1,161,250). The Tiara, known as the "Rosebery Pearl and Diamond Tiara", consists of large pearls and diamond clusters, and the top pieces can be removed if one chooses to wear a smaller tiara.
27- Rolex Chronograph watch
Only 12 Rolex Chronograph watches were made in 1942, and they were donated to famous race car drivers in Europe. It was designed with a split second chronograph to help drivers keep track of their lap times. One of these coins was recently auctioned off for 1.38 million euros ($ 1.6 million).
26- Jacob & Co Cuff-Liks
The world's most expensive pair of cufflinks were made by Jacob & Co, jewelers known for their lavish designs. The pair of canary emerald diamonds weighs a total of 41 carats and costs 3.6 million euros ($ 4,195,000). Because men deserve brilliant things which also cost a small fortune.
25: Panther body bracelet
Edward VIII, king of the United Kingdom was forced to abdicate by the British government following his proposal to marry Wallis Simpson. Indeed, the Duchess of Windsor had already been married twice, Edward VIII would then become her third husband which was contrary to the English Church. The Duke of Windsor therefore abdicated to marry his beloved.
This particular panther was a collaboration between the Duchess and Cartier in 1952. The panther's body is fully articulated to gently wrap around the wrist. It is adorned with diamonds, onyx and emeralds.
It was auctioned off at Sotheby's for 5 million euros (£ 4,521,250) in 2010.
24- Mariah Carey's engagement ring
When a billionaire asks a legendary diva to marry him, the ring must be pretty amazing. Mariah Carey's engagement ring with James Packer is amazing. The 35-karat diamond set with a platinum ring was created by New York jewelry designer Wilfredo Rosado and cost 8.6 million euros ($ 10 million). Mariah Carey kept the ring after the couple broke up.
23- The Star of China
Source: http://www.forbes.com/
The Star of China is the largest and most perfect diamond over 74 carats, and it was auctioned for 9.66 million euros in 2015 ($ 11.15 million or about $ 148,000 per carat). At the time of the auction, the gem has not been named, but new owner Tiffany Chen, who is vice president of China Star Entertainment Ltd., named the diamond after his company.
22 - The Oriental Sunrise
This pair of fancy earrings is called "The Oriental Sunrise". Each earring has a fancy orange yellow oval diamond, weighing 20.20 and 11.96 carats, as well as additional diamonds in the link and setting. They were sold by auction house Christie's in May 2016 for 9.96 million euros ($ 11.5 million).
21 - La Peregrina (Wanderer)
Elizabeth Taylor received this necklace as a gift for her 37th birthday which contains the pear shaped pearl called La Peregrina (Wanderer). The pearl has a history stretching back over 500 years from its discovery by a slave off the coast of Santa Margarita. It once belonged to Joseph Bonaparte, King of Spain. It now belongs to Mrs. Taylor. The necklace itself is a double strand pearl necklace with ruby ​​and diamond floral designs. The Peregrina is the centerpiece of the necklace. The necklace was sold by auction house Christie's for 10 million euros ($ 11.8 million) in 2011.
20- The heart of the Kingdom (red ruby)
The Heart of the Kingdom ruby ​​and diamond necklace is valued at 12 million euros ($ 14 million). The oldest known jewelry house in the world - the House of Gerrard - created this necklace with a heart shaped ruby ​​weighing over 40 carats, surrounded by 155 carats of diamonds.
19-Jubilee Ruby oval
The most expensive colored (non-diamond) gemstone sold in the United States was sold at Christie's New York in April 2016 for 12.3 million euros ($ 14.2 million). The oval-shaped Ruby Jubilee is set with 18 carats of platinum and is set at just under 16 carats.
Note: if you are wondering what is the technical difference between a diamond and a precious stone, the answer is… the market! Diamonds - the ones most people buy, anyway - are artificially inflated all over the world. They are literally so expensive because the market is controlled to keep them so expensive. Even with the difference between Diamonds and Gemstones. People are going to pay more for diamonds, so diamonds cost more.
18 - The tiara of diamonds and emeralds
This diamond and emerald tiara, weighing over 500 carats, was commissioned by Chaumet jewelry in Paris around 1900 for Princess Katharina Henckel von Donnersmarck. Its value is estimated at 10.8 million euros ($ 12.7 million).
17 - The Bulgari double diamond ring
Created in 1972, this double diamond ring, of 9.87 and 10.95 carats, was acquired by an Asian collector in 2010. It costs 13? 5 million euros (15.7 million dollars).
16 - Le Graff Vivid Jaune
The Graff Vivid Yellow is a 100 carat yellow diamond. Originally it was a 190 carat rough diamond bought in South Africa (it was a world record). It took about nine months of cutting to get the gem in its current state. It is worth more than 13.8 million euros ($ 16 million).
15 - The Aurora Green Diamond
The Aurora Green Diamond is the largest green diamond ever to be auctioned, and its sale price in May 2016 was 14.5 million euros ($ 16.8 million).
14- The Blue Bell of Asia
The Asian blue bell is named after the color of sapphire, Belle means beautiful, and Asia because the 392 carat Ceylon blue sapphire center was found in Sri Lanka in 1926. The necklace was sold to the Christie's auction house at 15 million euros ($ 17.3 million) in 2014.
15 - Cartier brooch 1912
Solomon Barnato Joel was a humble Englishman who left for South Africa during the Diamond Rush of the 1870s. Several decades later in 1912, his fortune made, he entered Cartier with his four best diamonds to make a profit. brooch for his beloved. The brooch - sometimes known as the Cartier 1912 brooch - features a pendant hanging from two small pins. The pendant contains a pear-shaped diamond of over 34 carats, set above a 23 and a half carat oval diamond. It was auctioned off in 2014 for over 17 million euros ($ 20 million)
14– The Heart of the Ocean
The Heart of the Ocean is the famous jewel from the movie Titanic, worn by the character of Rose. The original was worn by Gloria Stuart at the Academy Awards in 1998 and is valued at 17 million euros ($ 20 million).
13- Archduke Joseph
This jewel, the size of a domino, is a color D diamond. Its purity has earned it an estimate of 18.6 million euros (21.5 million dollars).
12– The perfect rose
Cut in a rectangular shape, the Perfect Rose is a rare 14.23 carat diamond. It was bought by an anonymous in 2010, for the price of 20 million euros (23.2 million dollars).
11- Patek Philippe Henry Graves Superplication.
The most expensive watch ever made is the Patek Philippe Henry Graves superplication. Commissioned by banker Henry Graves Jr, it took three years to design it and five years to create. The supercomplication has 24 different functions, including a celestial map of New York seen from Grave's house. It remains the most complicated watch built without the aid of computers, and sold at auction in 2014 for 20.7 million euros (24 million dollars).
10- The Patiala necklace
Created by Maison Cartier in 1928, the Patiala necklace was made for Bhupinder Singh of Patiala, who was the Maharaja of the state of Patiala. It contained 2,930 diamonds , including the "De Beers" diamond , the seventh largest diamond in the world with a weight of over 230 carats.
The necklace also contained 7 other diamonds between 18 and 73 carats as well as Burmese rubies. Unfortunately, the necklace disappeared in the late 1940s.
In 1982, the De Beers diamond appeared at an auction in Geneva, it was sold for $ 3.16 million. In 1998, the remaining pieces of the necklace were found in ravaged condition in a second-hand jewelry store in London. Most of the large diamonds all rubies were gone. Cartier purchased the necklace and for several years created replicas of the missing cubic zirconia stones, and restored it to look like its original condition. It is estimated that if the collar had not been broken it would have been valued between $ 25-30 million (or € 21.6-26 million).
9- Cullinan's dream
The Cullinan Dream is an intense blue 24.18 carat diamond set in platinum and flanked by smaller white diamonds. It was sold at auction for 21.9 million euros (US $ 25.3 million).
8- The Graff Pink
The Graff Pink was owned by famous jeweler Harry Wintson before being acquired by jeweler Laurence Graff in 2010. The pink diamond, 24.78 carats, was alloyed with platinum to form a rectangle ring. The price of this jewel is 40 million euros (46.2 million dollars).
7- The incomparable yellow diamond
The centerpiece of this necklace is a 637-carat yellow diamond that was found by a girl in a rubble heap in the Democratic Republic of the Congo in the 1980s. In 2013, international luxury jeweler and dealer Mouaward used the stone precious as the centerpiece of her "The Incomparable" diamond necklace. Aside from the huge yellow diamond, the necklace features 90 other colorless diamonds of various cuts and is valued at $ 55 million or € 47.7 million .
6- Oppenheimer blue
In the spring of 2016, the "Oppenheimer Blue" diamond sold for nearly 50 million euros ($ 58 million). The stone was the largest bright blue diamond ever to be auctioned, at 14.62 carats. This comes down to a selling price of over $ 3.5 million per carat. Flanked by trapezoidal white diamonds, the Oppenheimer is set with platinum
5- The pink star diamond
The Pink Star diamond was mined by De Beers in Africa and is the largest known diamond to have been graded as bright pink. The 59.6-carat stone was sold to the Sotheby's auction house for a staggering $ 83 million at the end of 2013, but the buyer failed and the ring was returned to Sotheby's where it was sold. was valued at just 62.3 million euros ($ 72 million).
4- The Wittelsbach diamond (also known as Der Blaue Wittelsbacher)
The original Wittelsbach diamond was part of the Austrian and Bavarian crown jewels at one point in its history. This 35.36 carat dark blue diamond was purchased in 2008 by Laurence Graff, a London jeweler. Graff cut almost 4.5 carats to improve clarity and remove blemishes, then renamed it the Wittelsbach-Graff diamond.
Everyone who knew the Wittelsbach diamond, or the Austrian / Bavarian history was shocked.
In 2011, it was sold to the former Emir of Qatar for 69 million euros ($ 80 million).
3- Brooch in the shape of a peacock
In 2013, Jeweler Graff Diamonds created a peacock-shaped brooch, containing a total of over 120 carats of colored diamonds, with a fancy deep blue diamond of 20.02 carats in the center. The large blue central diamond can be removed from the brooch and worn in two different ways. The brooch is valued at 86.6 million euros ($ 100 million).
2- A heritage in bloom
Heritage in Bloom is a necklace created in 2015 by current jewelry artist Wallace Chan. The piece contains 24 flawless D-color diamonds that were originally cut from a diamond called Cullinan Heritage, which was 507.55 carats of rough diamonds. The necklace, which can be worn in a number of different ways, took over 47,000 hours of labor and 22 artisans to create the piece in over 11 months. It features studded diamonds for good fortune and diamond butterflies for everlasting love. Although the necklace is not for sale, estimates for the cost of jewelry and materials put the value of the necklace at around 173 million euros ($ 200 million).
1- The Hope diamond
The Hope Diamond is probably one of the most famous gemstones on the planet. The 45.52-carat blue diamond is known to have originated in India, but the name of who first discovered or cut it is unknown.
We know that King Louis XIV bought a large blue diamond in 1668 from Jean-Baptiste Tavernier who brought it back from India in 1668. had it cut in the shape of a heart in what is now known as the blue diamond of the Crown of France , also called Bleu de France .
When King Louis XIV and Marie-Antoinette were beheaded during the French Revolution, the Crown Jewels went to revolutionaries, and then they were stolen in the 1790s. In the early 1800s, a 45 carat blue gray diamond appeared in London known as Hope Diamond, which takes its name from Henery Phillip Hope.
In the 1850s, experts began to speculate that The Hope Diamond was a recut of the stolen Bleu de France , and it was eventually sold in 1901 by Henry Hope's grandson. It made its way through the gem dealers until it landed in the hands of Harry Winston in 1949. Who then donates it to the Smithsonian Institution in Washington DC in 1958, where it is still on display.
It is currently insured for 216 million euros (or 250 million US dollars).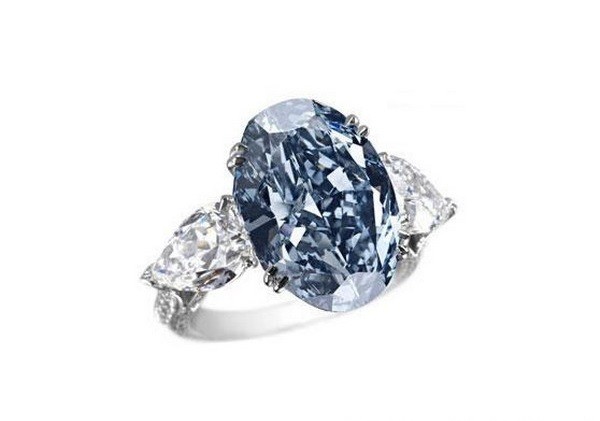 Chopard's Blue Diamond Ring, $16.26 million
This exquisite piece by Chopard is among the cream of the crop. It features a flawless, blue oval-shaped diamond ring with triangle-shaped diamond around it set in 18-carat white gold.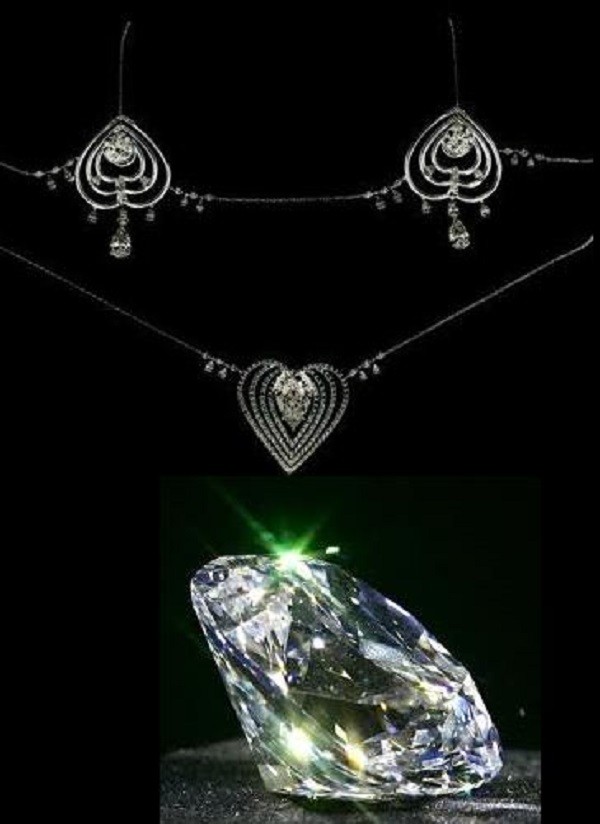 Diamond Bikini, $30 million
The bikini has over 150-carat diamonds all set in platinum. It was designed by Susan Rosen and Steinmetz Diamonds.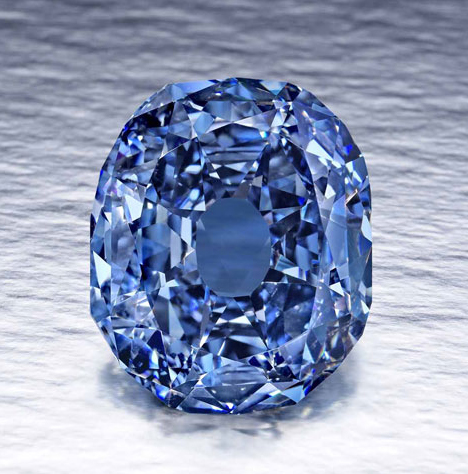 3. Wittelsbach-Graff Diamond $24.3 million
This beautifully crafted piece has some interesting history. Its origin is traced from the mines of the Indian Kingdom of Golkonda. According to legend, this was purchased by King Philip IV of Spain for his daughter's dowry. Whether this was true or not, it came under the possession of the Habsburg family and then transferred to the Wittelsbach family of Bavaria. It was passed on to the family until 2008, when Laurence Graff purchased it and cut it into three to remove flaws, making a new 4-carat diamond that is now called Wittelsbach-Graff.
The Perfect Pink, $23.2 million
The Perfect Pink diamond ring earned its name from its perfectly pink-tinged coloring. With a rectangular cut, it weighs 14.23-carats and is flanked on each side by same-shaped flawless diamonds weighing 1.73 and 1.67-carats, respectively. To make it even more perfect, the three diamonds are mounted on an 18-karat rose and white gold ring.

Heart of the Ocean Diamond, $20 million
The Heart of the Ocean Diamond necklace was created by jeweler Harry Winston and features a 15-carat blue diamond.


The Graff Pink, $46.2 million
Little is known about the origins of this very rare 24.78-carat pink diamond. This was purchased by a private collector from famous American jeweler Harry Winston and then sold at auction to another famous diamond collector and jeweler Laurence Graff. The price for which it was sold was the highest ever spent on a piece of jewelry. It is dubbed to be the greatest diamond ever discovered with a classification of Diamond type.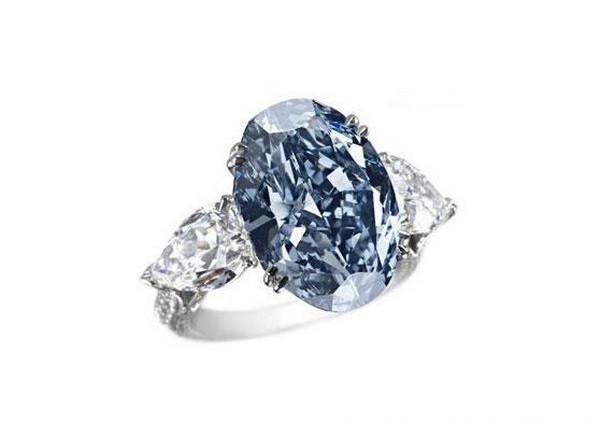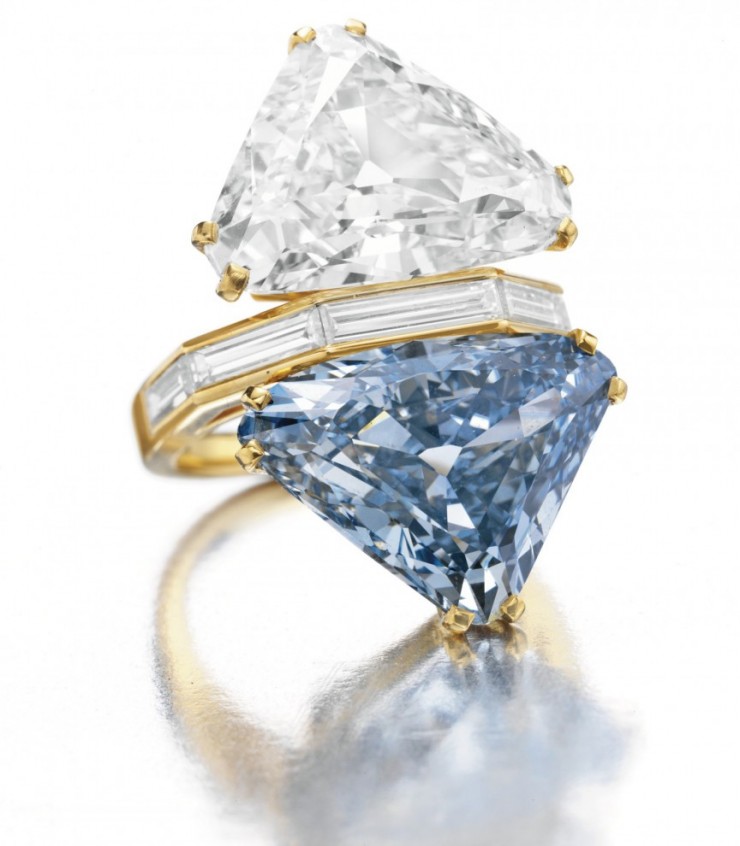 Heart of the Kingdom Ruby, $14 million
One of the oldest and most respected jewelry companies in the world, Garrard, has a most prized jewelry piece that is currently valued at $14 million. This huge 40.63-carat, heart-shaped Burmese ruby mounted on a 155-carat diamond necklace can also be transformed into a tiara. The ruby is very rare and comes with Swiss laboratory reports that verify its authenticity and rarity.

Emerald and Diamond Tiara, $12.7 million.
Emerald and diamond tiara, whose equally previous owner is Princess Katharina Henckel von Donnersmarck, features 11 very rare Colombian emerald pear-shaped drops weighing around 500 carats. The tiara is said to be part of the personal collection of Empress Eugenie. The tiara was commissioned in 1900 by Guido Count von Henckel for his second wife. It was sold for $2 million more thatn its estimated price at $12.7 million during the Sotheby's Magnificent and Noble Jewels sale.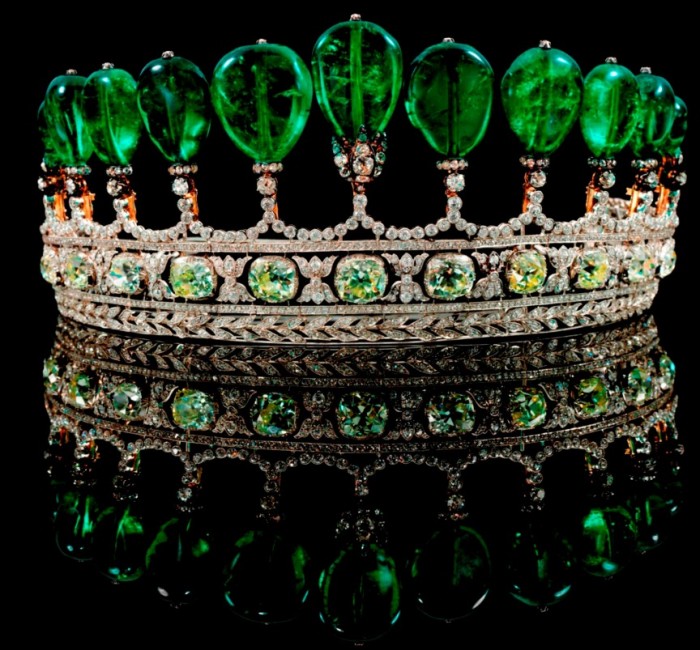 10 .Wallis Simpson Panther Bracelet, $12.4 million
Onyx and diamond panther bracelet, made by Cartier Paris in 1952.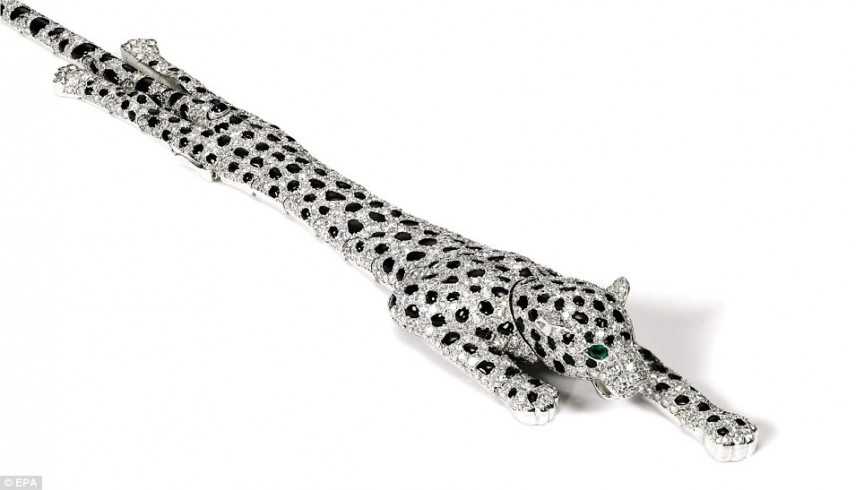 SHOP JEWELRY BY TYPE
Silver jewelry
Gold Jewelry
Gold plated jewelry
Costume jewelry
Decorations with glass
Gift cards
Necklaces
Chains and bracelets
Earrings
Silver and gold pendants
Other jewelry