Tinder: The Dating App Wants To Become A Social Media Just like Facebook, Twitter And Instagram With New EXPLORE Feature
Gone are the days when Tinder was only used to swipe. The dating application is now more social, and has just presented several new features for its users. Objective for the company: to move away from its roots, and get closer to a classic social network.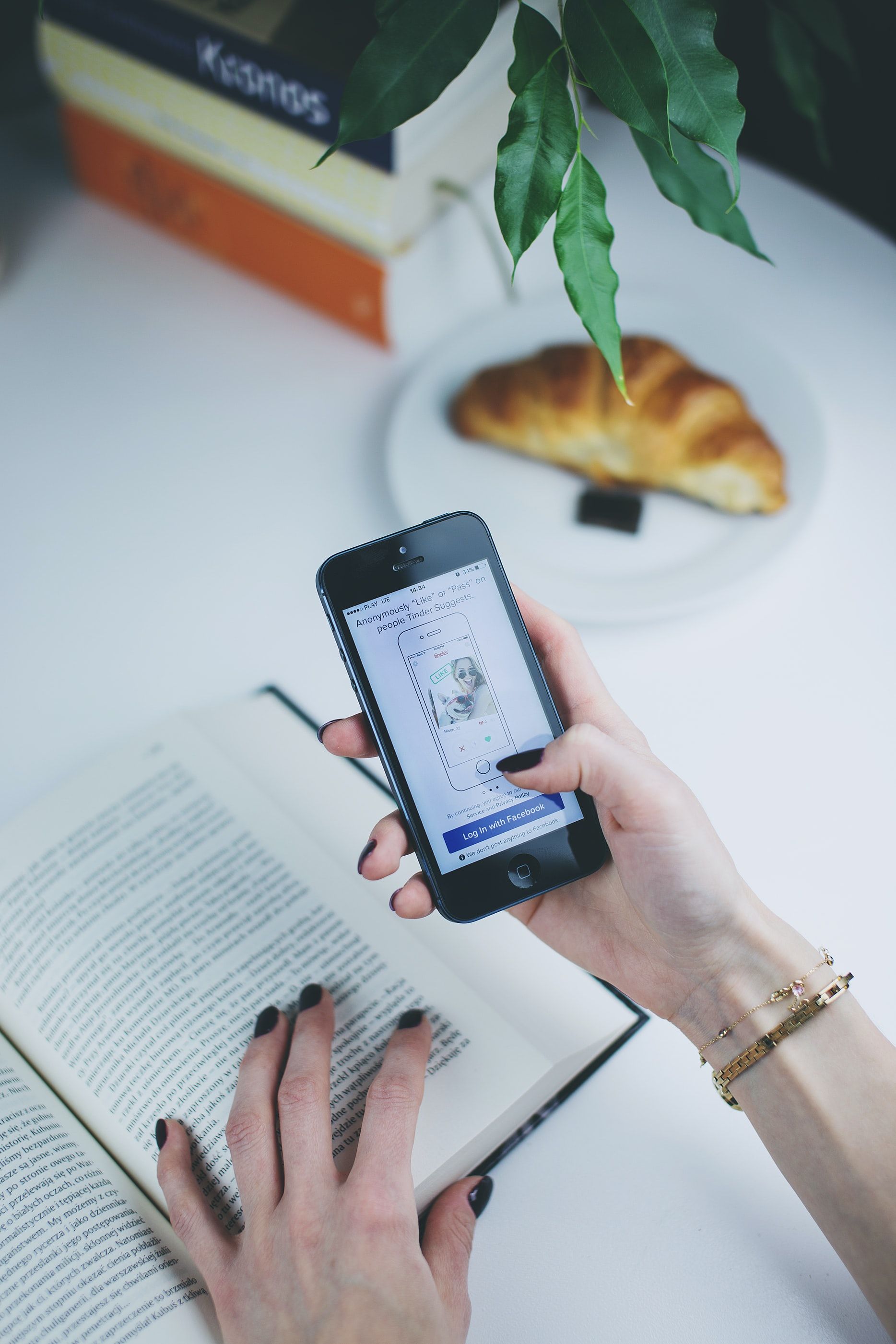 HOME /TECH / APPS
By YEET MAGAZINE | Posted on September 10, 2021 at 7:32 am
The dating application that has revolutionized our romantic dates now wants to become a place of exchange and discovery, like a real social network.
© Tinder
Gone are the days when Tinder was only used to swipe. The dating application is now more social, and has just presented several new features for its users. Objective for the company: to move away from its roots, and get closer to a classic social network.
Tinder Explore
Among the novelties of this Tinder 2.0, we will mention in particular Explore, a new social hub imagined by the application , which will allow Internet users to discover profiles according to their centers of interest. Good news for all those who are not satisfied with the traditional bathroom selfie, since this new tool should provide a few more topics of conversation before even a match. At launch, a few areas of interest will be accessible, ranging from gamers to music and cooking enthusiasts. As on Twitter with its Communities , other topics will be added later.
When it comes to going beyond the simple date, Tinder users will now be able to benefit from several events conducive to meeting, whether romantic or just friendly. The time of confinements being - for the moment - behind us, this facet of Explore should be a good way to restart a social life that has been on hiatus for more than a year. Explore will host the Swipe Night , an interactive adventure launched by the application in 2019, and in which more than 20 million singles have already participated.
So many new features that will constitute "the biggest update of Tinder since the invention of swipes" , promises the social network in an official statement. For his part, Tinder CEO Jim Lanzone welcomed this "major step", which already intends to shape the future of a "more interactive, deeper and multidimensional social experience" . Deployed since September 8 in the English-speaking market, Tinder Explore should be available internationally by mid-October.
COMMENTS
How does Tinder work?
Lanae St.John
· Follow
The MamaSutra ~ Sexologist. Educator. Author. Mother.November 1, 2021
Tinder is a beast. People use it to find people they want to meet. Where couples get screwed up is if they're using it for different purposes. Ideally, they're being real about their intentions so that once they meet neither of them is disappointed. Here's what I mean: Some folks want to hook up. Others want to find a long term relationship. Others use it to find companions (sometimes for sex) when they're traveling. All are valid reasons but I'm of the opinion that you be upfront about what you want. For example: If one person isn't up for a hookup, no need to shame them for it. Instead, thank them for taking care of themselves and move on to the next person. You just saved yourself a lot of headaches from "what does this mean??" texts after sleeping with someone who wanted a LTR. And vice ver
(more)
How common is it for a guy to get no matches on Tinder?
Burak Berber
· Follow
3 years with TinderUpdated June 6, 2020
If you use app everyday, your match probability will be increase because you will shown in the lists for people who are searching for a match. But if you use sometimes, your visibility will decrease and you can review my questions about Tinder to increase your Elo Score there. You can be sure, you will get many matches in short term. Tinder is an app for find quickly date so if you are complaining about matches there are somethings wrong in your profile. Because it's the most popular dating app nowadays so you can reach people in short term(in a few weeks). These all can be a reason makes you invisible. 1. Tinder is location based app so if you are in same location all the day. Try different locations. You don't need to buy premium accounts for this. You can try your chance in the day when you
(more)
How do I get more matches on Tinder?
Nerdy Geeks
· Follow
July 22, 2020
PLEASE READ EACH AND EVERY POINT (a lot of scientific research is done on each one of them by a group of nerdy boys) * Your pictures matters way more than you can even imagine. There are few types of pictures which can definitely make these girls out there crave for you. * * A picture with a pet animal. They are like atom bomb on Nagasaki. Specially with a dog as they are more interested in them(we are still working on the reason why dogs??) * * Travelling photos gives you an adventurous guys sort of personality. Try having mountains in the back. * * One with a "GIRL" friend. This should make you look more social and it will show them that you have atleast some experience talking to girl before! Or even with just a group of people will work. * * Have two aesthetic looking photos of you. They should be clicked u
(more)
What's the best opening line you've heard on Tinder?
Subhashis Banerji
· Follow
May 26, 2021
1. I asked God for a bike, but I know God doesn't work that way. So I stole a bike and asked for forgiveness. 2. Do not argue with an idiot. He will drag you down to his level and beat you with experience. 3. Sex is not the answer. Sex is the question. "Yes" is the answer. 4. The last thing I want to do is hurt you. But it's still on the list. 5. Women might be able to fake orgasms. But men can fake a whole relationship. 6. We live in a society where pizza gets to your house before the police. 7. Light travels faster than sound. This is why some people appear bright until you hear them speak. 8. If I agreed with you we'd both be wrong. 9. Men have two emotions: Hungry and Horny. If you see him without an erection, make him a sandwich. 10. Having sex is like playing bridge. If you don't have a good
(more)
Is using Tinder a good idea or a bad idea?
KamatAshok
· Follow
Psychologist | Speaker | Author January 1, 2018
Tinder is a very bad idea unless you are extremely careful with it.. I have a peculiar and negative experience with Tinder. A few days ago someone whom I don't know at all, sent me a few WhatsApp messages from an international number, supposedly from Kansas, US. The messages had several screenshots of certain conversations supposedly between 'me' and some other 'girl' on Tinder..!! (?)..!, who according to the location details was present just 8 kms away from my location.. The messages also had all my profile pictures and a threat too..!! I was not able to understand what was happening.. I sensed something was wrong., and immediately blocked the whatsapp number. Later I spoke to the cyber crime cell and narrated the story.. and the issue is now being investigated.. I now think about it from
(more)
How have your experiences with using Tinder been?
Aurora
· Follow
June 4, 2018
My very first relationship It was in Dec 26th 2021that I saw a Tinder profile with 3 displayed photos I guess, one was with a girl so I wasn't very attracted, the reason why I swiped right was because he was a French as I tried to improve my language skill. You see he started the conversation and it went on kinda smoothly. Since he told me he wanted to have a good time, I proposed to give him some different experiences. Basically, we met up, had a good chat, visited some parts of the city. I remember taking him to the highland where we were the only people standing there. After that day, he told me how happy he was and probably never had such a great time. 2 days later, he suggested that we should meet again as he was about to leave the city. We played bowling, did karaoke stuff, games ce
(more)
Can you find someone on Tinder?
What is your biggest Tinder failure?
What is your weirdest experience on Tinder?
SevynMoon Kingdom
· Follow
December 26, 2021
Omg… so this is all sorts of Alice in the rabbit hole strange but here goes: After a stretch of a year of celibacy after my LtR of 3 years I decided to put myself back on the market. My situation is a peculiar one in being that I'm a pre-op trans woman, not a negative whatsoever in my book but I understand not a flavor for most men. I decided just in a spin, Tinder, heard the name commonly among friends, figured why not. I honestly didn't expect to to really find the love of my life, let alone a date, or casual sex but more so like a little sociology experiment. The first liner after my header was the fact that I was a trans girl, not the pre- or post op detail but just the reality alone. I'm also pretty attractive and quite passable, but really expected more personal genitalia questions
(more)
What are a few conversation starters on Tinder?
Kashish Madan
· Follow
Intern at Tiger Watch (2021–present)March 26, 2018
There is no right way to start a Tinder conversation. However, there are a few ways in which you don't want to start the conversation, such as; Your place, or mine? I am not asking you to be dishonest but wait for the right time, build a conversation first. Not doing so would most probably get you unmatched (99 percent of time) at least, here in India. Coming back to the question, starting a conversation on Tinder is all about observation and then improvising on it. And the key is not to try too hard, keep it casual and simple, which will most likely yield a response. Going a bit overboard sometimes turns out to be little overwhelming. So avoid it. I mostly start a conversation on Tinder in the following manner: The first thing I do when I get a match before starting a conversation is read t
(more)
Is it possible to get an unmatched match again on Tinder?
Zack Martin
· Follow
Tinder Prodigy | Photographer February 1, 2021
Delete your account and re-create it. Other than that, you can't get a match back unless you've opted for the paid version. And I think even it has some different limits for getting a match back.
(more)
Which were some of the best bios you have read on Tinder?
Mike Johnson
· Follow
Wheretoswipe.com Founder at Wheretoswipe.com (2021–present)December 16, 2021
Source: Where to swipe | WHAT THE PROFILE! Two of my personal favourites: GIRL: "Would die for her again"- Jesus "I would fu*k her but I wouldn't fu*k with her." ~ Batman "She's a Jedi side in the streets and a Sith in the sheets." ~Kylo Ren "She melts me." ~The Winter Soldier Man "I don't hook up" ~Me BOY: "A truly amazing guy." – The Boston Globe "One of this generation's most brilliant people." -Mensa International "Yo, have you seen this kid Netflix? He's a PRO" – Netflix "By far my favourite grandkid!" – My Grandma "Humble as fu*k." – Me They are both in the format "review", which has a light appeal on most people. Get your personal "reviews" to a funny enough level to make people laugh and you'll get more points when it comes to choosing whether to swipe left or right. In other news, girl
(more)
Has anyone gotten laid in India using Tinder? What's your story?
Anonymous
January 29, 2020
Yes! And i have multiple stories to share :) I have been an on and off tinder user since 2021. I was 28, in a bad marriage when I first installed Tinder and newly moved to Banglore. Yes! Not going to hide the fact that i was married. And made sure the same thing was mentioned in my bio too- leaving out the 'bad' part, with a couple of good pics, my interests, and a funny line. Age filter was set from 28, and the finger exercise began. As expected, there were not any matches for somedays, even though my pics and bio looked good. Then, i matched with few women, but most of them without a pic or a bio. Amongst these, there was a girl- well educated, seemed honest and simple. She was of my age. We started talking about day to day things, work, movies, food, etc. Only once about my marriage. Aft
(more)
What is the best Tinder bio for guys?
Shreeyash Masurkar
· Follow
Law Student, Digital Marketer, Blogger.Updated October 4, 2020
The 60 best Tinder Bios are here. Source: SwipeLife. 1. Just gave myself a haircut. It's not looking good. Need moral support in these trying times. 2. Let's chat for three months and never meet up…But no, really. Let's. 3. COVID-free since '97 4. If you find yourself trapped inside and looking for conversation, I can promise you I'm more entertaining than Netflix. 5. Love to travel. Next trips are 🛁-> 🛋-> 🛏. 6. Will put on my nicest top and grossest sweatpants for our virtual date 7. 6 ft tall and down to stay 6 ft away (for now) 8. Looking for a partner in virtual crime 9. I'm a breath of fresh air (figuratively). 10. Riding out the apocalypse with my in-unit washer and dryer 11. Wanna join me on my desert (Animal Crossing) island? 12. "To the windooooowsss, to the wallsss" is my entire plan of a
(more)
What is Tinder?
Jean Marion
· Follow
Mensa rejectUpdated August 14, 2018
My daughter was not getting very far with OKCupid. She thought she would give Tinder a try. Every day she would swipe and click on the faces that she found attractive. Every now and then she would be notified that someone also found her attractive. Then they would start to text on the Tinder app. If a good conversation got going they would agree to meet for coffee. If that went well, next was dinner, and if that went well, a sleepover. If things didn't go well at any point along the way, it was on to the next person. Speed dating app style. I couldn't understand what the appeal was. I mean on OKCupid you can actually tell if you have anything in common with the person. On Tinder, you don't even know if you have anything in common at all. But when all was said and done, she met her wife on Ti
(more)
How do I make a good Tinder bio?
Januka Samaranayake
· Follow
Founder of askcupido.com (the A.I. dating coach) (2021–present)April 22, 2020
Your Tinder bio should be representative of your personality and of who you are as a person. Some general guidelines that I could give you would be to: * Stick to 300 characters or less: you want them to be able to understand your values without making them feel overwhelmed. * Try to be funny and use humor: this will showcase your personality and make you stand out from the crowd. * Say what you are looking for: you want to be honest in what it is you are seeking. Whether it is a serious relationship or something casual it's always better to be explicit about it. People will appreciate the honesty. * Be mindful of your grammar and spelling. Indeed, you will make a better impression on people if your bio is written in good English (or any other language you might be using). The first line of your bio sh
(more)
If famous historical figures had Tinder bios, what would they say?
Jeremy Hadfield
· Follow
imagination major at Dartmouth CollegeUpdated March 19, 2021
religion™ edition™ ~ christianity ~ * Jesus: help me commit my first sin. * Matthew: Chapter 24, verse 9 of my book says "woe unto them that give suck." I'll make an exception for you. * Martin Luther: I have 95 theses but a girl ain't one. change that pls I need help * Pope Leo X: let me sell you an indulgence. it's a sin to look that good. * Judas: venmo me 30 pieces of silver and I'll swipe right on you ~ judaism ~ * Moses: girl are you a bush? because you're a blazing hot revelation and I'd part the Red Sea for you ❤ * Adam: I can make you feel like you're the only girl in the world. let's go get some ribs. * Joseph: I'm having some trouble interpreting my dreams about you… * Abraham: so hear me out. I will be the forefather of the messiah. the messiah is god. god is our eternal father. daddy is another word for
(more)
Is Tinder real?
Kanna Chowdary
· Follow
Professional procrastinator March 22, 2021
Hello all, I hope I can answer this question after many experiences that I have encountered on tinder. I have so far got 4matches on tinder out of which I never met even a single. Interestingly, none of the 4people has their display picture on their profile. I got first match on tinder probably 6months ago, she first texted me and after a good conversation we though of meeting at a cafe in hyderabad, on the day of meet she kept me waiting for almost an hr where I got little serious on her for which she has unmatched me. I got second match a month after the first match. In this case too, she is the first one to ping me. When I asked for her details like study, college etc she unmatched me. But based on the little convo we had, what i came to know is she needs nothing but $€×. I got the third ma
(more)
What are all of the dating apps that compete with Tinder?
Harish Kotra
· Follow
Tried all dating apps.August 15, 2021
BadooWith a community of over 150 million people worldwide, Badoo is another very popular option in mobile dating apps. Navigation is fast and easy and is a great option for dating, chatting, making friends, sharing interests, whatever!Free members can contact up to 10 people a day, while premium members ($2.99) can use "Superpower" features including Spotlight, where you can rise to the top of search listings.Get it from: * iTunes [ https://itunes.apple.com/ca/app/badoo-meet-new-people-chat/...
(more)
Continue with YEET +
Unlock this answer and support creators like Harish Kotra by joining YEET +
Start free trial
Learn more
How much does it cost to make app like tinder?
How do you know if someone is active on Tinder?
Zack Martin
· Follow
Tinder Prodigy | Photographer Updated July 22, 2018
Within the app there isn't a 'direct' way to find out when someone was last active or active now. There used to be, but they removed it a long time ago. But there are still a few ways to find out: * If you haven't moved but their location updates then that means that they've logged in since their last location. Tinder doesn't update unless someone actively logs into the app * They message you/like your message/update pictures/update bio * Like what Daryl Smith said you can use apps that figure it out for you, but I've never used them and don't think it'd be worth it to try
(more)
How do I get unbanned on Tinder?
Why do people use Tinder?
What is the best strategy for making a Tinder profile?
Matt Kahdri
· Follow
Hundreds of matches and met many womenMay 31, 2018
Thank you John for the A2A! While playing with Tinder for years, amassing a meager 30 matches over this ridiculously long time, I was obsessed with figuring out how to perfect my profile. After experimenting for so long, I reached a point where I literally have hundreds now! It comes down to this, in order of importance: 1. How Good You Look in Your Photos a. Are you looking your best? Is your hair freshly cut? What about your outfit - is your shirt faded? You need to be maxed out in your photos. b. I think a good way to check your photos is to give your phone to a female acquaintance, not friend, and show her. Because she's not a close friend, she'd be more honest about how good/bad you look from a more sexual perspective, unlike your sister or childhood friend. 2. The "Persona" You Portray With Your Photo
(more)
Why is Bumble better than Tinder?
Himal Rustagi
· Follow
Manager at Rustagi Polymers (2018–present)September 21, 2020
Honestly, Bumble is better than Tinder. How? If you are a bachelor or a teenager, you would've probably heard of Tinder, the dating app, which helps you in finding the right person or partner. It was a great app when it came to the market, though meeting people online is an old concept. Finding the right person just on a screen might feel delusional and a vibe of a weak relationship, though converting into a real date covers it all. Tinder is a totally location-based social search mobile app that allows users to like and dislike your desired sex which you can customize as per the desired needs. It also allows users to chat if both parties liked each other in the app. Simple, isn't it? Using the right technology for the better good, and whats harm in finding your significant other. My Experie
(more)
What can you do if you don't get any Tinder matches?
Amit D
· Follow
July 16, 2021
I can answer this. I never liked the way Indians used Tinder. Also I am into open relationships. I've had a few matches, none of them lead to a date. Some of them also unmatched me right after they matched me. What a bummer!!!! I never liked the idea of online dating. I hate texting because it doesn't show emotions and can be misinterpreted. And most of the Tindian girls don't know how to hold a conversation. So what I am doing right now is trying to approach girls outside in person. That is one thing and the next thing that I am doing is I am going to workout and look good. I am healthy; I was super fit a while back; but yeah people are superficial, so am I. I go for looks in a girl primarily. So it is fair enough I look good to them too. Further I am going to invest time in hobbies like salsa,
(more)
Has anyone found love online?
Is Tinder the best dating app?
Anonymous
July 4, 2021
Hi! I m going anonymous for obvious reasons here! I have used tinder for about 8-9 months now and below I will share the stats with you. I hope they help: 1. I have met 17 women/girls during my time on tinder. 2. Their age varied from 19 to 34. 3. THE best conversations I have ever had, have been with tinder girls. 4. The sex was great! Almost all of them were open to new experiences. 5. They pay the bills, first or 5th date, doesn't matter. 6. I have even traveled with some of them and they are amazing companions. One even knew how to change tires! 7. Well traveled: Few of them has traveled, domestically and globally and hence have experiences to share. 8. Class: I was lucky enough to have met women who were comfortable at a 5 star hotel as well as a dhaba (road side eateries). Most of them were o
(more)
How does Tinder make money?
Ronak Shah
· Follow
Digital Concept ResearcherJanuary 5, 2018
Tinder follows a subscription based revenue model, meaning it provides some of the features for free while the others are paid features. Not many people know Tinder charges people on the basis of their age. No Cost for Basic Version: Swipe, Superlike, Chat Modules, Location, Set Matching Preferences, Match Algorithm, Mutual Connections Tinder plus, $9.99/month for the users under the age of 30 years and $19.99/month for users over the age of 30 years: Rewind, unlimited right swipes, 5 Superlikes a day, Ad-free, Hide distance, Hide age, Control whom you see, Passport, Boost Tinder Gold: $14.99/ month for the users under the age of 30 years and $24.99/month for users over the age of 30 years: Features of Tinder Plus + See how many people have liked you, directly from the grid auto-match, dismiss,
(more)
What are some tips for a male Tinder user? What shouldn't be in the bio? How do I initiate conversation? What about pictures?
Josephine Antic Dahl
· Follow
Had 3 long term relationships and currently in oneApril 2, 2021
Oh my god! DON'T listen to that anonymous dude writing about six packs and having other women in pictures. He just wrote ALL the things that turns me and all my friends OFF! Oh man, listen to me I will give you the best tips and an explanation. I will help you out okay. DONTS: * If you have a great body, it will show on you anyways. Girls are not stupid. Please don't show your six pack unless it's a casual beach picture or something. If I see a guy taking pictures of his body or abs I swipe to the left immediately! It's such a turn off. * No gym pictures! The same goes here. Once I saw a really attractive guy, but when I looked on his other pictures he had some flexing gym pictures and I swiped left. Guys. It's NOT HOT. It just makes you seem vain and stupid and like a douchebag. * Don't pose wi
(more)
Do relationships from Tinder get serious, or do people just use the app to hook up?
Susan Gravina
· Follow
Former Senior Finance Officer at Brisbane City Council (1997–2021)January 27, 2021
Mid last year, after having been single for quite some time, I decided to get on Tinder. I was NOT interested in random hookups (and said so in my profile) but I felt somewhat deceptive about being on there in the first place, knowing what the app is known for. But you can meet people anywhere and this, for me, was just another avenue to potentially meet someone. I thought I'd give it a go and see what it was all about. I played with the app a little bit and got a few matches, but was far too scared to contact anyone. A few guys messaged me and their messages put me off immediately. After a few days I was going to delete the app, when I got a message from a guy on there. He asked about how my weekend was going and we chatted for a bit. We exchanged numbers and eventually went on a date. Thi
(more)
What are some pros and cons about the app Tinder?
Michael Harrigate
· Follow
Marvel fan for over 15 years, mega nerd overall. December 21, 2021
I've never took any of the girls I've matched on dates or anything like that, but it's always fun to flirt with random hot girls you probably never would have met. It also boosts your confidence when your like count just says 99+ and you get tons of matches. But for a free app, I'd say it's totally worth it. I've got over 300 matches currently and I've Probably only spoke to 40% of them. At least if I ever go somewhere and bump into any of them, they will remember me for being the funny tinder guy who got their numbers and whatever else they gave me. So yeah, I'd say it is. one thing I will say is, it does try so hard to make you buy the premium version, and you can tell it sometimes rigs itself. For example : it will give you like 80 new matches, then for about a week, nothing, and it will
(more)
What was your best experience on Tinder?
Sadya Karni
· Follow
Studies Patna, Bihar, India (Expected 2022)March 11, 2021
I met the love of my life. I have been using tinder since 4 years now. It was last year. Winter was on the way. Life was going normal and hopeless(will tell the reason later). It was 3rd of September. I got a message request on my Instagram account. Did not bother to open it. Closed the application. And went back to do some chores of my sad world. Midnight, the same day. Opened the application again casually. Eyes fell on the request again. Opened it this time. Seeing his first message, I felt he is also one of those cheesy guys. Trying to start a conversation finding a girl's ID. I had uninstalled tinder by that time a long ago. But still received messages from new new faces on my Instagram who I did not swipe right there, they tried connecting to me here. So was pretty sure he was also one o
(more)
Why are you on Tinder?
Buster Smith
· Follow
Have seen the good and bad sides of online dating (USA)December 7, 2021
Min more or less summed it up. It was an additional outlet to cross paths with more people. The story I often tell is this… I used to go to a sandwich shop once or twice a week at roughly the same time. I'd often see the same people. When I used Tinder, I connected with a young woman and we began to chat, and later we agreed to meet at that sandwich shop. Both of us being regulars, the owners asked us if we wanted "the usual". We both said "yes" then looked at the other as to say "what do YOU mean yes? He was obviously talking to me - the usual customer" We then sat and talked. She'd been going to the sandwich about as long as I had, but she'd typically visit about an hour or two after me, so we'd often just miss each other. Had it not been for Tinder, we likely would have never crossed p
(more)
Do Indian girls actually use Tinder?
Anonymous
January 24, 2021
I'm a 20 year old girl from one of the major cities of the country. I was 17, it was when I first heard about Tinder as a dating app where random single girls and boys girls get together to have one night stands. If that was the sole purpose of this app, it seemed pretty pointless to me and never bothered to install it. In fact, I've always seen it as a taboo. Years have passed, I forgot Tinder existed. I was 19, a girl friend of mine installed Tinder and was very excited to share her experience. We were out on our regular night walks and she started telling me how she installed Tinder and met this surprisingly hot lawyer who could also keep her engrossed with his amazing conversation skills. The two of them started dating and it went on pretty well. It did not end up in a one night stand an
(more)
What was your Tinder experience like?
Ranjetta Poobathy
· Follow
SingleMarch 2, 2021
I got tired of letting over 50 men know what I had for breakfast, lunch and dinner everyday. I installed Tinder at my younger brother's suggestion (he's 25, and I am 32 lol). Within minutes of installation, I was swiping profiles left and right like a pro. Being the magnanimous person that I am, I gave many profiles a chance. But this is Tinder's main weakness: everyone is at his/her best, and the app does not allow for much profile-scrutiny prior to the swipe. I had a massive surprise waiting that day: I matched all the profiles that I swiped right. Even my brother was shocked. My inbox was soon bombarded by hordes of introductory messages. Things were pretty good the first two days. I was still in my honeymoon phase, getting to know the guys. Soon I began to notice a strange pattern. Polite Ma
(more)
What was your most insane Tinder experience?
Anonymous
April 4, 2021
Going anonymous for privacy concerns.! For some it may look weird. I'm 28, Male, unmarried and working in Bangalore. To just part with my free time, I have installed the so called dating app Tinder and started swiping Girls. To my luck I have got some matches and started talking to them. Here, comes the girl X introduced herself as travel freak and looking for someone to hangout. She was also working and staying at hostel here close to my place at bangalore. Looked like that both were on the same page, we exchanged our private numbers and planned for a coffee date. Next day evening, we both met at Starbucks in Forum mall, Whitefield. We talked about each other's interest and time was running like anything along with the bucks bill.. As it was our date day, I just paid all the bills and she s
(more)
What advice can you give for using Tinder?
Parivesh Garg
· Follow
Studied at Birla Institute of Technology and Science, Pilani - Pilani CampusJanuary 13, 2021
Girls do not face any problem in getting a match on Tinder. Strategy for boys will be: 1. You have to take the membership plan with 5 superlikes in a day. 2. Use 5 normal likes and 5 superlikes (not more than that) in a day. 3. If you swipe hot girls in the starting and they don't swipe you back, then as per Tinder's algorithm, tinder will degrade your profile and will consider you unattractive. You should right swipe the girls which are way below your standard till you get enough matches. After getting the matches, start swiping 10 girls a day as per your standard. 4. Swipe only the girls who look realistic (Lot of pics in profile, well written bio and not too hot) 5. Do not upload group pictures (If you want to upload, make sure you are the most handsome or have some beautiful female friend with you in the
(more)
What were your best and worst experiences with Tinder?
Anonymous
October 26, 2018
Date 1: Met a nice man for drinks after chatting with him for a couple of weeks. Did not feel a connection. Got a little drunk, he dropped me home, he tried to kiss me, but I was not interested at all! Date 2: Met someone with a load of mutual friends. Again, met for a date, no sparks went home alone Now, I was getting bolder and choosing guys to talk only after looking at their profiles Date 3: Met someone with similar background, met him for a drink, he mentioned he was in a long-term but long-distance relationship with a girl, but was very unhappy. Felt bad for him, continued chatting with him. Next time we met, we had sex. Did I feel guilty? Sure? But I was lonely as fuck, and we continued doing this for two weeks. Both realized, it was wrong and stopped it forever. Now he is married to
(more)
I saw my ex on Tinder. What should I do?
Why doesn't Tinder show my matches?
Nika Grigoryeva
· Follow
Marketing Manager, ASO Expert at ASOdesk | App Store Optimization Tool (2021–present)March 16, 2021
There are 2 things You can get likes but Tinder will show you these notifications that somebody likes you (but not persons who like you), and you need like them back to get match. Tinder tries to engage you more into the game, if you don't use the app for some period. You can received Match or Super Like but when you were entering app you didn't see them. Because person unmatched you in short time.
(more)
What are some funny Tinder profiles you have come across?
James Ede
· Follow
Content Writer (2021–present)August 21, 2021
If you are a Tinder person, you must have come across weird and funny profiles, but I can assure you they are nothing like these pictures. If you are like me and don't do Tinder you can as well hop on the train for a smile at least if you aren't gonna laugh at loud like I did. Now, these photos aren't only funny, some are also really inspiring and heart warming at the same time. Here they come. The Beautiful Arms Dealer. The Ghost of Tatjana Babe, Let's just live the fake life! The Stand Up Guy My Life is Hard As It Is, Take Me for Who I AM :( Let's All Help Our Older Citizens! Don't Judge Me By Who I Love :( Get Grandma A Boyfriend Already! The Racist The Return of Xena The Warrior Princess Grandma Has Got A Potential Boyfriend But She's Into Younger Guys The History of Nude Pic Leaks Mike Tyson's Kethm
(more)
Has anyone been married through Tinder?
Bas van Sambeek
· Follow
Former former suits and shirts tailor (2021–2021)December 14, 2021
Yes. Me. It's been a great way to find a partner (and have a lot of fun in the proces.) I was single, on a dating site, having great fun, but not a lot of succes. When a friend 'forced' me to go on Tinder, I reluctantly agreed. Yes, Tinder is a bit of a meat market, but I like it. It is honest and less desperate than 'the old ways' like work, supermarket, or bar. The bar is the closest to resemble Tinder. Checking people out, flirting, being rejected or exchanging phone numbers and see wha...
(more)
Continue with YEET +