Florida restaurant goes viral for 'face diapers not required' sign"As far as I'm concerned, we won't require masks ever unless it's required by the county," the restaurant owner said.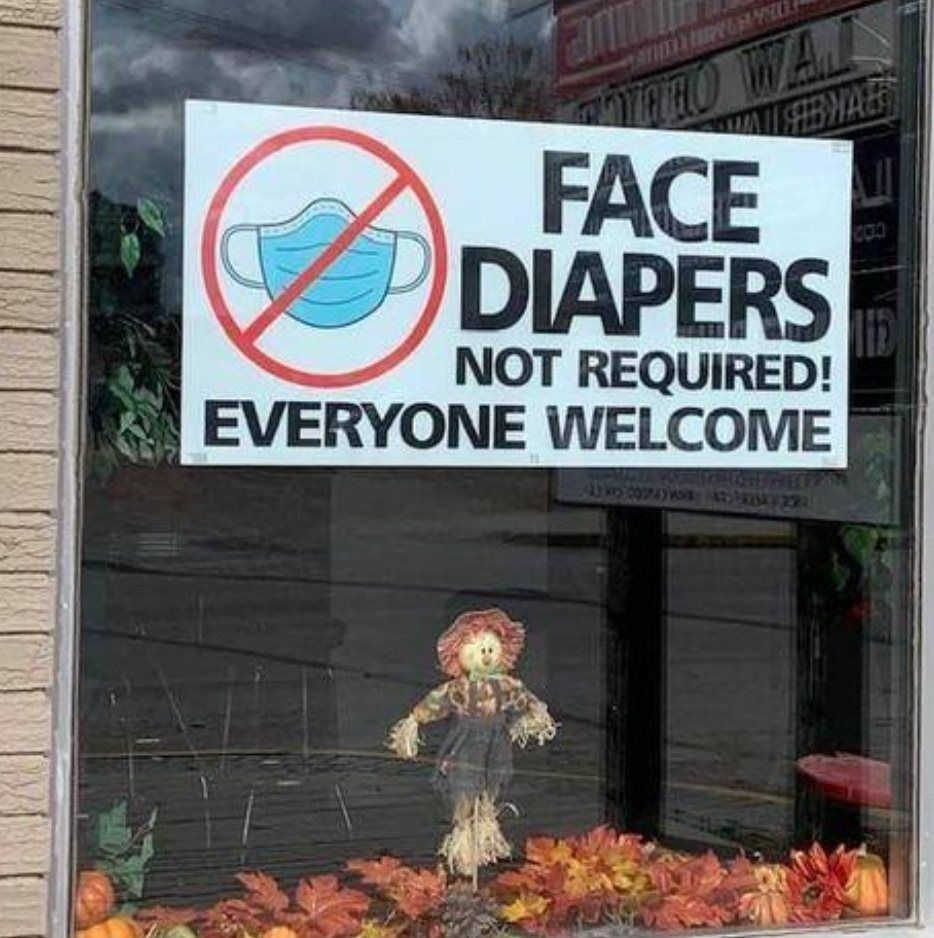 A restaurant in Florida went viral after sharing a photo of their sign that reads "FACE DIAPERS NOT REQUIRED! EVERYONE WELCOME."
Beckyjack's Food Shack in Hernando County, Florida, posted the picture on Facebook for Valentine's Day with the caption "Happy Valentine's Day," and a heart emoji. "A friendly reminder that we DO NOT require Face Masks."
In an interview with Fox News, owner Jesse Fox said they had initially posted the sign because they were getting a lot of people coming in who were "surprised we weren't wearing masks."
"So I was just trying to be proactive," Fox said. "Everyone thinks I'm politicizing it and shaming people who want to wear a mask but my only goal was to let people know before they came ... we don't require it."
In Hernando County, Florida, masks are not required though they are recommended for when social distancing measures can't be maintained, according to the county website. The U.S. Centers for Disease Control also recommends masks for both diners and restaurant staff.
"CDC recommends masks to reduce the risk of COVID-19 spread," the CDC website reads. "Masks are currently recommended for employees and for customers as much as possible when not eating or drinking and when social distancing measures are difficult to maintain."
In September, Florida Gov. Ron DeSantis issued an executive order allowing eateries to operate at 50% capacity and announced that restaurants will not have to pay fines or face closures for violating local directives like mask requirements. DeSantis never issued a statewide mask mandate, NPR reported.
Hernando County, Florida, has had a total of 10,745 cases as of Tuesday, according to state health officials, and 369 deaths.
A woman visiting from Orange County, Florida, told local NBC station WFLA that she found the restaurant's sign "stressful and disrespectful."
"I feel like I'm out of state almost. That's how I feel because the whole not wearing the mask thing is absolutely ridiculous," Lori Carroll told the outlet. "They need to educate themselves."
Fox said they have not been required to wear masks by the county since sometime last summer.
"As far as I'm concerned, we won't require masks ever unless it's required by the county," he added. Neither diners nor staff wear masks, he said.
BLACK VOICES  ON THE SHOW  FOOD SHOP HEALTH & WELLNESS PARENTS HOME STYLE POP CULTURE TMRW