We've added A New Feature To The Website To Increase Your Income
Now You Can Capture New Paid Subscription Directly From Your Blogger Page.
With YEET, it's Now Possible To Start A Successful Membership Business Without A Huge Audience.
You can gain serious momentum with your membership business—even with a smaller audience. Find your first 100 true fans, cultivate them, and build a fulfilling and thriving premium community.
As a YEET Blogger - entrepreneurs , you can now  start a membership business to  generate predictable recurring revenue in addition to building a sustainable business model.
What we did to drive paid-subscriptions to your blog :
We've added a new, seamless, less stressful approach to your membership business.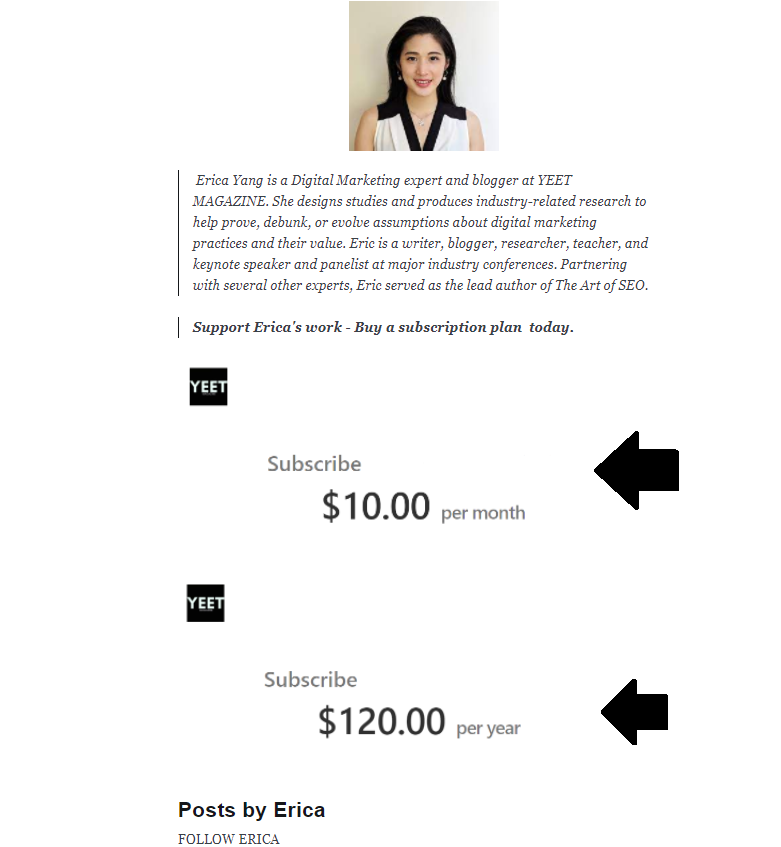 It's now easy to let your readers buy publications as part of your Yeet Magazine Blogging platform by  putting your content for sale.
As a YEET Blogger - Entrepreneur, you also make money from your subscribers.
The faster you sign up subscribers the faster you earn revenue and more subscribers means more revenue.
Making your blogging blogging platform unique and more intimate
You're no longer serving mere statistics and demographics, but encouraging actual people to support you and your work.
Take the time to view the new, unique  experience we've build for r your subscribers. Reach out to your new subscribers, send them a personal note, or get them on a phone call with you — anything and everything that will make your true fans' membership experience that much more special.
Remember,  having thousands subscribers is nice — but you can do well with far less —.
You don't need a massive audience to gain momentum with your blogging business. You just need a small tribe of people who will support you, come hell or high water.
That said, you don't need to stop at a small number. Many successful bloggers  started with a small audience — if they even had one in the beginning.
Where to start? Simple:
Just share  the good news around you and use creative ways to  encourage people to visit your blogger page as much as possible to get the updates about your work.
Don't have a link to your blogger page yet? Ask us
Promote your work with friends and  local businesses you'll be surprise how many will be  interested in your services.
Have a comment? Question? Send us an email
New here? Apply now to become a YEET blogger-Entrepreneur. Email us today