You can stay in a tree house in Bali overlooking stunning views for £30 a night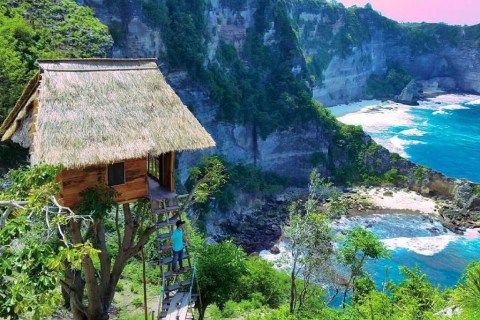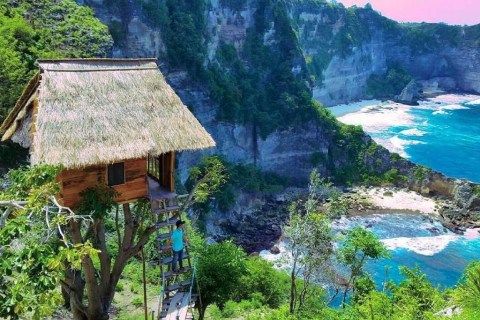 If you've ever dreamed of going to Bali but you haven't been able to afford it, you'll be over the moon to know you can now stay there for under $30 a night.
We're not talking a hotel or a hostel. There's this stunning treehouse overlooking the ocean and it's absolutely dreamy.
Tree House Rumuh Pohon is a lovely little wooden house sat on the top of a tree.
It has a ladder so that you can get in and out – though people who have stayed in the past have been pictured posing on it for photos.
The tree house is available for two guests, and has one bedroom, a bed and a shared bathroom. We need to stay here (Picture: Airbnb) The tree house sits on a cliff overlooking the ocean and is surrounded by greenery – and best of all, it costs just £29. Yep, you can stay there for a pretty cheap price.
The Airbnb listing states: 'In this tree house all your childhood dreams embodied in an miracle. 'Imagine waking up from sleep accompanied clean air, the sound of birdsong, and the smell of fresh trees.
'Moreover, coupled with a panoramic view of the sea, sunrise and sunset are certainly amazing Imagine waking up to this (Picture: Airbnb) 'In Indonesia, now your dream can be realized because we have found exotic tree house that you can stay.'
The reviews for the place have also been incredible, with people saying staying in the tree house was the most amazing experience.
One person said: 'Words can't describe the absolute beauty of this place. The hosts are wonderful.
We will be back to stay again.' Another said: 'This was the most beautiful place I have ever stayed.
It is a work out to get there but it is so worth it. I didn't think there would be a shower so that was a nice surprise. The food was great and the staff was extremely nice and welcoming.'
MORE: TRAVEL Cruise passengers forced to sleep rough after being stranded ashore Someone else added: 'The view is unforgettable.
Great to fall asleep to the ocean. It is very minimalist conditions. Bed with sheets and blanket, toilet and shower shared with the other tree house nearby, includes towel.
You are paying for the exclusive view and you will never find a better one. The sunrise in the morning is out of this world.
This is for people who are into camping and are in decent shape to climb up and down a cliff. Well worth it.' That's it, we're off to Bali.