A New Tour, A few Memoires And A Documentary: 2021 Looks Like A Busy year for the Jonas Brothers
Six years after their split, the Jonas Brothers are back in the spotlight, with a hit, a new album and a world tour. The Jo-Bro's far from their formatted image of Disney stars.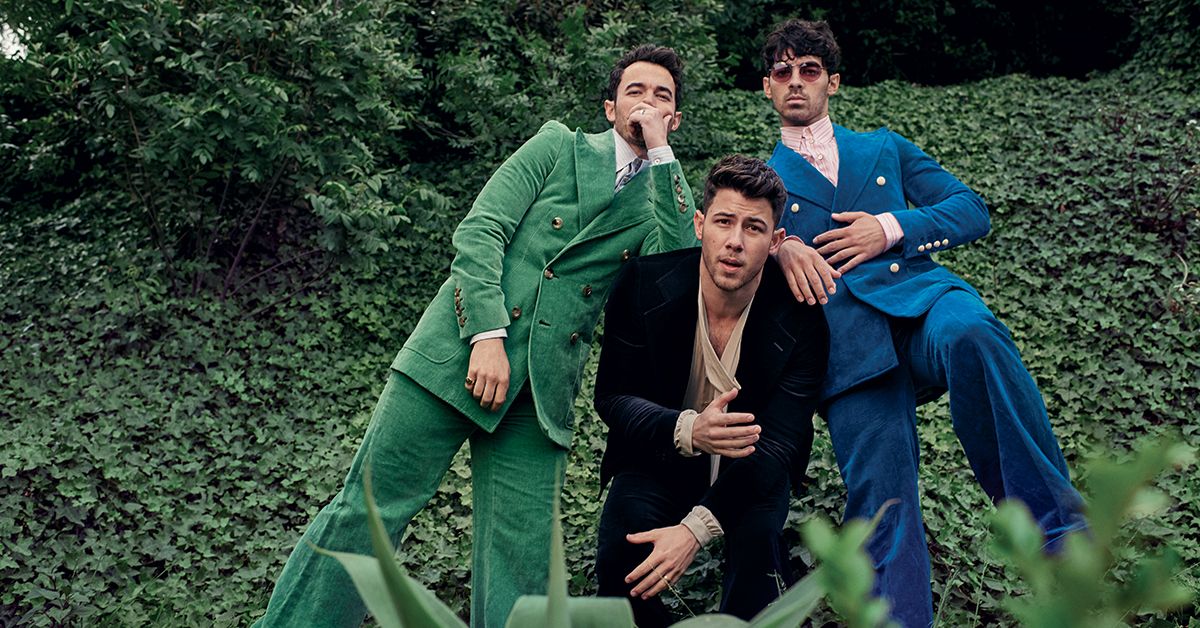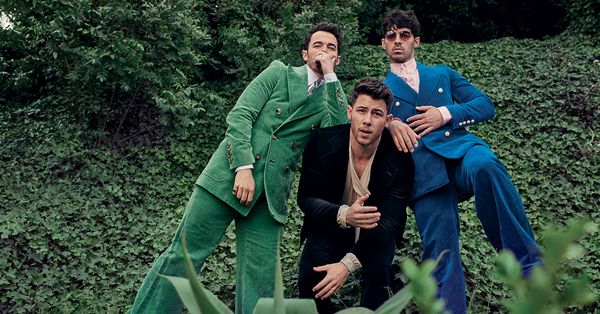 By Joan Carmichael YEET MAGAZINE | Updated 0439 GMT (1239 HKT) October 16, 2021
SUMMARY
That's it: Kevin (31), Joe (30) and Nick (27). Since 2005, the Singing Brothers have been the Hansons of their generation, with a little less hair, but the same ability to spawn butterflies in teenage wombs. From several successful albums to a period of persistent disagreement to their own Disney Channel series in 2013, the group has experienced a painful breakup.
It was Nick who was the first to suggest his brothers go their own way, as he confessed earlier this year in James Corden's "Carpool Karaoke" sequence. He then distinguished himself as a solo artist and actor, as Joe founded the group DNCE and achieved worldwide success with "Cake by the Ocean". Not to mention the perks like underwear mannequin for Guess. Message to those who question Google: the photos may be placed in the NSFW category (No safe for work, either inappropriate for a consultation of the content at work or sexually explicit, Editor's note). Only big brother Kevin opted for a life out of the spotlight by founding his own construction company. With Danielle, whom he married in 2009, he had two daughters, Alena and Valentina.
A NEW START
2019 was the year of great reconciliation. While recording a documentary about their lives (the premiere of "Chasing Happiness" was in June), the brothers also bonded musically. "It was a necessary healing process because we hadn't parted on good terms," says Nick. "After a while, we felt the same magic as before. "
At the end of February, we learned that the trio would sign their comeback. "Sucker", the first single from the new album "Happiness Begins", finished number 1 on the Billboard Hot 100 (the weekly ranking of the 100 most popular songs in the United States, Editor's note). The music video with the brothers' companions in the lead roles was named Best Pop Video of the Year at the MTV Video Music Awards.
JONAS SISTERS
Both professionally and privately, things are looking good for the Jo-Bro's. Kevin celebrated ten years of marriage with Danielle, a hairdresser with whom he lives a beautiful romance. Despite a somewhat more turbulent love life (Joe had a relationship with Taylor Swift, Camilla Belle, Demi Lovato and Ashley Greene, and Nick with Miley Cyrus, Selena Gomez, Lily Collins and Kate Hudson), his younger brothers also ended up find great love. Today, the Jonas Sisters trio is therefore complete.
https://instagram.com/p/B1rAL0Zlbsz /
WHO IS WHO ?
Joe has been madly in love with Briton Sophie Turner since 2016. After several unsuccessful attempts by mutual friends to introduce them, Joe took the lead when he saw that things were dragging on. He messaged the "Game of Thrones" star on Instagram, and a few weeks later the duo had a first date in London. After a year and a half, he asked the 21-year-old to marry him with a lavish diamond ring. The couple got married last summer in an intimate ceremony in the south of France.
Subscribed to ephemeral relationships, Nick's heart finally raced for Priyanka Chopra, ten years his senior. The musician sought to get in touch with her via Twitter and thus managed to land the number of the former Miss World.
When he first met the actress at a party, he immediately knelt down and whispered, "So you are real! A little later, the couple made an appearance on the Met Gala red carpet and the news spread like wildfire. For a while, Priyanka tried unsuccessfully to silence the rumors. Last summer, Nick knelt in front of the Bollywood star to ask if she wanted to be his wife by handing her a special ring. At the end of 2018, the lovebirds promised each other eternal loyalty during festivities that were spread over several days in India. The next step ? Growing the family, because Priyanka and Nick both dream of having several children.
The photogenic sisters-in-law see each other regularly and together attended the concert given by their husbands on the occasion of the album's release. They were wearing their favorite band's shirts. A romantic gesture, but their men are also very strong in the matter. The song "I Believe" is a tribute to Priyanka, while "Hesitate" is a musical love letter to Sophie.
To discover the Jonas Brothers 2.0, meet at the Lotto Arena in Antwerp on February 8 .
Band of brothers! Kevin Jonas, Joe Jonas, and Nick Jonas were fortunate enough to fit in with bandmates growing up - and fans can say thank you to their parents, Paul and Denise Jonas, for raising such beloved stars.
After growing up in New Jersey (alongside younger brother Frankie Jonas, aka The Bonus Jonas), the Jonas Brothers made their debut in the early 2000s when they recorded their first song, "Please Be." Mine". After touring with a number of groups and artists such as Kelly Clarkson, Aly & AJ and The Cheetah Girls, the group released a rapid succession of albums including It's About Time in 2006 and Jonas Brothers in 2007.
After landing roles in the original 2008 Disney Channel film Camp Rock, the brothers' careers continued to soar. That same year, they were nominated for Best New Artist at the Grammy Awards and won the Breakthrough Artist award at the American Music Awards.
In 2010, the Jonas Brothers decided to move away from each other to pursue solo projects. Although they reconciled two years later, they officially broke up in October 2013, a rep for the group told Us Weekly their separation was due to "a deep rift within the group." Nick later revealed he was primarily responsible for the breakup during an appearance at Carpool Karaoke with his brothers in March 2019.
Even though their band wasn't officially together for the next few years, Kevin told us he still played music for fun with his brothers.
"It's not like we're trying to do something special, it's just that we hang out and the music is part of who we are," the older brother said in May 2018. "It always happens. . "
A year later, Us confirmed that the group was making a comeback in February 2019 after six years apart. They released their fifth studio album, Happiness Begins, three months later.
Apart from their musical achievements, Kevin, Joe and Nick have found success in their love life. The three brothers are married respectively to Danielle Jonas (née Deleasa), Sophie Turner and Priyanka Chopra Jonas.
Two of the three stars also became fathers. Kevin and Danielle share their daughters Valentina and Alena, while the "Spaceman" singer and Game of Thrones star share a daughter, Willa.
"We always grew up in music and making music with my dad," Joe said of their childhood in Wyckoff, New Jersey. "He was in the record companies and things like that. My mom is an amazing singer. We kind of grew into it.
"We moved to New Jersey and that's where everything is happening in the music industry. It kind of fell into place, "Nick once said.
"We really pay attention to what we're wearing," Kevin said. "We love a lot of different designers, but mostly we all wear different clothes like J.Lindeberg, Dior and Phillip Lim."
Originally, Joe (who dated Taylor Swift, Demi Lovato, and Camilla Belle) aspired to be an actor or comedian.
"Music on Red Bull" is how Kevin, the eldest of the band (and lead guitarist), described their sound.
At the age of 7, Nick launched his career on Broadway. "Broadway has been a really great training for what we're doing now," the crooner said.
"On stage, I kind of studied Mick Jagger and things like that and I was really influenced by him and his personality on stage," Joe said.
Kevin has plenty of room to keep a horse these days. The brothers had previously purchased a six-bedroom, $ 2.8 million home in the Dallas suburb of Westlake.
"People call me an 'old soul'," Nick said. "It's a nice way to say I'm like an old man. When I was 3, I acted like I was 30. Now I act like I'm 50 years old. I don't care a lot, but it's good. This is who I am. "
Joe has already been linked with several stars. "When I was young, I wanted to know what my favorite bands were doing all the time. And it's funny when there is a rumor, "he told Rolling Stone.
"My hair was actually straight," Nick said. "When I was 12, my hair became curly. It was the strangest thing in the world.
"People ask us seriously all the time, 'Are you really brothers?' Kevin told Rolling Stone, to which Joe added, "It's like, 'No, we named our band Jonas Brothers just for fun. ""
"We never fight," Kevin once said. Nick's explanation? "We work so much together, it's no use."
The group of brothers once cradled the rings of purity by saying that "we promise ourselves and to God that we will remain clean until marriage," Joe told Details.
"It's funny to find out that there are other celebrities out there who have a crush on you, like when I read that Lauren Conrad of The Hills liked me," Joe said (at Arthur Ashe Kids' Day in New York) at Rolling Stone.
"We became boyfriend and girlfriend the day we met. He was looking to meet me, "Nick's two-year old girlfriend Miley Cyrus (with the group at the 2007 Teen Choice Awards) told Seventeen. After their breakup in 2007, "I bawled for a month straight," she said.
The brothers attended the 2008 White House Correspondents Association dinner in Washington, DC A month earlier, the trio performed for George W. Bush. "We met the president and the first lady," Joe told Us Weekly. "The president said he liked my shoes!"
"Last year we were here to present, and to be back a year later and be up for seven awards, it's really crazy! Nick told us about it at the Teen Choice Awards in LA The band won the Breakout Band, Love Song, Musical Single, Song of the Summer, Fashion Icons award. red carpet and male hotties.
Kevin married Danielle Jonas after dating for years. The couple met while on vacation in the Caribbean before the group got off to a good start.
The rockers joined costar Lovato from Camp Rock 2 for a performance on ABC's Good Morning America in New York City.
Play ball! Disney stars got ready for the Road Dogs softball tour at KeySpan Park in New York City.
The band took a brief hiatus to pursue solo projects in 2010 before reuniting in 2012 for their fifth album, V. However, the project was scrapped when the band broke up in October 2013 due to a " deep break "on" their musical direction ". "
After an enlightened court, Nick married Priyanka Chopra in her native India. His brothers - and the rest of Jonah's brood - were by his side as the "Jealous" crooner said "Yes".
Us Weekly confirmed in February 2019 that the Jonas Brothers were hosting a reunion almost six years after canceling it. The trio released their record-breaking comeback single, "Sucker," on March 1.
Days after the JoBros announced their fifth studio album, Happiness Now, and the accompanying tour, Joe and Turner shocked the world and fled to Las Vegas. The duo exchanged vows in front of an Elvis Presley impersonator, just hours after the group performed at the Billboard Music Awards. Country duo Dan Shay sang "Speechless" as the Game of Thrones actress walked down the aisle. Joe and Kevin stood next to the DNCE leader at the altar and watched him trade Ring Pops with Turner.
Nick has announced that he is taking over Adam Levine's vacant coach seat on The Voice for season 18. Although he left after one season, the "Jealous" frontman has returned to the series for season 20. before leaving before season 21.
The group walked the red carpet at the 2021 Billboard Music Awards, where they were scheduled to perform a mix of their hits. Nick also hosted the awards ceremony.
The band performed a mix of their hits - including "Sucker", "Only Human" and "What a Man Gotta Do" - to close the Billboard Music Awards.
Related Title :
- Jonas Brothers Through the Years
- Jonas Brothers Through the Years: Photo
- Which Jonas Brother Has The Highest Net Worth?
- Jonas Brothers 2021 Alabama Kelsea Ballerini concert tour schedule
- Marshmello collabs with The Jonas Brothers on & # 39; Leave Before You Love Me ': Listen
- Jonas Brothers Through the Years: Photos
- See what products the Jonas Brothers use before every show
Keywords:
Jonas Brothers, Nick Jonas, Kevin Jonas, Joe Jonas, Frankie Jonas, Denise Miller-Jonas, Jonas Brothers, Nick Jonas, Kevin Jonas, Joe Jonas, Frankie Jonas, Denise Miller-Jonas ,,
Share
| | | | | | |
| --- | --- | --- | --- | --- | --- |
| 1. | jonas brothers documentary | | | 1.05% | 12 |
| 2. | are all the jonas brothers married | | | 0.00% | 61 |
| 3. | are the jonas brothers real brothers | | | 0.00% | 51 |
| 4. | are the jonas brothers still together 2021 | | | 0.00% | 44 |
| 5. | does the jonas brothers have a sister | | | 0.00% | 88 |
| 6. | how old are the jonas brothers now | | | 0.00% | 81 |
| 7. | how old is the jonas brothers little brother | | | 0.00% | 92 |
| 8. | jonas brothers documentary 2021 | | | 0.00% | 6.1 |
| 9. | jonas brothers new album | | | 0.00% | 73 |
| 10. | jonas brothers new album 2021 | | | 0.00% | 95 |
| 11. | jonas brothers new jersey | | | 0.00% | 59 |
| 12. | jonas brothers new jersey home | | | 0.00% | 94 |
| 13. | jonas brothers new song 2021 | | | 0.00% | 55 |
| 14. | jonas brothers new songs 2021 | | | 0.00% | 49 |
| 15. | jonas brothers reunion tour | | | 0.00% | 84 |
| 16. | jonas brothers tour | | | 0.00% | 81 |
| 17. | jonas brothers tours | | | 0.00% | 85 |
| 18. | what happened to the jonas brothers | | | 0.00% | 80 |
| 19. | who are the jonas brothers married to | | | 0.00% | 81 |