If you're looking for the best wedding dress to buy, here are some popular and highly wedding dress ideas  that can help you in your search:

By  YEET MAGAZINE | Updated 0339 GMT (1239 HKT) July 06,  is 2023
These wedding dress styles  can help you refine your search and find wedding dress styles that align with your preferences. Keep in mind that the "best" wedding dress is subjective and depends on your personal style, body shape, and the overall theme of your wedding. It's important to try on different styles and consult with bridal consultants to find the dress that makes you feel beautiful and confident on your special day.
Getting married? Here are some common wedding dress styles  that can help you explore different styles and designs:
A-Line:
A classic silhouette that is fitted at the bodice and gradually flares out to the hem, resembling the letter "A".
Ball gown:
A dramatic and traditional style with a fitted bodice and a voluminous skirt, often featuring layers of tulle or organza.
Mermaid:
A form-fitting style that hugs the body from the chest to the knees and then flares out dramatically to the hem, resembling a mermaid's tail.
Sheath:
A slim and streamlined silhouette that closely follows the body's natural shape from the neckline to the hem.
Fit and flare:
Similar to a mermaid style, this silhouette is fitted through the bodice and hips and then gradually flares out from the mid-thigh to the hem.
Ballerina:
A tea-length or ankle-length dress with a full skirt, often made of lightweight fabrics like tulle or chiffon.
Bohemian:
A style that embraces a relaxed and free-spirited vibe, often featuring flowing fabrics, lace details, and floral embellishments.
Vintage:
Inspired by classic eras like the 1920s, 1950s, or 1970s, these dresses have a timeless and nostalgic charm.
Off-the-shoulder:
A neckline that sits below the shoulders, highlighting the collarbones and shoulders.
Strapless:
A neckline that is cut straight across the chest, with no straps or sleeves.
V-neck:
A neckline that forms a "V" shape, elongating the neckline and creating a flattering silhouette.
Lace:
A delicate and intricate fabric often used for overlays, sleeves, or accents, adding a romantic and feminine touch to the dress.
These wedding dress styled  can serve as a starting point for your search, helping you to narrow down the styles that appeal to you. Remember to try on different dresses and consult with bridal consultants to find the perfect wedding dress that suits your taste and body shape however , choosing the "best" wedding dress is subjective and ultimately depends on individual preferences, body type, and personal style. However, there are some popular and highly regarded wedding dress designers and styles that you can consider. Here are a few renowned designers known for their wedding dresses:
Vera Wang:
Known for her romantic and elegant designs, Vera Wang is one of the most sought-after wedding dress designers in the industry.
Monique Lhuillier:
Monique Lhuillier is known for her intricate lacework, delicate embellishments, and feminine silhouettes. Her dresses exude timeless beauty.
Marchesa:
Marchesa designs are often ethereal and glamorous, featuring exquisite embroidery, luxurious fabrics, and intricate detailing.
Pronovias:
Pronovias is a popular bridal brand known for their wide range of styles, from classic and traditional to modern and trendy.
Oscar de la Renta:
Oscar de la Renta offers luxurious and sophisticated wedding dresses, incorporating unique textures, intricate details, and impeccable craftsmanship.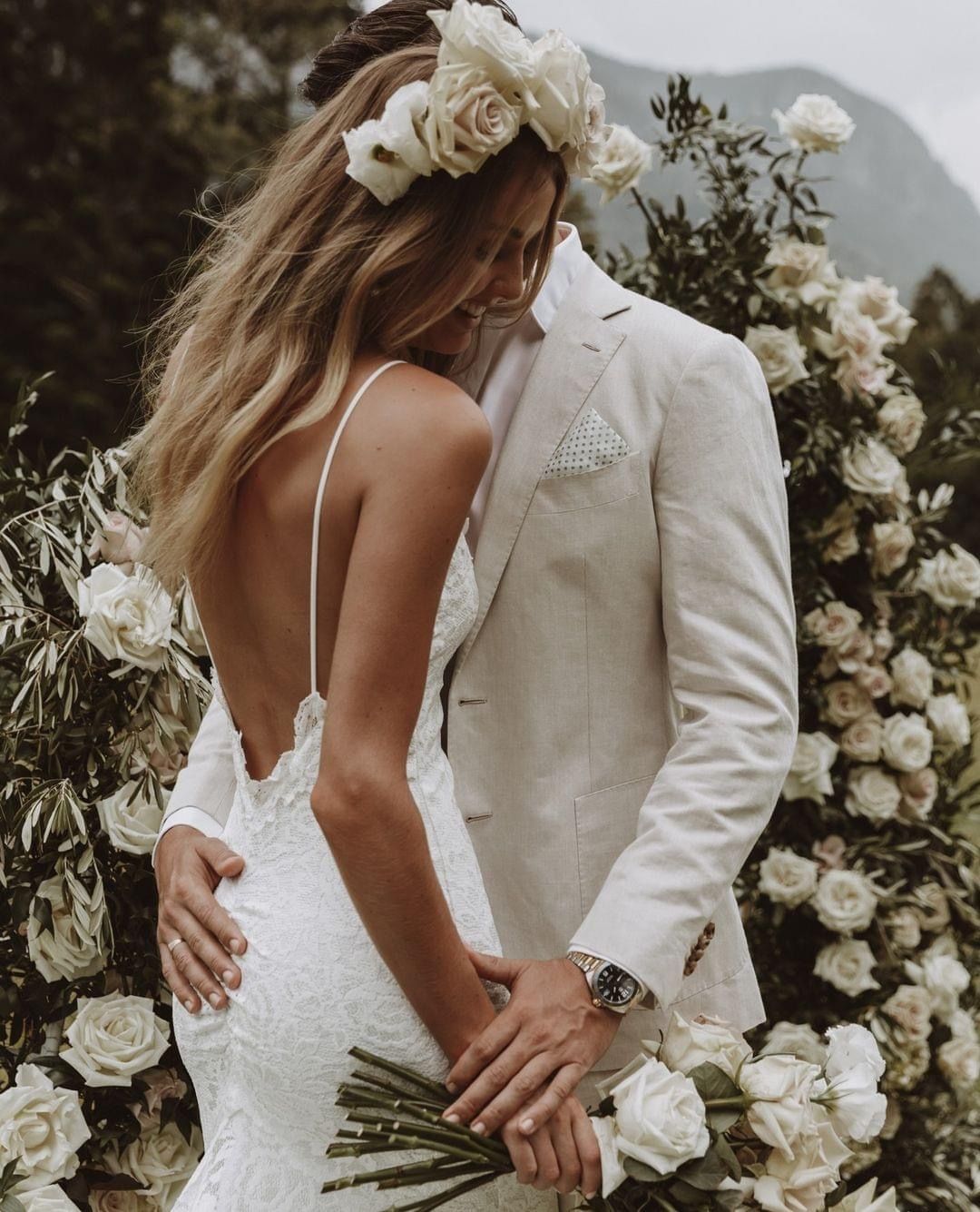 Remember to consider your personal style, wedding theme, and body shape when choosing a wedding dress. It's also a good idea to try on different styles to see what flatters you the most and makes you feel beautiful and confident on your special day.
Ella's whimsical wedding dress is everything! It's official…we want a Watters wedding dress, too
Set against the luxe backdrop of St Giles House in Dorset, Ella & Santino's romantic wedding includes seasonal florals, a candle-lit wedding breakfast in the library, and a reception in the basement nightclub! This venue has the best of both worlds!
Recommended Suppliers: And Wolf Bridal Studio, St Giles House, Katie Rogers Photography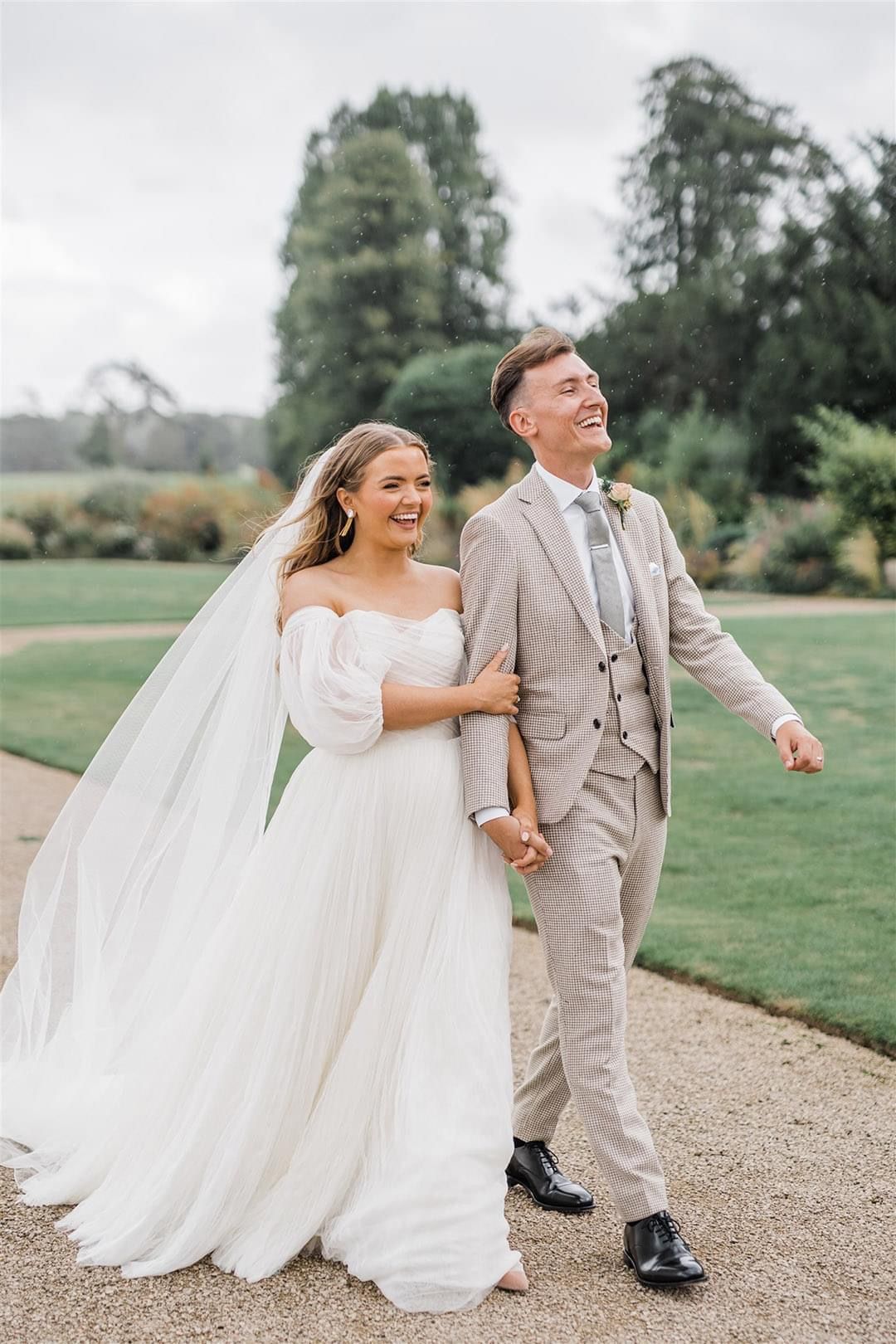 Our Best picks:
Britney Spears and Sam Asghari marry wearing custom #AtelierVersace at their wedding in California.
Britney wore a custom Atelier Versace wedding dress. Crafted in a delicate white silk cady, the design features a portrait neckline that wraps around the shoulders and comes together with a stream of pearl buttons. The seamline of the bodice follows the corset boning that narrows at the waist. The column silhouette is cut with a front leg-slit, while the back pleats from the waist cascade into a three-meter train.
Sam wore a custom Atelier Versace suit. The black wool tuxedo features a double-breasted peak lapel jacket with silk satin details, and pants with a banded belt at the waist. A white shirt with traditional smoking collar was paired with a matching black, silk bowtie. The look is completed with black loafers.
Britney Spears
Versace  Celebrities
Atelier  Versace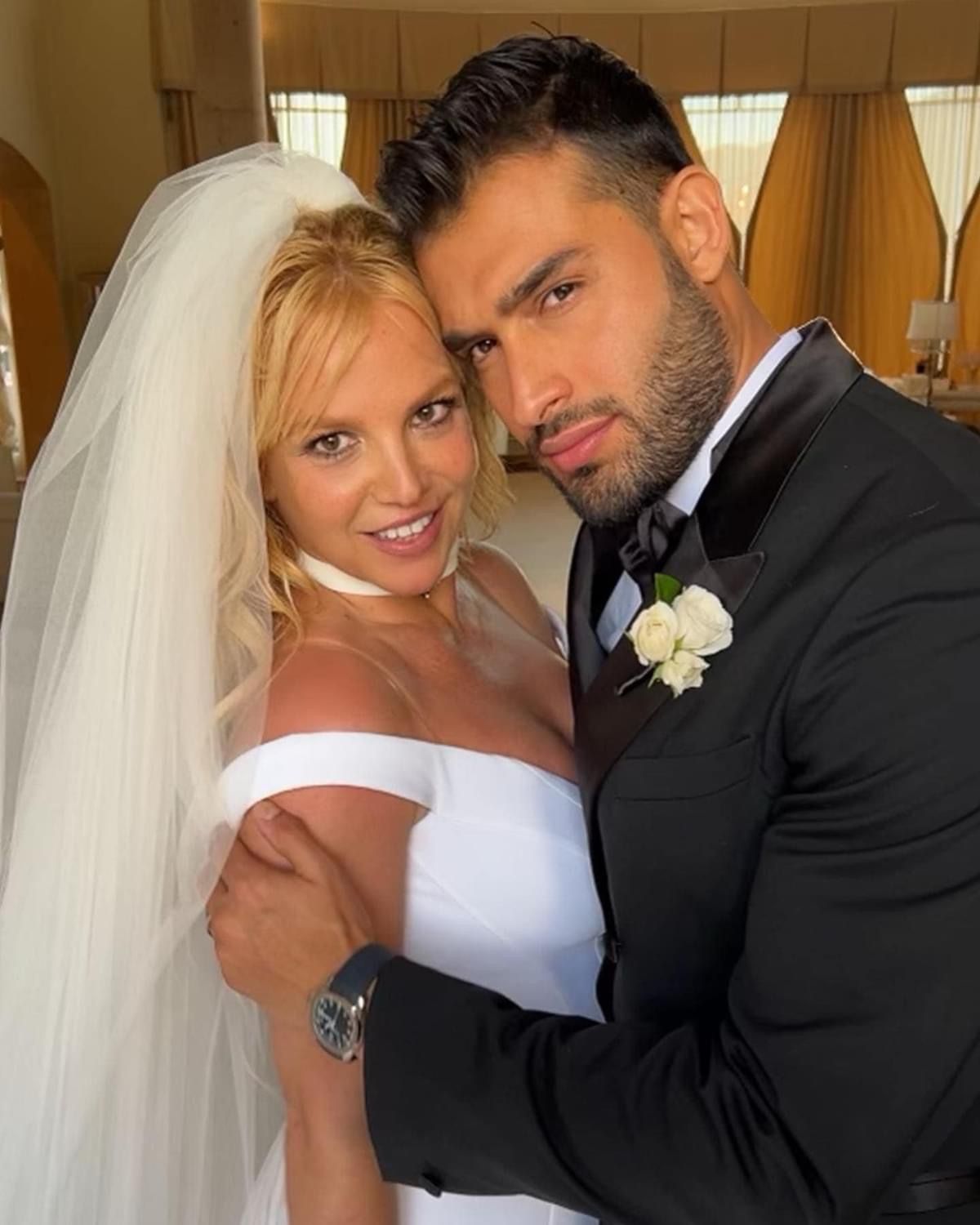 2. @elisabetta_pistoni tied the knot in our Viggo dress made in a magnificent lace bodice and an endless tulle skirt 🤍 We wish you a lifetime of happiness!
Photographer: @davidevalentina_wedding
Dress via: @roncasposi
3. Naomi Biden and Patrick Neal are married! Here, see more from their grand White House wedding: http://vogue.cm/u62n75e
Photos: Corbin Gurkin and John Dolan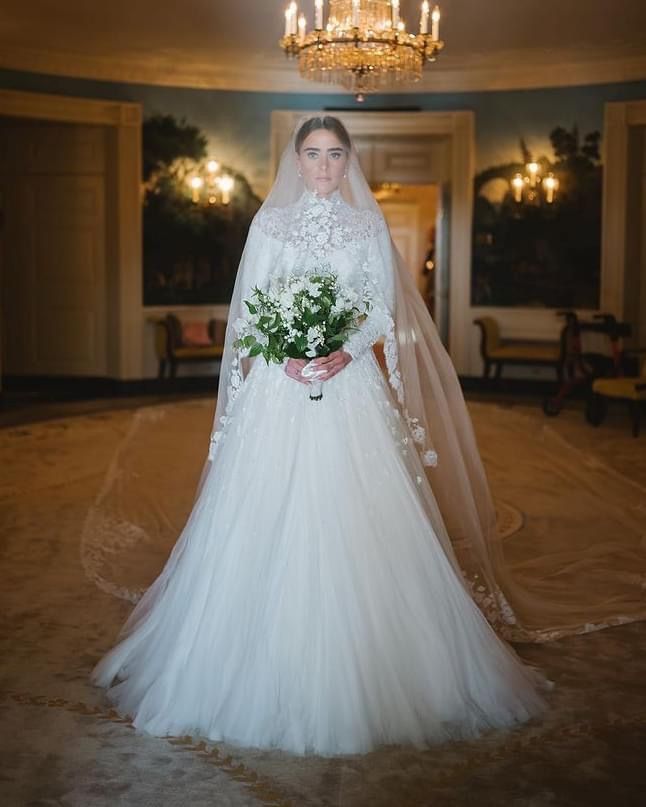 4. On Saturday, June 10, Taylor Hill married Daniel Fryer in a custom Etro gown designed by creative director Marco De Vincenzo.
Photos courtesy of Vogue.