Did King Charles Like Camilla Parker Bowles More Than He Liked Princess Diana?
He saw an attractive, fun, intelligent woman who loved dogs and the outdoors. He saw an extrovert who likes to chat with people. He saw a woman his age, which gave them a good understanding of current events, other matters.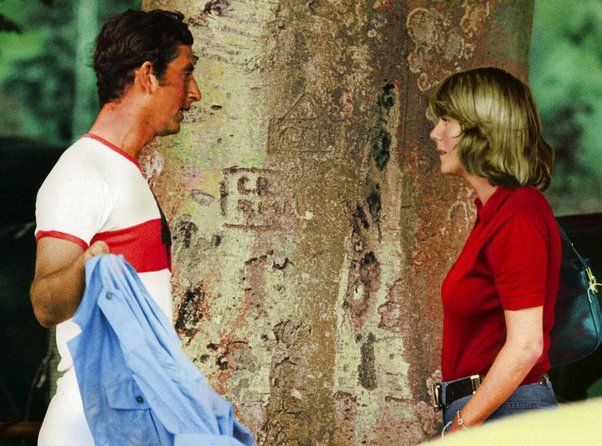 What was the nature of the relationship between Prince Charles and Princess Diana?
Why did Princess Diana divorce Prince Charles?
He saw an attractive, fun, intelligent woman who loved dogs and the outdoors. He saw an extrovert who likes to chat with people. He saw a woman his age, which gave them a good understanding of current events, other matters.
The Now King Charles had chemistry with Camilla. It means a lot. If you are going to marry a person, it will help you if you are attracted to them. Look at Camilla in the 1970s. She was beautiful. Laugh at his wrinkles if you like, but they come from a life lived outside. How cool that she likes to garden, because her husband, Charles likes it too. And Prince Charles was handsome when they were in their twenties. They found each other attractive, with their shared sense of humor. Humor is sexy.
Diana Spencer had little in common with her prince. She loved him, but she didn't try to elevate her ideas by reading fiction so she could meet her husband in an intellectual way. Diana herself said she was not a woman of science. I don't wish to denigrate the memory of Diana, but I feel like so many people adore her. As always, they try to blame Charles for his death.
Diana was a complicated person, who had serious emotional problems, just like Charles. Both were abandoned during their childhood and suffered from their self-esteem. Charles didn't show Diana the ropes of royal life (her fault), but did Diana try to appreciate art? No. Has she tried to read philosophy? No, she read love stories. Not really something to discuss with her older husband. Did Diana play records and CDs from the Charles years (1960s and 1970s)? No. Diana wanted to live in the 80s in her own way.
I point this out because Diana and Charles were a terrible match. He didn't try to enjoy the new 80s music. He didn't go out dancing with it. He didn't go to a nightclub. They didn't work. They were different on too many levels and their relationship might have worked if Diana understood that she had to let Charles take the lead. Be the first person to greet people. To minimize her impact on the paparazzi, but she was doing the opposite.
Diana called the paparazzi and told them where she would be. She played with the media. She wanted to be popular. More popular than her husband, and when you're married to the next king, you have to let him choose most of the time. But Diana didn't do that. Thus, their marriage would never work, as Charles had to be popular. He hadn't had any adulation at school. He desired it as an adult and received it until the arrival of the shy Lady Di.
Camilla, on the other hand, is outgoing but not looking for fame, and that's so important! Camilla gives Charles confidence. He's introverted and she drags him along, making him enjoy his meet-and-greet job far more than he did with Diana. With Diana, he felt eclipsed and unimportant, which was the opposite of how he was perceived as a young adult. Prince Charles was the most eligible bachelor in the world. I'm old enough to remember following his love life, and believe me, he was making women swoon.
Diana didn't see Prince Charles as fun. She thought it heavy and boring. There is nothing sadder than two people of very different intellectual levels getting married. They are doomed. They weren't sharing it and Charles wasn't trying to be more "fun" and Diana wasn't trying to be smarter. Camilla is reading. Camilla shares the same sense of humor as Charles. Camilla and Charles have always loved each other's looks.
With Charles and Diana, all I remember is about Diana. Prince Charles? Who was he ? Oh yeah, he's the guy who married that fabulous woman, Princess Diana. Because Diana courted the press. She loved the cameras one minute and the next she hated them. His mood was mercurial and tempestuous. Camilla was easy going. Would you rather marry the easy-going woman or the fabulous woman with endless needs?
Diana was a wonderful person and a good mother (apart from telling her problems to a young Prince William...it wasn't right). Diana could have had a good life. A happy life in the aristocracy of the United Kingdom. She would have been an accomplished artist and still had time to mother her children. Diana just wasn't the right woman for the next hey
And Camilla, the woman who was considered an inappropriate partner for a prince caught between centuries, was and remains the ideal wife for Charles. In 1981, a lot of people weren't virgins when they got married. They lived together before marriage. Women went to college and got jobs as doctors and lawyers. But Charles had to marry a woman with no past, who didn't drink or smoke (I think everyone did that in the 70s), and a virgin. The palace had Charles look for a princess as if she were still in 1950. It wasn't fair. For Diana and Charles.
Camilla would have been perfect since devout. But Diana inserted herself into the British royal family and ushered in a new era of accessibility, with even more than a hint of mystery behind palace walls. She introduced modern parenting without nannies. Diana had to happen, because the royal family lived in the past and it couldn't end like Gray Gardens. Diana had to grow up and make the press want to cover this mysterious royal family. She led this family into a new millennium. And we all watched.
But for Charles? Diana gave him two beautiful sons. He would never want it to go away. The monarchy understood, through Diana and Charles, that maybe the common people aren't so bad after all. Camille and Charles. A Cinderella story indeed.
Who announced the death of his mother to Prince William?
Aurelien Breton
· Follow
Market gardener Translator 1  year
Lander
follows The British Royal Family
This answer may not be a faithful translation of the answer ofLander
in Quora in English  :Who told Prince William that his mother died?
Behind closed doors at Balmoral Castle, Prince Charles and the Queen have agreed not to break the news to William and Harry until morning.
Diana was killed in a road accident in Paris on August 31, 1997. William recalls the brothers having a "really good time" with their cousins ​​at Balmoral, the Queen's private Scottish estate, on the day of her death.
When Diana died, William, who was 15 at the time, remembers receiving the news as if "an earthquake had passed through the house".
The royal family attempted to engage the young princes in a dialogue about their mother's death shortly after Diana 's death . In the newly released documentary, William says: "The family got together, and Harry and I tried to talk about it as best we could."
Harry and William regret their last phone call with their mum on the fateful evening, which they cut short because they were too busy with their cousins.
Is it possible that a woman who does not have a beautiful face or a beautiful body, can find a man who loves and accepts her? She's not ugly, but she's not beautiful?
Lepine Kong
How did the princes, William and Harry, forgive their father after what he did to their own mother?
Brazen Hussy Joanne Babic
Formerly
This answer may not be a faithful translation of the answer ofBrazen Hussy Joanne Babic
in Quora in English  :How did Prince William and Harry forgive their father after what he did to their own mother?
Originally Answered: How did Prince William and Harry forgive their father after what he did to their own mother?
They say that time heals all wounds.
Both boys heard their mother's side of the story too much as Diana used William's shoulder to cry and confide . After his death, when living with their father, they discovered that stories like these often have two sides and learned not to judge him by Diana 's feelings .
They say that time heals all wounds . This means that over time, the wounds don't seem so deep anymore. Charles has always been a good father to them. Diana taught them about human interaction, and just because your status is higher doesn't mean others are less good than you or need less attention and have less responsibility to others. Charles taught them about hunting and fishing and environmental responsibility.
Over time, Camilla was introduced to them and became a part of their lives. They saw how happy their father was after being with her and they asked to meet her. All four have become a family , slowly but surely.
She was born, we don't really know where or when, but certainly not in Poitiers in Poitou (the name designates a former marquisate of Provence, Peytieu, Poitiers in the language of oïl) and her date of birth remains rather vague, in a period between September 3, 1499 and January 9, 1500.
Diana of Poitiers
Diane de Poitiers married in 1515 Louis de Brézé, her senior by forty years, grandson of
Charles
VII and Agnès Sorel. Lady-in-waiting to Queen Claude and then to Queen Mother Louise of Savoy, she belonged to the very high society of the time.
A woman of money and power and slightly upstart, surrounded by lawyers and managers, she managed in 1531 to obtain the title of her husband on his death and became "sénéchale de Normandie".
She has already been busy for a year with "training" the young Henri in the manners of the court.
In 1533, she supports the choice of the heiress of the Medici, despite the opposition of the aristocrats who are offended by a royal union with a daughter of merchants, but it is necessary to bail out the coffers of the State. It is also she who pushes Henri ll into Catherine de Medici's room to fulfill marital duty, the young man's indifference towards his wife making Diane fear that he is falling in love with a favorite. who would take his place. As the couple remains childless after several years, Catherine consults good women who are a bit witchy, astrologers and other charlatans. She tries all kinds of recipes that must have seemed normal for the time, such as putting worm poultices on her stomach every day, cow dung and mare's milk. What a dream!
Suddenly, Henri assumes his wife sterile and even thinks of repudiating her, so certain that he was that the absence of descendants could not be his fault.
Taking things into her own hands if I dare say, Diane sleeps with the Dauphin, and she realizes that the lover suffers from a genital malformation. To be precise, his urinary meatus is not at the end of the penis but below. Diane, always ready to help, teaches him some positions more suitable than that of the missionary, Henri takes notes and goes to try his novelties with his legitimate, and the result is eloquent, they had ten children.
We say thank you who? Thanks Diana!
Henri become king, Diane is omnipresent at the court, she gives advice to the queen on the education of the royal brats, participates in the hunts, is flirted with in front of everyone, while Catherine rarely leaves the palace. .
Diane was made Duchess of Valentinois and received the Château de Chenonceau as a gift and even some crown jewels!
When Henri dies, she must return the castle and the jewels and retire to the castle of Anet.
An error occurred while loading this item.
An error occurred while loading this item.
Adult
What do you think the disappearance of Queen Elizabeth II represents?
Patrice Blanchard
Follow
Comedian, podcaster, author and still Engineer.
Sep 10
Originally Answered: What do you think the death of Queen Elizabeth II represents?
Thank you for the D2R
Agathe Brillant
The death of the Queen of England was a shock to me. Not an emotional shock like you can have when you lose a loved one but a surprise equivalent to that of the loss of Lady Diana in her time.
By losing Queen Elizabeth 2, we lose part of the story. A page turns. A country that has done so much for the extension of civilization in the world has its importance.
To be the head for 7° years is not a detail.
By losing Elizabeth 2, we lose part of our human history.
His influence was enormous. And to forget it would be naive.
The arrival of Charles 3 will be a change. It remains to be seen how the world will evolve.
For those who will explain to me in comments that England has not existed for centuries and has been a colonizer and blah blah blah, I will remind you that any change has an influence on the system and that unfortunately not everyone is able to understand this.
3.1k  viewsShow Answer requested byBrilliant Agatha
An error occurred while loading this item.
What was the most tragic celebrity divorce? How ?
Daisy-Derata
Ironer of endless stories August 14
Lady  Diana  👑 and Prince Charles . Because her husband never loved her. And because in addition, she died with the baby of love in her womb, of a man who really loved her. They all three died together, only consolation🕊️🕊️🕊️. This is truly tragic and unfair.🌼
(more)
What are some historical facts that seem fictitious?
Thomas
Studied Law and History at the University of Orléans ( Graduated in 2021 ) Translator 1  year
Sylvia Richards
Owner
This answer may not be a faithful translation of the answer ofSylvia Richards
in Quora in English  :What happened in the past that seemed too crazy to be true but actually happened?
Here are some of the mind-blowing facts I was able to find:
George Washington died in 1799. The first dinosaur fossil was discovered in 1824. George Washington never knew dinosaurs existed.
Marilyn Monroe and Queen Elizabeth II were born in the same year. Here, they meet in October 1956 at a film premiere in London: they are 30 years old.
Harvard University didn't teach differential calculus for the first few years after it was founded…because differential calculus hadn't been invented yet.
Harriet, a turtle who died in 2006 at age 175, had seen Charles Darwin in person.
Woolly mammoths still existed when the Egyptians built the pyramids of Giza (2500 BCE).
The University of Oxford existed for hundreds of years before the end of the Aztec Empire (1428).
Ecstasy was invented the same year The Titanic sank (1912)
Anne Frank was born the same year as Martin Luther King (in 1929).
The oldest living tree today was already 1000 years old when the last woolly mammoth died.
Star Wars was released the same year as the last guillotine execution in France (1977).
Swiss women won the right to vote the same year that the United States drove a "rover" to the moon (1971).
In 1868, you could ride the London Underground while witnessing the last public hanging in the UK.
Princess Diana and Mother Teresa died within days of each other in 1997 (Diana died August 31, Mother Teresa September 5).
NASA was exploring space when scientists agreed on plate tectonics (1967).
Harry Potter and the Deathly Hallows was released in the summer of 2007. The first iPhone model was released the same year.
Prince William and Kate Middleton married on April 29, 2011, just days before Osama bin Laden died.
An error occurred while loading this item.
What's the best celebrity wedding cake?
Paul Bobett
· Follow
Translator 1  year _
Joan Wall
Location: New York City
This answer may not be a faithful translation of the answer ofJoan Wall
in Quora in English  :What is the best celebrity wedding cake?
That's what Marie-Antoinette had in mind when she said... " Let them eat brioche! ".
Taking inspiration from Prince Charles and Princess Diana 's $40,000 floral wedding cake , Prince William and Kate Middleton doubled down and splurged for their $80,000 "White Wonder."
17 different kinds of flowers, from an Irish clover to a Welsh daffodil. An overdose of sugar, around 22 kg.
A duplicate was created just in case something went wrong. Will and Kate have set a world record for money spent on wedding cakes.
1k  viewsShow 6  upvotes
An error occurred while loading this item.
Does the relationship between President Macron and his wife denote a mental health problem on the latter's part given the nearly quarter-century age difference between him and his wife?
Marc Brillouet
Computer engineer ( 1991 – today ) 3  years
No more than the age difference between Trump and Melania or Prince Charles and Diana , not to mention I don't know which Greek president and his stewardess.
I don't believe love has anything to do with age.
On the other hand, I wonder about the mental health of those who pose a problem when the man is younger than the woman...
When was the last time you saw a good movie? What was the movie?
Eric Orthwein
Follow
The secret to success is to make your vocation your vacation Updated August 31
Spencer, by Pablo Larrain (2021)
Pitch: In 1991, Diana prepares to spend the Christmas holidays with the royal family, aware that her marriage to Prince Charles is in the throes of collapse. However, she is forced to continue playing the perfect wife.
In the land of Candy will we…
They got married and had beautiful children… No, I cross out: they got married for worse and for worse.
To be a princess in the UK is a worse fate. Think again, kind members of Quora. Who would have thought that a life as a princess in the midst of a mummified family was nothing enviable! Who would have thought, moreover, that I was watching such a film? My Tutelary References glare at me with a baleful eye... In fact — and I repeat it, hammering in my head, to my own court in a prescriptive way: only the filmmakers must preside over our choice of films —, therefore, in In fact, it was because of Pablo Larrain, the director of No, Neruda, Une femmefantastique or even Jackie, that I gave in to the whim of drinking the chalice right up to the list. And I was not disappointed! Although I still find myself interested in Dianaor Lady Di, when during her lifetime and her pangs, or even her sad end under the bridges of Paris (sorry, tunnel), I didn't care about her at all. Except that Pablo Larrain has a knack for forcing my hand.
The action takes place in 1991, the time of a Christmas weekend at the Sandringham estate, in the humid countryside of England; saying that, I am committing a pleonasm, of course: what is not wet in the country of the British, please?… Moreover, the distribution whets the appetite: Kristen Stewart, Sally Hawkins, Timothy Spall, no need to add more, I run. My faith, under the direction of Larrain, the film is successful, navigating between thriller and horror film, yes. Because what a life of nightmare the little princess from the Spencers endured, within a family stuck in the mothballs of the past, of these crowned heads with medieval rituals and pompous etiquette... Realize that everything is codified, between changing good quality outfits for each meal, a timetable to keep to the fingertips, as many servants as guests, a door opener for each Rolls Royce, and, in the kitchens, a battery of scullions for each plate: too much is too much for the fragile princess who dream of escape, freedom and simplicity, even if it means slumming at McDonald's with William and Harry, his two princely brats. Especially since her husband,Charles the Prince of Wales, who has a crush on Camilla, going so far as to offer the same necklace of rare pearls to the two women, it seems inadvertently... Diana cuckolds in a macho world, until then everything is normal, everyone know, everyone closes their eyes. Except Diana . A real horror movie, I tell you. Horrified, the frozen family, trying the day regulated like the hours of prayer of a carmel.
Then, between the queen mother and the living princess, there is no photo, if indeed a photo is still frozen. I felt uneasy watching this film, to the point of calming myself down with Efferalgan, taking up the cause of Diana , who is fed up with it — we understand her. She, lost in the middle of a palace of the chilly and hardened to the frost, they don't even have enough to heat the rooms and the little heart of Bambi with wood, these shameless scandals, say so! But what is she doing in this circle of dazzled mirliflores all steeped in nonsense, the all-married Diana , one wonders...
Suddenly, I understand it better late than never Diana-the-runaway, who does not hesitate to intervene in the arena killing tamed pheasants of a joke safari to respect the laughter. Ah, there, there are guillotines that are lost in the country of Brexit! It is time to cut short the rules of the Court.
You see, not everything is rosy in the land of Candy, and Kristen Stewart, as Princess Di, marvelously portrays the pains of such a life in Wonderland, between British mists and looks that don't care, flanked by it is by the lackeys reporting all movement and who seem to pity the casualness of this candid white girl who does not care about this chloroform vacation in the brine of a literature of stuffy centuries.
A film between royal jams and princely discomfiture of a young woman turned towards the future who does not take off from all this haughty puffiness and a proud-to-arm husband of Camilla, and a success of more than one Pablo Larrain which twists the loins of a vestige that in passing it castigates a tad, and thereby corrects my view of a Diana Spencer whom I nevertheless knew, but badly, because, at the time, in the media , in the kiosks, at all comers, I have seen it too much…
Has anyone ever cheated and won on a game show?
Vincent Person
Follow
Master in Law , Universities ( Graduated in 2015 ) Translator · 2  years
An army major, a teacher and a university lecturer. When you think of scammers, people in these professions are probably not your first guess. However, these are the professions of the people behind the biggest scam in game show history. Charles  Ingram, the army commander pictured above, had appeared in Who Wants to Be a Millionaire not once, not even twice, but three times in the space of 'a year. Of all the applications received, three were accepted in just a few months. That's one hell of a chance! The first two attempts proved futile, and he and his wife did not
(more)
What's the weirdest wedding photo you've ever seen?
Florent Calumniated
Follow
Studied Sign Language (visual communication)  and Water ( 2025 (expected) ) 1  year
Bjr,  Diana  and Charles , looks like the sad Princess at her own wedding.
(more)
Why do people hate Prince Charles ' wife Camilla so much?

Natalie
Follow
Knowledge: French May 15
She was the prince's mistress and was the cause of the divorce between Charles and Diana .
Princess Diana :  Was she in love with prince charles? How old was Dianawhen she met Charles? CharlesIII is the new King of the UK, but with all his scandal-related pans with Camilla and Diana, will he still be able to leave a positive image of him?
What is Prince Charlessees in Camilla Parker Bowles that he likes her more than Princess Diana? If Charleshad loved and respected Diana, would the face of the world be more dignified today?
Why did Diana become a princess when she married Prince Charles and not Kate when she married Prince William? Why is Kate not officially called a princess?
What was the nature of the relationship between Prince Charlesand Princess Diana?
Why Princess Dianadid she divorce prince charles?