House Of Gucci Movie : Why We Recommend Film For Its Complex Storylines And Superior Acting
House of Gucci is a movie based on true story of the family behind the Gucci Brand. Its a dramatic movie about love, betrayal, fashion and ambition. It also shows what families are willing to do to each other when a lot of money is involved.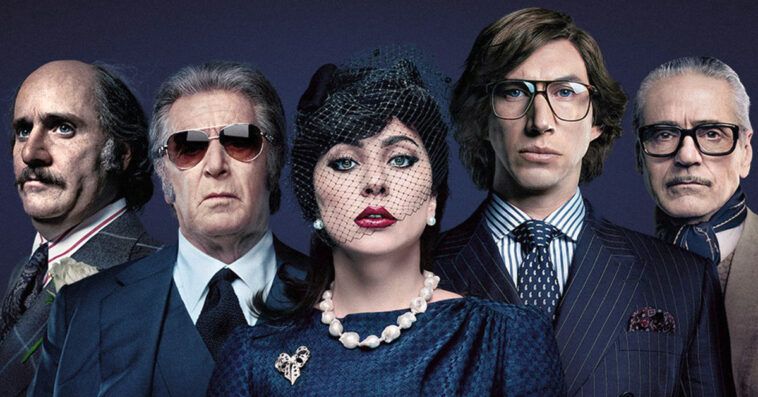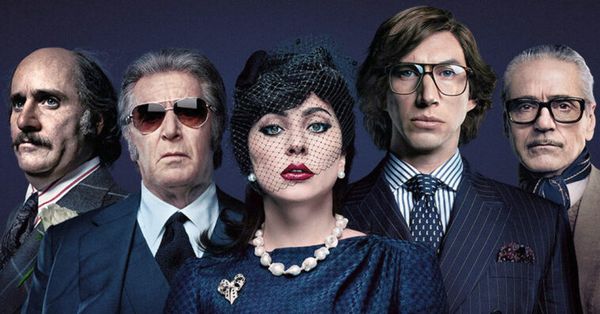 By   Gaurav Inani |  YEET MAGAZINE |  Updated 0439 GMT (1239 HKT) January 10, 2022

Have you seen Ridley Scott's latest masterpiece, House of Gucci? Starring Lady Gaga and Adam Driver, this epic film follows the Gucci family through three decades - but it's not just the family drama that takes the centre stage; the locations are pretty jaw-dropping too.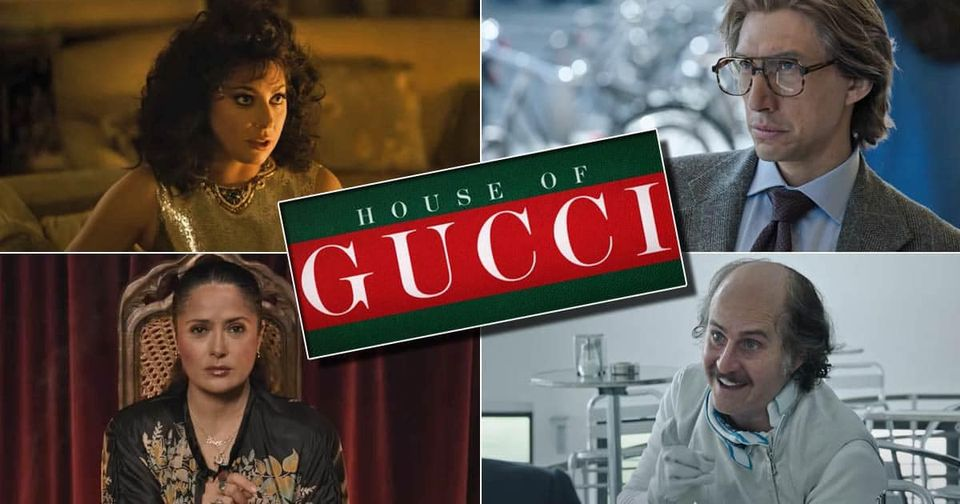 HOUSE OF GUCCI The 70s.
Patrizia Reggiani gets to know at a party Maurizio Gucci, the rampage of the Gucci dynasty, one of the most famous in the fashion world. A love story is born, first haunted by the patriarch of the family, Rodolfo Gucci, but then comes the marriage and the proliferation. Read more
House of Gucci is a movie based on true story of the family behind the Gucci Brand. Its a dramatic movie about love, betrayal, fashion and ambition. It also shows what families are willing to do to each other when a lot of money is involved. Although it does get boring at some moments, the acting is really good, especially Lady Gaga and Jared leto.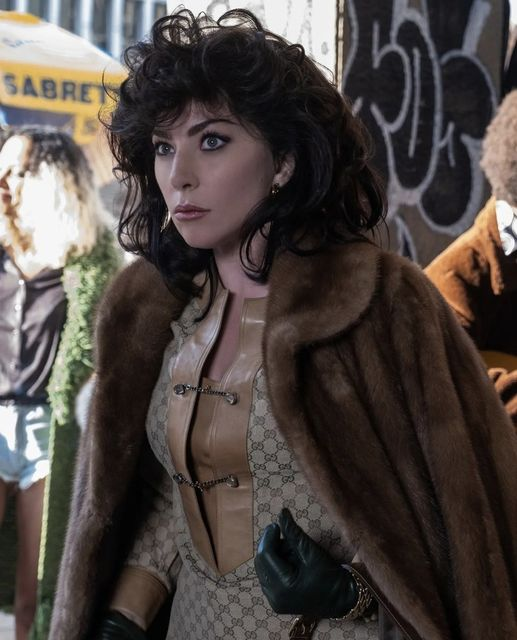 The woman's wild ambition, who would like to direct the Gucci brand corporate policies, will lead her to reckless strategies, such as those with her husband's uncle, Aldo Gucci, who will incite family relations, triggering a spy uncontrolled rally of betrayal, decay, revenge. Up to a tragic epilogue that is a black, and true story of our country.
The shiny, ambitious, beautifully filmed and costumed tale of greed and murder is stunning by the sheer number of stars that have been cast. The movie rivals the nighttime soap Dynasty for subtlety but does so with a much bigger budget.
Directed by master filmmaker Ridley Scott and starring Lady Gaga, Adam Driver, Al Pacino, Jeremy Irons, Jared Leto, and Salma Hayek, the film is … well, I'm still not quite sure what it is exactly, but somehow I felt as though I had lived through a hurricane when I left the theater.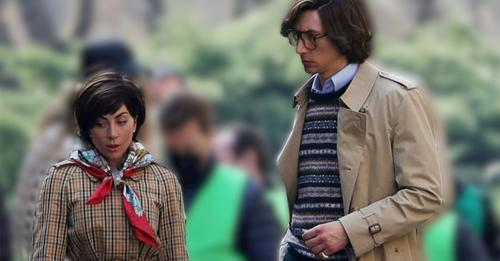 Was it a farce or a gripping tale of greed? I often laughed out loud, but was I supposed to?I must preface my thoughts by stating that my opinion is perhaps biased. I knew Maurizio Gucci well and worked with him for four of the years that are covered in this film.
He was murdered on the morning of March 27, 1995, just steps away from my office in Milan.
House of Gucci features many top actors, but Lady Gaga steals the show.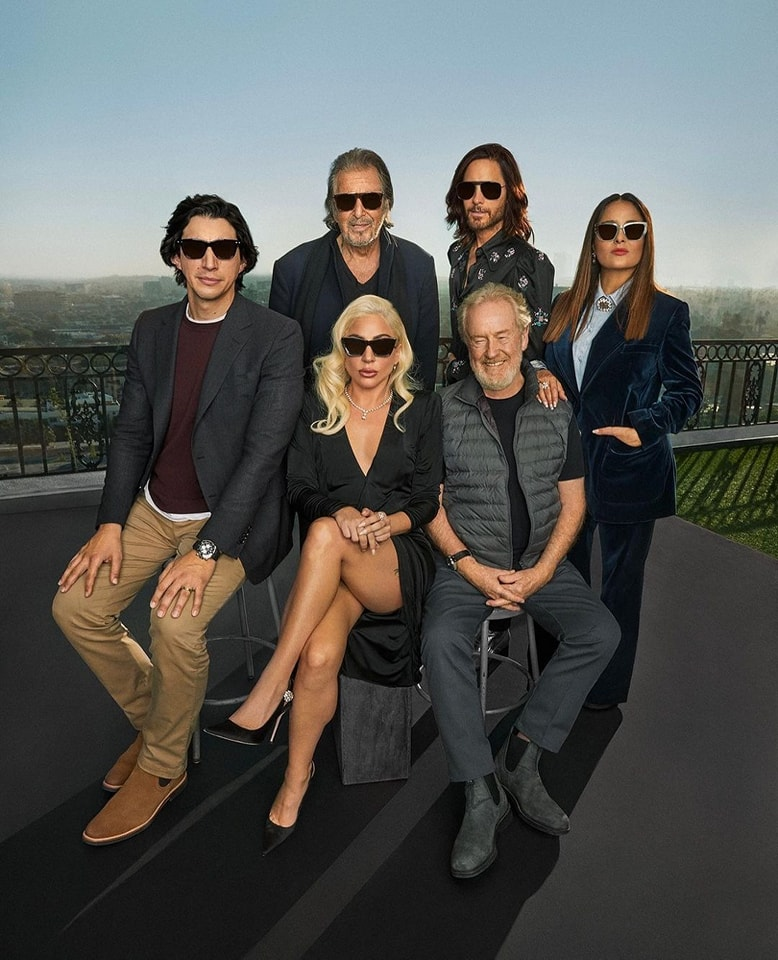 Had I not been at our offices in Florence that day, I would certainly have heard the shots that killed him. I also knew many of the other players in this saga and was interviewed on multiple occasions for the book that was the source material for the film, so it is hard for me to divorce reality from the glossy, heavily lacquered soap opera that I witnessed on-screen.
You can love it or hate it but House Of Gucci is deserved the power of its name. Everything is too much, budget, cast, accent, overreactions but more than all luxury. It's budget for costume design is $4 million, this is the same amout used for " The Devil Wears Prada " but probably the jewels price is excluded since they're all given for free just to make the movie and the jewels is a big part of Patrizia's character: selective and rare. In this scene Lady Gaga is wearing a look estimated $600.000.
As with most films based on a true story, facts are altered, characters are exaggerated, timelines warped—and, in the end, who cares as long as these alterations yield a great movie?The movie rivals Dynasty for subtlety but does so with a much bigger budget.Maurizio was much more interesting in life than his depiction in the film suggests. He could be incredibly charming and surprisingly sexy if you caught him when he was relaxed. He had a true vision for the company but had a hard time focusing.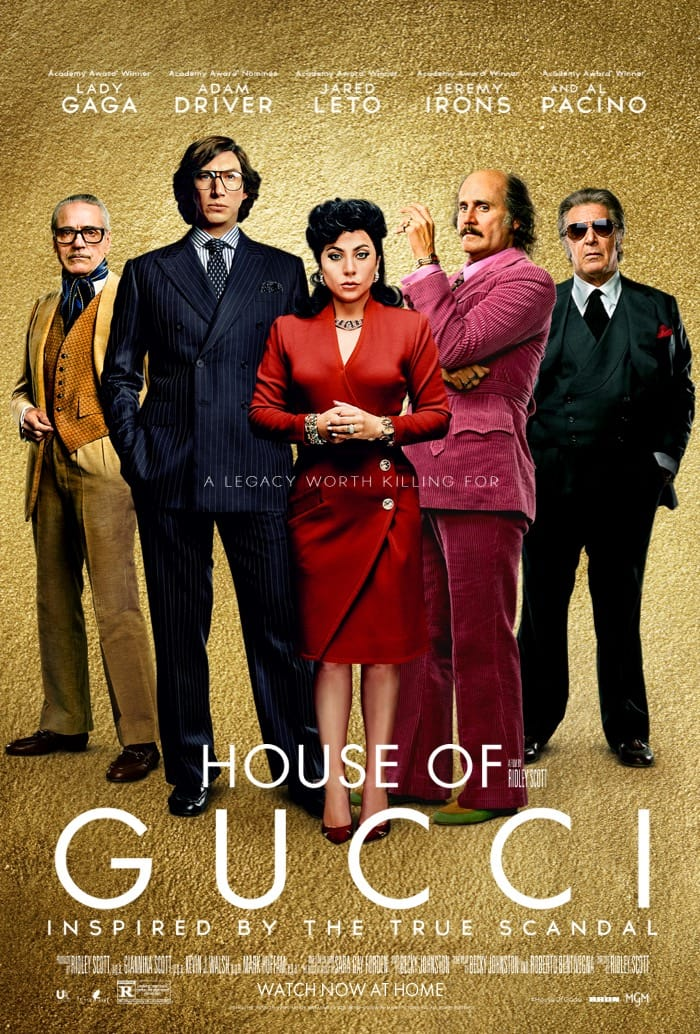 Gucci family is so opposed to the movie that they released a statement decrying it.⁠⁠"The production of the film did not bother to consult the heirs before describing Aldo Gucci — president of the company for 30 years — and the members of the Gucci family as thugs, ignorant and insensitive to the world around them," a statement obtained by Variety on November 29 reads.⁠ The Guccis also take issue with the film's depiction of Patrizia Reggiani, who hired a hitman to kill her ex-husband, Maurizio Gucci.⁠⁠
Played by Lady Gaga, Reggiani is painted "as a victim who was trying to survive in a masculine and macho corporate culture," according to the family — who, ostensibly, would like Reggiani to be remembered as a murderer rather than a sympathetic character.⁠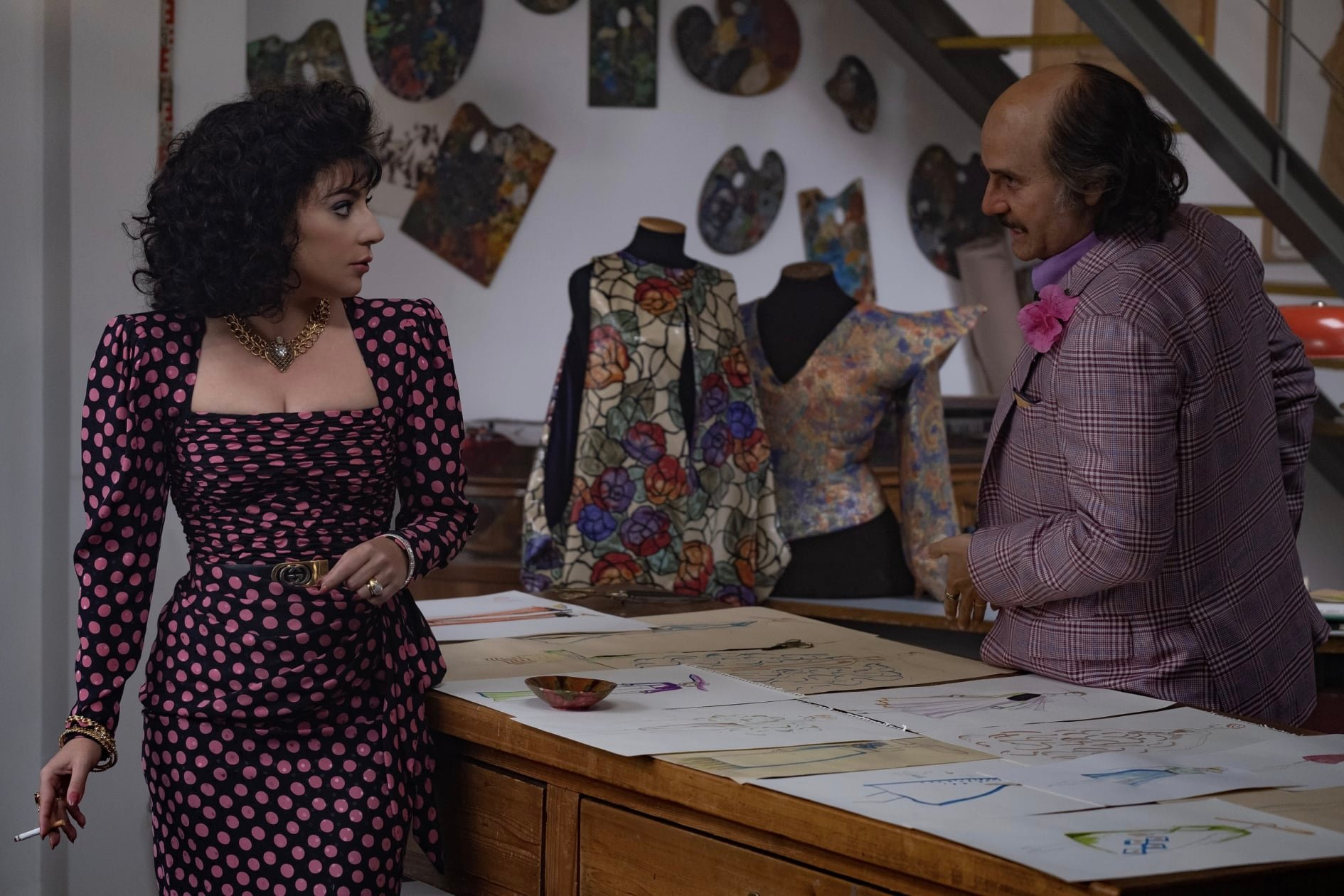 By the 1970s, Gucci was an internationally recognizable luxury label, a coveted "mecca for pauper and prince" wrote Town and Country magazine in 1977. Among Gucci's customers were teenagers scrounging in pockets "for enough 1000 lire notes to pay for a key ring" and "millionaires, aristocrats...socialites and superstars." The latter category included customers such as Jodie Foster, Jacqueline Kennedy Onassis, and Elizabeth Taylor.
He was mercurial. He would be in a meeting, slip into the bathroom, and come back a completely different person. He was straight as far as I know, but would spend hours in the afternoons locked in his office with his decorator and often disappeared for weeks at a time on his boat with the man.
He nobly wanted Gucci to once again be the Italian Hermès of his childhood. Sadly, he was a terrible businessman, and he squeezed the company dry. He often tied up the entire design team for weeks making new uniforms for the crew of his yacht, Creole, rather than leaving us alone to design the collection.
Driver plays Maurizio Gucci with minimal camp. As the on-screen Maurizio, Adam Driver, the leading man of the moment, gives a subtle and nuanced performance. He is the calm in the eye of the storm that swirls around him as his fellow actors all battle to see who can chew up the most scenery.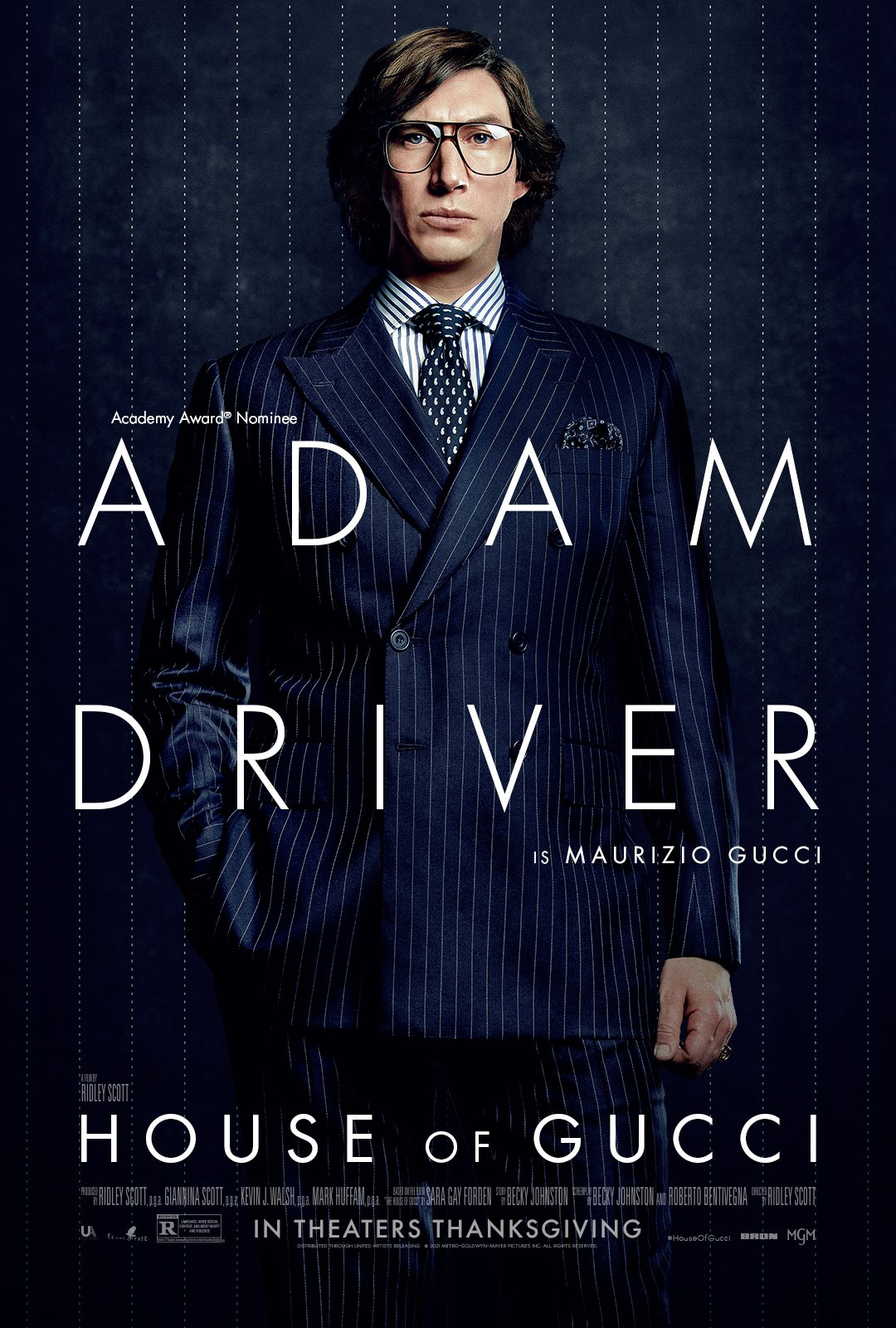 At times, when Al Pacino, as Aldo Gucci, and Jared Leto, as Aldo's son Paolo Gucci, were on-screen, I was not completely sure that I wasn't watching a Saturday Night Live version of the tale. Pacino delivers a commanding but very, very large portrayal of Aldo, who by all accounts was an elegant and savvy businessman who transformed a Florentine family business into a global brand, but who had a slight aversion to paying his taxes.Jared Leto, as Paolo Gucci, is almost unrecognizable due to latex prosthetics.
Leto's brilliance as an actor is literally buried under latex prosthetics. Both performers are given license to be absolute hams—and not of the prosciutto variety. They must have had fun. Paolo, whom I met on several occasions, was indeed eccentric and did some wacky things, but his overall demeanor was certainly not like the crazed and seemingly mentally challenged character of Leto's performance. However, Leto as Paolo does have some of the best lines in the film and manages to actually piss on the famed Gucci Flora scarf created for Princess Grace. I was jealous of that.
It was something that I always wanted to do myself, as I was constantly being asked to try to revive that damned scarf.    He often tied up the entire design team for weeks making new uniforms for the crew of his yacht, Creole, rather than leaving us alone to design the collection.
Jeremy Irons, as Rodolfo Gucci, Maurizio's father, is terrific and gives a far more restrained and layered performance than his on-screen relatives. Salma Hayek is great, as always, but she's under-utilized in her role as the television psychic Pina Auriemma, who is key in the saga. The casting of Hayek is particularly inspired given that her husband is the current owner of Gucci, a fact which will be lost on the mainstream audience.Salma Hayek, whose husband's firm owns Gucci, stars as Pina Auriemma.
But the true star of the film for me is Gaga. It is her film, and she steals the show. In her often over-the-top portrayal of Patrizia Gucci, her accent migrates occasionally from Milan to Moscow.
But who cares? Her performance is spot-on. Her face is the thing that one can't take one's eyes off of. When she is on-screen, she owns the frame—not an easy task with so many seasoned and talented cast members vying for our attention. Too many, in fact.Because of the size and star power of the cast, the screenplay is at the mercy of servicing them. One feels that some roles were expanded to simply attract and then to placate the stars.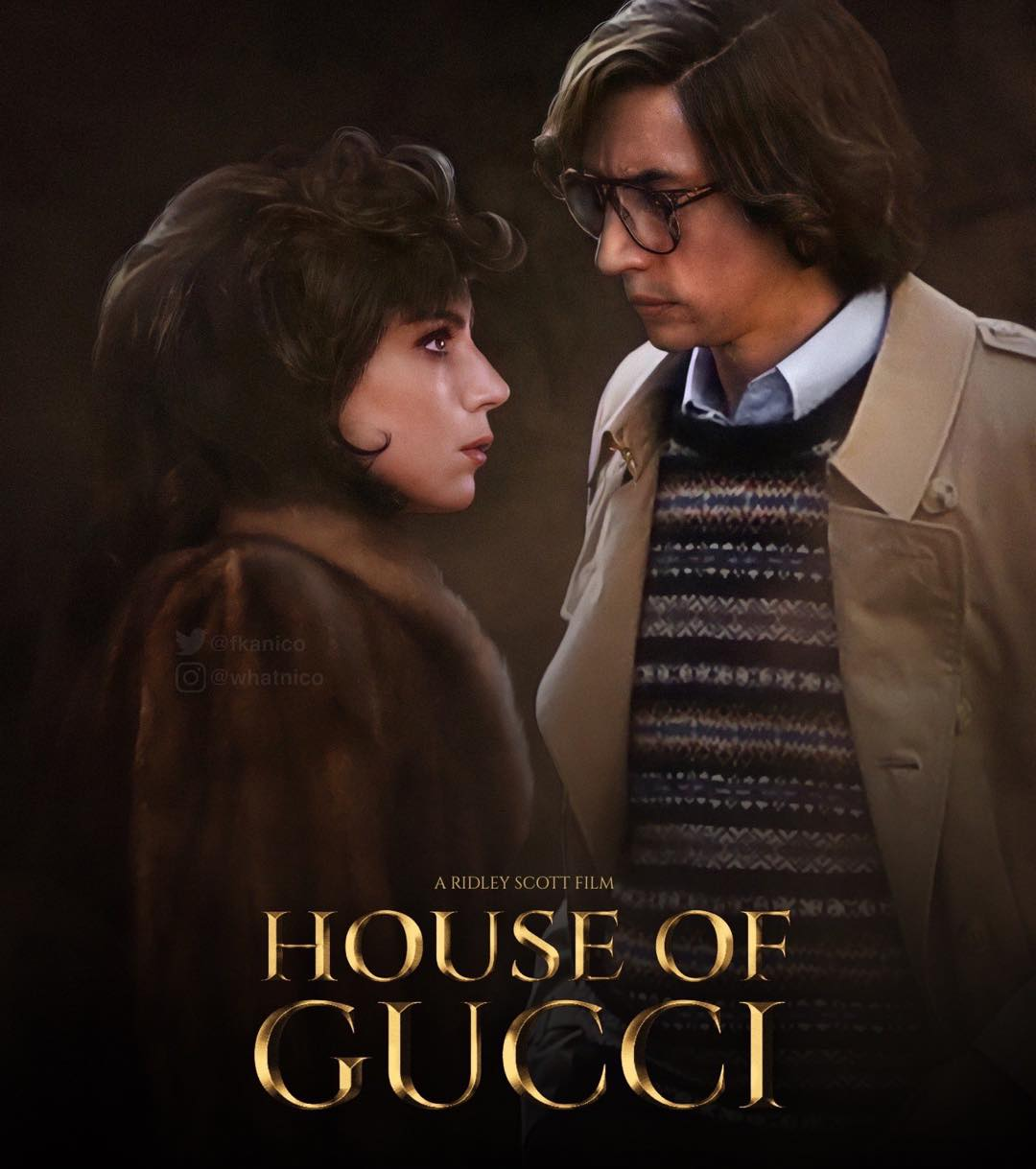 As the running time ticks by, viewers are subject to pointless and sometimes confusing scenes that seem to exist solely for the purpose of allowing the leading actors to "act."Aldo Gucci, as portrayed by Al Pacino, was a transformative executive but had a slight aversion to paying his taxes.Under different circumstances, there is no doubt that some of those scenes would have ended up on the cutting-room floor. But because they stayed in, there is no time for the character development of the key players and thus we have little attachment to—or empathy for—any of them.
The result, sadly, is a story in which we identify with no one.    The casting of Hayek is particularly inspired given that her husband is the current owner of Gucci, a fact which will be lost on the mainstream audience.Maurizio had been bought out of the company by the time I assumed the position of creative director of Gucci and had my first hit collection. He certainly never toasted me after that show as he does in the film. Movies have a way of becoming truth in people's minds, an alternate reality that in time obliterates the reality of what was."Her accent migrates occasionally from Milan to Moscow," writes Ford of Gaga's performance.
"But who cares?"I was deeply sad for several days after watching House of Gucci, a reaction that I think only those of us who knew the players and the play will feel. It was hard for me to see the humor and camp in something that was so bloody. In real life, none of it was camp. It was at times absurd, but ultimately it was tragic. But with Gaga's and Driver's strong performances, powerful over-the-top portrayals by the entire cast, impeccable costumes, stunning sets, and beautiful cinematography, the film, I suspect, will be a hit. Splash the Gucci name across things and they usually sell."Tom Ford is a fashion designer and filmmaker. He began working at Gucci in 1990, and was the creative director of the house from 1994 to 2004
You Can Rent the 'House of Gucci' Villa on Lake Como — for One Night OnlyLake Como certainly has no shortage of exceptional properties. From royal mansions that once hosted the likes of Napoleon to modern homes that offer all the luxuries a celebrity-loved spot (hello, George Clooney) calls for, the stunning Lake Como serves as background to some of the most jaw-dropping villas in Italy. And that certainly includes the 16th-century Villa Balbiano that served as the home of Al Pacino's character, Aldo Gucci, in the blockbuster "House of Gucci." In the movie, starring Adam Driver as Maurizio Gucci and Lady Gaga as his sinister ex-wife, Patrizia Reggiani, the palazzo is seen multiple times, including during Aldo Gucci's lavish birthday party.
HOUSE OF GUCCI : THE VILLA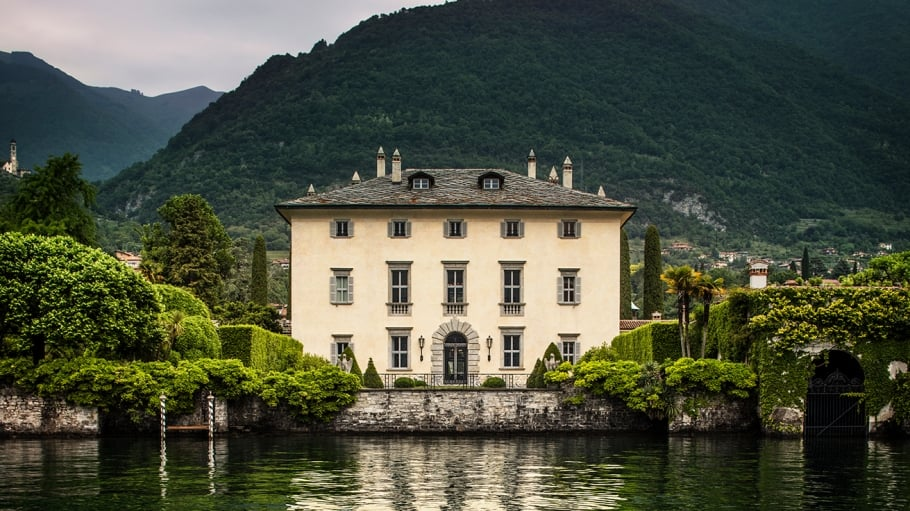 Now, you and a guest can stay in the property for one night only thanks to Airbnb.
And you can rest assured that the villa is just as opulent in real life as it is in the movie. Located on the Western shore of Lake Como in Ossuccio, Italy, the historical palazzo is one of the largest private residences in the area spanning 12,916 square feet. It has seven marble bathrooms and six suites, designed by interiors extraordinaire Jacques Garcia, who is also behind the curation of The Peninsula Paris and The NoMad Hotel in New York City.
The villa is like a museum, filled with objets d'art and antique furniture. Its walls are decorated with 17th-century frescoes painted by the Recchi brothers and Agostino Silva. A formal dining room, a library, four salons, a studio, and an indoor pool all add to the property's opulence. The magnificent property stands on a three-acre lot that includes another swimming pool, a private pier, a boathouse, and award-winning gardens.
THE HOUSE OF GUCCI IN FIGURES
Aldo Gucci Net Worth | Wealth of celebrities
Aldo Gucci Net Worth: Aldo Gucci was an Italian-American businessman who had a Fortune of $ 50 Million at the time of his death in 1990. It's the same as $ 100 Million today. hui after adjustment for inflation. He was best known for being the chairman of Gucci and the son of the founder of the Guccio Gucci company.
Aldo Gucci was born in Florence, Tuscany, Italy in May 1905 and died in January 1990. He was the eldest son of Guccio Gucci. Guccio founded Gucci in 1921. Aldo Gucci started working at Gucci full time at the age of 20. He opened the first store outside Rome in 1938 and took over the business after his father's death in 1953. Technically, at that time, Aldo and his two brothers inherited three equal parts of the business. 'business. After the death of Aldo's brother Vasco in 1974, Aldo and Rodolfo parted ways. At the same time, Aldo created a new company to manage Gucci perfume and gave himself 80% ownership. This parallel society would later launch a family war.
Her bamboo handbag was featured in the 1954 film Viaggio in Italia on Ingrid Bergman's arm. Aldo opened a Gucci store in New York in 1953, planting the Made in Italy flag for the first time in America. He was considered the first fashionable Italian ambassador by President John F. Kennedy. Aldo Gucci has opened stores in Chicago, Palm Beach, Beverly Hills, Tokyo, and Hong Kong, among others. Aldo Gucci died on January 19, 1990 at the age of 84. During his life he maintained homes in New York City, Palm Beach, Beverly Hills, London, Paris and Rome.
On his death, Aldo's will left half of his estate to his wife Bruna and the other half to their daughter Patricia. The will was contested by Gucci's ex-wife Olwen, mother of three of his children. A major wrinkle developed because there was no legal marriage record for Bruna and Aldo. Olwen accused the will of having been "obtained by fraud" and not valid because they were not legally married.
Tax issues and inheritance : In the early 1980s, Aldo found himself in big trouble with American tax collectors. He would have evaded $ 7 million in US taxes. He was 81 at the time. The IRS got wind of the tax evasion charges thanks to Aldo's nephew who was still furious over the debacle of perfumes and other family cows. He was sentenced to one year in prison. Aldo served his sentence in a federal prison camp at Eglin Air Force Base in Florida.
In his defense, Aldo hired a young Italian-American lawyer named Domenico De Sole. Aldo was so impressed with Domenico's work that he hired him to run Gucci America, Inc. Domenico discovered a young American designer named Tom Ford who would go on to become one of the most important figures in the fashion world. . Domenico also clashed with Aldo's nephew Maurizio Gucci, who ran the parent company in Italy. Maurizio had taken over the family umbrella company in Italy when Aldo entered prison and after the death of his father Rodolfo.
In the late 1980s, a Bahranian investment firm called Investcorp acquired 50% of Gucci. In 1994, Investcorp acquired the remaining 50%. In total, Investcorp paid $ 400 million for its 100% stake. At this point, Investcorp kicked Maurizio out and hired Domenico to run the entire business. Domenico's first initiative was to make Tom Ford the company's chief designer. In 1993, the company lost $ 22 million. In 1995, the company generated $ 83 million in profit out of $ 500 million in revenue. Today, Gucci generates more than $ 10 billion in annual revenue.
In 1995, Investcorp divested itself of Gucci through an IPO and private sale. In total, they ended up making $ 2 billion on that $ 400 million investment.