By YEET MAGAZINE | Updated 0439 GMT (1239 HKT) October 16, 2021
Nintendo has just denied the existence of a 4K development kit that would have been provided to 11 video game creation companies.
It's rare for a manufacturer to confirm or deny a rumor, but it just happened with Nintendo. It all started with an article from our colleagues at Bloomberg , which indicates that the teams of 11 video game publishers are in possession of a 4K development kit for a future Switch.

Bloomberg specifies that publishers range from large studios to small companies, and gives only one name: Zynga Inc, a publisher that mainly develops applications for browsers in the form of social games.
The development kit would include more memory, additional ports for connection to a computer, and especially a TV output in 4K, against 1080p for the original Switch.
Nintendo responded on Twitter by categorically denying this claim and stating that the article is not true.
The manufacturer also specifies that, as announced in July when publishing its latest financial results, it has no other plans for a new model apart from the OLED version of its handheld console, which will be available on October 8. Nintendo has indeed every interest in denying it for the moment, in order not to overshadow its OLED console.
The Switch console was launched in March 2017 and is starting to date a bit, although it should not be compared with consoles from Microsoft and Sony, which have 4K. So it wouldn't be surprising if Nintendo is planning a major change in 2022/2023, although at the moment there is no confirmation.
Also to discover in video:
Bloomberg's information was also refuted by Zynga spokeswoman Sarah Ross, who indicated that the publisher does not have a Nintendo 4K development kit.
According to Bloomberg , Nintendo would have planned an OLED version of its portable console with a more powerful Nvidia graphics circuit, in order to allow a 4K display on a television. The manufacturer has reportedly backtracked because of the shortage of components caused by the coronavirus crisis.
In the meantime, Nintendo president Shuntaro Furukawa has admitted that the manufacturer hasn't been able to make as many Switchs as they initially expected.
Nintendo Switch OLED: release date, price, news, technical sheet, all info
Nintendo Switch OLED: release date, price, news, technical sheet, all info
The OLED Switch is coming to stores very soon. New screen, revised design, new features, the console will bring its share of innovation, while remaining in the right lineage of its big sister. In this file, we summarize everything there is to know.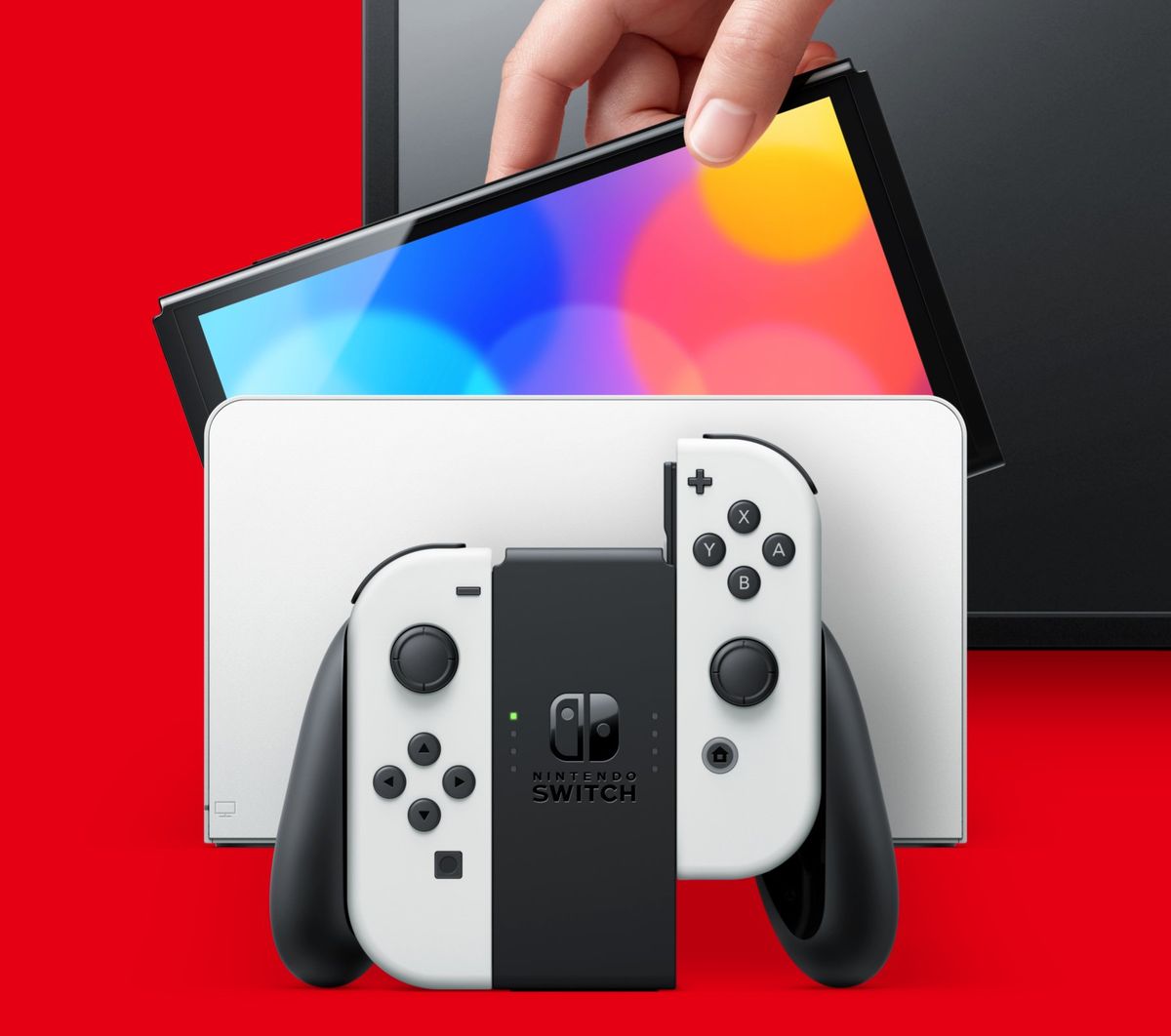 Nintendo Switch OLED
The Nintendo Switch (OLED model) has dimensions close to those of the Nintendo Switch Elle ...
Long evoked by the nickname Switch Pro, the Switch OLED is now a reality. It has long been the subject of the craziest rumors, but Nintendo hissed the end of recess in July 2021 by announcing this new model. In this file (which is set to evolve), we will take stock of everything there is to know about the machine.
📅 WHEN IS THE OLED SWITCH RELEASED?
The OLED Switch will be released on October 8, 2021 . Metroid Dread, the new episode of the franchise dear to the player, will accompany the release of the machine. It will also be compatible with the classic Switch, like all other future games, by the way.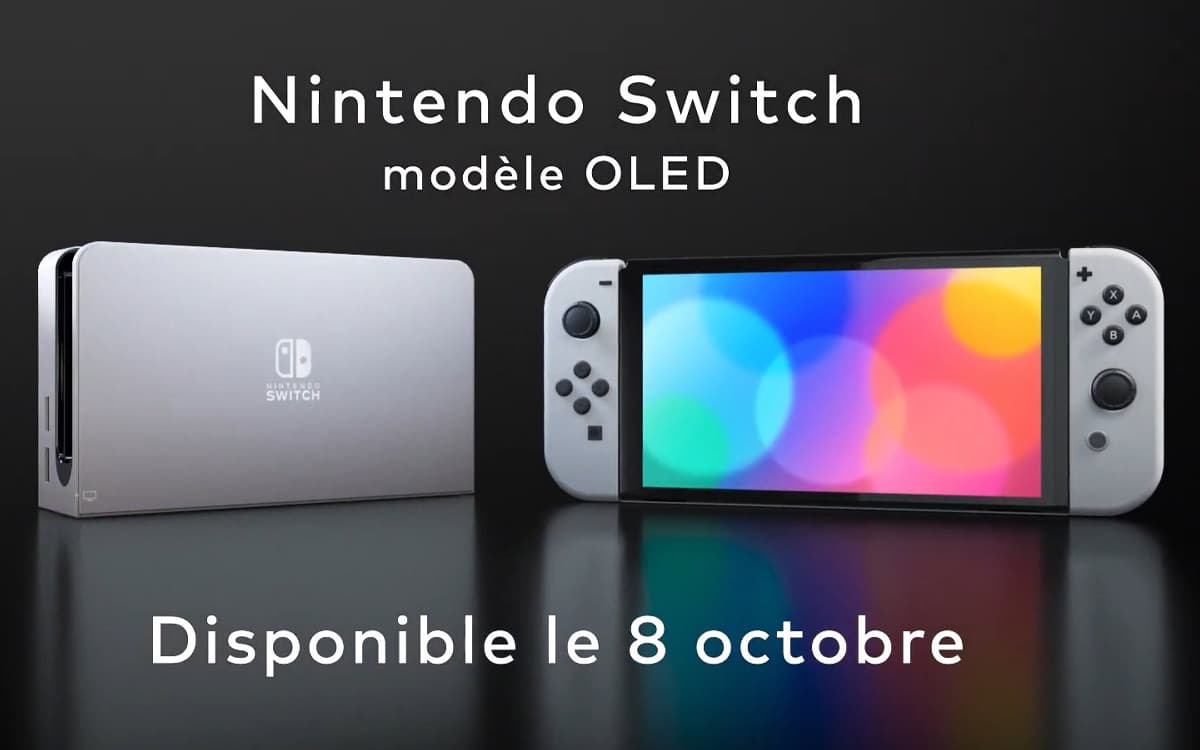 💰 WHAT IS THE PRICE OF THE OLED SWITCH?
The Switch is already displayed at different prices depending on the merchant sites. Micromania sells it for 349 euros while Fnac raises the price to 359 euros. In the United States, it is marketed at 349 dollars, which is consistent. Recall that at its launch, the Switch was sold for 329 euros and that it is currently sold for less than 300 euros.
We therefore note an increase of 50 euros compared to the current price of the classic Switch. Only and according to our colleagues at Bloomberg, this increase does not really reflect the manufacturing costs of the OLED Switch. According to industrial sources close to Nintendo, the manufacture of this new Switch would cost the manufacturer only 10 dollars more .
So, the OLED display would cost an additional $ 3 to $ 5 per unit on assembly lines, while the move to 64 GB of internal memory costs $ 3.5 per console. The remainder of the sum being distributed be the new speakers and the addition of the Ethernet port. Nintendo would therefore allow itself a comfortable margin, and difficult to blame it as we see the success of the Switch, the only console on the market sold at a profit.
🎁 WHAT ARE THE NEW FEATURES OF THE OLED SWITCH?
In short, here is the list of new features of the OLED Switch:
a 7-inch OLED screen
an Ethernet port integrated into the dock
a dock with a revised and corrected design that can now be purchased separately
a wider foot at the back and adjustable in 2 positions
a storage 64GB (instead of 32 of the vector Switch)
a better audio quality
The Switch may be an excellent console, but it was already technically outdated when it was released. It is all the more so today. Difficult in 2021 to be satisfied with a mediocre LCD screen. This is why drastic improvements would be planned by Nintendo.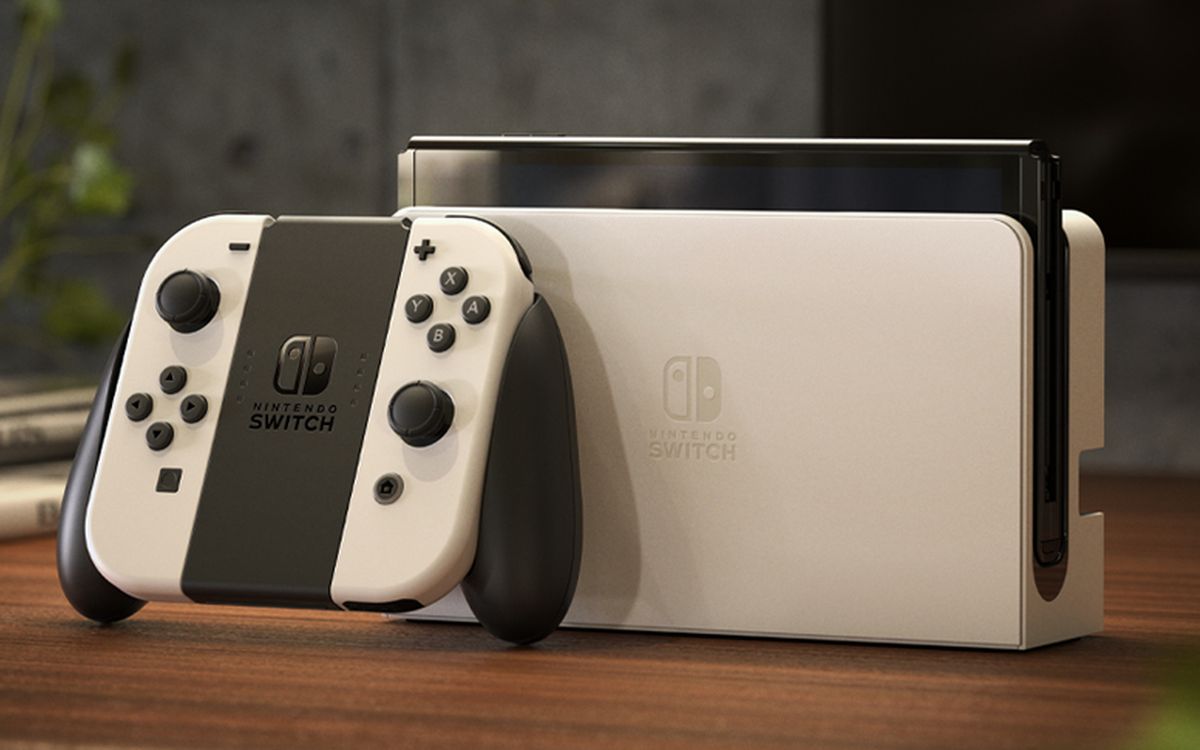 As its name suggests, the OLED Switch therefore embeds a brand new OLED panel that will bring clear advantages, such as higher contrast, more natural and vibrant colors, and better energy consumption. However, even with this notable improvement, the console struggles to convince some players , who do not fail to recall that the PS Vita already offered an OLED screen when it was released in 2011 .
Note also that the console is slightly larger than its predecessor, since we go from a 6.2 inch screen to a 7 inch screen . We then notice some changes on the design side, such as the presence of a large adjustable stand , which will " adapt to your preferred viewing angle to allow you to play comfortably in portable mode on a table".
Another notable improvement and long requested by users, the OLED Switch will have an Ethernet port . Players who like online multiplayer with a Wi-Fi connection that leaves something to be desired will therefore be able to connect wired and enjoy better speed. Essential when it comes to beating up strangers on Super Smash Bros Ultimate.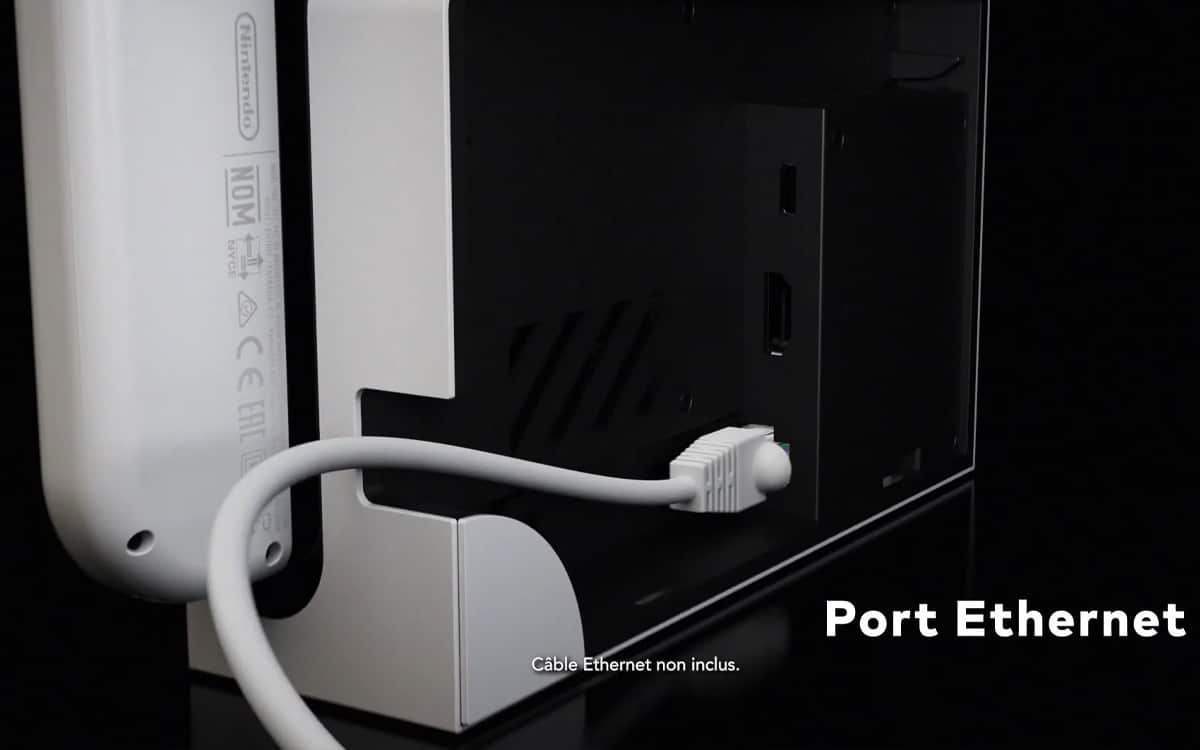 In addition, Nintendo has chosen to double the internal storage capacity of the Switch . Thus, the OLED Switch will benefit from 64 GB of internal memory. As on previous versions, it will be possible to expand everything via a compatible microSD card . Finally, note the new on the audio side, since the OLED Switch embeds improved integrated speakers , for better sound quality in portable mode and in table mode.
Much to the chagrin of many gamers, rumors of a new processor that could display 4K have been proven to be false. The OLED Switch is not more powerful than the standard model , being both equipped with the same SoC. In other words, this new iteration is definitely not a next-gen console .
Finally, something that Nintendo has not communicated: the dock is 4K compatible. Indeed, Nintendo would use on this new generation an HDMI 2.0 port and cable, against an HDMI 1.4 port on the classic Switch. This new connection theoretically allows the dock to broadcast content in 4K HDR up to 60 FPS, but the Switch will unfortunately not be powerful enough to take advantage of it. Since it uses the same Tegra X1 chip as the previous generation, which is not capable of upscaling content to 4K let alone using Nividia's DLSS, all hopes for an update to make it possible to playing in 4K seems to be reduced to nothing. We therefore imagine that the dock could be reused on a future generation of more powerful console, the famous Switch Pro or Super Switch.
🆕 WHAT ARE THE DIFFERENCES BETWEEN THE OLED SWITCH, THE CLASSIC SWITCH AND THE SWITCH LITE?
Below you will find a comparative table listing all the technical characteristics of the three Nintendo Switch models available on the market, namely the classic Nintendo Switch, the Switch Lite, and the last one of course, the Switch OLED.

Nintendo Switch
Nintendo Switch Lite
Nintendo Switch OLED
Screen
Multipoint touchscreen with capacitive sensor / 15.74 cm (6.2 in) LCD screen / 1280 x 720 resolution
Multipoint touchscreen with capacitive sensor / 5.5 '' LCD screen / 1280 x 720 resolution
Multipoint touchscreen with capacitive sensor / 7 '' OLED screen / Resolution 1280 x 720
Video output
Up to 1080p via HDMI in TV mode

Up to 720p via integrated display in tabletop and portable mode
Up to 720p, portable mode only
Up to 1080p via HDMI in TV mode

Up to 720p via integrated display in tabletop and portable mode
HDR
No
No
No
Touch
Yes
Yes
Yes
Maximum definition
Full HD
Full HD
Full HD
Audio output
Compatible with 5.1ch linear PCM

output Output through HDMI connector in TV mode
Via built-in speakers or headphones / headphones via 3.5mm jack
Compatible with 5.1ch linear PCM

output Output through HDMI connector in TV mode
Internal memory
32 GB
32 GB
64 GB
Expandable memory
Yes
Yes
Yes
Extension type
MicroSD card compatible up to 2 TB
MicroSD card compatible up to 2 TB
MicroSD card compatible up to 2 TB
Amount of RAM
4GB
4GB
4GB
Graphic architecture
Nvidia tegra
Nvidia tegra
Nvidia tegra
Drums
4310 mAh
3570 mAh
4310 mAh
Autonomy
Approximately 4.5 to 9 hours
Between 3 and 7 hours depending on use
Between 4.5 and 9 hours depending on use
Recharge time
Approximately 3 hours
Approximately 3 hours
Approximately 3 hours
Loudspeakers
Stereo
Stereo
Stereo
USB port
USB Type-C port
USB Type-C port
USB Type-C port
Audio socket
3.5mm 4-pole stereo (CTIA standard)
3.5mm 4-pole stereo (CTIA standard)
3.5mm 4-pole stereo (CTIA standard)
Weight
297 grams
275 grams
320 grams
Dimensions
102mm x 239mm x 13.9mm
91.1mm x 208mm x 13.9mm
101.6mm x 241.3mm x 13.97mm
An American Youtuber by the name of Nintendo Prime has also published an unboxing video where we see the new machine alongside the first. This allows you to realize the difference in size between the two.
🎮 ARE ALL THE GAMES ON THE OLD SWITCH COMPATIBLE WITH THE OLED SWITCH?
Yes, all classic Switch games are 100% compatible with the OLED Switch . If you already have a software library on Switch or Switch Lite, keep it safe: you can find all your favorite titles on Nintendo's new console.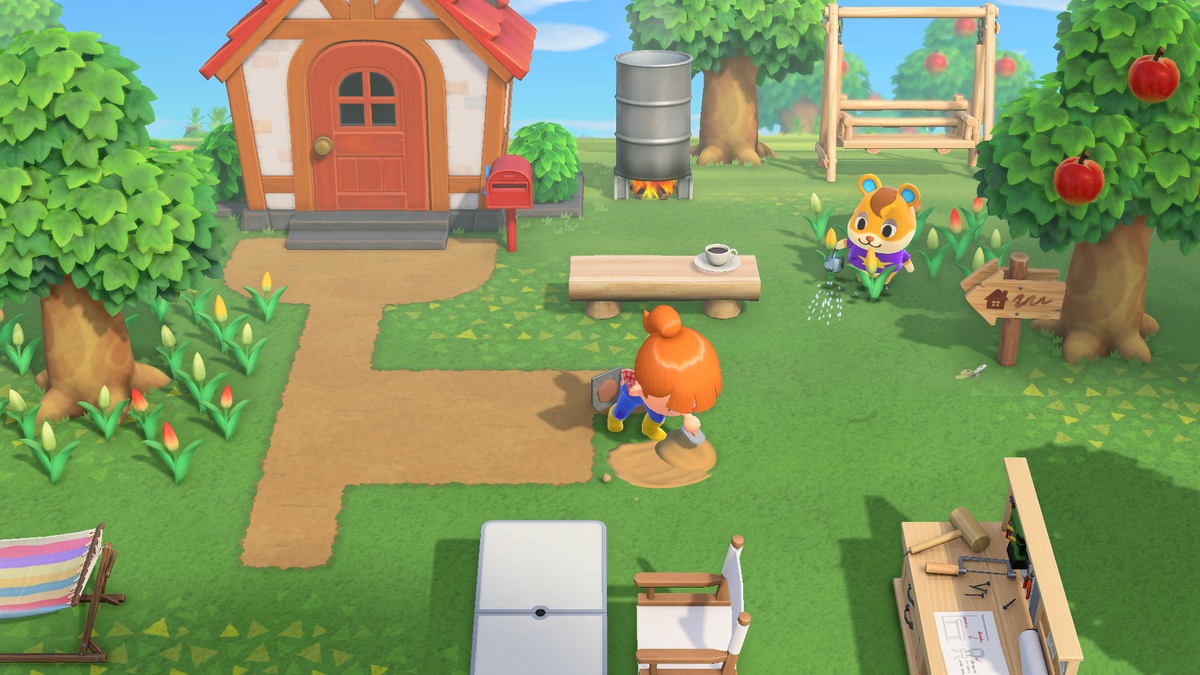 Especially since the Switch catalog is rather well stocked. Less than a year after its launch, in 2018 therefore, the console already had nearly a thousand titles. At present, the console has almost 4000 games . And there is heavy, like the inevitable Zelda Breath of the Wild, Super Mario Odyssey, Super Smash Bros, Mario Kart 8 Deluxe, Hades, Pokémon Sword and Shield, The House in Fata Morgana… The list is long, very long .
⏱ HAVE THERE BEEN ANY PRECEDENTS?
Releasing an upgraded version of the Switch isn't an overly daring move. The history of the media is punctuated with examples of this type. We can cite the recent PS4 Pro and Xbox One X, which coexist with similar models, but inferior, or even the Xbox Series X and S. Nintendo is also used to the thing.
For example, the first PlayStation of the name, released in 1995 in Europe, was originally intended to be an improved version of the Super Nintendo and allow it to play CDs in addition to cartridges. The project fell through and Sony continued the development in its corner, with the result that we know. In 1999, Nintendo released the Nintendo 64DD in Japan , an extension for the console of the same name. This allowed him to have more memory, and therefore more beautiful games, as well as an Internet connection. However, the project was not unanimous and Nintendo stopped sales after two years.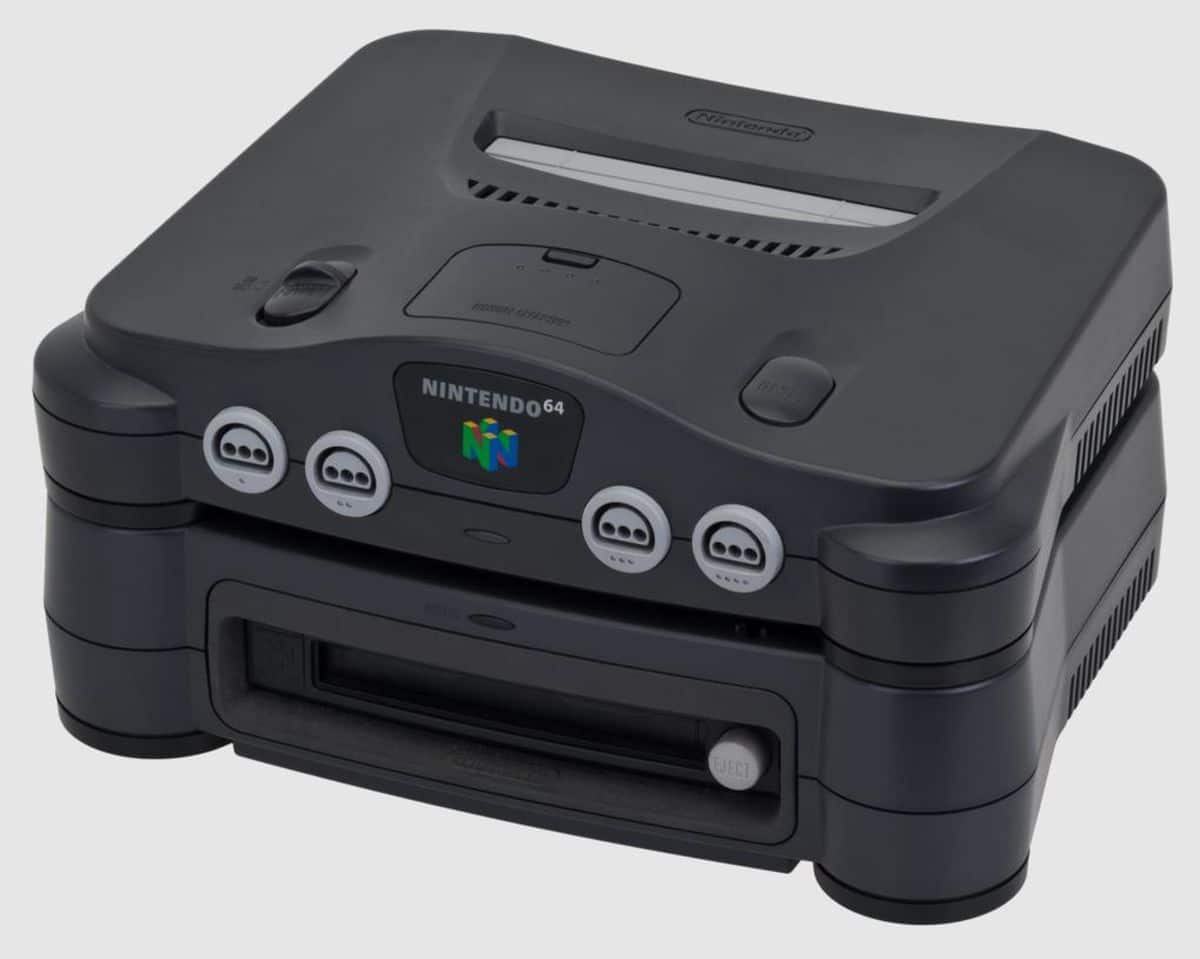 The Game Boy Advance is the manufacturer's first console to experience a successful "refresh". In 2003, the Game Boy Advance SP gave a facelift to the classic Game Boy Advance released in 2001, giving it a new shape and above all a backlit screen.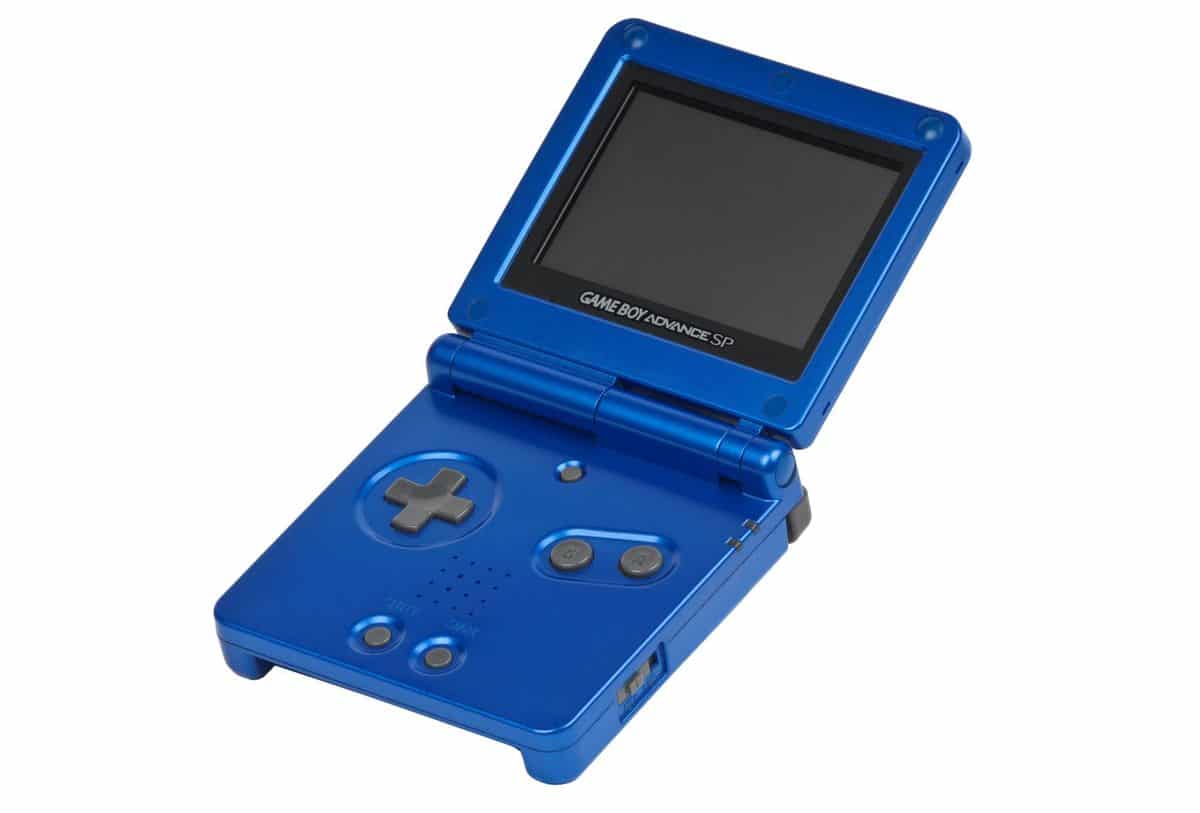 The Nintendo DS, released in 2005 in Europe, has had three other versions (DS Lite, DSi and DSi XL). Nintendo 3DS, released in 2011, has multiplied its versions in order to appeal to the widest possible audience. There have been six Nintendo 3DS in total, counting the 2DS models (which run the same games). Finally, the Switch suffered the same fate with the Switch Lite, designed only for gaming in portable mode. The arrival of the OLED Switch is therefore not something exceptional. It even goes in the logic of the constructor.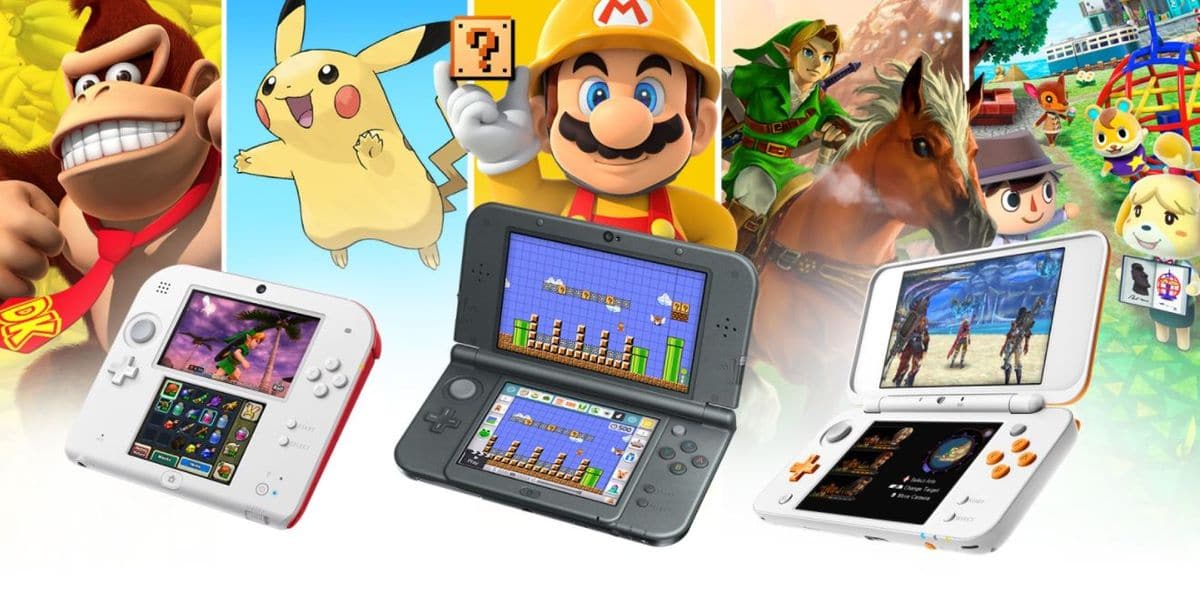 🤔 DOES NINTENDO HAVE AN INTEREST IN LAUNCHING THE OLED SWITCH?
In 2021, the arrival of the OLED Switch makes sense, for several reasons. 2020 has been a good year for Nintendo , which has never sold so many consoles in its history. In France, it has almost reached 5 million units since its release , experiencing double-digit growth according to the director of Nintendo France. Worldwide, more than 80 million copies have been sold, well helped in 2020 by flagship titles such as Animal Crossing New Horizons, huge box. By comparison, the Wii, the brand's greatest success, had sold 101 million copies in total.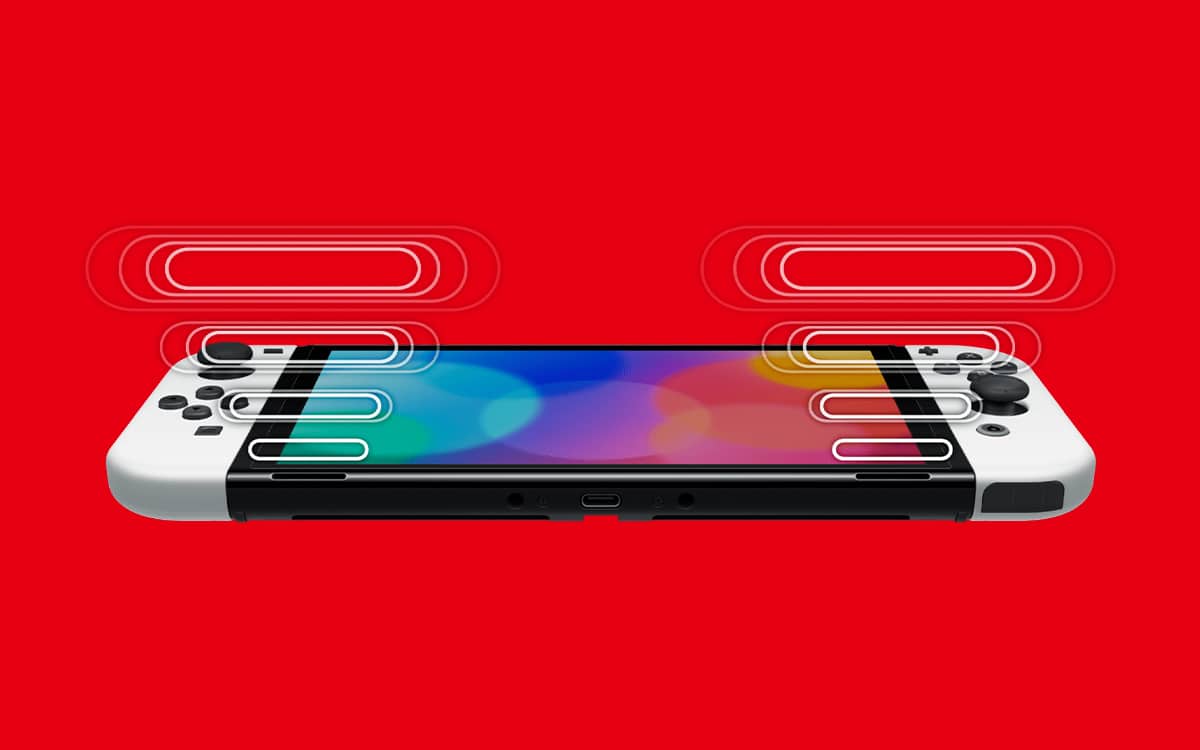 Releasing an OLED Switch allows Nintendo to diversify its offer and attract players looking for a better visual experience. This version should also benefit from the excellent momentum currently experienced by the product. In addition, this OLED Switch can bring real added value to players . We will obviously keep this file up to date based on various leaks or potential announcements from Nintendo. And you, are you tempted by this OLED Switch? Tell us in the comments !
🎥 OUR RECAP OF THE NOVELTIES OF THE OLED SWITCH IN VIDEO
Read also - Nintendo Switch Lite test: a reduced model that does not have to be ashamed of its big sister
Source : Bloomberg