Home Entertainment Celebrities Style
By Joan Carmichael  YEET MAGAZINE | Updated 0439 GMT (1239 HKT) February 06, 2022

While the romance between Kanye West and Julia Fox has just been born, many believe that the couple is going through a difficult period.
In the midst of a divorce from Kim Kardashian , rapper Kanye West has just found love with actress Julia Fox. While this one had formalized their couple during an interview with "Interview Magazine" last January , it would seem that the duo is no longer so close.
Some think that this relationship aims to make Kim Kardashian jealous , others that Julia Fox  is with Kanye West for the money or that the two stars are in a free relationship . What is it really ? According to a source close to the couple who confided in "People", the two celebrities are still together, but the enthusiasm of the first days has faded. "Kanye and Julia both have busy lives.
Julia lives in New York and Kanye has been to Los Angeles. The distance makes things difficult. They are still in contact and will see each other when they can. Kanye loves him very much. It's fair to say they've calmed down a bit, though," she says. Indeed, rumors of a breakup have multiplied in recent days after the actress deleted several photos of her and her boyfriend from her Instagram account. She therefore wanted to restore the truth during her visit to the "Call Her Daddy" podcast.
Read also: Legendary couple: Kim Kardashian and Kanye West, glory and fall of an inaccessible couple
"HE IS WITH ME NOW"
The actress was keen to speak out about the dating rumors, insisting on the serious nature of her relationship with the singer: "I call him my boyfriend and he calls me his girlfriend," he says. -she. Concerning Kim Kardashian, whom Kanye West has several times tried to win back in song in particular, Julia Fox declared: "I am sure that there are residual feelings [towards Kim Kardashian], and it is normal, it is human. "Before concluding:" I also know that he is with me now. And that's all that matters."
Julia Fox in a relationship with Kanye West for the money?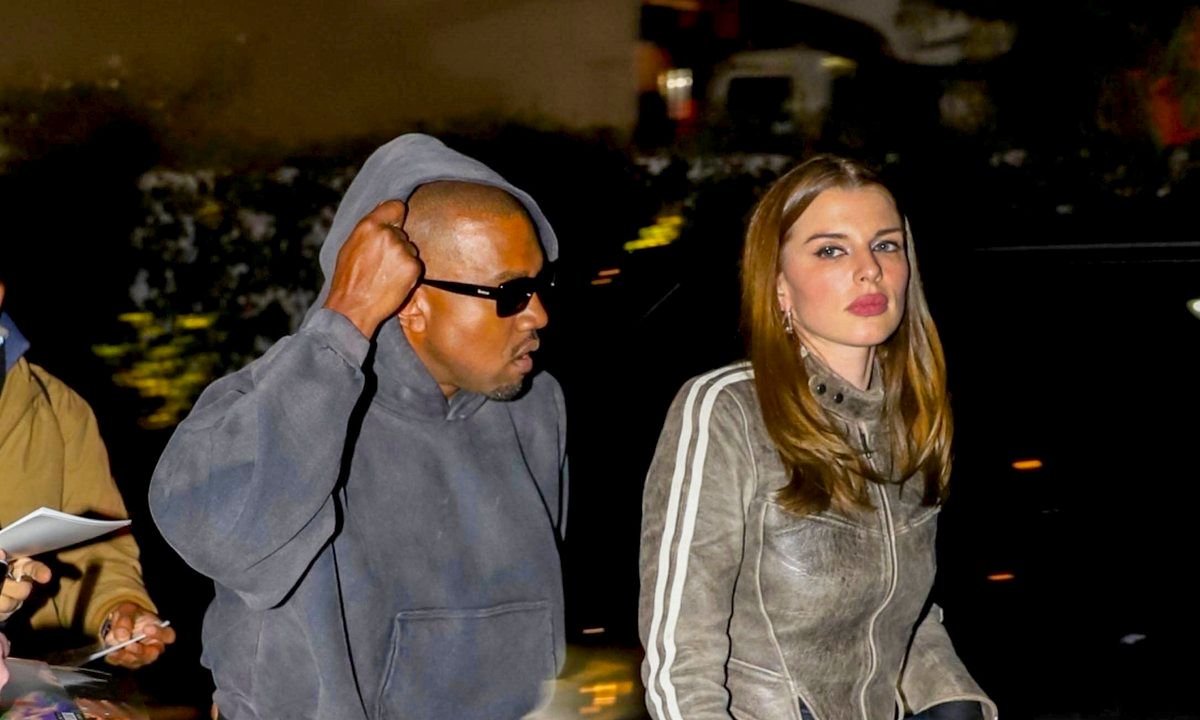 Since January 1, Kanye West has found love in the arms of Julia Fox, but is their story really sincere?
While his divorce is still ongoing with Kim Kardashian ,  Kanye West has found love again with actress Julia Fox. If many believe that this relationship is intended to make Kim Kardashian jealous in order to win her back , a source close to the singer claimed that Julia Fox was "his new muse" . Their relationship was confirmed by the actress  in an interview for "Interview Magazine" earlier this month.
She then explained that their meeting was love at first sight on New Year's Eve. They then met again for a one-on-one dinner in New York. "Ye did a whole photo shoot for me while people were having dinner! The whole restaurant loved it and cheered us on as it happened," Julia Fox said. But then, is this budding romance really sincere on the side of the young woman?
"I'VE DATED BILLIONAIRES ALL MY LIFE"
Many rumors claim that Julia Fox would be in a relationship with Kanye West in order to take advantage of his notoriety and his money. The actress wanted to respond to these accusations in an episode of the "Forbidden Fruits" podcast, released this Friday, January 21 and relayed by "People": "It's funny because I get all this attention, but I don't care. really don't care.
She continues, "People say things like, 'Oh, you're only in it for the fame, you're in it for the status, you're in it for the money.' Honey, I've dated billionaires all my adult life, let's be real. According to her, all that matters to her is artistic creation, her job as an actress, the fact of "bringing something to the world". She concludes with a laugh: "Watch my film, read my book. VS' is more exciting to me now, than having eyes on me. I do not care. »
Why Kanye West attacks Billie Eilish and asks her.
"I decided that I was going to make myself happy": Kim Kardashian.
Kanye West and Julia Fox inseparable: she has already chosen their Kanye West and Julia Fox form the couple Juliye!
The actress gave their couple a new nickname.
Kanye West and Julia Fox appear as a couple at Fashion Week
Kanye West and Julia Fox, first official release in Paris
They are everywhere: why the couple Kanye West and Julia Fox
Kanye West: his girlfriend Julia Fox talks about his relationship .