Life And Death Of Rich Piana, (cursed) King Of Muscle
What really happened to Rich Piana? What was rich Piana worth when he died? Who owns 5% nutrition now? How old was rich Piana when he died? Rich Piana wife Rich piana young Rich Piana net worth Rich Piana age Rich Piana eyes Rich Piana death video Rich Piana autopsy Rich Piana death age
What really happened to Rich Piana?
What was rich Piana worth when he died?
Who owns 5% nutrition now?
How old was rich Piana when he died?
Rich Piana wife
Rich piana young
Rich Piana net worth
Rich Piana age
Rich Piana eyes
Rich Piana death video
Rich Piana autopsy
Rich Piana death age
Disturbing revelations about the death of the bodybuilder.
We know more about the circumstances of the death of Rich Piana . The famous bodybuilder had collapsed at home in front of his fiancée.
BODY BUILDING
By   Sophia Ava YEET MAGAZINE | Updated 0439 GMT (1239 HKT) February 02, 2022
Social media influencer, bodybuilder Rich Piana, 46,who  died suddenly in August 2017, possibly of steroids abuse. The muscle world says it is "devastated" but shows nothing of it, too addicted to question itself
It was around 1 p.m. on August 7 when bodybuilder Rich Piana, 46, collapsed in the bathroom of his residence in Clearwater, Florida. "We were coming back from a photo shoot, testifies his companion, Chanel Renee Jansen, in a video posted on August 30 on YouTube and viewed since by more than 2.3 million people. He looked at his Instagram account and asked me to cut his hair.
More:  Should you be wary of steroids?
Rich Piana had prepared a dose of white powder. And no, Chanel vehemently refutes, it wasn't cocaine. "If we took coke, don't you think we'd be much leaner?" It was just his pre-workout product, which he snorted "to make it work faster." Police also found 20 vials of steroids in the house. "It was his personal consumption, defends the ex-model, placed on a throne of white leather. You all know he's been on steroids for twenty years!"
When Rich leaned against the wall, she thought he was presenting his neck to her for the haircut. When he sagged on her, she couldn't hold him back; he still weighed 121 kg. His head hit the ground. His eyes were open, but he seemed to miss the air. "We knew he had this thing… What's it called again?" In her black tank top, Chanel strikes a yoga pose, inhales deeply. "Sleep apnea!" Usually she would flip it on its side and "it worked". Not this time. She panics. "Baby, how are you?"
More : BODYBUILDER RICH PIANA MAY HAVE DIED AFTER INJECTING INSULIN
Rich Piana, the (cursed) king of muscle, 1.2 million friends on Facebook and Instagram, was pronounced dead on August 25, 2017, after being kept in an artificial coma for two weeks. Thousands of fans are mourning the legend on social media. With his "positive" message, the bodybuilder has "changed their lives": "No more need for cholesterol-lowering medication," says one. "Thanks to him, I became a researcher in molecular biology," says another.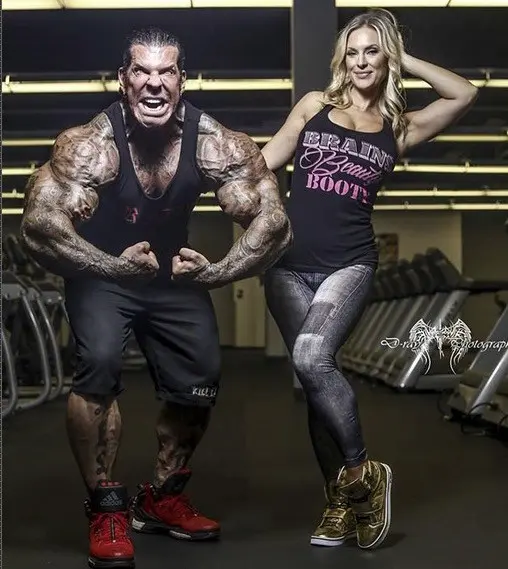 "The best way to honor his memory, proclaims his former mentor Bill Cambra, is to continue to support his line of products." Rich Piana called his brand "5% Nutrition". Five percent, like the proportion of humans who manage to reach their goal, he said. "Whatever it takes." Whatever the price.
Always bigger and heavier
A Saturday morning in September, in Venice Beach, the golden beach of Los Angeles. Around the Gold's Gym, there are already no more places to park. The club defines itself as the "Mecca of body-building": three hangars, 13,000 members, machines arranged not by function (cardio, abs, etc.) but by manufacturer. On the walls are displayed photos of former champions, including Arnold Schwarzenegger, seven times crowned with the supreme title of Mr. Olympia.
This is where the legend began, in the early 1970s. On the sandbox of Muscle Beach, the Apollons flexed their biceps for the photographers. At the time, the dream outlet was Hollywood; failing that, advertising. Today is the market for protein supplements.
More : Rich Piana's heartbroken girlfriend Chanel Jansen describes how bodybuilder's eyes 'rolled back into the back of his head' when he collapsed as she cut his hair
"Like it. Kill it."
The seduction of tanned muscles was followed by the aggressiveness of tattooed people. "Like it. Kill it." "Love. Torn." "Get big!" Bigger is never too much. Current bodybuilders weigh 20 kg more than their elders. In the documentary  Generation Iron 2 , released in May, Rich Piana admits it himself: the situation has gotten "out of control": "Now young people want steroids the day they sign up for the gym."
The Gold's Gym does not display any photo of Piana. The former Mr. California (1998) was however familiar with the place. The middle is the big back, and counts its deaths. Three days before Piana, the rising star of the discipline, Dallas McCarver, 26 years old, 136 kg, died in Florida. According to his partner, wrestler Dana Brooke, he would have "choked while eating".
Struck by the loss of two stars, the muscle world says it is "devastated" but shows nothing of it. The controversies over steroids are hackneyed topics there. "In a way, we are all responsible," says Joe Wheatley, organizer of competitions. The fans, the women, everyone who "goes into raptures over the demigods".
Nine daily meals
Richard Eugene Piana has always been aware of his XXL destiny. His mother was a bodybuilder, she took him to the gym. At 9, he had already noticed that girls were crowding around bodybuilders. The more massive they were, the more the public seemed fascinated. "From there, I was screwed," he said. There was no question of me doing anything else with my life." Psychiatrists speak of the Adonis complex, of dysmorphophobia, a condition which is to men what anorexia is to women: the perception that the body is too small or insufficiently muscular.
Richard Piana started steroids at 18. Its first "cycle" is a revelation. "I saw my body grow before my eyes: 10 kg in two months, he explains in Generation Iron . That was all that mattered." After winning a few awards, he realizes how exploited bodybuilders are. "Getting high for $10 million might have made sense. To destroy my body for a small trophy was stupidity."
He stops the official competition to get into the ring of social networks. Decked out in a 'Game of Thrones' look (he trained one of the show's cast), he posts his eight hours of bodybuilding on YouTube, his nine daily meals, his steroids and his new blue contact lenses . Its first sponsor is the company Mutant, whose slogan is "Leave humanity behind". All humanity is consumed.
Piana is a prisoner of his muscles, he tattoos them lovingly. At the start, it had only one inscription, on the pectorals: "One day, you may". "One day, maybe, you will get there". He adds gothic illuminations to his cathedral of biceps, the barrel of a gun, with his finger on the trigger. The inscriptions "power" and "pride" on the back of the triceps. "Love" and "Self" (me) on the knuckles. His forearms end in crocodile leather, his veins look ready to explode.
Also read:  Bigorexia, men also no longer love their bodies
"A toxic waste dump"
Just to see him, the middle knows that he has given up the competition. In contests, judges like to see the delineation of muscles. Tattoos create shadows and disrupt symmetry. Piana, he makes the summary of his life. On his neck, he had the official symbol engraved meaning "biological hazard". His body is "a toxic waste dump," he warned in 2015.
The man is totally frank, that's the hallmark of his character. On YouTube, he declines the substances, he who has tried them all. "A walking pharmacopoeia", ironically its detractors. He advises against Synthol, the oil that bodybuilders inject but which damages the cells. He "absolutely" rejects steroids for young people, because the natural testosterone that will not be produced by the body will never come back.
At the same time, he does not judge. Doping, for him, is an "individual choice". There is "no cheating" since there are no mandatory controls in competitions. In the middle, he saw more than one whose heart no longer followed but who continued to "get on this fucking stage". It is to say "the power of this fucking thing".
On social networks, fans follow him in his headlong rush. Piana displays his success, shows his house: five bedrooms, five bathrooms, indoor and outdoor kitchens, the projection room where he plays  Jurassic Park, loud music, the basketball court where he plays with his pit bulls, his closets full of Gucci sneakers – he omits no sponsor – and his big Swiss watches: "Even on the wrist, I need a monster."
"I can't stand feeling small and flat"
At "expos," those muscle fairs where fitness industry hucksters roam, you queue for hours for a selfie with Rich — not without buying the "100% protein egg white crystals" at the 5% Nutrition stand. The fans now form a tribe, the "5-percenters". He challenges them. Gain "30 lbs in 30 days", or 13 kg in a month. "More, more, always more," laments his friend Ric Drasin, a former wrestler and training companion of Schwarzenegger.
In his home in Sherman Oaks, the Los Angeles neighborhood where Piana grew up, Drasin owns a studio where he records a popular YouTube show, Ric's Corner . The last time he invited Piana, he found her very out of breath and warned her. Was he listened to? In the spring, Piana suddenly decides to lose weight, a new episode in her Herculean labors. A terrible renunciation. "My knees are screwed up, he confides to his camera. Being a 135 kg body-builder is the worst that can happen to me at 46 years old. But I'll be honest with you guys, I have a fucking problem, I'm addicted. I can't bear to feel small and flat."
At Forest Lawn Cemetery, north of Hollywood, Rich Piana's grave does not yet have a plaque; only an American flag rests in the grass of the Murmuring Trees section. The flowers have withered; neither the family nor those who dispute the inheritance of the 5% bothered to replace them. A shred of yellow T-shirt is stuck in the ground. One distinguishes there the inscription: "Property of the mutants". Far from the cameras, it's all that remains of Richard Eugene Piana.
Rich Piana : 46-year-old star bodybuilder dies two weeks
According to TMZ, bodybuilder Rich Piana has died ... Almost 3 weeks after suffering a coma following a medical emergency at his Florida apartment.
Rich Piana and Dallas McCarver are dead! - BODYBUILDING
Steroids deaths   dead bodybuilder 2020  dallas mccarver   rich piano waist  dead bodybuilder rich piano fortune rich piana instagram    dead bodybuilder 2021 rich piano height   rich piana net worth dead bodybuilder   rich piana waist rich piana burial life expectancy of a bodybuilder rich piana height