All the news from Meghan Markle - archewell audio ranking 2021 archewell spotify deal what happened to archewell audio archewell spotify ranking archewell audio spotify meghan markle podcast archewell audio podcast Meghan Markle podcasts Meghan Markle and Harry - Spotify podcasts by the Sussexes - Meghan Markle and Prince Harry golden deal at 25 million dollars  - Meghan Markle second podcast   Meghan Markle and Prince Harry on Joe Rogan -Listen to the podcast  - Archwell production company

NEWS  CELEBRITY NEWS   All the news from Meghan Markle
By   Sophia Ava     YEET MAGAZINE | Updated 0439 GMT (1239 HKT) March 19, 2022
After months without a shadow of content on her channel of podcasts co-created with Prince Harry on the Spotify platform, Meghan Markle is about to finally present a new recording, as indicated by "L'Express UK".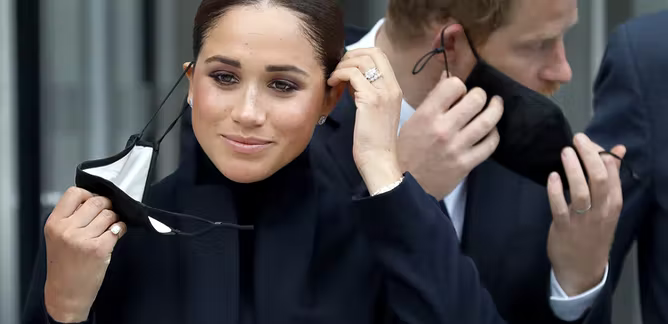 Listen to the podcast
Meghan Markle asked to get back to work: this new project that will reassure her employer
But where have the podcasts promised by Archewell , a company founded by the Sussexes, gone?
In 2020, Meghan Markle and Prince Harry had signed with the streaming giant Spotify to publish a series of this audio content that everyone loves. But for the moment, this golden deal at 25 million dollars has not really materialized since the  only one podcast of the couple has been put online: a 33-minute recording with Elton John, James Corden, Tyler Perry and Stacey Abrams, stars well known to the general public. As the end of March 2022 approaches, Meghan Markle has decided to show her seriousness and honor her commitments by preparing to publish a second podcast, as revealed by  The Express Uk on March 18.
Faced with delays in the production of these podcasts, the music streaming platform had taken control of the project and had started looking for three producers last January. Archewell has since hired Rebecca Sananes , formerly senior producer at Vox Media and the New York  magazine-owned Pivot  podcast , as "Head of Studio Audio", as our UK colleagues clarified. To help the parents of Archie and Lilibet Diana, producer Ben Browning , who has worked on films like Sanctum  (2020) or more recently The Outfit (2022), also joined the studio as Head of Content for Archewell Audio and Archewell Productions.
Bet on new possibilities for your company and your employees
> Meghan Markle and Harry: discover their year 2021 in pictures
Meghan Markle's podcasts: a project disrupted by current events
At the dawn of the year 2022, Meghan Markle and Prince Harry in turn expressed their dissatisfaction to their employer , Spotify. Indeed, many celebrities, including the Sussexes, had asked the platform to remove the content of a certain Joe Rogan , criticized for having disseminated false information about the health crisis. " We are counting on Spotify to respond and we are committed to continuing our work together, as it should be ," the couple's spokesperson said in a statement.