HOME   NEWS   TECH   VIDEO GAMES    Pokemon Announces Two New Games: Pokemon Scarlet And Pokemon Violet
pokemon scarlet and violet pokemon scarlet Gen 9 Starters pokemon gen 9 new pokemon starters  
By Deni Porter | YEET MAGAZINE | Updated 0439 GMT (1239 HKT) February 28, 2021
Pokemon announces two new games: Pokemon Scarlet and Pokémon Violet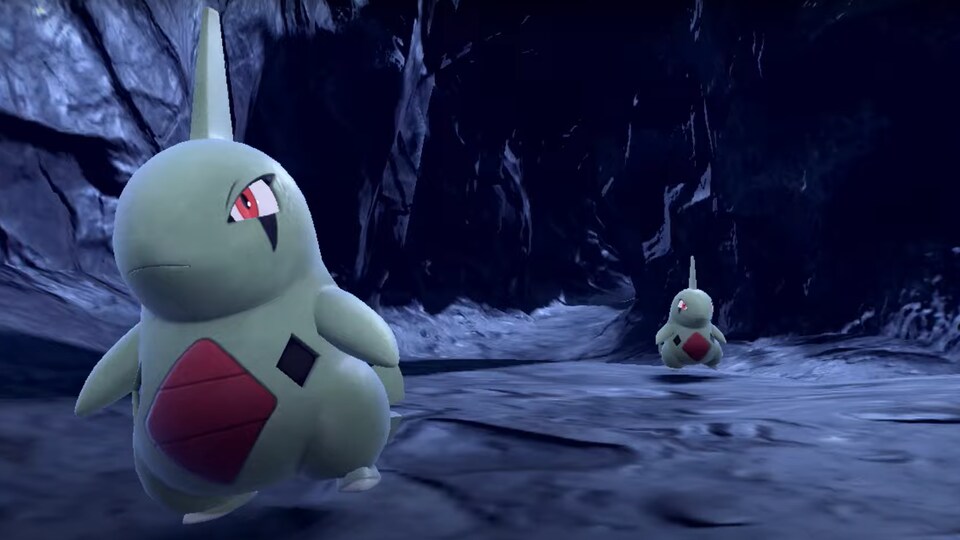 New Pokemon games will feature an open world.
PHOTO: SCREENSHOT FROM YOUTUBE
Content :
What country is the Gen 9 region based on in Pokemon.
What are the Japanese names of Pokemon starters
Pokemon Scarlet and Pokemon Violet Announced
Where are Pokemon Scarlet and Violet installed?
The ninth generation of Pokemon will arrive at the end of the year.
Pokemon Scarlet and Violet: Everything we know of the new .
Pokemon Scarlet and Violet Revealed as Gen 9, Land in 2022.
Everything we know about Pokemon Scarlet and Violet M
The iconic Pokemon series will return with two new titles for the Nintendo Switch: Pokémon Scarlet and Pokemon Violet . The games are scheduled for the end of 2022.
The Pokemon Company made the announcement with an intriguing video during its Pokemon Present presentation on Sunday.
This was accompanied by the phrase: Welcome to the open world of Pokemon , which suggests that players will be able to explore these new universes at their leisure.
The trailer features a security guard discovering, in the window of a workshop, a three-dimensional world where Pokémon are legion. Shortly after, the latter notices a painting where are illustrated what seem to be the three basic Pokémon of the new games.
What are the differences between Pokemon Scarlet and Pokemon Purple?
The difference between Pokemon scarlet and violet might just lay in the fact that your starting outfit differs depending on the version you have; above is from Pokemon Scarlet.

Image via Pokemon Company
Pokemon Scarlet and Pokemon Violet, the highly anticipated ninth generation of Pokemon, were officially announced for late 2022.  The reveal happened today. Pokemon features early cinematic gameplay showing off a wide variety of locations, including large cities, deserts, forests, and a seaside mansion which is apparently where your trainer will begin their adventure.
Pokemon Scarlet and Violet will be the first titles in the series where the trainer's default outfit will be different depending on which version you choose. Currently, we don't know any details about version-exclusive Pokemon or additional features that might be exclusively based on the version you get. The two Legendary Pokemon that will likely be the face of Pokemon Scarlet and Violet have yet to be revealed.
The Pokemon Company shared after the event that Pokemon Scarlet and Violet will be "a richly voiced open world" where Pokemon will roam throughout the region, seemingly bringing a similar experience to Pokemon Legends: Arceus.
In addition to the gameplay, we also learn informed about the three new entries ; Sprigatito, a grass cat-type Pokémon, Fuecoco, a fire-type that has mixes of a crocodile, a t-rex, and an apple, and finally Quaxly, a water-type duck that has either a pompadour hat or a hairstyle – something else yet to be confirmed.
What , where is Pokemon scarlet and violet are based off of?
Pokemon Scarlet and Purple Could Be Based in Spain, based in  Spain, not Italy as some might suggest.
Pokemon Scarlet and Pokemon Purple These are the names of the new mainline Pokemon games. A few weeks ago our Nintendo Switch received Pokemon Legends: Arceus but apparently Game Freak had another surprise in store, 9th Generation Pokemon.
But that's not all, and it seems that there are several clues and details that could indicate that… the new region could be inspired by Spain,, not Italy as some might suggest . If you don't believe me, let's get into the details!
A trailer full of references to Spain and its culture.
The trailer begins with the entry of a policeman into a room filled with books and documents of all kinds. So far so good, but the interesting part comes next. On a blackboard we can see a map on which we can clearly see the Iberian Peninsula and the Balearic Islands:
More : The ninth generation of Pokémon is expected to end .
There are also several details that could support this theory like the large number of windmills or the fact that one of the buildings shown in the trailer looks suspiciously like the Sagrada Familia. But the most interesting detail is undoubtedly the one discovered by the youtuber Folagor in this tweet in which he pointed out that one of the paintings in the protagonist's house seems to represent a typical flamenco dancer. :
Finally, we have the three new initials, whose names are rather curious:
Sprigatito the vegetable cat whose name is a mixture of the English word "spring", which means "spring", and gatito, which is in fact directly taken from Spanish.
In the case of Fuecoco the fire-type crocodile, we have a mixture between fire and crocodile, also two Spanish words.
Finally, we have Quaxly the water-type duckling, whose name is likely inspired by the sound ducks make.
More : Legends Pokemon Arceus: our long-awaited test of the game
You see, at least two of the three legendaries have names that come directly from Spanish . You can see the arts at this moron from the Pokémon Center .
Well, well, well, well, we are looking at a possible Pokémon region inspired by Spain, and the truth is that the idea is really cool.
Would you like to see Pokemon Scarlet and Pokemon Purple based in Spain?

Is scarlet and violet even a open-world?

Yes, it appears that Pokemon Scarlet / Violet, the new open-world duo for 2022.
Pokemon Legends Arceus was definitely a first step towards a true open-world Pokemon . This Sunday, and as expected for this 26th anniversary Pokémon Presents , The Pokémon Company unveiled the two new episodes of the Pokémon Scarlet and Pokémon Purple series . This new duo of games is obviously expected for Switch at the end of the year, with Game Freak once again in development.
Poussacha, Chochodile and Coiffeton: these are the names of the three colorful starters revealed for this first trailer. A trailer that offers to see a whole new open world, and without compromise this time. Indeed, the publisher insists on the fact that it is indeed an open world in its own right, " designed for young and old ", but also and above all without cutting into large areas as in Arceus. In other words, it will be possible to venture without transition between the cities and the surrounding regions, to go to meet Pokémon and capture them.
Based on these first images, the new region inspired this time by Spain promises to be sunny, while the main character's outfits will change depending on the version chosen. The publisher also clarifies that Pokemon Scarlet/Violet will be compatible with the Pokemon HOME storage tool " after release ", without further details, which will allow Pokemon from other regions to appear in this new episode.
TRAILER
Pokemon Scarlet and Pokémon Purple - First Official Trailer.
21 pictures

On the occasion of Pokemon Present , the video game giant also announced a series of new features for its existing games.
The newest title, Pokemon Legends: Arceus , will notably get an update called Daybreak which includes a series of new quests.
Pokemon Go players will also be able to catch new Pokémon from the Alola region starting March 1.
Pokemon Meanings And Definitions
What is the meaning of Pokemon , What is the meaning of pockemon according to modern encyclopedia.
Pokémon : A Japanese media franchise managed by The Pokémon Company, a company founded by Nintendo...
Pokimane : A Moroccan-Canadian Internet personality.
Pokémon  Video Game Series  : A series of video games developed by Game Freak and published by Nintendo and The Pokémon...
PokémonTV Series :  A Japanese anime television series, part of The Pokémon Company's Pokémon media franchise,...
Pokémon Pocket Monsters :  Pokémon Pocket Monsters, known in Japan as simply Pocket Monsters, is one of the first...
Pokémon Trading Card Game : A collectible card game based on the Pokémon franchise by Nintendo.
Google Maps: Pokémon Challenge : A Google Maps minigame released for April Fools' Day 2014.
Pokemón  : A subculture among Chile's youth that surfaced in the mid-2000s and began to decline in late...
Pokemon Gene :  A gene that may act as a master switch for cancer, and is responsible for the proliferation...
Read also :