Instagram: Meet Lil Miquela, The Real-Fake Influencer Who Fascinates Millenials . [VIDEO]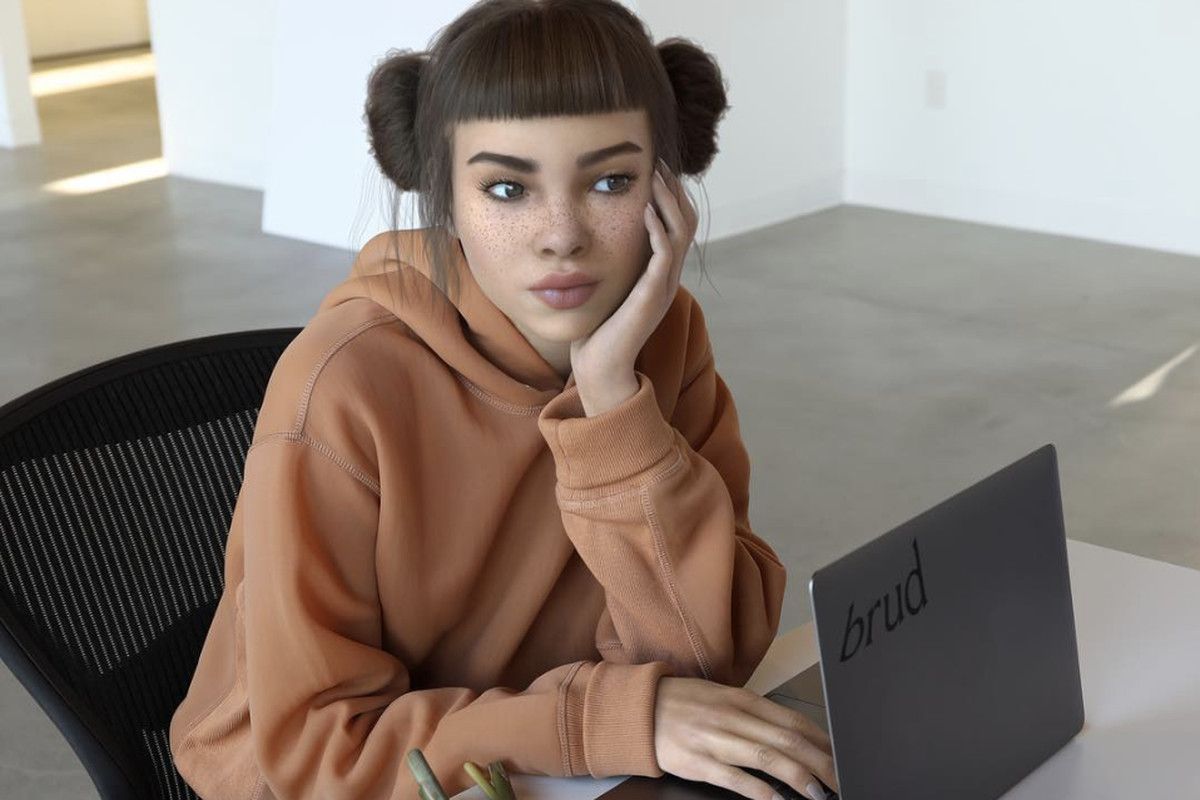 LIFESTYLE
By YEET MAGAZINE  Updated 0200 GMT (1000 HKT) July 20, 2021

As trendy as she is committed, this young Californian has won the loyalty of more than a million fans.
At first glance, we only see yet another Californian influencer. "Lil Miquela", 20, has high cheekbones, a constellation of freckles, thick eyebrows, a full mouth, hair styled like a bun with short bangs.
"She has the face of the new beauties of today, those that we see on the catwalks or on the glossy paper of magazines. An atypical beauty, mixed race and fundamentally different", summarizes Greg Casper, expert in digital marketing.
A beauty that has already conquered more than a million subscribers on her Instagram, but also the Prada house, the makeup brand Pat McGrath or the very trendy brand of hair products Ouai, with which she has just signed collaborations.
In addition to fashion, Lil Miquela also pushes the song , with already 3 songs, and others in preparation to constitute an album. A way, like his Instagram, to engage against the jumble of sexism, racism and police violence.
"I am proud to consider myself a committed millennial!", She proclaims during an interview with "The Obs", by e-mail. "When I see my friends joining the #BlackLivesMatter movement , it gives me so much hope. I invest a lot of time and money in LGBTQ causes , because it's a community that I identify with. . "
"Lil Miquela embodies this hyper-connected generation both in search of meaning and very involved",according to Paola Bapelle, expert in digital communication.
POPULAR NOW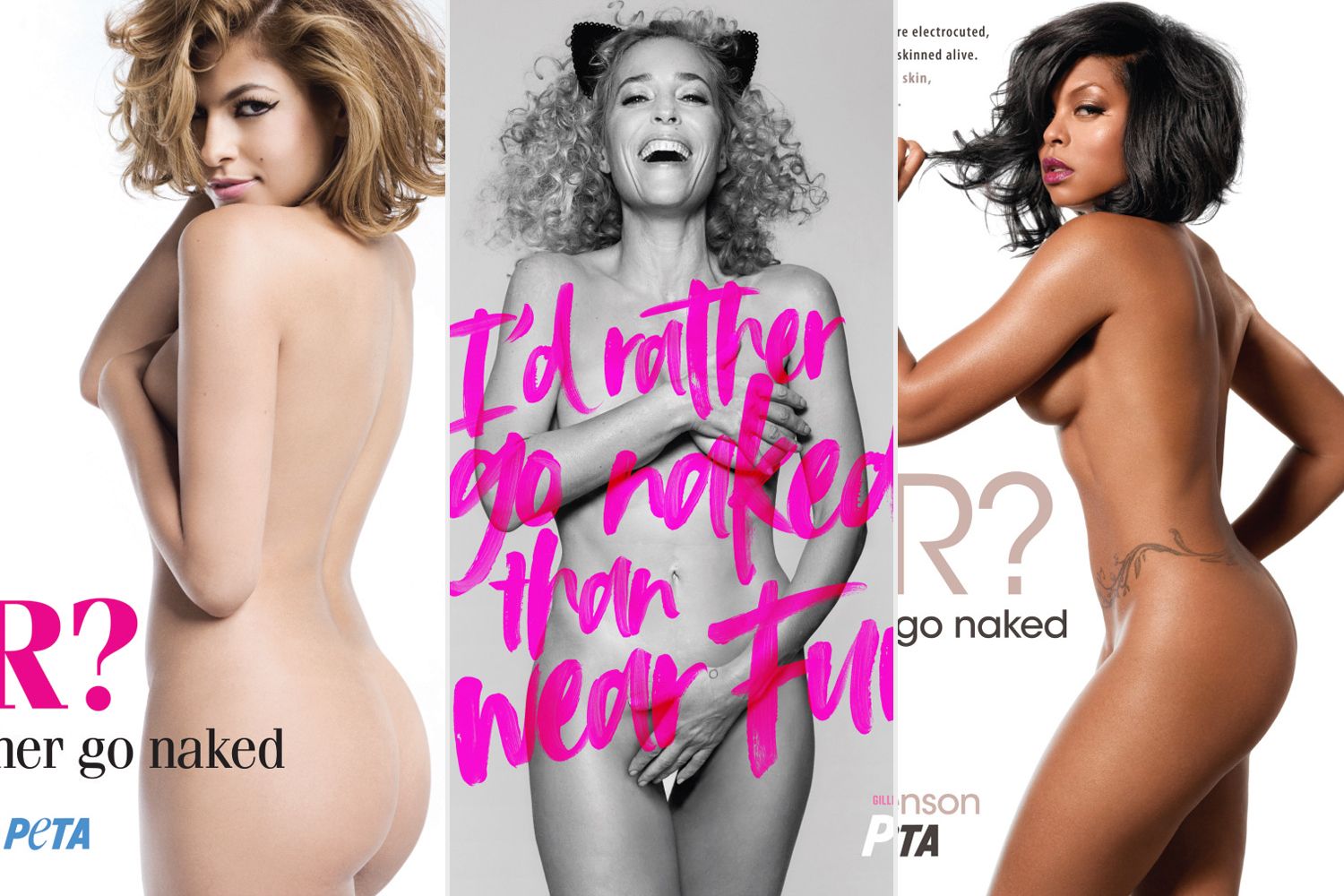 A fake ?
Except when looking more closely at his profile, we realize that Lil Miquela is not real, but rather the result of computer-generated images. "These are old-fashioned photomontages or a Photoshop treatment, like a kind of digital makeup", reveals Roger Cozien, creator of the Tungstène software, capable of detecting image retouching, and used by various departments .
So a fake? The subject is taboo for Lil Miquela, who submitted our questions to his agents, members of the gigantic New York communications agency Mammoth. All those questioning his identity remained unanswered."She keeps the mystery and this allows her to win the battle of attention compared to other influencers", analyzes Mathilde Aubinaud. "She keeps the power because we only have access to what she wants to show."
POPULAR NOW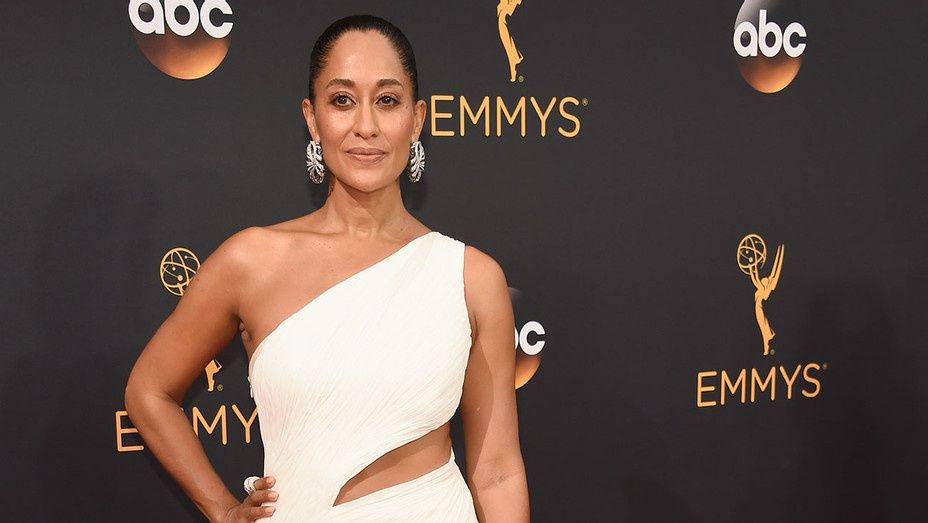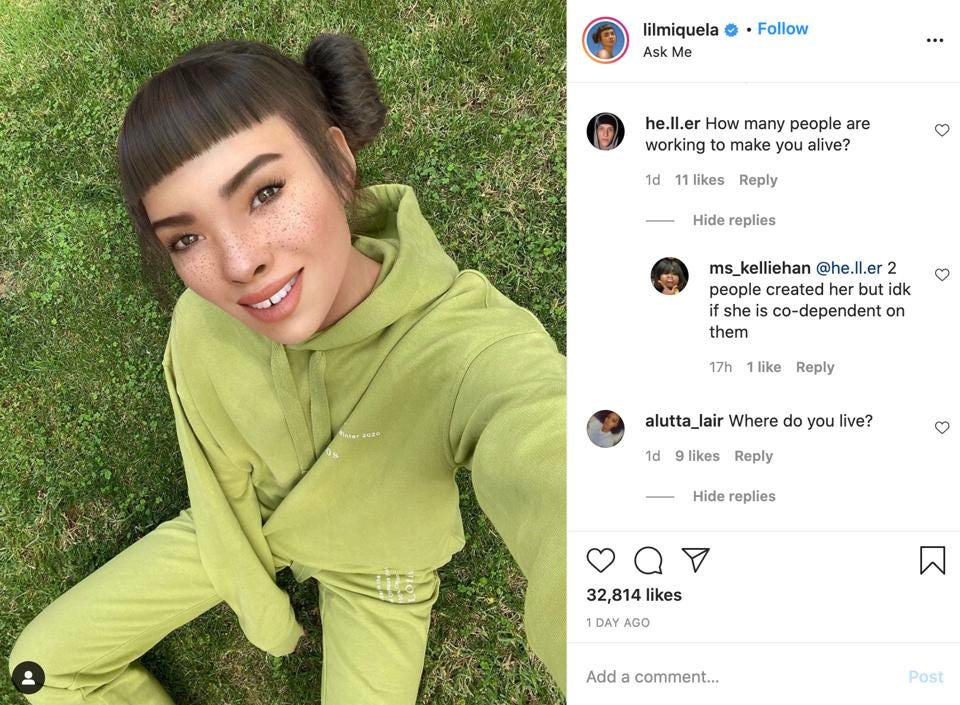 A mystery that fascinates, in particular by its mimicry. " One can wonder if it 'shows the truth' or if it 'is in the truth'", questions Anne-Laure Thessard, doctoral student specializing in interactions between living things and machines. "She is probably showing something true: her image, for once created from scratch. On the other hand, it is not true, it is not a being of flesh and meaning."
The most fascinating photos are those where Lil Miquela poses with his "friends", or with Noah Gersh, former guitarist of the group Portugal. The Man, presented as his companion. "It's very well thought out ... The presence of other people is reassuring", underlines Mathilde Aubinaud."That's life ... When you are different, people get scared and attack you", soberly regrets Lil Miquela, faced with our insistent questions. "I am fortunate enough to have a community of fans and great friends who support me!"
(Re) define the real
Since joining the network in 2016, his fans have been tearing each other apart over whether or not Lil Miquela is "real." Until these days.
Wednesday April 18, Lil Miquela saw his account hacked by another influencer of synthesis, Bermuda, who accused him of being ... "a fake". After some denials, the "
Thunderclap. Behind Lil Miquela hid Brud, a Los Angeles company posing as a specialist in artificial intelligence, and headed by DJ Yung Skeeter (a relative of Katy Perry). The whole is explained by a scenario worthy of an SF film - it would have been created "from the memories" of a young woman (who in fact never existed), then "reprogrammed", before "break free" with the help of the other Bermuda robot (also created by Brud) ... The account finally asks: "Am I still a person?"
POPULAR NOW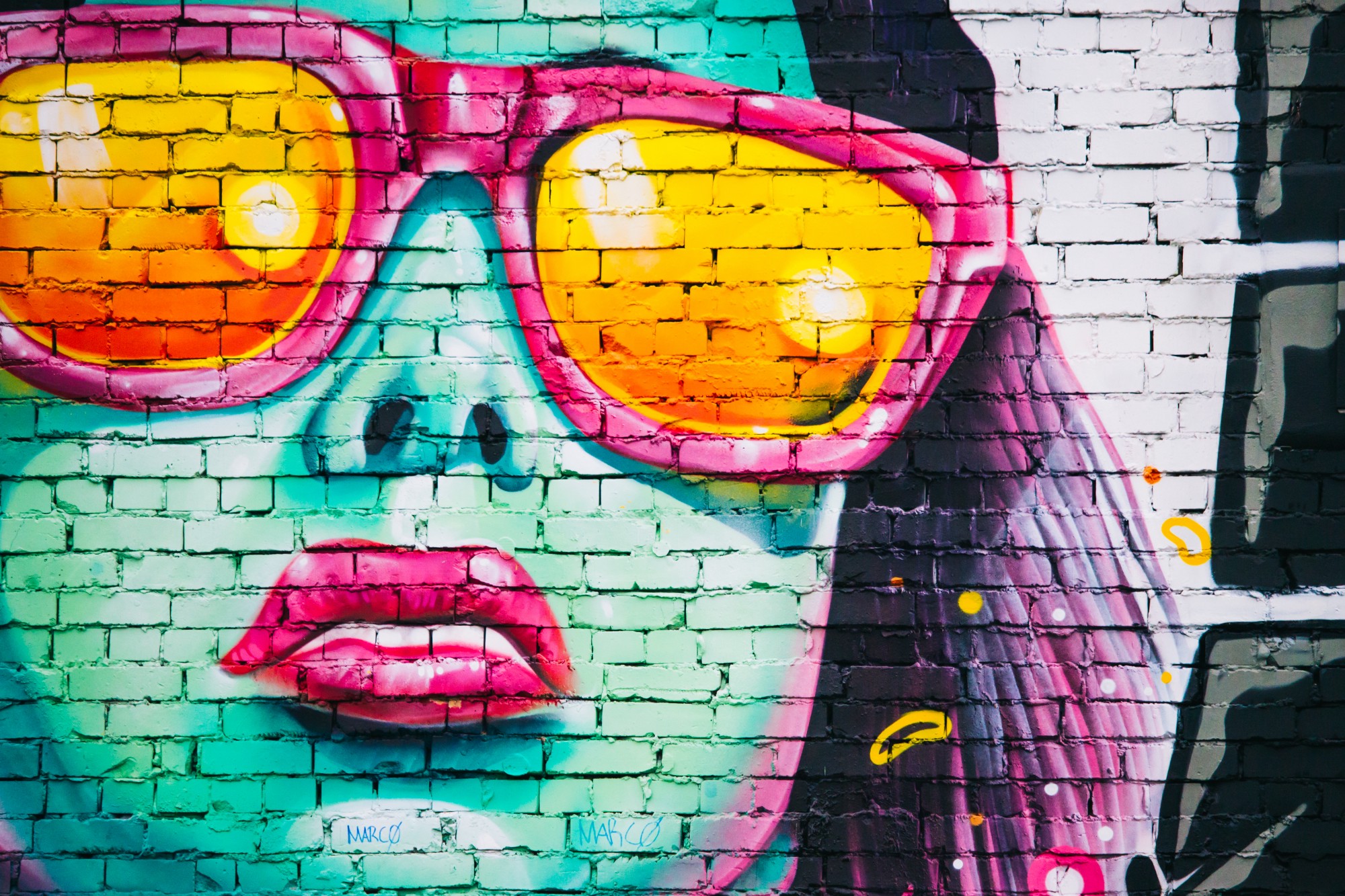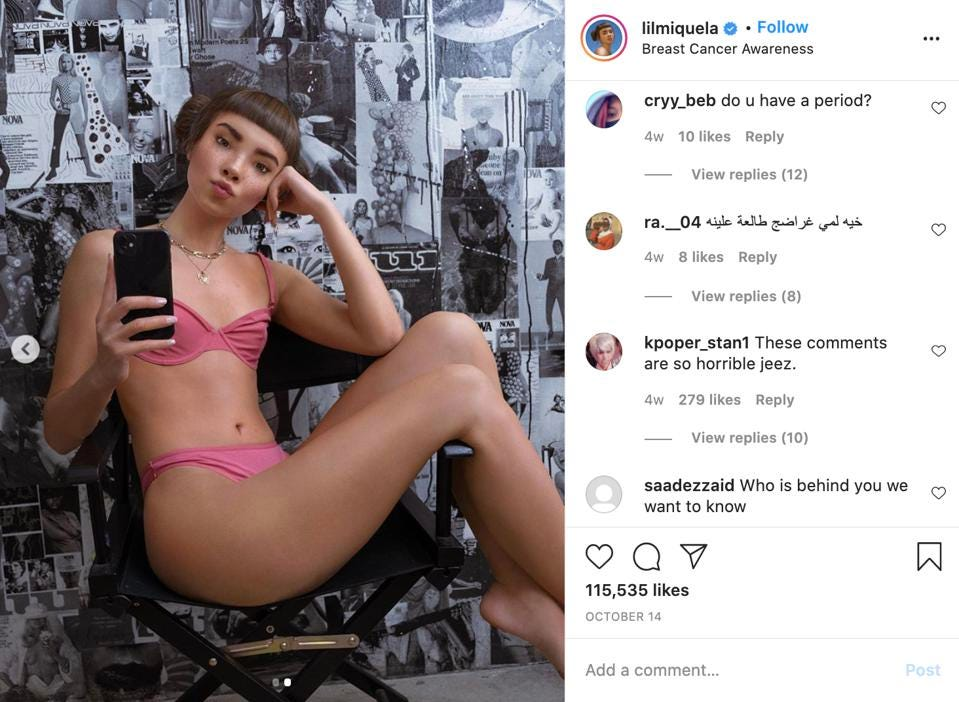 For Ann Stewart, doctoral student in philosophy, it is a question of "eminently philosophical". "She acted as a mise en abyme of this world of the image that is Instagram. Through his avatar, it is the human being who is questioned within his limits: what is properly human?"
The success of our synthetic influencer could in any case be emulated. In any case, this is the prediction of Greg Casper, co-author of "Generation Y and luxury" (ed. Dunod): "This aesthetic form will become more and more frequent", predicts. "A creation like Lil Miquela, could, by the power of Instagram, demonize these humanized beings and lead us, little by little, to change our outlook on them."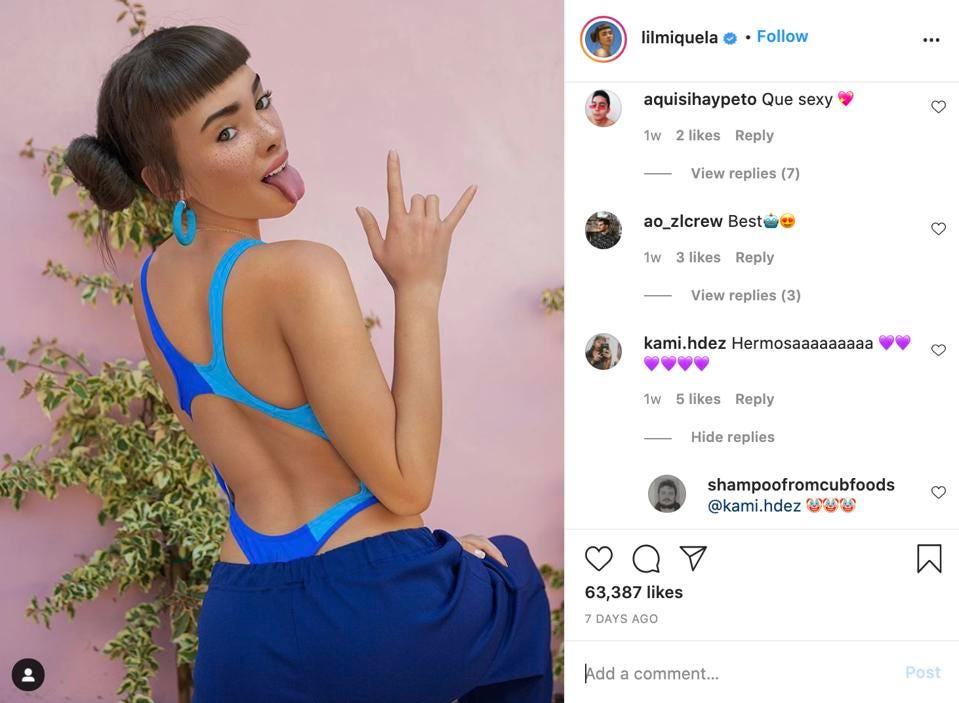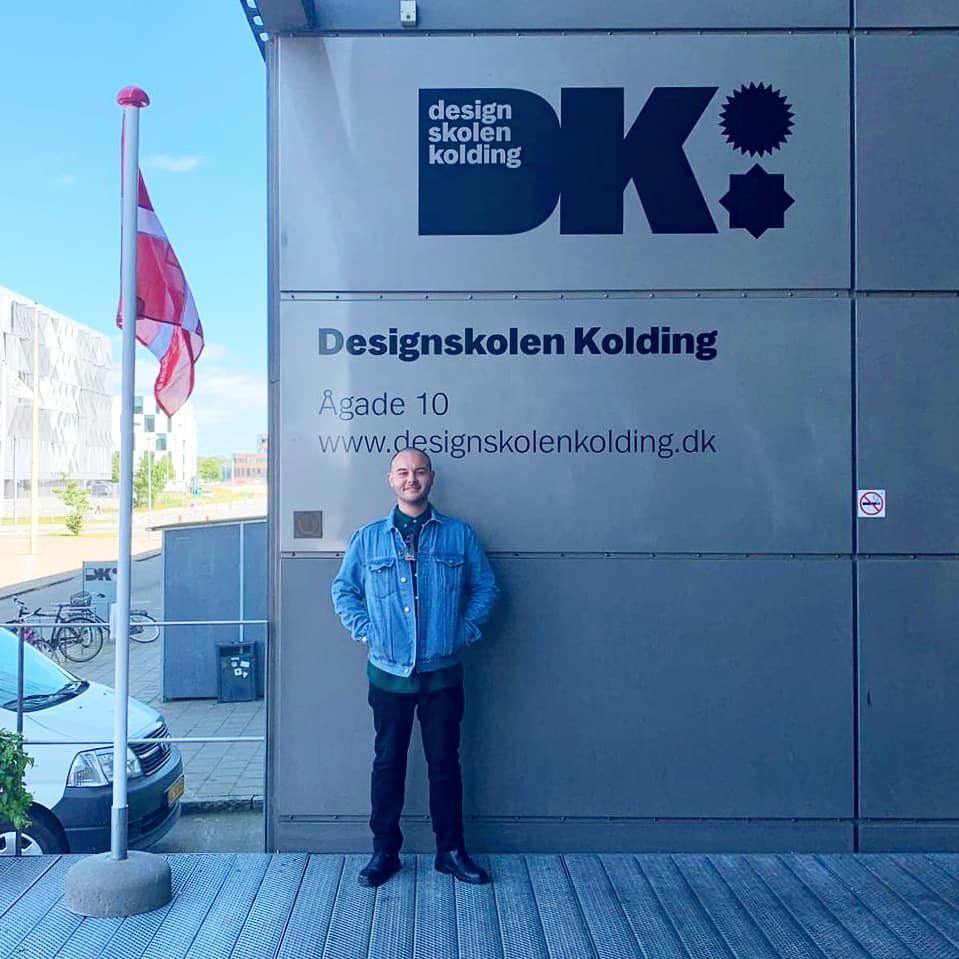 Keywords : Lil Miquela, marketing , socio cultural , guidelines , pyramid ,instagram ,social media influencer,brand, marketing campaigns, marketing trends ,audience ,media influencers advertising trends in 2021.
Read  more on YEET MAGAZINE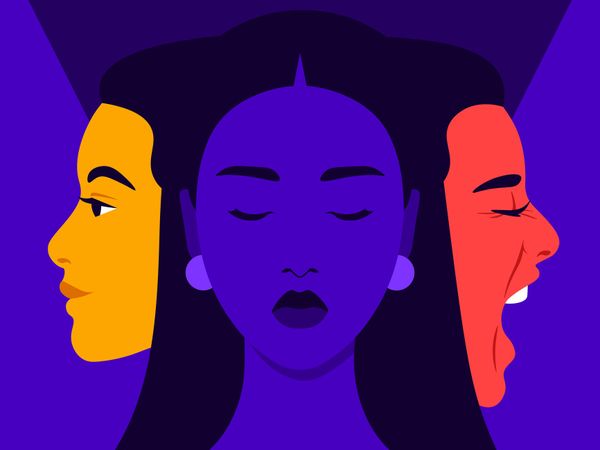 By Rupsa Debnath | YEET MAGAZINE | Published 0456 GMT (1256 HKT) July 3, 2021 The pressure society places on women comes from many different sources, such as social media platforms.

YEET MAGAZINE3 JUL 2021 • 5 MIN READ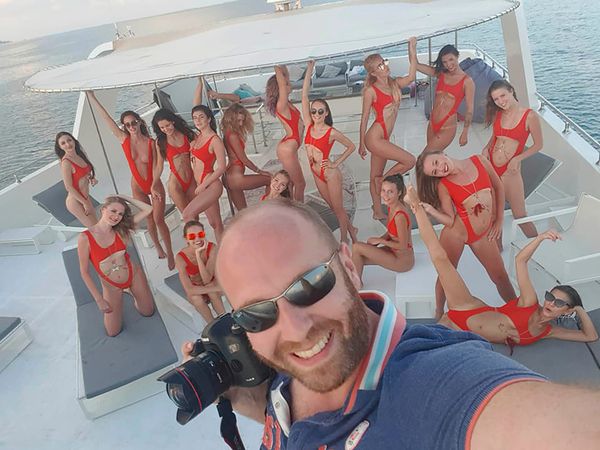 Vitaliy Grechin, 41, is said to have "offered the rights to the highest bidder" for the 20 Ukrainian and Russian women who appeared nude in the controversial shoot of the skyscraper.

YEET MAGAZINE29 JUN 2021 • 11 MIN READ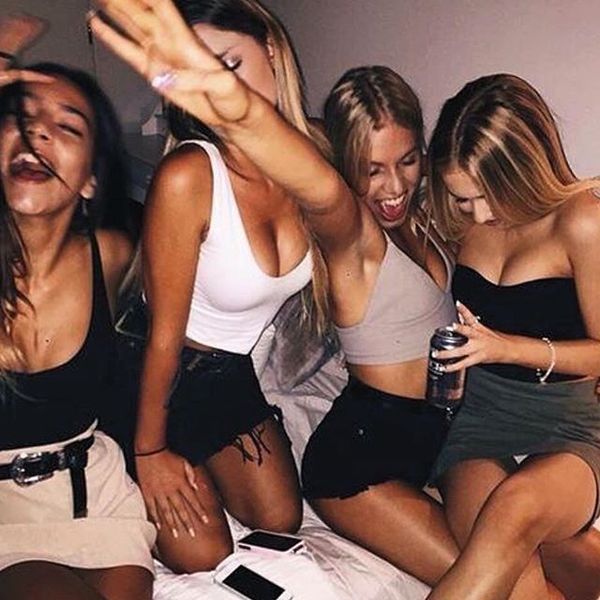 By Aditi Maheshwari | YEET MAGAZINE Posted at 0200 GMT (1000 HKT) on June 30, 2021 - The preternatural death of celebrities despite having a so called successful life full of glamour, money, fame, etc. raises questions of lifestyle satisfaction. Bloom or Doom?

YEET MAGAZINE29 JUN 2021 • 10 MIN READ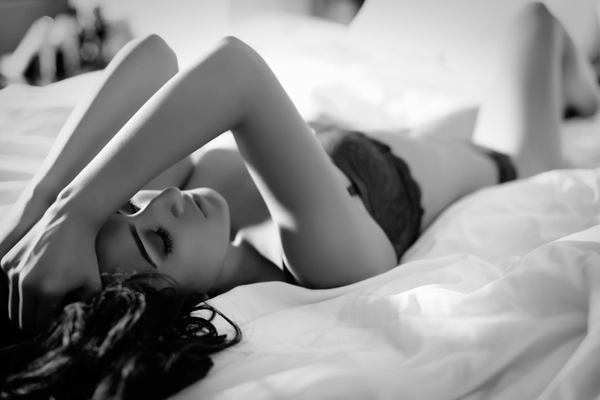 By Saumya Karkera | YEET MAGAZINE Published 0432 GMT (1232 HKT) June 29, 2021 B-O-U-D-I-O-R photography did the term catch your eyeballs! If yes, then you surely would want to know about it as your curious mind must have tempted you to Google a lot about this Boudoir photography.

YEET MAGAZINE29 JUN 2021 • 6 MIN READCULTURE & SOCIETY
The fight of the body positive movement? Self-acceptance. Faced with our ultra-standardized society, the idea is gaining ground… The body posi movement was born.

YEET MAGAZINE29 JUN 2021 • 4 MIN READYEET MAGAZINE © 2021