Lady Di Princess Diana's Wedding Dress Will Be Exhibited At Kensington Palace In London
A slightly outdated embodiment of the bridal silhouette, Princess Diana's wedding dress continues to arouse fantasies and speculation. As she is once again on display to the general public, a look back at the most famous wedding outfit of all time.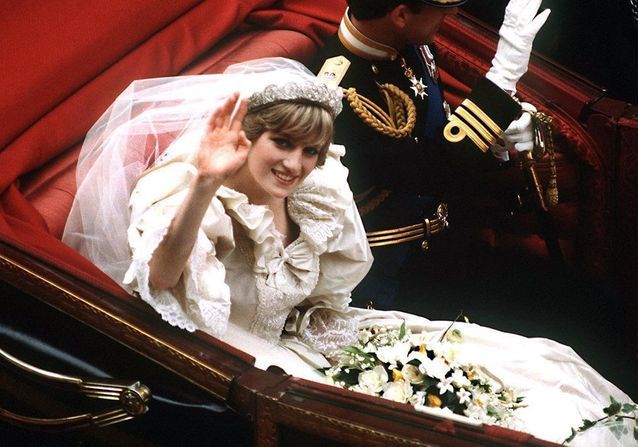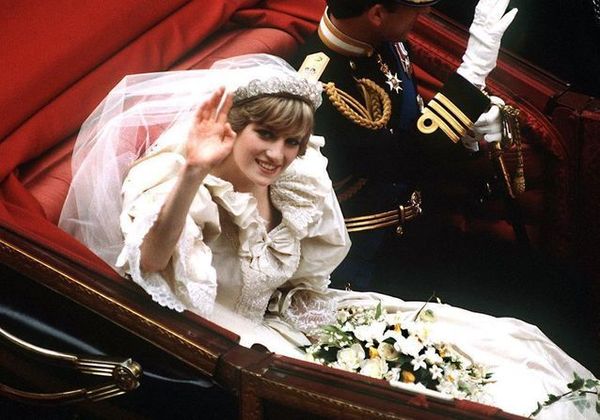 By YEET MAGAZINE | Published  1403 GMT (2203 HKT) June 5, 2021
The Royal Style in the Making exhibition is open to the public until January 2, 2022 at Kensington Palace in London.
A slightly outdated embodiment of the bridal silhouette, Princess Diana's wedding dress continues to arouse fantasies and speculation. As she is once again on display to the general public, a look back at the most famous wedding outfit of all time.
Nearly 150,000 likes and barely less than 2,000 fiery comments: this is the 2.0 reception that one of the Instagram posts of The Crown , the Netflix series which retraces the history of the British royal family received last October .
And for good reason, the cliché revealed Emma Corrin , the young actress playing the role of Lady Diana , in a replica of the opulent wedding dress that the princess wore during her wedding with the Prince of Wales in July 1981.
In short, a virtual stir, which today doubles as an IRL event, the famous dress now being honored in an exceptional exhibition inaugurated this Thursday, June 3 at Kensington Palace .
Called Royal Style in the Making , this new cultural event dedicated to the English monarchical wardrobe has indeed obtained the agreement of Princes William and Harry to present the wedding dress that their mother wore precisely 40 years before.
Lady Diana: her wedding dress on display at Kensington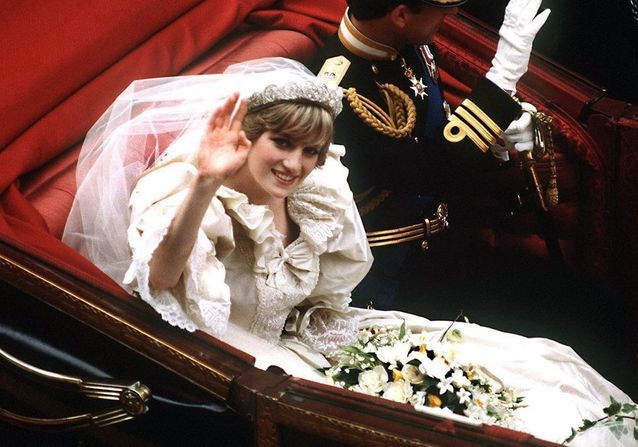 7 © Terry Fincher / Princess Diana Archive / Getty Images
The wedding dress of the one affectionately nicknamed "the Princess of Hearts" is the centerpiece of the "Royal Style In The Making" exhibition, inaugurated this Thursday, in London.
The images are historical. On June 29, 1981, Diana Spencer walked through the imposing doors of St. Paul's Cathedral in London to marry Prince Charles , heir to the throne of England. For the occasion, she wore a typical wedding dress from the 80s, signed David and Elizabeth Emanuel. The model featured puffed sleeves and a nearly eight-meter train covered with over 10,000 pearls and sequins. An outfit which, despite the turn that the young woman's married life would take, remains unforgettable to this day.
Read also:  What happened to Lady Di's favorite brands?
Forty years after what has long been called the "wedding of the century", Lady Di's wedding dress is once again in the news. Princes William and Harry have given their consent for the latter to be included in the "Royal Style in The Making" exhibition, inaugurated this Thursday, June 3 in the former orangery of Kensington Palace. A symbolic place, since the London Palace was the residence of Lady Di and her sons, and is now the residence of Prince William , Kate Middleton and their three children. The event will explore the connection between fashion designers and the British Royal Family through different designs. A canvas of the Queen Mother's coronation dress from 1937, a dress from Princess Margaret and a sample of embroidery from the wedding dress of Queen Elisabeth II, will also be presented to the public for the first time.
LADY DIANA'S WEDDING DRESS FEATURED IN THE ROYAL STYLE IN THE MAKING EXHIBITION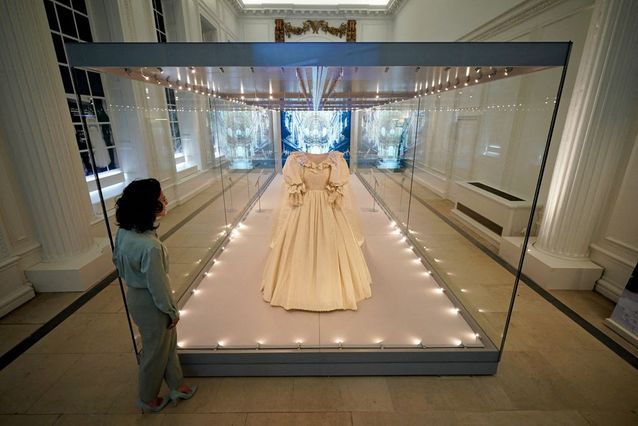 © Yui Mok / PA Wire / ABACAPRESS.COM
DIANA SPENCER'S WEDDING DRESS SHOWN AT KENSINGTON PALACE IN LONDON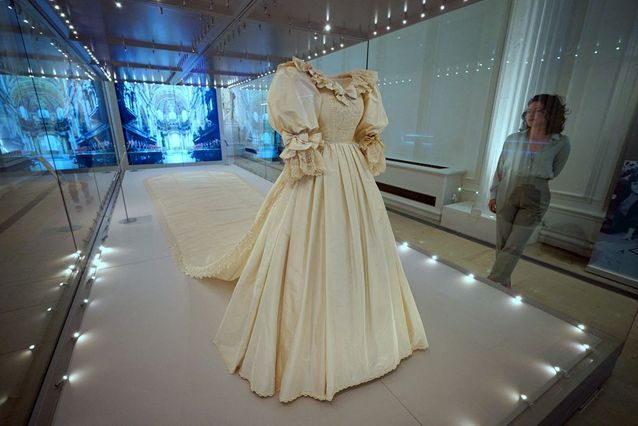 © Yui Mok / PA Wire / ABACAPRESS.COM
LADY DIANA SPENCER'S WEDDING DRESS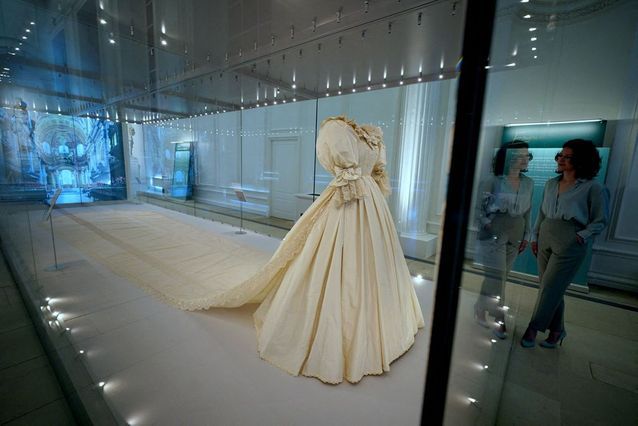 © Yui Mok / PA Wire / ABACAPRESS.COM
THE NEARLY EIGHT-METER TRAIN OF LADY DIANA'S DRESS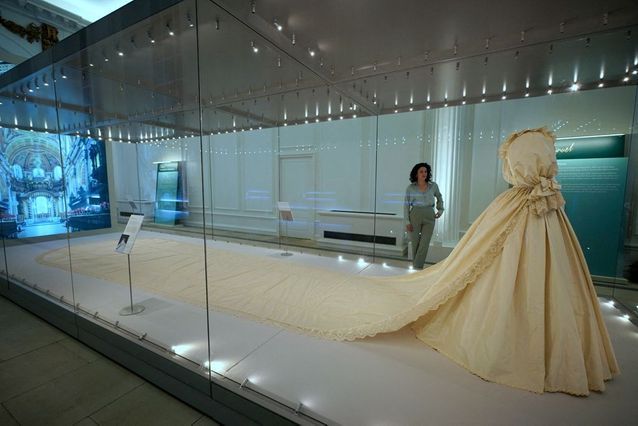 © Yui Mok / PA Wire / ABACAPRESS.COM
THE BODICE OF LADY DIANA'S DRESS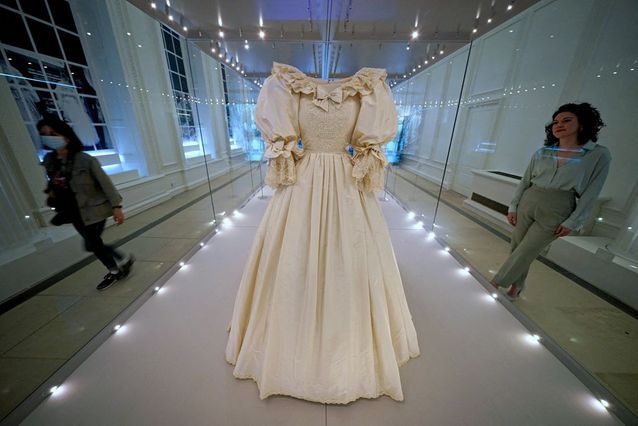 © Yui Mok / PA Wire / ABACAPRESS.COM
LADY DI'S WEDDING DRESS ON DISPLAY FOR THE FIRST TIME IN TWENTY-FIVE YEARS
© Yui Mok / PA Wire / ABACAPRESS.COM
LADY DI'S WEDDING DRESS HAS OVER 10,000 PEARLS AND SEQUINS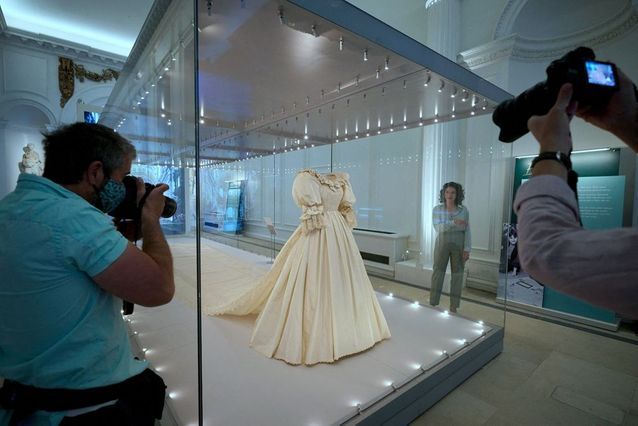 © Yui Mok / PA Wire / ABACAPRESS.COM
1 / 8
Diana's wedding dress, a fairytale dress
Balloon sleeves and XXL petticoat, bodice with fitted waist and profusion of ruffles, not to mention a train 7.6 meters long, lace inserts and a virginal veil covering the face of the princess throughout the ceremony: at first sight , the voluminous wedding dress brings together all the faults of taste that one could imagine today, anchored in a conservative bridal tradition that is as obsolete as it is overused.
However, as Elizabeth Emmanuel , the designer who imagined the dress alongside her companion David, reminds us , this grandiloquent silhouette remains the expression of extraordinary couture know-how, marked with the seal of dreams and magic.
"It all revolved around the idea of ​​creating the fairytale dress for Lady Diana," she explains in the columns of British Vogue. "The dress was a fine example of the early ' 80s style - over the top, romantic, talkative - but we had to do it perfectly because we knew it was going to make history." she continues, specifying, however, that they had not received any special instructions from Buckingham Palace.
Cut from an ivory-colored silk taffeta by Stephen Walters, the dress is encrusted with more than 10,000 pearl sequins, hand-embroidered throughout the dress, in addition to the countless ruffles and frills punctuating the sleeves and collar. . A titanic job, carried out by the mothers of the creators, the studio assistant and also her own mother to keep the secret around the coveted wedding outfit until D-Day.
As for the train, the longest ever made for a royal wedding at the time, it is thanks to a clever mechanism integrated inside the voluminous petticoat. The designers even confided that they added a gold horseshoe to bring luck to the future Princess of Wales .
Unless it was to secretly ensure their own success, Elizabeth and David Emmanuel being at the time simple young designers crowned with hype, just graduated, and whose fashion house had just been launched. created.
2 / 8
A trio of young designers
Yet it was Lady Di , then Diana Spencer, assistant in a kindergarten, who contacted the young designer duo and asked him if he would agree to make her wedding dress. "I was with a customer in the showroom and no one was answering the phone in the office," recalls Elizabeth Emmanuel in the British Vogue article . "I came down the stairs in a pissed off attitude and must have looked tense on the phone before I realized it was Lady Diana. I was in shock!"
Quickly, a bond of complicity is formed between the future princess and the two designers who, above all, were part of the same generation. While she still fumbles in defining her style, the designers seduce her with a silhouette that particularly catches her attention: thin waist, big petticoat, balloon sleeves.
Diana was very considerate and always grandiose.
And despite the countless hours of work and fitting sessions in the workshops against a background of harassment from the paparazzi, Lady Diana will show unwavering patience throughout the creation process.
"Diana was very considerate and always awe-inspiring. I think she found the experience fun - she would stand for hours without complaining about pins. She was just fabulous." concludes Elizabeth Emmanuel, who remembers the total involvement of the young aristocrat whose marriage (already) spills a lot of ink.
3 / 8
Lady Diana: a wedding dress of all the rumors
"After showing the sketch to the princess, I tore it up. I didn't want the design of the dress to be leaked," David Emmanuel told TheExpress.co.uk in 2018 . At the time, some journalists went so far as to search the trash cans of the two designers' showroom, pushing them to throw away scraps of fabric from other dresses to mislead them.
The fear of seeing the secret of Lady Di's wedding dress was such that an "emergency dress" was created, without the Princess even trying it on. Made from the same fabric as the initial dress, it has never been completed.
The designers had also planned a spare dress in case she did a task on the first…. but also several prototypes in case Diana continues to lose weight. In short ! Everything had been anticipated… or almost.
It shows that you can plan anything, but on D-Day there will always be something going on.
If, contrary to rumors, the dress did not have to be sewn up at the last minute, the train and some petticoats, crumpled by the tiny coach which brought it from Saint Paul's Cathedral, had to be rearranged on the very steps of the forecourt. .
"It shows that you can foresee anything, but on D-Day, there will always be something", quips Matthew Storey, the curator of the exhibition in a report from France 24. Estimated today at 6000 pounds sterling, the dress was at the time ceded by Elizabeth and David Emmanuel for 1000 symbolic guineas.
"We could have given him a gift," comments the designer. "But that amount seemed fair to us and my dad found it romantic to use guineas." she concludes. As the last season of Netflix or the recent interviews with Princes William and Harry revealed, we may regret that the years of marriage that followed were not so for the Princess.
4 / 8
Lady Diana's wedding dress sketch
The video of the day :
5 / 8
The wedding of Lady Di and Prince Charles
6 / 8
Princess Diana's wedding dress
7 / 8
Princess Diana in her wedding dress
8 / 8
Lady Diana's wedding ceremony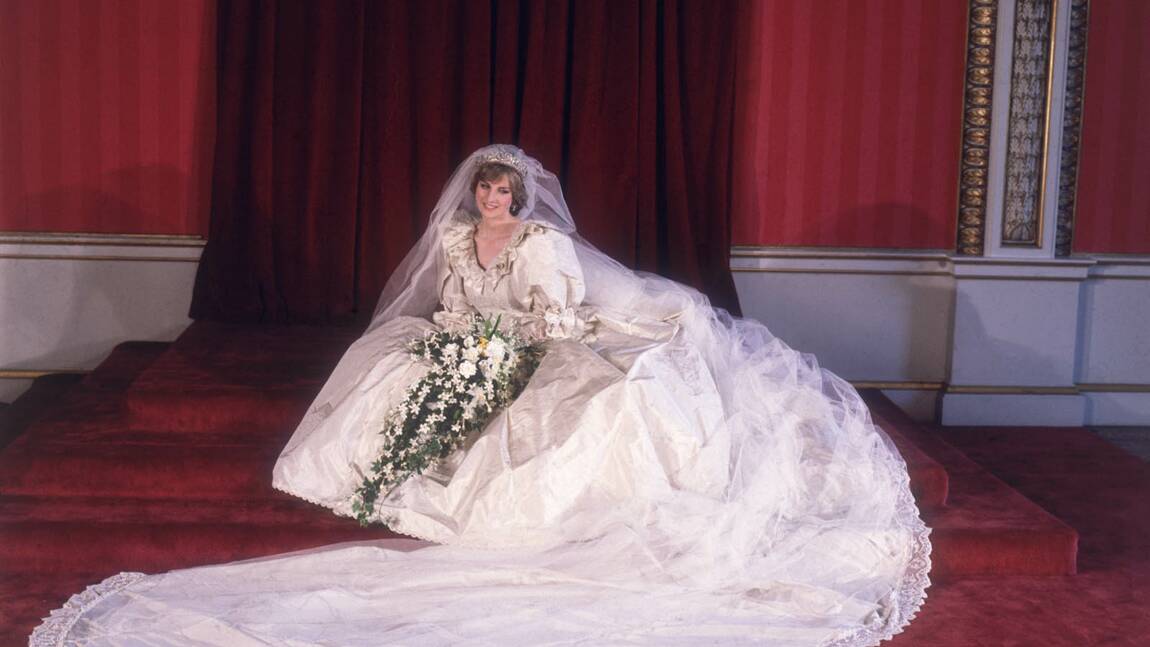 LEARN MORE ABOUT THE DESTINATION
From the voluminous cream dress Princess Diana wore to her wedding to the iconic outfits of Queen Elizabeth II, an exhibition in London takes a look at the favorite designers of the British royal family.GEO WITH AFP Posted on 06/03/2021 at 8:49 am - Updated 06/03/2021SAVE THE ARTICLE
Trimmed with vintage lace, pearls and thousands of sequins, Diana's dress is on display at Kensington Palace from Thursday in a bespoke display case, needed to accommodate her 7.62-meter train, the longest ever used during of a royal wedding. When they got the phone call from the princess, stylists Elizabeth and David Emanuel, who were just starting to be known, knew right away that "it was one of those weird times when you know your life is failing. will never be the same again, "says the designer in a video incorporated into the exhibition.
In a famous episode, Diana's insane train appeared crumpled when she got out of the coach which dropped her off in front of Saint Paul's Cathedral in 1981. Fortunately, the stylists were on hand to retouch it all. "It shows that you can foresee anything, but on D-Day, there will always be something", estimates the curator of the exhibition Matthew Storey, recalling that it was a "very big dress and a very small carriage".
The exhibit gives an idea of ​​the hard work behind the dress, with photos of the seamstresses as well as the keys to the safe where it was stored overnight. Elizabeth Emanuel remembers reporters rummaging through the studio's trash cans for a clue about the design, so the designers decided to place scraps of fabric they weren't using in order to mislead them.

Diana's clothing evolutions
The exhibition focuses on showing Diana's sartorial evolution and her growing sense of style, from her girlish frills to more elegant and impactful outfits. If she had left a lot of freedom to the designers for her wedding dress, some archival documents show that she was already involved, noting here a drawing of a comment asking for dark blue or asking for changes there.BRAND NEWS
For Father's Day, give CERRUTI 1881 Silver.
A new, resolutely modern interpretation of the iconic Cerruti 1881. Aromatic Woody Fern.Inspired by
In a video, stylist David Sassoon, with whom she had a close relationship, explains that Diana was "very shy" when they first met, but then became "very involved in choosing what she wanted. ". She "understood what the public expected of her clothes," he said, and she "loved breaking the rules", often not wearing gloves or
hats, as required by royal protocol.
Several dresses have been loaned by her sons Prince William and Prince Harry, who recently opened up about the torments of their mother, who would have turned 60 on July 1, at the end of her marriage. The popular " The Crown " series has also recently recreated some of her iconic outfits. "His style is celebrated again," says Matthew Storey.

A sexy Princess Margaret dress
The exhibition also shows the long relationship between stylist Norman Hartnell and the Queen Mother and Elizabeth II . The son of London pub owners, Norman Hartnell began designing clothes for the Queen Mother in the 1930s. During World War II , she made it a point of honor to dress well when visiting bombed Londoners. , tells in a video Michael Pick, biographer of Mr. Hartnell. It was also this designer who had made Elizabeth's wedding dress, then the one she wore to her coronation, the exhibition showing the letters of thanks she sent him.
The most overtly sexy dress in the exhibition - with its low-cut bodice and trimmed with gold brocade, inspired by the Georgian era - belonged to Princess Margaret. Intended for a costume ball, it was made in 1964 by the theater costume designer Oliver Messel, whose princess then married the nephew. The princess and the designer also had a close relationship, so much so that when the designer died, she stored her archives at Kensington Palace.
The Royal Style in the Making exhibition is open to the public until January 2, 2022 at Kensington Palace in London.
Read also :
⋙ Wallis Simpson, Duchess of Windsor: the one by whom the scandal arrives
⋙ The Windsors: a century of reign in 41 key dates
⋙ Abdication of Edward VIII: return on the sulphurous loves and Nazi sympathies of the WindsorsGEO (with AFP)
THEMES ASSOCIATED WITH THE ARTICLE
Royal Family Of England
Gotha
Fashion
Princess Diana
Exposure
Diana Princess Of Wales
Latest News
Lady Di's wedding dress: chronicle of a bridal icon
Prince Harry: popular petition urges him to relinquish royal titles
Elizabeth II, France and French Presidents
NEWSLETTER
YEET MAGAZINE  news, directly in your mailbox
Kate, Harry and William open up about Lady Diana's death
Lady Diana, Princess of Hearts
When Elton John sang "Candle in the Wind" for Diana Spencer's funeral Love story: Prince Charles and Diana Spencer
We know how Lady Di saw her lovers in secret
All the times Kate Middleton was inspired by Lady Diana
Kate, Harry and William open up about Lady Diana's death
The story of Princess Diana's favorite bag
The committed reason why Lady Di had stopped wearing gloves
A biography on Prince Charles reveals his feelings on his marriage to Lady Di
Lady Diana and Prince Charles: the controversy over their waist
Lady Diana "betrayed" by BBC: journalist Martin Bashir apologizes
Hasnat Khan, the passionate and impossible love of Princess Diana
Diana's ex-lover Hasnat Khan questions her shocking BBC interview after her brother
Prince Harry and Meghan Markle follow in Diana Spencer's footsteps
For her first mother's day, Meghan Markle pays tribute to Diana
Prince Philip wrote letters of support to Diana when Prince Charles left her
Comments
How would Princess Diana dress, and what hairstyle would she wear if she were alive?
Kylie Guthrig
How would Princess Diana dress, and what hairstyle would she wear if she hadn't died?
You have requested my answer. Here it is.
Danila.
You have asked now more than EIGHTY questions about the late Diana, Princess of Wales, mainly speculating about her hair and weight, on one Quora profile.
And FIFTEEN on a second profile.
That's around one hundred questions, many of them identical or nearly so, speculating about the appearance of a woman who has been dead for 23 years.
These are unanswerable questions.
Quora"s definition: "Quora is a place to gain and share knowledge."
No knowledge is being shared here.
Your obsession is not only fruitless.
It only serves to waste people's time and hack them off.
A better question, to you, would be
WHY ???
Danila Petrenko
How do you disambiguate the sentence "Princess Diana dresses to be auctioned"?
Kathleen
Former AAMT Cert Med Transcrpnst, TechWriter, PsychRsrchAsst
Princess Diana's dresses are to be sold (or will be sold) at auction.
Dresses once belonging to Princess Diana are to be sold (or will be sold) at auction.
Dresses previously worn by Princess Diana are to be sold (or will be sold) at auction.
Dresses that Princess Diana wore are to be sold (or will be sold) at auction.
Dresses that were worn previously by Princess Diana and which are to be (or will be) sold at auction include the following:
Someone is auctioning off Princess Diana's old dresses!😊
Note: Your original sentence is not a sentence because it has no predicate (verb). A sentence must have a subject and a predicate. Your "sentence" is more like a headline or a caption.
To disambiguate your whole question, try substituting "clarify" for "disambiguate." In my opinion, "disambiguate" is weird, cumbersome, and a bit ironic. It is not intuitive; it mocks itself, just like "disingenuous."42 views
How did Princess Diana's "revenge dress" acquire its name and infamy?
Deven Diamantis
in Public Relations & Business, Montclair State University (Expected 2022)
Following Prince Charles' confession to the world about his infidelity with Camilla Parker Bowles, Princess Diana decided to wear a dress that did not abide by the Royal standard to her public engagement after the confession had been made. The day Princess Diana wore the dress was coincidentally the same day as Camilla Parker Bowles' birthday.
When Diana stepped out of the car, she mesmerized everyone, she looked absolutely stunning! It made the public think "look at what Charles gave up on", therefore the dress was called the revenge dress. Revenge for the simple fact that Prince Charles had an affair, yet his ex-wife was absolutely killing it on her own.
Eldritch Peacock
Can you share a picture of your favorite dress or outfit worn by Princess Diana?
Geoff Kensey
Princess Diana wearing a yellow Escada coat, black gloves and a black and yellow hat in 1988; enroute, on the ferry to The Isle of Wight for the launching of the ship Vigilant at Cowes.
Sporting a favourite pair of South-Sea pearl earrings; at an official dinner in Lahore on a 1991 visit to Pakistan.
Hamburg, Germany, November, 1988: a coat with fake fur trim designed by Arabella Pollen.
Christmas, 1981, the soon-to-be princess arriving at a Christmas service; she entered the church in a long blue coat and tall black boots. She finished off the wintery look with a matching hat and muff.
During an official 1988 visit to Bangkok, Thailand, Princess Diana looked chic in this cinched dress paired with white sunglasses and a vibrant teal belt.
London-based designer Catherine Walker created over 1,000 looks for Diana throughout the years, including this color-blocked gown for a night at the ballet In 1984.
This shimmering velvet Bruce Oldfield evening dress worn by Princess Diana in 1987 later sold for more than £45,000 at auction.
Diana may have been known for her elaborate dresses, but she has also famously bucked the trend. Here she is in 1984 attending a rock concert while wearing a black-and-white tuxedo-style suit.
20th July 1989 - Princess Diana wears Bruce Oldfield to a movie premiere, with matching clutch.
At one of her first official engagements in 1982, Diana attended a performance of The Little Foxes at the Victoria Palace Theatre. There to meet Elizabeth Taylor, she wore this fake white fur coat everyone assumed was real and the consequent backlash from anti-fur campaigners helped inform any future fashion choices. The coat "went back into the cupboard, never to be seen again."
In 1985, the royal definitely embraced the broad-shouldered fashions of the day, including this backless lamé dress by Bruce Oldfield. The favored silhouette soon earned her the nickname "Dynasty Di."
At a Pavarotti concert benefiting the Red Cross, Diana gava a nod to the organization's primary color in a two-tone Catherine Walker dress, 1995.
Attending the 1986 Expo Exhibition in Vancouver, Canada, Princess Diana faints moments after this photo was taken. Neither she, nor the dress, sustained injury.
Does Kate Middleton, Duchess of Cambridge, dress like Princess Diana?
Eileen Wood
Self-Employed Why does Kate Middleton wear outfits similar to what Princess Diana used to wear?
Why does [the-Woman-Never-Known-As-Kate-and-Who-Stopped-Using-the-Name-Middleton-in-2011] wear outfits similar to what Princess Diana used to wear?
Because the gullible fans of the sewer press want to believe that's what she's doing.
Classic styles are classic styles. Both women used classic clothing styles. They're called "classic" because they never go out-of-fashion. A little black dress remains the same decade-in and decade-out.
It has nothing to do with Diana. It's merely common sense that a woman who is photographed as often as CATHERINE would choose classic clothing styles. She'll be wearing these clothes for decades to come.
Christian Pelleschi
Lives in Los Angeles (2006–present)
Lady Diana Spencer's wedding dress was designed by the Emmanuels, and would prove to be the most iconic and fashion-defining bridal gown the world has ever laid eyes on.
Made of silk taffeta, the gown's wrinkling in the carriage ride from Clarence House to St. Paul's Cathedral had been anticipated by the designers, who were confident the yards of antique ivory fabric would smoothen out mostly on their own.
The fashion team might have underestimated the degree of wrinkling, as they later spoke of the transcendent carriage exit as something between heart-stopping and breath-taking. Nevertheless, the dress did fall into place, its true form revealed a little more with each pace the bride took up the Cathedral steps to the portico of St. Paul's. Trumpets blared in fanfare to signal the future Princess of Wales' arrival, while Lady Sarah Armstrong-Jones, Princess Margaret's daughter and the eldest bridesmaid, concentrated on untangling Lady Diana's endless train of veil.
She looked like a butterfly emerging from a chrysalis. Metamorphic, momentous, magnetic, I would not change a thing.
How much did Princess Diana's wedding dress cost?
AFZAAL AGHA
The 5 most expensive weddings in history These couples have had no problem spending a fortune on the day of their marriage. SoHo brings you the ranking. 1. $ 122 million Khadija Uzhakhovs and Said Gutseriev (2016) The son of the Russian oil tanker Mikhail Gutseriev married a medical student in Moscow. More than 2000 people were invited and Jennifer López, Sting and Enrique Iglesias performed. (Marriage according to Picho and Pucho) 2. 90 million dollars Lady Di and Prince Charles (1981) "The Wedding of the Century" had 3,500 guests and some 750 million viewers saw it on television. Only the dress of Princess Diana cost the equivalent of 180 million pesos today and also a luxury edition of Don Perignon champagne was served.
Is Princess Diana's wedding dress designed by David and Elizabeth Emanuel considered a work of art?
Catherine Penny
Former Former Lecturer in History
Thank you for this question
It most certainly is considered a work of art. Mainly by David and Elizabeth Emanuel…who can still be found popping up with monotonous regularity to talk about The Dress, (David was in I'm a Celebrity and Say Yes to the Dress) - and mainly at royal weddings - to give their expert advice on the bride's dress. Since they went their separate ways, their availability for commentary on The Dress has, in effect, doubled, which has caused some problems insofar as their demand has more than halved whilst David's - and his husband, David Byrne's - dislike of Elizabeth has grown disproportionately.
However they can can be enticed out to the opening of a crisp packet if there is a chance they can find any opportunity to talk about The Dress, The Secrecy Surrounding The Dress, or How They Designed the Most Famous Dress in the World or How many Pearl and Sequins Got Sewn Into The Dress (10,000, if you must know)
Currently, they are each hoping to bag a seat at any televised/ home video coverage that may be given to the wedding of Beatrice. If the current climate prevails, and the wedding is postponed because of measures taken against Covid-19 - or held behind closed doors because her father is still wanted for questioning about his nonce friend, Epstein - they will be more than happy to run through 'Diana: The Dress Fittings' (Elizabeth), whilst David has signalled his reluctant willingness to relive the trauma of his brush with death along with the tension and horror on the day with 'When Diana Got Out Of The Coach And The Dress Was Creased, I Nearly Died,' to fill in the gaps between adverts.
So, was Diana's dress considered a work of art? Certainly by the designers. The contemporary opinion was somewhat mixed…but generally errs towards idolatry with the bride wearing a dress considered a gold standard that would shape wedding dresses for the foreseeable future. More recently, Hilary Mantel described the moment Diana descended from the coach outside the Cathedral thus..'..[Diana] tumbled from the coach like a bride in a bag. Her gown unfolded perfectly, like a paper flower.'
Personally, I quite like the idea mentioned in other Quora answers - the dress wore her on that day. Whether you liked Diana or not, wrapped yards of all of the grandeur and glitter of the r/f, she was walking, as an innocent, into a place where she knew her husband to be and his lover stood waiting. And that's quite sad.
Why did Prince Charles scold Princess Diana for donning a black dress to their first Royal Engagement as a betrothed couple?
Yonita Macgregor
Former Secretarial, Designer, Decorator (1963–1968)Thank you for the question. A slightly oblique scold. According to what l have read on Quora,( which is from the same time frame), it is from now on that he started feeling jealous of her rising popularity. He had not the tools to cope with this.He is said to have squeezed her waist with the remark "a bit tubby are we", which since she was A highly sensitive person, apparently set her off slimming. A great tragedy which need not have happened.Fortunately his one son is level headed. And being properly prepared. It is so much nicer to have a pleasant charming woman in those places. A huge amount is expected by the public, that is true, and even if born to it, some lack the 'charisma needed'. Yet they are official functions -for half a day for most of the functions-it can't be that difficul
Where is Princess Diana's wedding dress kept?
Henrique Gomes
Studied History & History of Europe at University of Lisbon (Graduated 1985)There is not and never was a "Princess Diana". Diana Frances Spencer, born "the Honorable Diana Spencer", became Lady Diana Spencer at the time her father became the Earl Spencer. By her marriage to the Prince of Wales she became "the Princess of Wales" (not Princess Diana, because the use of her first name after the title is reserved for the princesses of Blood Royal). After the divorce, she started to use the usual name for this marital status: Diana, Princess of Wales and not "the" Princess of Wales, nor Princess Diana. Returning to the question, her wedding dress is in the museum that your brother built in Althorp.
Why does Catherine, Duchess of Cambridge, dress like her husband's late mother Princess Diana?
Deanna Eppers
top salesperson at Express
Catherine, Duchess of Cambridge does not dress exactly like Princess Diana did, but as you're noting, Catherine does take fashion ideas from the late Diana, Princess of Wales. She takes some styling ideas and, some days, the Duchess pays homage to her mother-in-law, so it's obvious. It's a good move. Diana dressed well and had great style.
I'll put up some pics of the clothes Diana wore in the 1980's and 1990's. You'll see the styles were larger back then, but remained much the same.
Catherine will often wear something reminiscent of what Diana wore, and she does that to keep her spirit alive, to keep the comparisons going so that people remember Diana lived, and because Diana wore fabulous clothes, so naturally Catherine would wear a modern version of some of the Princess' good looks… Here we go!
Diana's engagement photo….Blue dress, but very 80's.
Catherine's engagement pics, blue dress, same engagement ring, because that is the ring Prince William proffered and who would say no?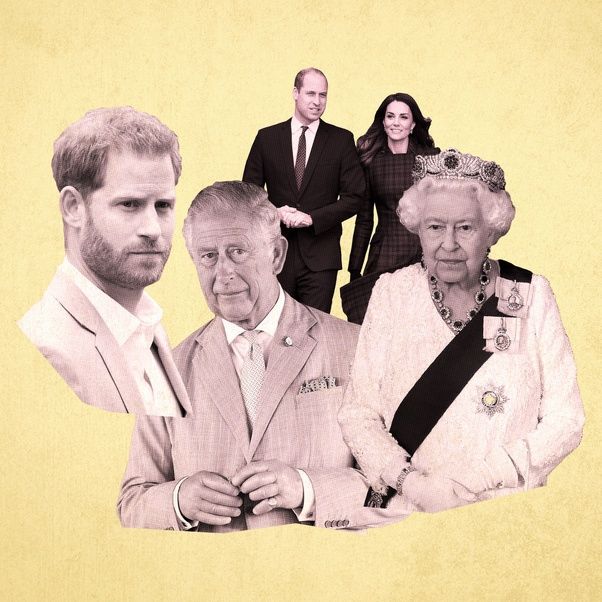 READ MORE ROYAL STORIES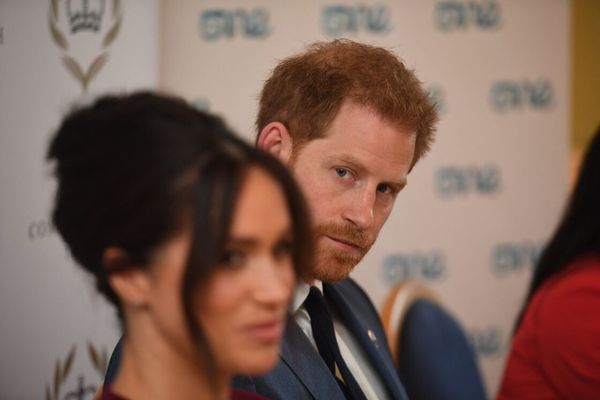 Meghan Markle and Harry: First tensions before the birth of their daughter
Meghan Markle and Prince Harry will welcome their second child very soon . As is the American custom, the couple will soon organize a Baby Shower to celebrate the arrival of their future daughter.

YEET MAGAZINE30 MAY 2021 • 19 MIN READ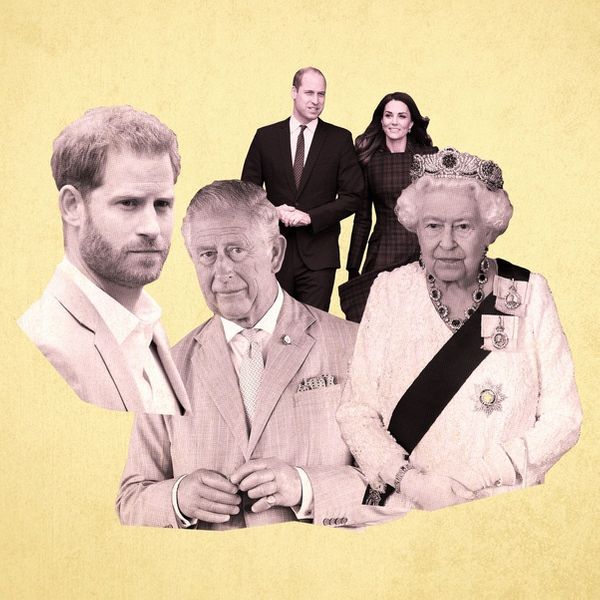 Opinion: Could the Harry and Meghan interview cost Prince Charles the throne?
Many Americans think the father should pay for the son who is close to middle-age now, but do the British people understand what's going on and do they support Charles deciding to cut off his son?

YEET MAGAZINE30 APR 2021 • 5 MIN READ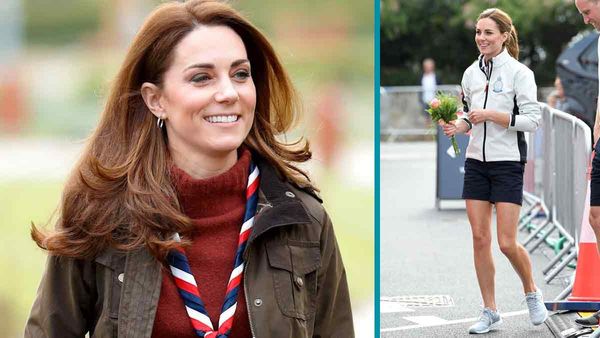 Inside Kate Middleton And Prince William's 10 years Anniversary : From Anorexia To Exhaustion Rumors, All Eyes Are On Kates Diet And How She Managed To Stay So Slim.
By Olivier Ly

YEET MAGAZINE29 APR 2021 • 16 MIN READ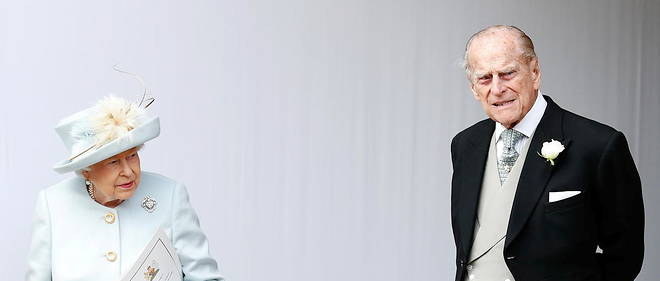 Prince Philip, Spouse Of Queen Elisabeth Dies At Age 99.
The news was announced on the Royal Family's official Twitter account.

YEET MAGAZINE9 APR 2021 • 6 MIN READ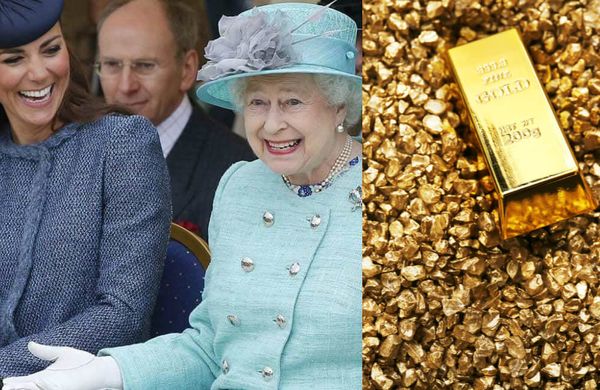 Queen's Elizabeth II : The 93-year-Old Monarch Is By Far The Richest member of the Royal Family With Personal Assets Estimated In Billions. Here's What They Include.
The Most Expensive Things Owned By Queen Elizabeth II Queen Elizabeth II has more than one trick up her sleeve. The British royal family is not the richest in Britain,

YEET MAGAZINE16 MAR 2021 • 11 MIN READ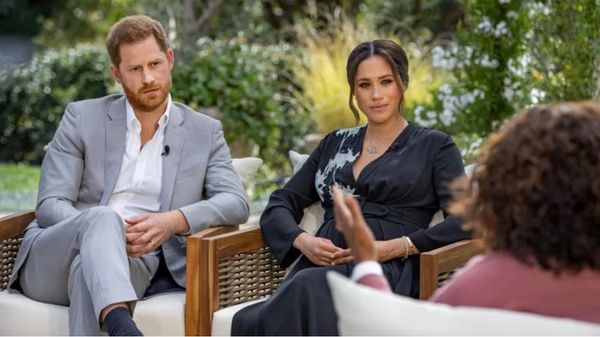 Meghan and Harry: 'We did everything we could' to stay' Prince Harry and his wife Meghan Markle during the interview with Oprah Winfrey.
Prince Harry and his wife Meghan Markle during the interview with Oprah Winfrey and broadcast Sunday evening in the United States on CBS. HARPO PRODUCTIONS / REUTERS A little over a

YEET MAGAZINE8 MAR 2021 • 11 MIN READ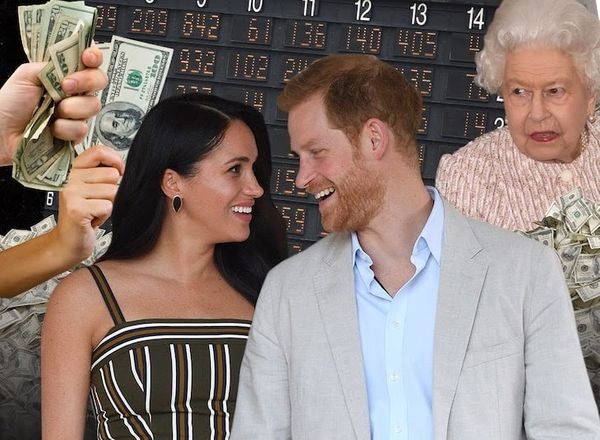 #MeghanMarkle Hints At Possible 2024 Run As Democratic Candidate Hours After Stepping Down As Senior Member Of The Royal Family
Prince Harry and Meghan Markle's stunning decision to step down as senior members of the Royal Family doesn't just have The Queen reeling ... it's shaken up the betting world. Those

YEET MAGAZINE12 JAN 2020 • 1 MIN READ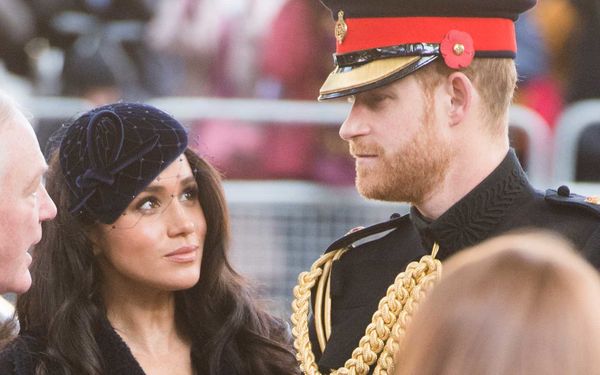 Almost 4,000 People in Sussex Have Signed a Petition to Strip Prince Harry and Meghan Markle of Their Royal Titles
In May 2018, Prince Harry finally wed the love of his life, Meghan Markle. As a gift to the new couple, Queen Elizabeth gave the pair the title of Duke

YEET MAGAZINE20 DEC 2019 • 5 MIN READ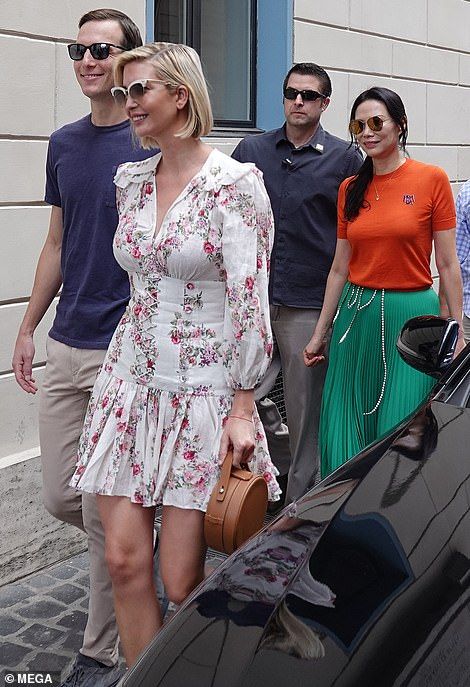 Ivanka Trump, Prince Harry and Meghan Arrive for A-List Wedding in Rome.
Britain's Prince Harry and his wife Meghan, the Duchess of Sussex, were among celebrity guests to arrive at the wedding Duchess Meghan's close friend, designer Misha Nonoo, at Rome's Villa

YEET MAGAZINE22 SEP 2019 • 4 MIN READ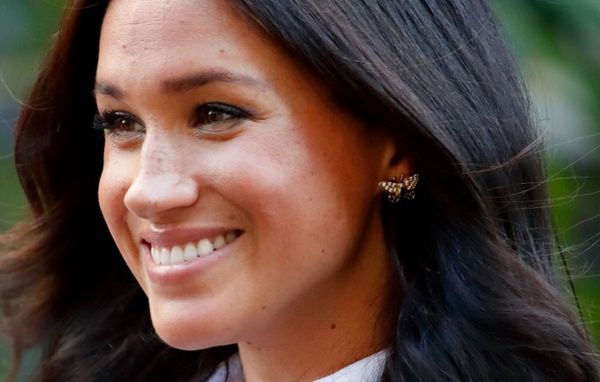 How Meghan Markle Honored Princess Diana at the Launch of Her Fashion Line.
September 15, 2019 Meghan, the Duchess of Sussex, just paid tribute to Princess Diana, her husband's late mother, in the sweetest way. Meghan showed up to the launch of

YEET MAGAZINE16 SEP 2019 • 5 MIN READ