Post Covid 19 Pandemic Recovery : How Italy Got In Search Of Missing Tourists
This spring, Italy embarked on a "great seduction" with foreigners, a race with other European countries to attract tourists eager for holidays in the sun. In the Rome region, it is not clear whether they will be there despite the COVID.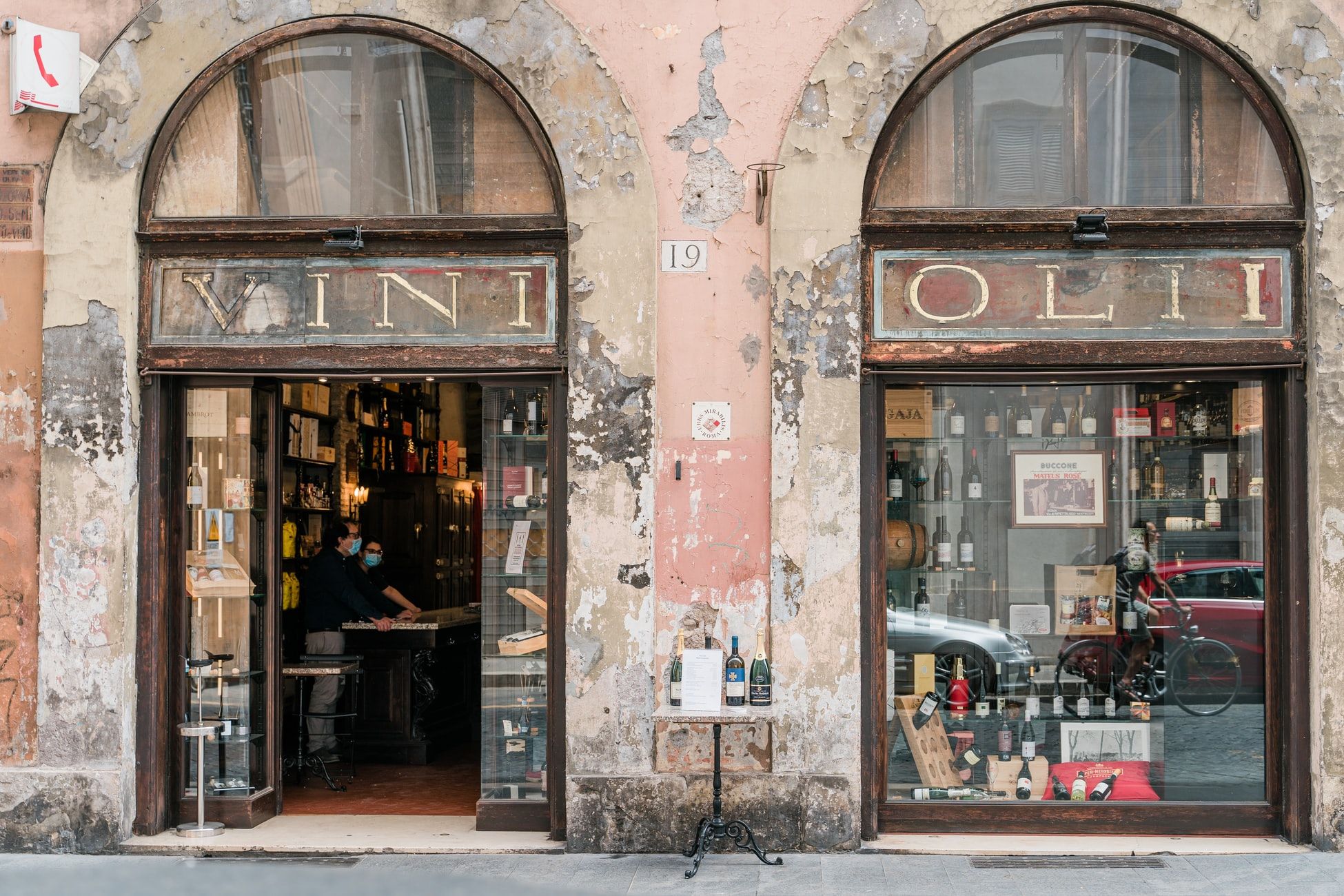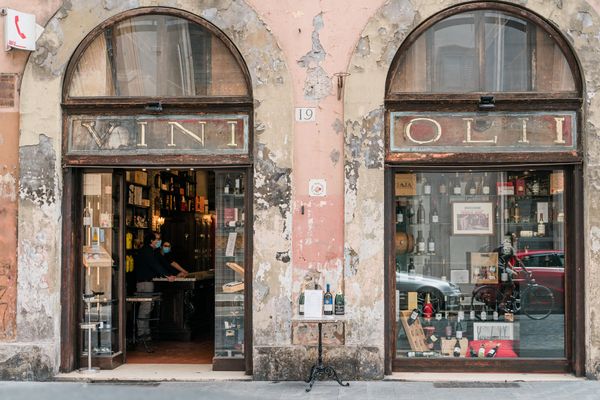 By YEET MAGAZINE | Updated 0200 GMT (1000 HKT) June 6, 2021
SHARE THIS  ARTICLE
This spring, Italy embarked on a "great seduction" with foreigners, a race with other European countries to attract tourists eager for holidays in the sun. In the Rome region, it is not clear whether they will be there despite the COVID.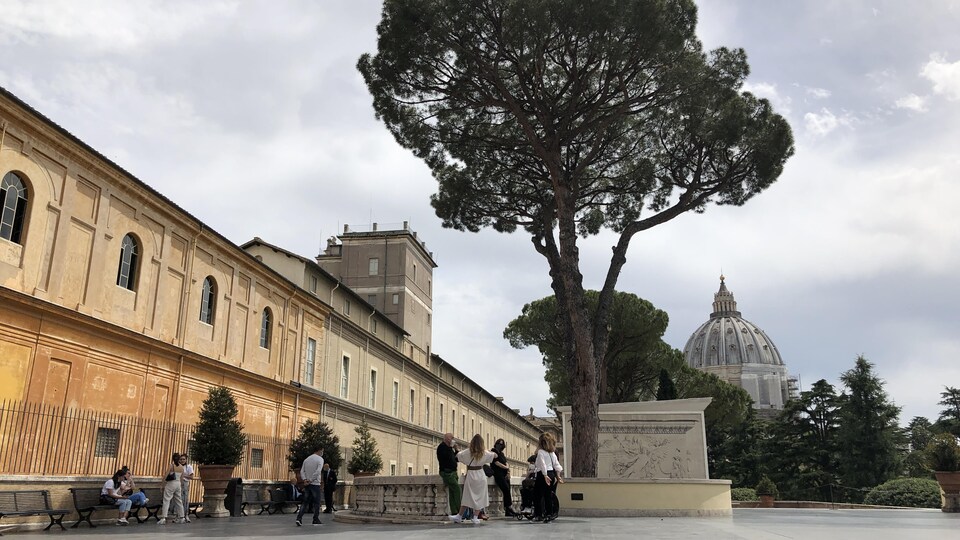 Stefania Molinari and her group in the entrance to the Vatican Gardens.
"Before, we used to enter this way. We were greeted by Michelangelo, on the left, with his sculptor's hammer… "The tour guide points to the statues above the vast entrance to the Vatican.
There are no crowds this afternoon, nothing to do with the long lines of pre-COVID visitors.
Regardless, Stefania Molinari's enthusiasm is contagious. She sprinkles her visit to the Vatican Museums with anecdotes and little jokes that make her group of visitors smile.
At the Holy See, the museum reopened its doors a few weeks ago. Work is resuming very slowly for Stefania Molinari. A little too slowly for his liking. Certified guide for Rome, it is difficult to explain the absence of visitors in such a busy period.
Everything reopens in early June , she recalls. These days, Rome is really insolent in beauty, precisely because there are no tourists. See the Trevi fountain or the Sistine Chapel with only 10 people… it's a dream situation.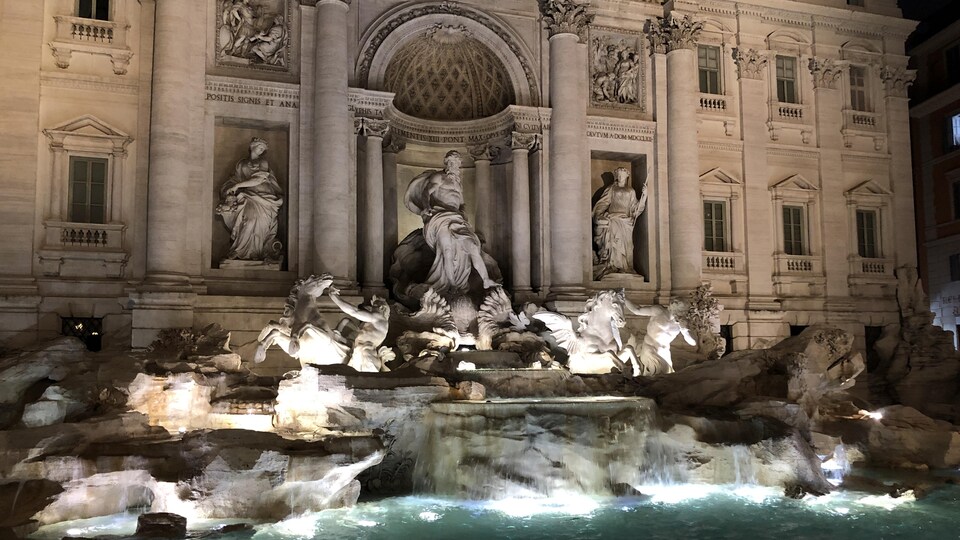 The Trevi fountain, practically without visitors.
A dream situation for foreigners, but a sort of nightmare for those whose livelihood depends precisely on their presence in large numbers. Italy may lighten its health restrictions for tourists, they are still desired.
From what we currently see, it does not resume so much, she regrets. The French are afraid to come to Italy. With the mortality figures we had last year in Lombardy, it has cast a black veil on the whole of Italy!
Stefania Molinari has one faint hope: that visitors will return in September, when the warm months are more favorable for beaches than for long visits to historic sites.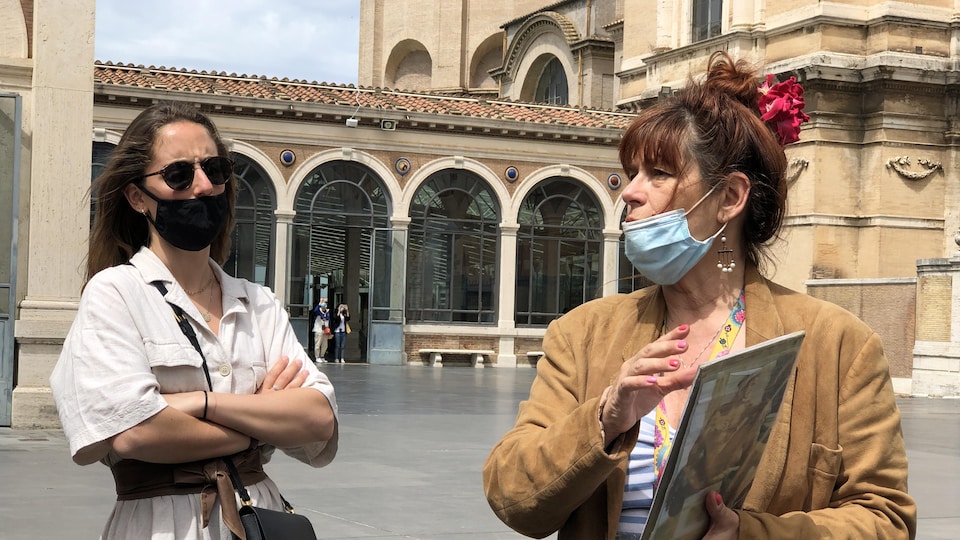 Tour guide Stefania Molinari with a rare group of visitors that she accompanies to the Vatican.
PHOTO: RADIO-CANADA / YANIK DUMONT BARON
Not even priests in the streets around the Vatican
Italy has just adopted a certificazione verde , a mechanism by which the authorities promise free entry without quarantine to those who prove that they are vaccinated or not contagious.
This certificate is inspired by what Europe is preparing to ensure free movement between countries this summer. A document seen by some as a sesame erasing doubts in the minds of travelers.
The enthusiasm for this mechanism among European politicians and officials does not yet seem to have materialized in the streets of Rome. At least not around the Vatican.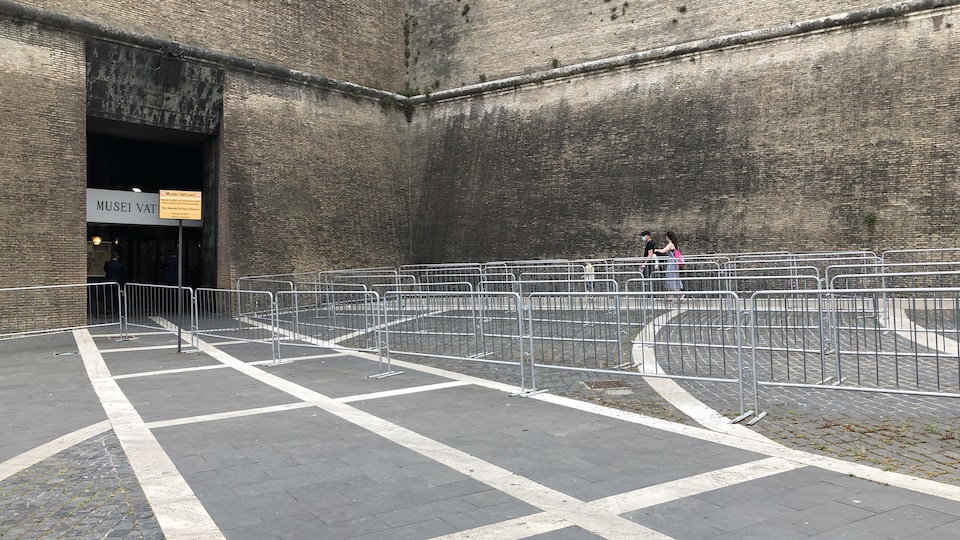 Like other cultural and historical sites in Rome, the Vatican Museums experienced busier days.
There are many visitors, but these places seem deserted. Usually, pilgrims and tourists from all over the world should come together in a mixture of piety and enthusiasm.
Zero! Alessia Astrologo has not seen any clients during the day. She shares her despair alongside her husband, sitting on the small steps that lead to their business.
I do not know what to think. The news is more positive [new infections are decreasing], but the work is getting worse. There are no clients. It is only 3:30 p.m. and it would be better to close for the day ...
I've been here for 50 years, I've never seen anything like this. There aren't even any passing foreign priests , she exclaims, as her husband stares into the void in silence.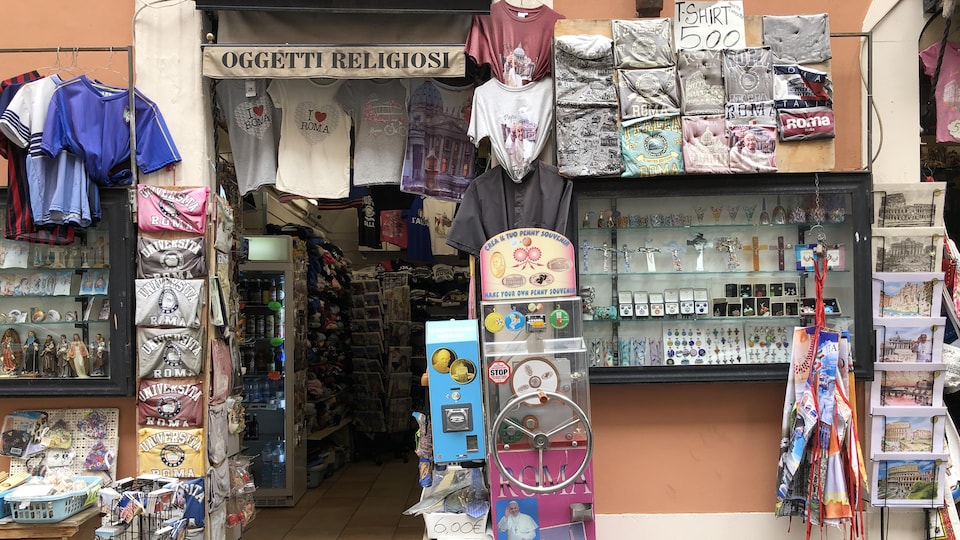 A shop in Rome near the Vatican
For us it's weird, but it's necessary
You have to climb a few steps to reach the reception of the Hotel Canada in Rome. At the top of the small staircase, a very sticky blue carpet. Sploch! makes the shoe on this obligatory passage. You enter the hotel, you let the bacteria out!
Silvia Pucci seems very proud of this special carpet, one of the many health measures put in place since the arrival of COVID-19.
Table service has replaced the buffet, menus are downloaded from the phones, cushions, carriers of germs, have disappeared from the sofas.
Usually we have more contact with customers, she says. You have to relearn the routines, be more hygienic.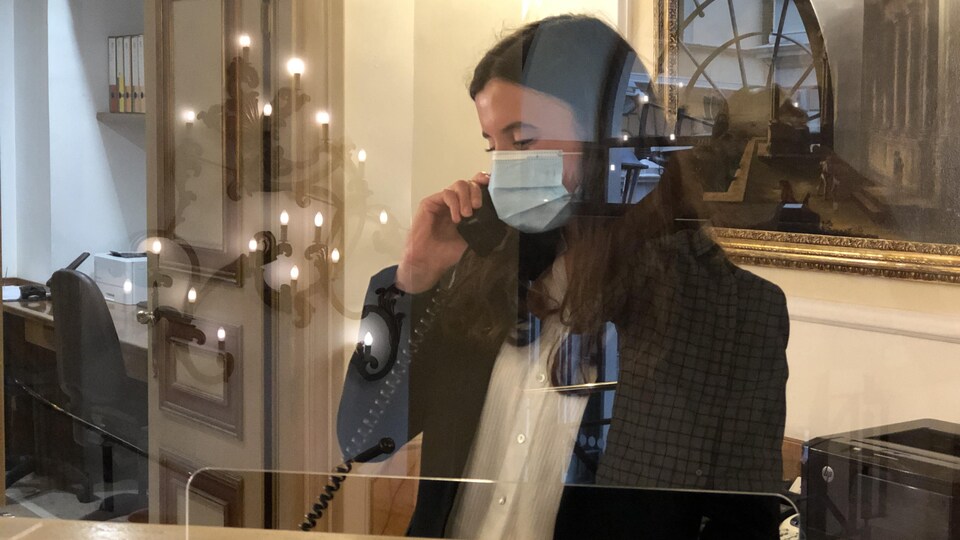 Silvia Pucci, employee of the Hotel Canada. His family has owned the hotel for over 60 years.
PHOTO: RADIO-CANADA / YANIK DUMONT BARON
New, less welcoming habits are also needed, such as this plexiglass panel that protects reception employees. In this 72-room family hotel, any measure that can reassure the guest is deemed necessary .
The young woman ensures that with this pandemic, customers are closely interested in the hygiene measures of the hotels they can attend. It's important these days.
Measures that took time and money. But this particular hygienic vigilance is slow to bear fruit. Reservations are picking up very slowly, she says, but we are hopeful . Hope for a return to normal… next year.
Until then, hotel staff live in fear of another wave of contamination forcing yet another closure. I'm a little afraid of behaviors that are not responsible , admits Silvia Pucci, who is doing everything possible to get out of this hellish period .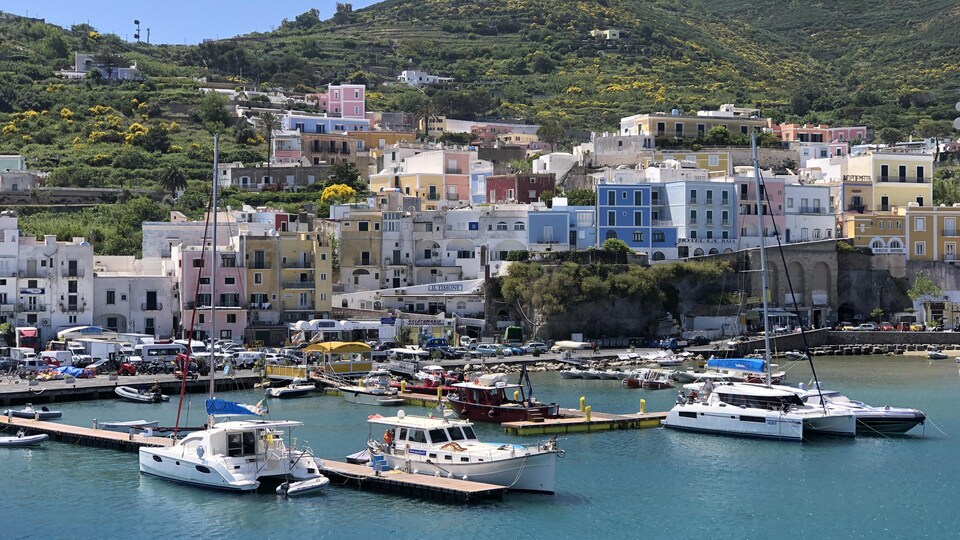 The port of Ponza a hundred kilometers from Rome.
Islands without COVID
We feel more hope and enthusiasm in Ponza, an island about a hundred kilometers from Rome. The sea is calm; along the beach, a few tables await tourists.
In this port, many people wander without a mask. A habit that goes against Italian instructions, but which highlights a fact: most of the 3,400 inhabitants have already been vaccinated.
We are an island without COVID , launches Carlo Marcone, one of the elected officials responsible for the community. Not entirely without COVID , but almost: about 70% of residents are vaccinated; double the national average.
In front of the small town hall overlooking the sea, Carlo Marcone praises this strategy, designed to attract tourists and carried out with the blessing of the regional authorities.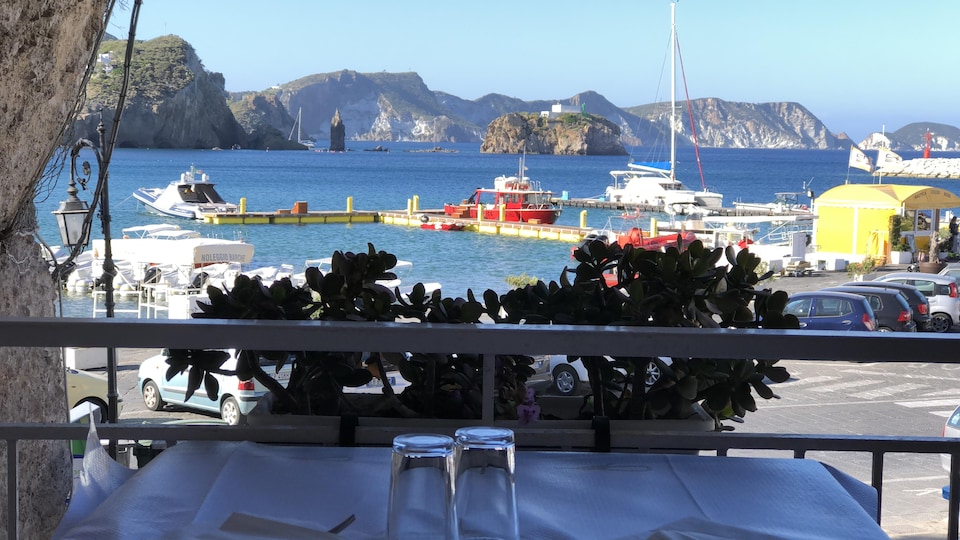 View of the sunny bay of Ponza from a table in the shade.
The idea is primarily health: there is only a small medical clinic on the island, recalls Carlo Marcone. If there is a seriously ill patient with COVID, it would be very difficult, he emphasizes: we are 40 miles from the coast, it takes three hours by boat. It's risky.
But the strategy also responds to an economic imperative: to assure visitors that they will not bring back the COVID as a souvenir. It allows tourists to take their vacation with confidence.
We should be more relaxed, more relaxed this summer , confirms Luca Mazzela, the manager of a cooperative of sailors offering boat tours around Ponza. It's been a long time since people took a real vacation.
Between two clients, he confides his hope for a busy summer, the opposite of what those who make a living from tourism around the Vatican anticipate. We are all a little quieter with vaccines, he says. It's time for everyone to regain their confidence and start traveling again.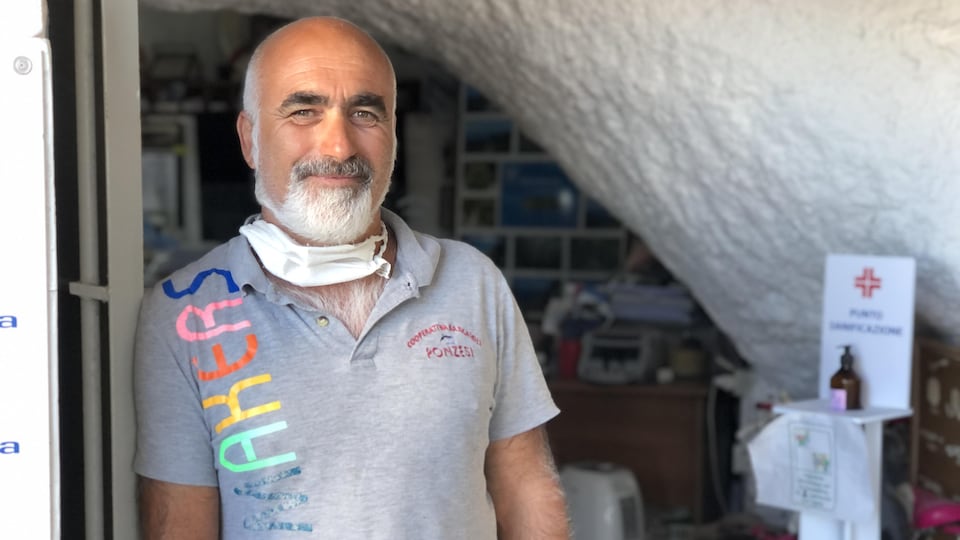 Luca Mazzela is responsible for a cooperative of sailors offering boat tours around Ponza.
More on Covid-19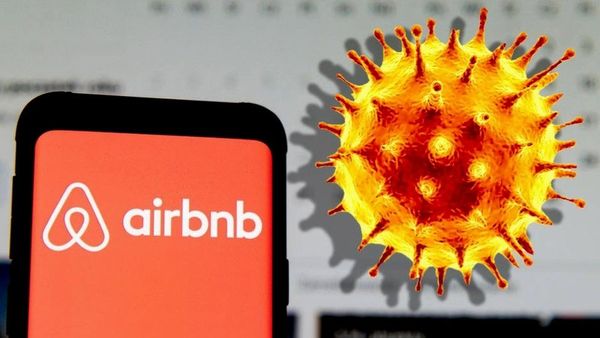 Airbnb has COVID and Should Be on a Respirator"
Is Airbnb valuation overheated? Airbnb (NASDAQ:ABNB) In a foot race between the two over the next few years, Braemer Hotels has a better chance of 'winning'."— Whitney Erin JohnsonSILICON

YEET MAGAZINE30 APR 2021 • 9 MIN READ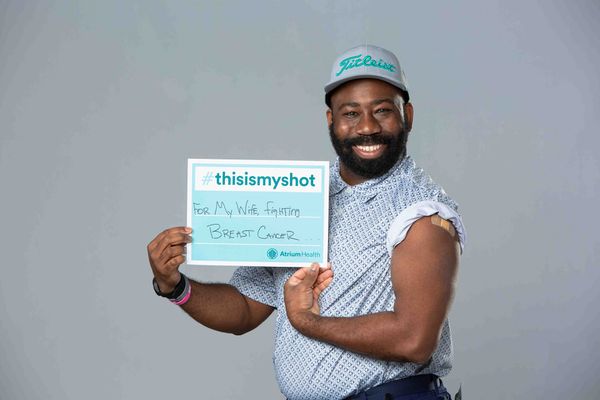 If The Covid-19 Vaccine Becomes Mandatory, How Will It Be Enforced? Join The Conversation.
By Paul Holloway | YEET COVID-19 Information Center Get updates about coronavirus to keep yourself and the people around you safe. Looking for COVID-19 vaccine info?Get info about COVID-19 vaccines, including who can get one and resources.Go to COVID-19 Info

YEET MAGAZINE20 APR 2021 • 42 MIN READ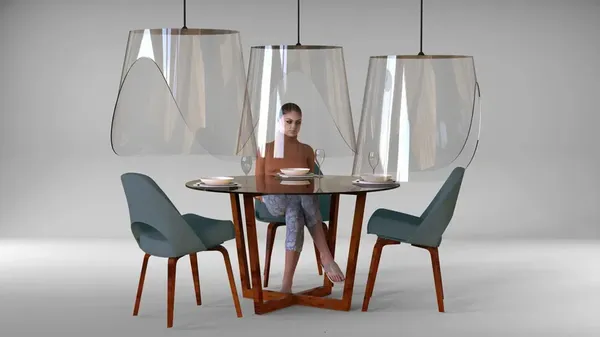 Coronavirus Covid-19 A French Designer Creates A Revolutionary Concept For Eating Without Risk In Restaurants
By Tania Mendez - Bars and restaurants could reopen sooner than we expected but under what conditions? Christophe Gernigon, a French designer from Normandy, offers his own concept to protect customers.

YEET MAGAZINE12 APR 2021 • 7 MIN READ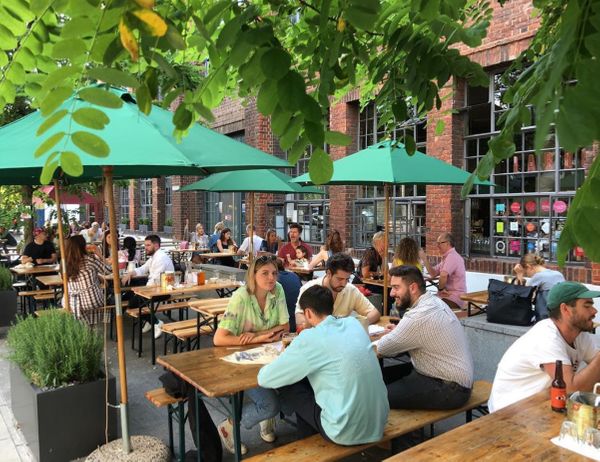 LIVE - Covid-19: England reopens its shops and terraces
Drink a beer on the terrace, go shopping, go back to the hairdresser: the English are regaining precious freedoms on Monday, with the lifting of many restrictions.

YEET MAGAZINE12 APR 2021 • 13 MIN READ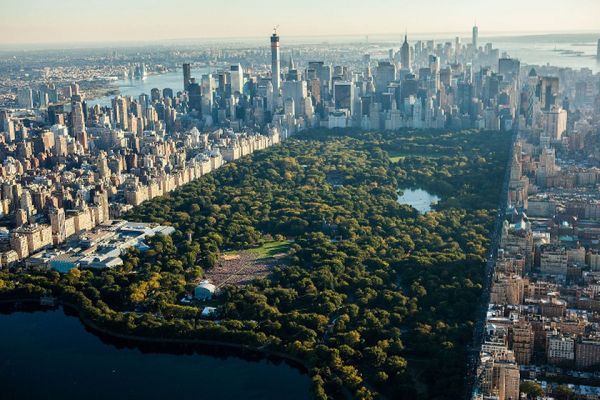 Where To Travel In April When Covid Restrictions Are Lifted?
By Sonia Perez | We've Selected Some Warm And Hot Destinations Where Our Partners Will Welcome You With The Hospitality That Characterizes Their Properties. The Choice Is Yours!

YEET MAGAZINE9 APR 2021 • 10 MIN READ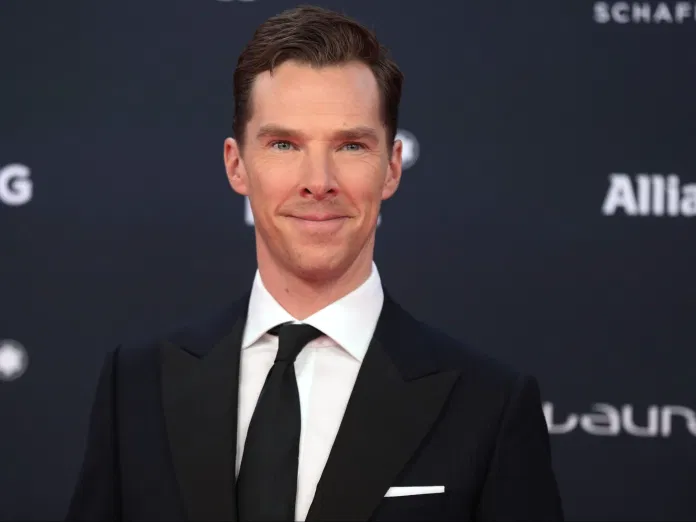 Who Is 'Patient Zero' In The Coronavirus Outbreak? Benedict Cumberbatch Fears He Is.
Actor Benedict Cumberbatch now fears he was the man with the first confirmed infection of the new coronavirus in a surprising interview.

YEET MAGAZINE7 APR 2021 • 3 MIN READ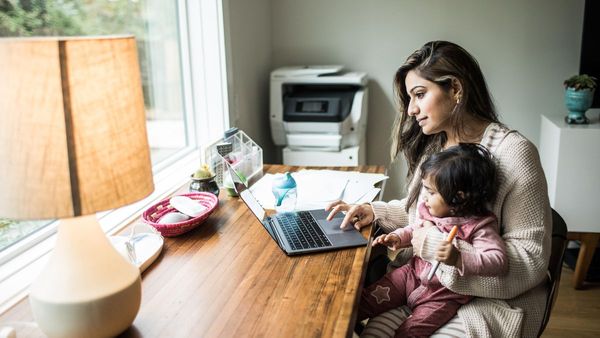 "Covid-19 might just come with a silver lining": How a global pandemic has highlighted the importance of employee well-being.
COVID-19 and employees' mental health, By Maitiu Boylan.

YEET MAGAZINE24 MAR 2021 • 16 MIN READ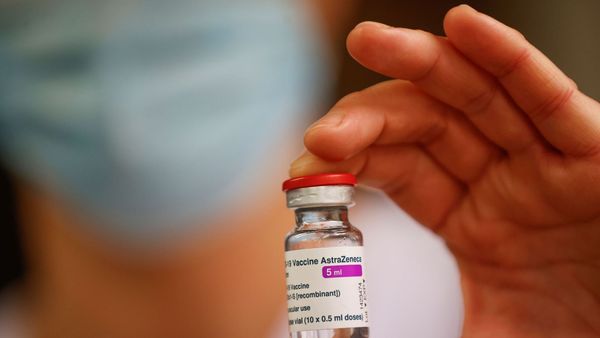 Covid-19: what's happening with the AstraZeneca vaccine?As a precaution, Denmark, Iceland, Norway, Bulgaria and Thailand have suspended its use over fears of blood clots.
It's in the news Covid-19: what's happening with the AstraZeneca vaccine? As a precaution, Denmark, Iceland, Norway, Bulgaria and Thailand have suspended its use over fears of blood clots. The

YEET MAGAZINE16 MAR 2021 • 9 MIN READ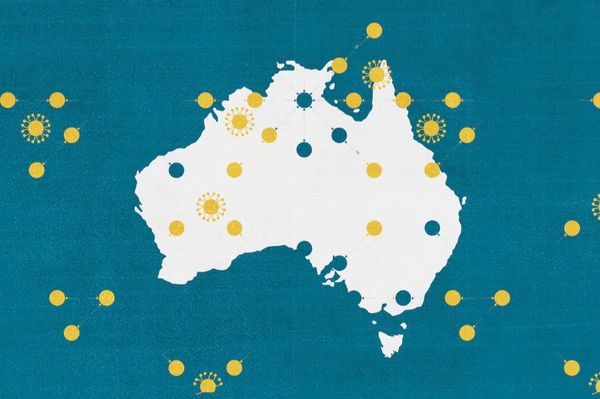 Adopted in Asia and Oceania, is the "Zero Covid" strategy applicable in Europe?
More and more specialists are pleading for the application in Europe of the so-called "Zero Covid" strategy, which has proved its worth in Asia and Oceania. This aims to reduce

YEET MAGAZINE25 FEB 2021 • 9 MIN READ
Traveling to Thailand during Covid-19: What you need to know before you go
UNLOCKING THE WORLD ( YEET) Editor's Note — Coronavirus cases remain high across the globe. Health officials caution that travel increases your chances of getting and spreading the virus. Staying home is

YEET MAGAZINE17 FEB 2021 • 9 MIN READ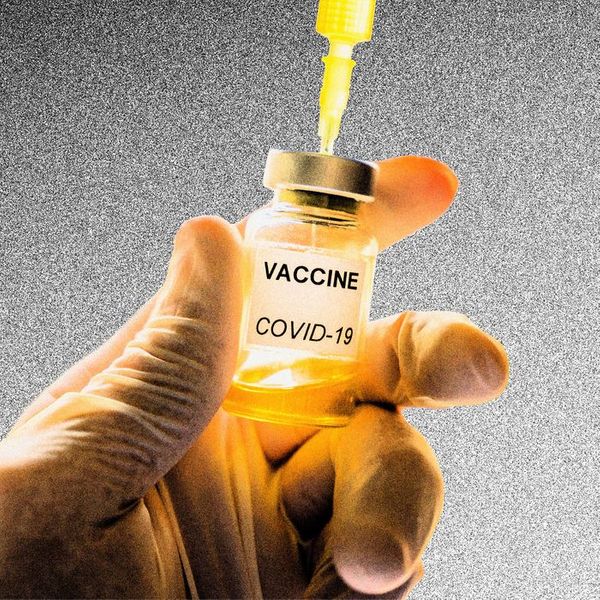 COVID Quarantines Not Necessary for Vaccinated People.
Fully vaccinated Americans can now skip quarantines if they are exposed to someone infected with COVID-19, new federal guidelines say. "Fully" vaccinated persons who meet criteria will no longer be

YEET MAGAZINE12 FEB 2021 • 8 MIN READ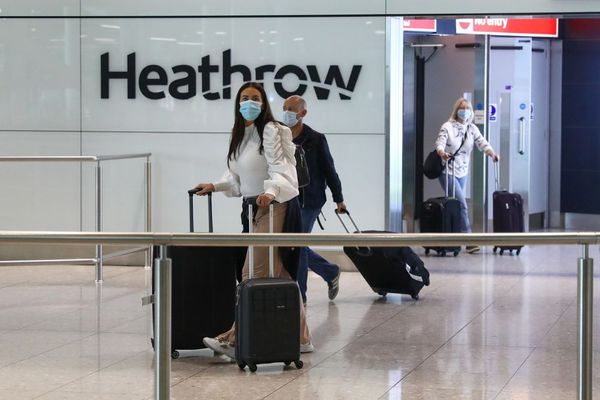 New rules on mandatory Covid-19 testing for travel to the UK from 15 February
From the 15 February, anyone permitted to arrive into the UK will need to self-isolate and, in addition to existing pre-departure requirements, it will be mandatory for all arrivals to

YEET MAGAZINE12 FEB 2021 • 7 MIN READ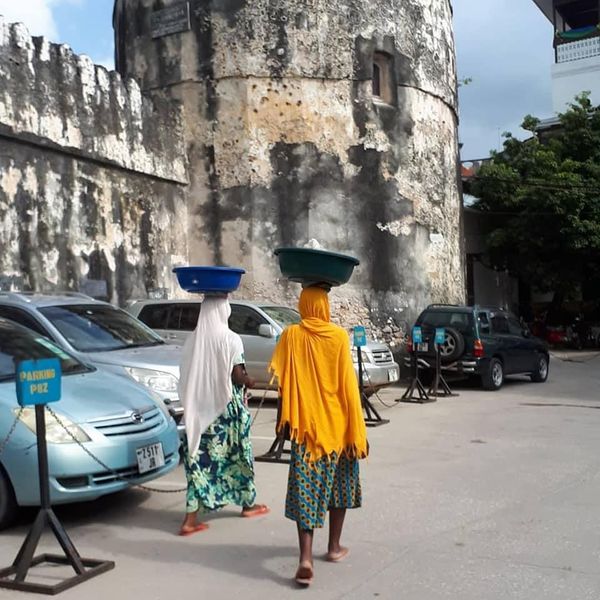 A Day In Zanzibar : A Perfect Choice In The Times Of Covid 19.
Zanzibar by far is the most affordable destination with some of the best beaches on earth. Want to know what the best beaches in Zanzibarare? Some of the great Zanzibar

YEET MAGAZINE24 JAN 2021 • 7 MIN READ
Coronavirus(COVID-19) News: France to reopen border with UK.
Officials have reached a deal to reopen the border between the UK and France to hauliers and some passengers, including EU citizens, from Wednesday — providing they test negative for coronavirus.

YEET MAGAZINE24 DEC 2020 • 7 MIN READ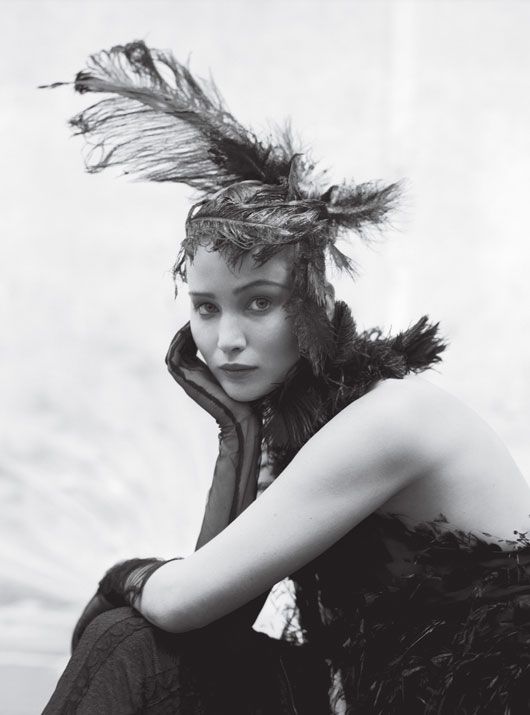 Dressing Up In The Times Of Covid19.Do you dress up during a lockdown, and why?
You should not use a lockdown to just "give up". One day, life is going to start up again. One way or another, it will have to. And when it

YEET MAGAZINE19 NOV 2020 • 7 MIN READ
How companies will work post COVID19: embracing a remote-first culture.
How companies will work post COVID19: embracing a remote-first culture. Companies are thinking about how and when to have employees come back to work. Due to social distancing requirements, many

YEET MAGAZINE11 JUL 2020 • 12 MIN READ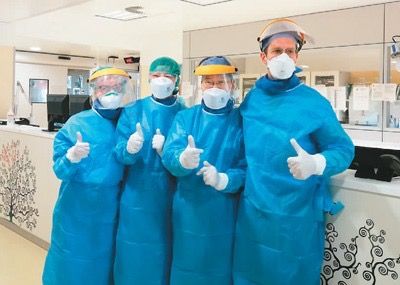 China Selflessly Extends Helping Hand To Countries Around World In Global Battle Against COVID-19
http://en.people.cn/n3/2020/0325/c90000-9672307.html China may not have fully recovered from the impact of the novel coronavirus pandemic, but it has still selflessly offered help

YEET MAGAZINE25 MAR 2020 • 6 MIN READ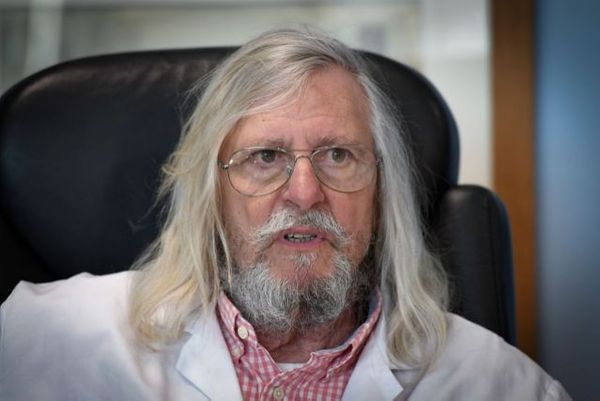 Chloroquine Treatment Of Covid-19: "What People Say About Side Effects Is ," Ridiculous" Says French Doctor And Infectious Disease Specialist Didier Raoult
Infectious disease specialist Didier Raoult wants to "treat and screen" to fight Covid-19.Infectious disease specialist Didier Raoult wants to "treat and screen" to fight Covid-19. Read more here MORE

YEET MAGAZINE21 MAR 2020 • 6 MIN READ