By Paola W. Bapelle
Due To Coronavirus, The Ready-To-Wear Industry Had To Consider Virtual Presentations Once More.
Once again, Paris Fashion Week had to take  place virtually because of the coronavirus.
Famous fashion houses like Lanvin, Dior or Balmain presented their models through videos. Quarantines, frustration and the desire to escape… These virtual shows say a lot about what our world has become.

Over and over lockdowns have forced us to live forever with a holey pajama bottom and a shirt not too wrinkled (in an attempt to remain dignified at Zoom meetings), one would have almost forgotten the existence of fashion. But unlike our zest for life, a few heartbeats still keep it alive.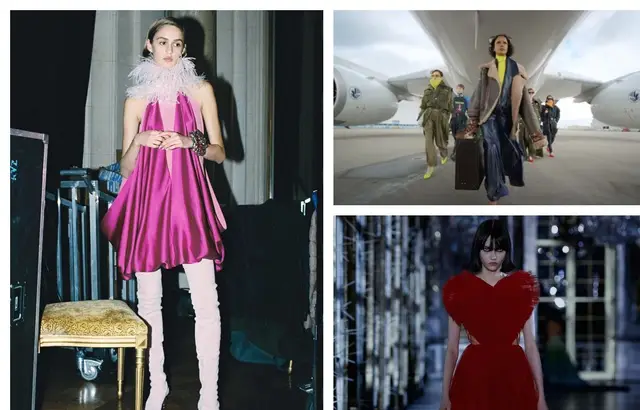 The proof, like every year, was Paris Fashion Week, which ends on Wednesday. And like in previous seasons, these are virtual shows offered by the major ready-to-wear houses.
Lanvin, Dior, Balmain or Chanel, all presented their fall-winter 2021-22 collections through long videos, each more sophisticated than the next at the Paris Fashion Week 2021.
Original cases that highlight looks and models in a different way, but which also say a lot about what we have become, and the world in which we now live.
And luckily the clothes are a real eye-catcher, because otherwise it is a bit annoying ...
The threat looms

Like the virtual parade of Givenchy, which takes place in an underground, dark and humid world, crowned with metal walkways.
Shot in the large empty hall of the Paris Défense Arena, the show projects us into a science-fiction universe where no hope is allowed.
The models stroll through it with a lively and nervous step, full hoods on the head for some, long leather coats or dark oversized faux fur for others. The shoes, massive, tie the body to the ground.
A few glimmers of hope still light up the darkness. Dresses in sequins and feathers, in a very Roaring Twenties spirit, appear at the very end of the parade, like reminiscences of life before.
In a completely different delirium, it is in  Versailles that Dior invites us. But in a lonely Versailles, and at night. Dancers dressed in flesh costumes welcome us into the forest (creepy obviously), and take us to the Hall of Mirrors, some of the walls of which are covered with thorns.
That alone is enough to cheer you up, subtly reminding you that anything to do with culture or the world of entertainment slumbers in deep obscurity.
On the look side, the silhouettes mix well-behaved schoolgirl outfits (Peter Pan collar and socks) and slightly more dilapidated details such as thigh-high boots or massive black leather boots.
As at Givenchy, some beautiful vaporous and colorful dresses illuminate the end of the show, a note of hope probably. Or distress flares, your choice.
The need to escape.

Do you want a change of scenery after all this? The creators seem ready for it. Whether at Givenchy or Balmain, there is a variety of travel bags of all kinds, classic backpacks or suitcases, in XXL formats. Enough to keep a quiet week away from home, far from the perimeter of the "one kilometer".
And this is the central theme of Olivier Rousteing's show for Balmain, which covers air and space transport for more than 10 minutes. Here the models parade on airplane wings, their heads full of dreams of escape, determined to explode their carbon footprint ...
But no luck, as in real life the aircraft are stationary, on the tarmac or parked under a hangar. And it necessarily reminds us of all those travel plans that have been screwed up for months and those flights that we may never resume.
Optimist, Olivier Rousteing ends up transposing these mannequins dressed in gold and silver in space, far from the coronavirus. But he leaves us on Earth, with our shapeless pajamas and our vouchers waiting.
Craving bamboche

To end this round of frustrations, head to the party world, also banned from our lives for an indefinite period.
In a wave of nostalgia, Chanel invites us backstage at a cabaret, where fringed models delicately remove their large coats before taking the stage.
The atmosphere is intimate and subdued, far from the monumental shows at the Grand Palais (currently under construction), where it was possible to plant a forest or a giant supermarket. In the end, it might not be bad at all.
Finally, on the Lanvin side, during this Fashion Week, the house made a short three-minute video, like a clip, where a bunch of young people full of life, party in a luxury Parisian hotel.
It includes the young rapper from Essonne Luv Resval, and a surprise appearance by singer Eve.
All these little people have a blast in a hotel room, by the pool or in a reception hall, to the music of Gwen Stefani Rich Girl. Luxury, carefreeness and festivities, old memories of the old world ...