Lutz Huelle, Collection autumn/winter 2014/15 | Photo (detail): © Lutz Huelle
Last year, Markus Ebner, editor-in-chief of the fashion magazine "Achtung",  selected ten favorite German fashion designers and presents them in short portraits.

New talent: Discover 10 Young German Fashion Designers of The Future.
Achtung has been about promoting a fashion culture with German roots in words and pictures. The journey is the destination because there is still a long way to go. The most influential fashion magazines on the market (Vogue, Harper's Bazaar, Elle, et cetera) continue to be the output of the leading international publishing houses. Furthermore, trailblazing fashion talent rarely comes from Germany. Although Berlin's fashion scene is endowed with generous marketing budgets from beer, cosmetics and car manufacturers, it rarely produces something that endures or finds favour internationally. Nevertheless, our focus on German talent has been unfaltering throughout the years. In my opinion, here are the ten best German fashion designers currently in business who send a new collection to the runway at least every six months.
1. KARL LAGERFELD
© Karl Lagerfeld
KARL LAGERFELD, Collection autumn/winter 2014/15
Next What can we say about Karl Lagerfeld? We know everything about him: he designs for Chanel, for Fendi – and has been doing it for decades. He has his own fashion label and, on the side, has taken on consulting projects for H&M that first launched the entire "fast-fashion-and-top-designer" phenomenon.
He works on projects with Schwarzkopf, Cola Light, Hogan – the list just goes on and on. Yet what is most important is that he is not only a designer who starts new trends every season with his Chanel show, but is also an incredibly charming and generous person. Whoever has the chance of chatting with him – an honor I have two or three times a year – is constantly laughing at his puns and ready wit.
Lagerfeld is a true media personality who at all times knows exactly what is going on in the fashion world. It is thanks to Lagerfeld that Germany is now Number One when it comes to the best designers in the world. His style cannot be pinned down, yet always leads the way. His ateliers in Paris and Rome: always working to full capacity. He understands haute couture, creates high-fashion furs and his eponymous label rules the social media scene.
2. STEPHAN SCHNEIDER
© Stephan Schneider
Portrait Stephan Schneider
It is very hard to make a living as a fashion designer. Most designers freelance for commercial labels to make ends meet or collaborate with difficult partners such as shoe manufacturer Goertz or the Beck's brewery.
Stephan Schneider, from Duisburg, is not well-known but is perhaps the most successful fashion designer in his category. He lives and works in Antwerp and his fashion sells world-wide. Many owners of high-end boutiques swear by him; the sales figures speak for themselves.
Schneider headed the Fashion Design department at the University of the Arts in Berlin for a few years.
The appeal of his work lies on two simple components: the cloths, which he designs and develops in close collaboration mostly with Italian weavers, and the styles, which boast a clear design, albeit not too simple.
His sleeves are usually seamless because they are not set in but rather cut from a single panel of cloth. He creates laid-back fashion that is nevertheless ground-breaking.
3. WOLFGANG JOOP
© WUNDERKIND
Portrait Wolfgang Joop
He invented one of the first lifestyle labels in the 80s and 90s and showed he had, above all, a good nose: his perfumes became a whopping success and brought him millions. Yet even though the Joop label still exists, it has lost the appeal and leverage it had when its founder was creative director. In the meantime, though, Joop has a new pet project: his label Wunderkind.  
From his home at Heiliger See in Potsdam, Joop has created this hysterically elegant label for bohemians worldwide. Wunderkind often boasts abstract prints designed by Joop himself and an asymmetrical style with a penchant for short trousers and long dresses.
The look is unique, the quality of the craftsmanship is high. The sophisticated designer is also showing his exquisite taste in Heidi Klum's show "Germany's Next Top Model": his flair and wit have helped the show regain top ratings. Who knows? Perhaps Wunderkind will benefit from this new popularity. Michael Kors set the example in America – and became a billionaire.
4. LUTZ HUELLE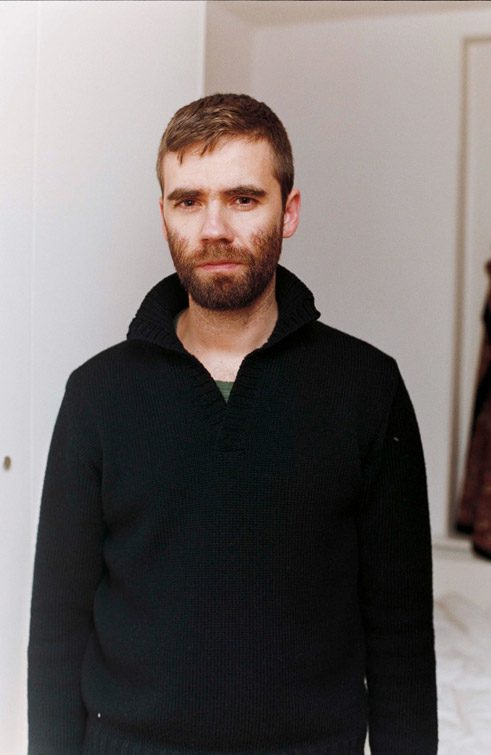 Photo: Wolfgang Tillmanns
Portrait Lutz Huelle
Whoever markets his fashion for fifteen years simply under the first name "Lutz," as Lutz Huelle does, likes to stick to essentials. He needs neither distant historical periods nor geographical preference for inspiration: he finds it solely in the garment itself.
Huelle works away with painstaking attention to details, transforming them in unconventional ways and modernizing their traditional function without much fuss –but with high standards, especially for himself.
Perhaps this is one of the reasons why the designer, who was born in Remscheid, and his collections were always better located in Paris – where he has lived for quite some time – than in Germany. Lutz Huelle made a name for himself in the nineties as Wolfgang Tillman's model and is a mainstay of the photo artist's creative gang.
5. DAMIR DOMA
Photo: Jurij Treskow
Portrait Damir Doma
One of the most interesting stories of the German fashion scene is taking place in Traunstein, a town on the Austrian border. It is from here that Damir Doma has set off to conquer the fashion world.
Doma, who first apprenticed with Dirk Schönberger and subsequently with Raf Simons, was quick to set up his own business. Things have now taken an exciting turn. His investor and partner is Stefan Wembacher who is also from Traunstein. Wembacher is a successful businessman who made money producing soft goods for Apple such as nylon bags for the Macbook.
You can make good money with this of course and Wembacher is now investing it in Doma's clever and visionary fashion collections. Doma's forte is his incredibly wide repertoire. The 30-year-old Croatian shooting star from Bavaria is adept at designing sportswear such as bomber jackets and windbreakers but also has a fine knack for tailoring.
His slightly oversized men's jackets have attracted a great deal of attention from the outset and his name is in the running every time a new position opens up in Paris. In the meantime, his mother runs the tailor's workshop in Traunstein – a set-up that suits Doma just fine. For him, fashion is not a circus, but rather, to put it philosophically, a place to "find out who I am." This puts him, consistent with the color of his clothing, closer to the Paris existentialists of Saint-Germain than to the Avenue Montaigne.
6. KOSTAS MURKUDIS
Photo: Markus Reed
Kostas Murkudis
Berlin is a tough place for fashion designers but Kostas Murkudis withstands the test. For years he has been working out of an old historic building located in Charlottenburg where he creates his internationally renowned collections. His garments stand out for their cool mix of materials, bold proportions and admirably suited color schemes.
Murkudis travels to Paris regularly to keep up to date. On the side, he is the king of joint collaborations. He makes suits for Regent, cashmere with Johnston, glass art with Lobmeyr and worked for Closed for a year. Together with his brother Andreas Murkudis, who runs a wonderful fashion boutique, he is the best Berlin has to offer in terms of fashion.
7. BORIS BIDJAN SABERI
Photo: Monika Bielskyte
Portrait Boris Bidjan Saberi
Boris Bidjan Saberi belongs to the dark side of the fashion world. Critics like to compare the rugged style of this designer born to a German mother and a Persian father to the work by the eccentric American Rick Owens.
Yet we can search in vain for trend-seeking designs by Saberi, a designer only few people know up to now. Instead, Saberi reinterprets the classic suit anew and features mantling and asymmetrical tailoring in experimenting collections one might associate with urban nomads. Men's fashion, so to speak, that keeps warm –both physically and emotionally.
8. CHRISTIAN NIESSEN
© no editions
Portrait Christian Niessen & Nicole Lachelle
No runway shows, no seasonal collections, no advertising. "I have never got used to the idea of reproducing lifestyle in fashion," fashion designer Christian Niessen, who was born in Munich and lives in Milan, like to explain.
Instead of selling fashion by means of a contrived image, Niessen lets customers design the pieces themselves and demonstrates what exclusivity can look like in an era of mechanical reproduction. Every piece is unique.
You could call it programmatic ready-to-wear for creative nerds and critics of consumerism. The fact is that you can hardly find a better blend of time-honored craftsmanship and technological innovation. Like Kostas Murkudis,
Niessen learned his trade at Helmut Lang's atelier. He served as the right hand of the minimalist Viennese designer with the sartorial flair during the latter's heyday in Paris and New York. Together with his partner Nicole Lachelle, Niessen has founded the label No Editions in Paris.
9. DIRK SCHÖNBERGER
Photo: Collier Schorr
Portrait Dirk Schönberger
Born in the Rhineland, Schönberger started his career in Antwerp. After an initial period apprenticing with Dirk Bikkemberg, he went to the starting line in Paris with a show under his own name. Schönberger creates classic men's fashion but with catchy details. When he was starting out, he often rinsed his garments in the washer first to obtain the casual, worn look for his tux shirts and jackets. His tailoring has clear lines.
Above all, Schönberger drew inspiration for his stagings from the lovely pop songs by Hamburg band Blumfeld. His leitmotif is the underrated underdog who by wearing idiosyncratic clothing such as a safari jacket with golden stripes on the sleeves captures the limelight like a navy admiral. After the financial crisis increasingly took a toll on his own label, Schönberger joined Joop where he had a successful tenure.
He gave the brand a distinct Berlin image in the spirit of founder Wolfgang Joop by staging his shows at the Olympia Stadium or the new National Gallery. Schöneberger now works for Adidas and is probably one of the busiest designers of his generation.
At Adidas he is responsible for just about the entire fashion range of the billion-dollar brand, from Y-3 (jointly with Yohji Yamamoto) to Originals, from the new neo-collections to the special collaborations with Justin Bieber or Kanye West.

10. FRANK LEDER
Photo: Gianni Plescia
Portrait Frank Leder
If there is a designer who has managed with all his momentum to bring his German identity into his work, it has to be Frank Leder. The collections by the Nuremberg designer look like the photographs of August Sander, except that the young peasants in his work are either schnaps distillers or journeymen.
Their clothing corresponds exactly to what you'd expect from their trade, except that the graduate of Central Saint Martins College has designed them with loving attention to detail.
His styles, above all, are perfect and his shirts and jackets stand out for their optimal fit. Unbelievable but true: there isn't a single clothing store in Germany that carries Frank Leder's fashion. He is one of the designers who are 'big in Japan.' His quintessentially German designs can be found in more than 70 boutiques there.

AUTHOR
Markus Ebner is editor-in-chief of the fashion magazine "Achtung".
Translation: Ani de la Jara
Copyright: Goethe-Institut e. V., Internet-Redaktion
July 2014
Any questions about this article? Please write to us!
RELATED LINKS