Exclusive Access To Luxury Mykonos Villas
Perfect white painted buildings and cobalt blue doors. Endless blue skies of the Mediterranean. Sparkling turquoise waters. Breathtaking sunset. Surreal panoramas. Romantic cobbled streets…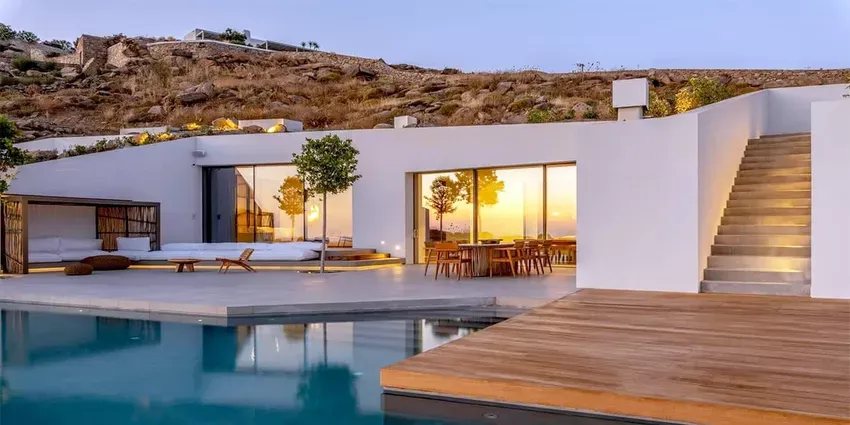 Mykonos hotel with private pool
mykonos hotels 5-star
Mykonos hotel reviews
Mykonos hotels on the beach
Mykonos hotels booking
Best Mykonos hotels
Mykonos hotels luxury
Mykonos hotels all inclusive
By   Gaurav Inani |  YEET MAGAZINE |  Updated 0339 GMT (1239 HKT) May 16, 2022
Index
Villa Atelier
Villa Bellavista
Villa Blendy
Groovy Villa
Perfect white painted buildings and cobalt blue doors. Endless blue skies of the Mediterranean. Sparkling turquoise waters. Breathtaking sunset. Surreal panoramas. Romantic cobbled streets.
Mykonos, Greece feels like a dream checklist of the ultimate sunny luxury sanctuary destined for Instagram envy.
The crown of the Aegean Sea, Mykonos is a boho-chic mecca for A-listers and the world's rich looking for an idyllic gateway.
Now add the most beautiful villa accommodation and you have a private piece of paradise fit for kings.
And making you feel like a king is exactly what the Kinglike Mykonos upscale luxury concierge is all about.
If your idea of ​​a perfect luxury villa involves luxurious comfort, contemporary, minimalist interiors and personalized service, then their charming properties are definitely for you.
With over 200 exclusive luxury villas in its prestigious portfolio, Kinglike Mykonos can cater to the desires and desires of the most discerning traveller. The proof is in its 100+ positive customer reviews.
Whether you're looking for a secluded getaway high above or a vibrant beachside getaway, the constellation of ultra-luxurious villas dotted across the island of Mykonos comes in different sizes, layouts and luxurious amenities to suit every taste - from infinity pools to open-air Jacuzzis. air conditioning, fully equipped gyms, home cinemas, a private beach and even your own helipad.
With a capacity of 2 to 34 people, the collection of luxuriously designed villas can meet all your luxury vacation needs, from intimate getaways to celebratory get-togethers with your loved ones.
Kinglike has been successfully catering to affluent travelers for the past six years. The Kinglike team has lived and worked exclusively on the Greek island of Mykonos since 2015. This local experience allows them to access their direct contacts with villa owners and property managers to ensure the best rates available.
Its proximity also helps to provide guests with unparalleled quality service and a first-class experience throughout their stay. In addition to luxury villa rentals, Kinglike offers a number of complimentary concierge services for distinguished guests. Every booking includes things like daily cleaning, twice weekly linen and towel changes, airport pickup and drop-off, check-in and check-out assistance, 24/7 guest support, pre-stock from the villa, VIP reservations for the most sought after hotels in Mykonos -After hottest places and spots.
If you've already mentally packed your luggage (we sure have), let's practically check you in at four of Kinglike's newest luxury properties.
Kinglike is always up to date with the latest luxury villas on the Mykonos market. These new built townhouses are exclusive releases from 2021-2022.
Villa Atelier
Think of it as a private invitation to star-studded parties. Located in Psarou - a popular spot for Greek and international celebrities - the elegant, minimalist Villa Atelier offers expansive sea views and several spacious living areas for champagne and relaxation from dawn to dusk.
Villa Bellavista
With its 1,000 m² of 5-star indulgence and infinite space to blissfully bask in the warm golden rays of Agios Lazaros and all-day yachting spots, Villa Bellavista is the embodiment of grand living.
Featuring eight spacious suites, a staff room and an independent guesthouse, generous outdoor spaces for up to 20 people to sunbathe, relax and dine al fresco, this villa is the perfect place to be entertained.
Villa Blendy
Villa Blendy is a true work of art situated on the rocky shores of Kounoupas.
Combining Cycladic minimalism with sleek modern beach features, the villa resembles a contemporary gallery space complete with iconic art as furniture.
Groovy Villa
Located in Agios Stefanos, Villa Groovy is the epitome of contemporary luxury indoor and outdoor living, offering unobstructed, sparkling views of the sea.
And after soaking in ocean views all day, your private theater offers the most luxurious movie nights.
Your search for an exclusive villa in Mykonos ends here. Ready, ready, jet. (*Our autoresponder is on: indefinitely OOO)